Queens Eats For Local Food Co-op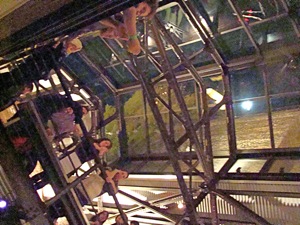 November 18, 2010 / Long Island City LIC / Queens Buzz. Wednesday night hundreds of foodies, environmentalists and the local intrepid converged at the Foundry on 13th Street in LIC where the Queens Harvest Coop hosted Queens Eats, a fundraiser. Guests were treated to hors d'oeuvres, or what one chef once described to me as grazing food. In addition to the food, there was wine and a generous number of raffle prizes; the proceeds of which will go toward starting a natural food co-operative in Long Island City sometime in 2011.
The photo to your right is looking up toward the second floor / skylight at the Foundry LIC, with the moon and neighboring vine laden brick wall in the background.
Click this link to view a slide show and obtain a bit more info about the Queens Eats / Queens Harvest Co-op event. Salud.
---
Queens Eats For Local Food Co-op
Queens Harvest Food Co-op - A Co-op In The Making
Continued / November 18, 2010 / Long Island City LIC / Queens Buzz. I arrived on time for the start of the Queens Eats night at the Foundry in Long Island City. There was a short line at the door and it moved quickly. Once inside I found tables of hors d'oeuvres lined up along both walls of the lower level and plenty of people milling around in between.
Queens Eats Event At The Foundry In LIC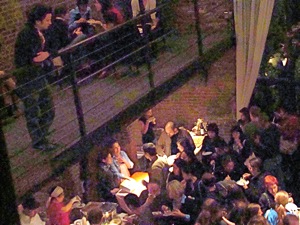 I walked upstairs to see what was going on there. There was a long raffle table filled with sign up sheets enabling party-goers to participate. Jules Corkery [slide DSC09988a] was helping people sign up while explaining what prizes were available. Along the balconies on both sides of the Foundry, people were dining quietly, observing the merry melee below. I decided to descend down onto the main floor to sample some of the food donated by local restaurants.
Local Restaurants Donate Food For Queens Eats Event
On the floor I met several people, some of whom I knew and some of whom I met for the first time. It seemed to be a communal party.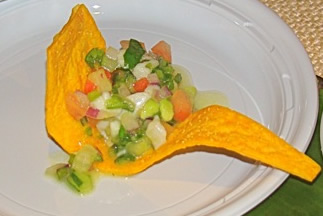 Astoria Bake Shop was giving away desserts [DSC099924], while across the room LIC Market was serving shredded brisket with red cabbage on brioche [DSC099927]]. Vesta was serving a meat and vegetable pasta [DSC099932], while Testaccio provided me with a sampling of their soft dense creamy gnocchi [DSC099938]. It seems Testaccio has an affinity toward the dumplings as they have made Tuesday nights at their restaurant Gnocchi Night. The Mexican restaurant, De Mole of Woodside, was on the other side of the floor and it was there that I sampled a ceviche on a chip appetizer which was light and crisp [DSC099950]. I finished my sampling with a bareburger elk meat sandwich [DSC099964], which was surprisingly delicious. All of these samplings may be seen in the slide show below.
Photos Of Queens Eats - Queens Harvest Food Co-op LIC
The following is a slide show / album of photos of the Queens Eats event at the Foundry in Long Island City.
$element(ophoto,photo_slideshow,105,520,,5.00,fade)$
Queens Harvest Food Co-op - Queens Eats Speeches
Two speakers from the Queens Harvest Co-op, Tonice Sgrignoli and Frank Adams, stepped up onto the balcony like stairway to make a few announcements. They thanked those who came, those who contributed food and gifts and talked about their vision of a food co-operative near Queens Plaza. They are currently seeking funding, including some government support, for this organization [they're a non-profit].
Queens Harvest Food Co-op - Goals & Spring 2011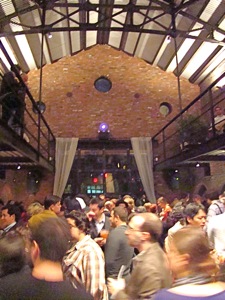 The mission of the co-op is to bring sustainable and affordable food options to Queens residents. Most members of the group are volunteers, which we understand number in the hundreds, although only a small number of them are highly active members. The group is currently targeting the Spring of 2011 to open the co-op. We were told that a lot of things will have to fall in place in order to make that happen, most notably the government funding and attendant bank loans.
Before I left I looked up at the people lining the balconies along the second floor. I noticed the moonlight shining in on us and the still green vines hanging along the stone brick wall on the adjacent building. It looked like a nice night for a crisp walk home, so I put on my coat and headed home.
---
Long Island City Queens - Related Links
$element(adman,groupad,Promo Buttons)$
Click this link for promotions, discounts and coupons in Astoria and Queens.
Click this link to go to the Astoria Section.
$element(adman,groupad,NHoodLIC)$
Click this link to go to the LIC - Long Island City Section / LIC - Long Island City Restaurants / LIC - Long Island City Shopping Center & Map. Click here to go to the Queens Real Estate section of the site.
---
Email This To A Friend: Scroll down and fill in the box / form below.
Site Search Tips. 1) For best results, when typing in more than one word, use quotation marks - eg "Astoria Park". 2) Also try either singular or plural words when searching for a specific item such as "gym" or "gyms".
$element(bwcore,insert_search,N)$
Click this link to search for something in our Queens Business Directory containing over 1,000 listings.
---