Julio Of Jackson Heights
Film Delves Into LGBT Parade Origins
February 10, 2011 / Jackson Heights / Queens Buzz. I just returned from a screening of an unfinished documentary film about the origins of the LGBT Parade in Jackson Heights. A Jackson Heights resident had tipped us off about the screening, because he was moved by the quality of the film documentary.
The documentary movie covers the brutal murder of Julio Rivera, and the subsequent social activism ignited by this young man's death. The unfinished film has a lot of texture, including some history of the gay community and gay activism in the NYC metro area.
Click here to read more about the film Julio Of Jackson Heights.
---
Julio Of Jackson Heights
Film Delves Into History Of LGBT Parade
February 10, 2011 / Jackson Heights / Queens Buzz. Continued / If necessary use the search function to find the story introduction.
I arrived on time for the screening of the 55 minute film. The length of the film is constantly changing as it continues to be a work in process. I met Richard Shpuntoff the film creator who told me that he became interested in the death of Julio after photographing and filming the LGBT Parade in Jackson Heights since its inception in 1993.
The film is a documentary about a 1990 hate crime where very late one night three men cornered a gay man and beat him to death with a hammer, monkey wrench, beer bottle and stabbed him with a knife ... in one of the neighborhood school yards. Alan, a friend of Julio's is shown being interviewed in the film Julio of Jackson Heights. Alan was one of the moving forces behind the positive actions that resulted from Julio's death.
History Of Gay Life In Metro NYC & Jackson Heights
The film starts out by chronicling a very vibrant gay life in Jackson Heights, and by association, NYC and Long Island, beginning in the late 1950's. The documentary starts with a narration mixed with photos and film clips of the LGBT Parade in Jackson Heights. The narrator, Richard, tells us how he became interested in Julio's story.
He eases into the story through one-on-one interviews with gay people living in Jackson Heights who tell colorful tales of what life was like living underground, as gay people in the middle of the last century. The photo to your left was taken by Richard at the LGBT Parade in Jackson Heights. The man seated is holding a placard that says 'Gay WWII Vet'.
Julio Rivera - Lover, Brother, Co-Worker, Friend
This is followed by a personal description of Julio Rivera as told to us by Julio's lover, brother, sister-in-law and friends. They characterize Julio in a very human way, providing vignettes that give a sense of Julio's fun-loving spirit and warmth. And then we're taken down the journey of events which ultimately lead to his untimely end. In the photo to your right is a banner with a photo of Edward Garzon, another gay man who was murdered in Queens about ten years ago.
Death Galvanizes A Push For Justice & LGBT Freedom
According to the film, the police department was slow to investigate the murder, first classifying it as a narcotics related death. Julio's friend, Alan, was devastated by the loss of Julio and wouldn't - or couldn't - let things go at that.
And so Alan and one of his friends sought out others to help put pressure on the police department to investigate the murder. They began to organize themselves, reaching out to a number of NYC gay activist groups. These groups collaborated with Julio's friends to raise community awareness of the circumstances surrounding the murder. In time the police department investigated the crime, found the murderers and brought them to trial. In the photo to your left is a scene that was included in a PBS Special about Julio's death and gay activism.
And it is at this juncture that the film ends, as it is still a work in process.
Police Department Comments Being Sought
I asked Richard if he had contacted the police department to include them in the film. He said that he had tried to interview them and he continues to make efforts to do so, applying for comments through a process mandated by FOIL [Freedom Of Information Law] . So the investigation / legal / activism segments of the film are still to be completed, as is the segment about how the LGBT Parade in Jackson Heights was founded - which had piqued Richard's interest in the first place. Richard Shpuntoff, the film creator, is shown in the photo below answering questions of the audience.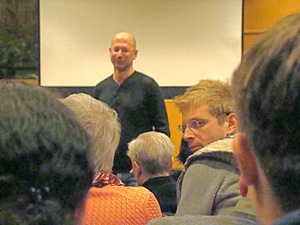 After the screening, there was a Question and Answer [Q&A] session with the audience. Somebody said that it would be nice to see the Jackson Heights neighborhood portrayed in total, so that people could see that Jackson Heights is a good community where something bad happened. [Editor's Note: In this regard Jackson Heights is similar to other communities where bad things happened, like the Colorado school shootings and the bombing in Oklahoma.]
Richard commented on the fact that during the 1980's other gay murders occurred which were similar to Julio's, but it was Julio's death that galvanized people to join together to take action. Based on what I saw in the film, this was no doubt due in part to the significant efforts of the family and friends of Julio.
There were comments about who the murderers were, and what happened to them following the trial; but we'll wait for Richard to finish his work, so we can tell you more about the film ... and Richard can tell you the rest of this story.
Members Of Julio's Family Were Present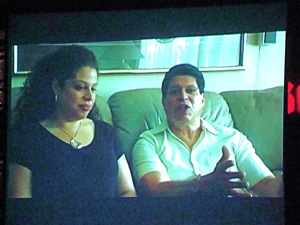 At the end of the Q&A session, one of Julio's nieces stood up to thank Richard. She said something along the lines that it seemed Julio had not died in vain, as "we're all still talking about him." Julio's brother and sister-in-law are shown in the film in the photo to your left.
Future Of The Indie Film Julio Of Jackson Heights
Richard expects the film to be ready in another year. He has received grants from the Queens Council on the Arts [QCA] and this event was sponsored by Queens Pride and the Jewish Center of Jackson Heights. Richard will be giving a presentation and showing film clips at the upcoming Queens World Film Festival in three weeks in Jackson Heights.
---
Jackson Heights / Elmhurst Related Info
$element(adman,groupad,Catgry Gay)$
Click this link for promotions, discounts and coupons in Woodside, Sunnyside and Queens.
Click this link to go to the Jackson Heights & Elmhurst Neighborhood News / Jackson Heights Restaurants / Jackson Heights & Elmhurst Shopping.
$element(adman,groupad,NHoodJHTS)$
Site Search Tips. 1) For best results, when typing in more than one word, use quotation marks - eg "Astoria Park". 2) Also try either singular or plural words when searching for a specific item such as "gym" or "gyms".
$element(bwcore,insert_search,N)$
Click this link to search for something in our Queens Business Directory.
---
$element(adman,groupads,Sectional Ad)$
---
Click the log in link below to create an ID and post an opinion.
Or send this story to a friend by filling in the appropriate box below.
---