Astoria's Greek Radio Station
Astoria Queens Radio Station Adding AM Band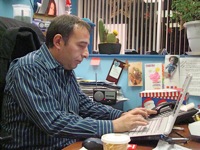 January 4, 2011 / Astoria / Queens Buzz. Continued / Insert Story Title In Search Box To View Introduction. The station is the brainchild of Stamatios Tsilimos who has been a disc jockey [DJ] for some 24 years. Stamatis' first sixteen years in the business had been as a DJ at clubs, parties and special events such as weddings. The past nine years Stamatis has had his own radio program on Hellas FM. Nexus Producitons Radio station continues to capitalize on Stamatis' breadth of DJ expertise by offering promotional services as well as the radio advertising. Stamatis is shown working in his office in the photo to your left.
The Birth Of Nexus Productions Radio In Astoria
Prior to opening the station, Stamatis notified family, friends and acquaintances that he was accepting applications for radio hosts and DJ's to broadcast on the Greek speaking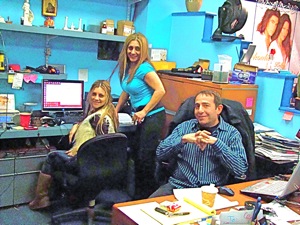 station. He told me that it wasn't long before he had 60 people who wanted to audition for twelve slots. Following the auditions he decided to work with twelve of the applicants to develop their time slots. Most of the 24 hour station programming is dedicated to modern and traditional Greek music.
Stamatis opened the local internet radio station in Astoria in March of 2009. Within a few months he hired Maria Kontakis, a local salesperson, to help promote and sell advertising for the radio station. It wasn't long before the two joined forces to continue the development of the local, primarily Greek-speaking, radio station. Maria is shown standing center in the photo above, while Stamatis is shown seated to the right.
Greek Speaking Radio Stations In Queens
Both Stamatis and Maria host their own two hour radio shows. Stamatis does a mix of news, sports and music; while Maria co-hosts a show with Irene Papadopoulos [also shown in the photo above seated to the left]. The two women talk about the Greek music scene and a myriad of other topics including male / female relationships. I happened to catch some of Maria's show while I was visiting the station and although I only understand a few words of Greek, it seemed pretty lively. They handle live call in conversations on the show. As previously mentioned, Irene, Maria and Stamatis are shown in the photo above right.
Programs In English On Local Astoria Radio Station
This past fall Stamatis was approached by a banker and a small business lender who wanted to start an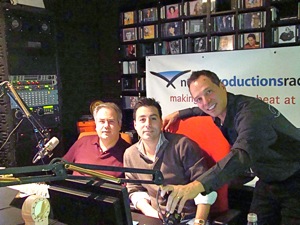 English-speaking radio show dedicated to the issues associated with managing a small business in Queens. Out of those discussions Innovative Business Discussions [IBD] was born. The show is hosted by Steven Kravitz of the Loan Source, Gus Lambropoulos of HSBC and a local entrepreneur, Frank Arcabascio, who is also the owner of Redken Saloon Salon. The men are shown [left to right] in the photo to your left.
The afternoon I visited the local Queens radio station, IDB was talking about how to collateralize a small business loan. They talked about using the business's accounts receivables, inventory or other assets [like its building or even its website url] as various options to provide as collateral for obtaining a loan.
I was invited as a guest for the second hour of the show. During the show the three interviewed me about how Queens Buzz began and how it can help Queens businesses cost efficiently reach a large audience [feel free to call me for a conversational replay]. When one of the hosts, Frank Arcabascio, had invited me to participate in the show he told me that the time would pass in a heartbeat. And it did.
Local Astoria Radio Station Now On AM Band But ...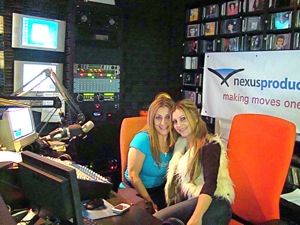 The station appears to have the heart and soul of a small town radio station. It has a fun atmosphere and a number of emerging radio personalities.
Nexus Productions Radio has secured the right to broadcast its signal over the AM airwaves within a ten mile radius from its home in Astoria. You can find the station at 16.20 AM on your radio dial, but please note that they won't have a good signal until their new antenna is installed and operating which won't be ready until late February. In the meantime you can listen to them over the internet at Nexus Productions Radio.com. Maria and Irene took a break from their Greek language radio program to pose for the photo above.
---
Astoria Related Info
$element(adman,groupad,Promo Buttons)$
Click this link for promotions, discounts and coupons in Astoria and Queens.
Click this link to go to the Astoria Neighborhood.
$element(adman,groupad,NHoodAstoria)$
Site Search Tips. 1) For best results, when typing in more than one word, use quotation marks - eg "Astoria Park". 2) Also try either singular or plural words when searching for a specific item such as "gym" or "gyms".
$element(bwcore,insert_search,N)$
Click this link to search for something in our Queens Business Directory containing over 1,000 listings.
Send this story to a friend by filling in the appropriate box below.
---