Cakes, Dresses & Wedding Halls In Queens
Planning Weddings In Queens NY
Astoria / LIC / Sunnyside / Jackson Heights / Flushing / Queens Buzz. So you've finally made decided to spend your lives together. "Until Death Do You Part." Those are big words and after many months and frequently years of getting to know each other, you know you've made the right decision.
Wedding Vows & Receptions In Queens
But now you're in charge of planning and organizing the biggest event of your life. There's the ring, the church or mosque or temple where the wedding vows are to be exchanged, the caterers, the bachelorette party, the band or DJ, and the booze. There's the reception hall, the wedding dress, the bridesmaids dresses, the hair and skin preparations for the big day. There's the photographer, the invitations, the flowers; and the biggest trick of all, agreeing on who's to come and who's to pay for it all. Hmm, did I make the right decision afterall?
Of course you did. And this is your public announcement to the world that you and your betrothed are committing to each other for the rest of your lives in front of the people you hold most dear to you in your lives. So give yourself some time, but long engagements aren't recommended. Most planners say you can plan a wedding in three months if you want to totally stress yourself out and everyone else around you, but they recommend you plan nine to twelve months in advance. Oftentimes finding an open day at the wedding hall is frequently what determines the date.
Wedding Planning In Astoria & Queens
This report is the start of helping you get organized and helping you know what choices you have, right here in Queens NY. For purposes of this report we're going to focus on wedding halls, wedding dresses and wedding cakes. Believe it or not, celebrating your big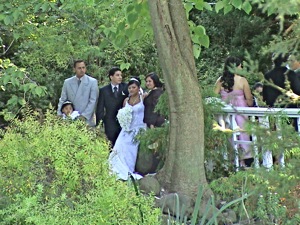 day in Queens costs about what it costs in the top one hundred cities across the nation, and far less than in Manhattan or Brooklyn. Queens retailers frequently offer great value for the money.
Wedding Halls & Wedding Receptions In Queens
Queens has many places to host wedding receptions and the exchange of vows. Most people generally exchange vows at the place where they attend religious services, or if not religious, they frequently exchange vows at some place that is special to them or at the reception hall. A popular non-denominational place in Queens to exchange vows is in the Queens Botanical Garden. There you can rent a portion of the grounds that is cordoned off in the midst of nature and beauty. You just have to hope that it doesn't rain, but they do have tarps.
Things to consider when surveying a reception location are its proximity to the wedding ceremony location, parking / public transportation, the appropriateness of the space and decor for your planned event [ie music / dancing] and, of course, the food service.
Wedding Halls - Queens Restaurants Host Wedding Receptions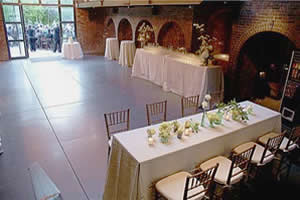 There are a wide selection of restaurants that have large rooms that rent out space for wedding / private parties of between 50 and 100 people. If this is the size of your groom's dinner party or you're planning a modest wedding party, you can likely find a lot of places in the borough. Many of the places we visited split their restaurants into two sections so that a private party can be going on in one half of the restaurant undisturbed by the restaurant's regular clientele in the other half.


Generally the number of guests will determine the range of options available when it comes to hosting the wedding reception. There are a few select venues that rent configurable space so that you can customize it to fit your wedding party size and tastes. One such venue is the Foundry in LIC. The Foundry is a compound only a block away from the Queensboro Bridge which includes outdoor space,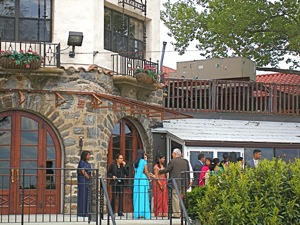 a two tiered room with a balcony and a second very large room or halls. The Foundry provides a variety of options to the bride or wedding planner to customize the space to fit their unique tastes. Their facilities include a sound system, kitchen facilities and a staff to ensure that everything goes as planned. And because of its location, the Foundry is easy to get to via automobile or public transit from anywhere in the NYC metro area.
Some prefer to exit the borough for the country clubs of Long Island or Westchester, but there's really no need to leave Queens. A couple of Queens public golf courses have facilities which are used for wedding receptions, so that is a comparable venue. That said, there are many other great choices for hosting a wedding reception in Queens. The photo below was taken at the Douglaston Golf Course which is publicly owned but privately caterered / run.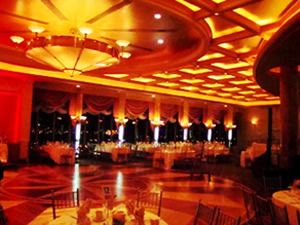 The Terrace On The Park is one such place, which is owned by the city government but rented out to an events group that largely uses the facility to host weddings, anniversaries, private parties and an occasional public party such as New Years Eve. It's not cheap, but it provides a beautiful facility that is centrally located and has a beautiful view. And it's located in the middle of Flushing Meadows Corona Park, so unless you're getting married on a Mets game day, there should be plenty of parking.
Other options include some of the restaurants with outdoor space. We know of several in Astoria and Long Island City and will inquire as to their involvement in planning receptions and report back here at a later date.


Wedding Dresses & Bridesmaids Dresses In Astoria & Queens
This is your special day and of course you want to look your best. It's been said that getting the wedding dress and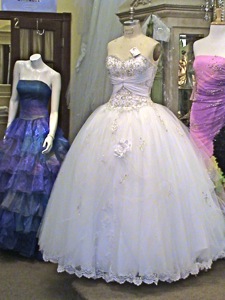 bridesmaids gowns right is easily one of the most challenging part of the process, topped only by figuring out who is going to be on the guest list. The reason selecting a wedding dress and matching bridesmaids gowns is difficult is because of the high standards brides hope to set on one of the most important days in their lives. What complicates it is managing the matching dresses, expectations and wishes of the bridesmaids, all of whom have different bodies, different tastes and different color preferences. Add in your mother and your soon-to-be step mother and you have a conundrum more difficult to solve than rubik's cube.
In selecting a wedding dress it's best to find a dress shop that fits your style and personality. Many times wedding gowns are custom made for about the same as it costs to custom fit a designer dress. We found this to be true in Queens, where a family run dress shop, Yours & Yours Only, has been serving the public for decades. Joseph, one of the owners, is also a designer. He told us that about half of the wedding gowns he sells are custom made.
A lot goes into planning what the women will wear for the occasion. The wedding dress shop can help you with shoes, tiaras, hand bags and flower girl dresses so that everything will look perfect on your perfect wedding day.
Wedding Cakes In Astoria, LIC & Queens
Ah, one of the less stressful and more fanciful items to plan for is the wedding cake. Queens is home to many fine bakeries that have been baking wedding cakes for all ethnicities since the dawn of the last century. Many bakeries use Wilton Industries cake designs and accoutrements, as Wilton is one of the nation's largest purveyors of wedding cake accessories.


Anyhow, finding the right bakery is likely the difficult part. Once you have a solid partner handling the cake, after you select the design the rest is basically handled. It's good to be sure the bakery has experience with wedding cakes, because the difficulty in creating such cakes lies in its structure, which is frequenlty multi-tiered which requires an understanding of cake densities and support, while ensuring good taste.


So good luck with planning your big day. We'll return soon to help in the areas of jewelry and beauty tips, including hair and spas, soon. Congratulations.


---
Planning Weddings In Queens - Related Links
Click here to view the home page of a renter of wedding halls in Queens. Click here to view a home page of wedding cakes in Astoria Queens, or the home page of one of Queens Caterers. Click here to view the home page of wedding gowns and bridesmaids dresses in Astoria Queens.
Long Island City Queens
Click this link to go to the LIC - Long Island City / LIC - Long Island City Restaurants / LIC - Long Island City Shopping Center & Map.
---
$element(adman,groupad,Catgry Wedding)$
Email This To A Friend: Scroll down and fill in the box / form below.
Site Search Tips. 1) For best results, when typing in more than one word, use quotation marks - eg "Astoria Park". 2) Also try either singular or plural words when searching for a specific item such as "gym" or "gyms".
$element(bwcore,insert_search,N)$
Click this link to search for something in our Queens Business Directory containing over 1,000 listings.
---
$element(adman,groupads,Sectional Ad)$