A Taste Of The World 2011 Photos
Fun Way To Sample Many Queens Restaurants
May 11, 2011 / Flushing / Queens Restaurants / Queens Buzz. Continued / If needed use the search function to find the story introduction.
This year I decided to focus on the food stands that I hadn't hit last year. There were many returning restaurants, including Dazies of Sunnyside and Parpazzio of Bayside, both of which received the Icon Restaurant award from the Queens Economic Development Corporation, organizer of the event.
Peking Duck, Parmesan & Artichoke - Finger Food
I sampled a couple of appetizers made by Creative Concepts NYC. They informed me that they had just opened up a location at 36th and Northern Blvd in LIC, but that information wasn't contained on any of their printed materials nor on their website, so I think they're using the QEDC entrepreneur space for their Queens address. I sampled the Peking duck appetizer, which had the sweet tender taste of duck atop a crispy wafer. This was followed by parmesan and artichoke rolled in moist dough. I ended with a mixed vegetable roll, which paled in comparison. I suppose this was due in part to being much lighter fare, following the cheese and duck appetizers.
Some of the appetizers served are shown in the photo to your left.
The Strawberry Grill - Smokin' Good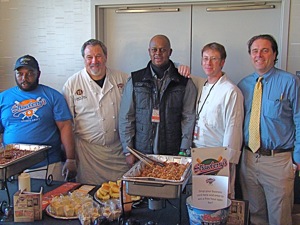 My next stop was Strawberry Grill. I heard from a fellow reporter, that Darryl Strawberry's brother was on hand. I started by sampling their house smoked pork which had a wonderful hickory and cherrywood flavor. This was followed by a sampling of their Championship Chili which was a sweet broth containing ground beef, smoked brisket and beans. The Strawberry Grill is located at 235th Street in Douglaston near the train stop and they just opened within the past six months or so.
Darryl Strawberry's brother is shown in the photo to your right along with some of the employees of the Strawberry Grill in Douglaston and a fellow reporter [far right].
Flavorful Wines From Portugal By Esperao
I had a couple of sips of wine, served by Esporao of Portugal, which has offices in Manhattan. I started with the Reserva Red 2008, which was a full bodied, thick meaty cabernet blend. It was the kind of wine I could have drank all night if I didn't have work to do. This was followed by the Monte Velho which was also a blend of grape varietals with which I was not familiar. This wine had less depth and body and wasn't for me.
Ceviche American Style - Riverview Of LIC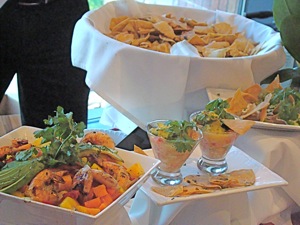 So I moved onto the Riverview restaurant of Long Island City. They were serving ceviche. I have had ceviche on a number of occasions, generally served Latin American style. Ceviche is raw fish marinated in lemon and / or lime juice and served with onions, peppers and spices.
The Riverview ceviche tasted more like a mix of beans and guacamole, but admittedly I was distracted by the presentations, so I can only give you an impression of what I ate. It appeared to have been modified for American tastes and may have included some beans which absorbed the tartness I generally associated with ceviche. The Riverview dishes, including the ceviche, are shown in the photo above left.
Ottomanelli Spices Up The American Burger
I soon came upon the Ottomanelli table. I sampled their pepper steak hamburger which was a hot, moist, flavorful beef burger. The Ottomanelli's run a butcher shop in Woodside. I recall last summer attending a street fair and noticed this long, long line which I followed straight to the end, where I found the Ottomanelli's serving burgers.
Their burgers also come in a tomato and bacon flavor [which was their fastest selling and was gone by the time I arrived], a spinach cheese, ranch style and sweet onion.
I was informed that they're opening a restaurant this summer across from the butcher shop. In the photo to your right is Frank Ottomanelli and Michael Carfagna along with a an array of spicy American burgers.
Astor Room In Astoria - Delicious Beef Stroganoff
I circled back around to the Astor Room. The Astor Room is a new restaurant in Astoria on 36th Street at 35th Avenue, near the Museum Of the Moving Image. You have to look for it because it's partially on the subterranean level. They were serving a DELICIOUS beef stroganoff. The short rib was so tender you could cut through it with a spoon and the noodles had been cooked to hit the balance between soft and dense.
Dazies, London Lennies, Leo's Latticini & O'Lavrador
Click to last year's report to read about some of the other restaurants that returned this year to the Taste Of The World including Dazies of Sunnyside, London Lennies, Leo's Latticini and O' Lavrador.
Government Officials, NYC Chefs & QEDC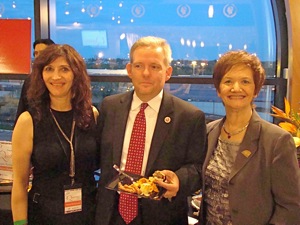 A few government officials were in attendance this year including Queens Borough president Helen Marshall and City Councilman Jimmy Van Bramer of Sunnyside / LIC. Also in attendance were two celebrity chefs from Manhattan: Anita Lo and Marcus Samuelsson; and a local television personality, Tamsen Fadal.
In the photo to your right is Lily Gavin of Dazies, one of the winners of the Icon Restaurant award this year. She is shown standing with City Councilmember Jimmy Van Bramer and her daughter.
Many thanks to Seth Bornstein and Michelle Stoddart of the Queens Economic Development Corporation for organizing the event.
Slide Show - Taste Of The World 2011 Photos
Click this link to go directly to the photo album containing slides of Taste Of The World 2011 Queens. Use the arrow on the slide show control panel to view photos at your own speed.

$element(ophoto,photo_slideshow,136,520,,5.00,fade)$
---
Flushing / Corona Related Info
$element(adman,groupad,Promo Buttons)$
Click here to read more about food and wine in Queens and click here to read more about restaurants in Queens.
Click this link for promotions by advertisers in Queens.
Click this link to go to the Flushing Neighborhood.
$element(adman,groupad,Catgry Foodwine)$
Site Search Tips. 1) For best results, when typing in more than one word, use quotation marks - eg "Astoria Park". 2) Also try either singular or plural words when searching for a specific item such as "gym" or "gyms".
$element(bwcore,insert_search,N)$
Click this link to search for something in our Queens Business Directory.
---
$element(adman,groupads,Sectional Ad)$
---
Click the log in link below to create an ID and post an opinion.
Or send this story to a friend by filling in the appropriate box below.
---