A Taste Of LIC 2011
Story & Photos Of Taste Of LIC
June 7, 2011 / Long Island City LIC / Queens Restaurants / Queens Buzz. It was a warm breezy evening as I made my way to the western most edge of Queens. Underneath the twin cranes overlooking Gantry Park were the festive white tents of the 6th annual Taste Of LIC. I was early and the 50 or so participating restaurant, food and beverage suppliers were busy preparing for the big feast. I walked around underneath the tent photographing and talking to those who had the time to chat.
The offerings looked delectable and the people staffing the booths were ready to serve. There were a number of new vendors in the mix, making their debut on the Long Island City culinary scene. Click here to read our report with photos of Taste Of LIC 2011.
---
A Taste Of LIC 2011
Story & Photos Of Taste Of LIC
June 7, 2011 / Long Island City LIC / Queens Restaurants / Queens Buzz. Continued - If necessary use the search function to find the story introduction.
As I walked through the tent entrance there was a table with three guys pouring beer like it was Oktoberfest. Court Square Wine was nearby pouring glasses of wine [see photos in slide show below]. Grow NYC had a table where they were showing some of the things that could be done with fresh vegetables purchased in one of many of Queens farmers markets. Communitea was offering a table full of baked treats. In the photo to your left is the tent entrance to Taste Of LIC.
Many of the vendors were still setting up as I began to move into the center of the large tent. I stopped by Brick Restaurant of Astoria where I sampled a chocolate strawberry dessert cup which included a custard filling and a thinly coated,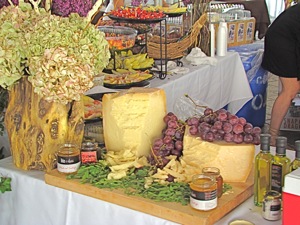 chocolate covered wafer cup. I sampled a proscuitto rolled asparagus from Manducatis Rustica where Gianna Manducatis had put together a beautiful table of hors d'oeuvres. Alobar is a new restaurant on Vernon Blvd and they had a freshly cooked pig lying on the table. And Dominick's Hoek of Vernon Blvd was serving drinks. In the photo to your right is the table of Manducatis Rustica.
I shot photos of Mario's Catering and Bella Via before coming upon Malu which is a new chocolatier and ice cream shop that's opened on Jackson Avenue a block or two south of the Court Square subway stop. Their freshly made dark chocolate pineapple was creamy smooth and the rich taste of the dark chocolate was something that until now, I hadn't found in Queens. In the photo below left is a sampling of some of the treats made by the new LIC chocolatier and ice cream shop Malu.
The View which is owned by TF Cornerstone [one of the main sponsors of the event] was giving away frisbees. Tom Cat Bakery of LIC had a table full of fresh baked goods which they make, sell and distribute around the metro area. And by this time the tent was filling up.
I met two young aspiring chefs, Lazarus Lynch and Shania Thomas, of Food & Finance High School in LIC. Lazarus had won a culinary award and Shania a baking award this spring. The Elaysi [aka LIC] Restaurant was somehow involved in the contest [organizer?] and is serving special entrees made by each of these aspiring chefs this summer, beginning mid June. Roger Turgeon, Prinicipal, and Joe Clausi, Assistant Principal of Food & Finance H.S., were also in attendance [they made the introduction] and are promoting their students' efforts. While listening to their story, I sampled the Elaysi chili which was a warm flavorful vegetable broth with a pleasant bit of spice to it, compliments of the hot peppers.
The Chocolate Factory Theater - Event Organizer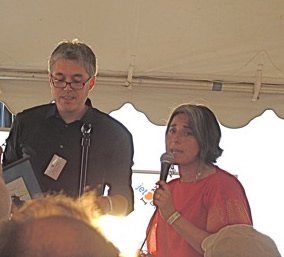 I snapped a photo of Brian Rogers, Artistic Director and one of the Chocolate Factory hosts, showing guests around the culinary event tent. And I sampled a spiced pork barbeque and a very refreshing cup of tart lemon ice at the Ihawan2 Restaurant table. By this time the tent was filling up and the Chocolate Factory hosts and their guest speakers were preparing to make a few remarks.
As they were doing so, I sampled the penne pasta and a crab filled tilapia made by the Riverview Restaurant. Sheila Lewandowski, the Executive Director of the Chocolate Factory, thanked everyone for coming and thanked the Chocolate Factory event sponsors. City Councilman Jimmy Van Bramer made a few remarks about attending this event since it started, and contemplated that perhaps because of it, he might have added a few pounds. Christine Quinn, City Council Speaker, and Peter Vallone, City Councilman, were also in attendance. In the photo to your right is Brian Rogers and Sheila Lewandowski of the Chocolate Factory Theater.
Sampling LIC Restaurants At A Taste Of LIC
I ran into Lisa DeClerico who I had met a few weeks earlier while covering an exhibit in the LIC Arts Open. Her husband, Alex, is the chef / owner of LIC Market which was serving a couple of appetizers. One was a chicken liver mousse with red onion, bacon and marmelade that was a savory mix of marmelade and pâté. The other serving was a shot of chilled melon juice with fig and mint infused cream.
I made an effort to sample the Japanese food of one vendor, but twice was distracted by all the hub bub of the event and never got around to it. M Wells was right next to them serving a couple of samplers, one of which was a short hot dog with an original cole slaw-like embellishment. In the photo to your right is the crowd enjoying the Taste Of LIC.
Relaxing With Food & Drink Along The East River
Things were well underway by this time so I photographed the crowd in full motion. The sun was beginning to fall
behind the NYC skyline, the breeze kept everything quite comfortable, and with food and drink in hand everyone seemed to settle into a calm conversation. In the photo to your left is the crowd watching the sunset at the Taste Of LIC.
Proceeds from the event will go toward the Chocolate Factory Theater in LIC. The Chocolate Factory Theater is an experimental theater organization that puts on dozens of theatrical and art performances each year in Long Island City.
Photo Slide Show Of Taste Of LIC 2011
The following is a list of some of the restaurants and people shown in the slide show:
8185 GrowNYC, 8191 Matt of Court Square Wine, 8193 Communitea, 8207 Brick Restaurant Astoria, 8209 Gianna of Manducatis Rustica, 8212 Alobar, 8213 Dominick's Hoek, 8216 Mario's Catering, 8223 Bella Via, 8227 & 8 Serge & Jennifer of Mula, 8230 The View, 8236 & 7 [can't read card], 8238 Tom Cat Bakery, 8240 El AY SI Restaurant hosts Lazarus & Shania, 8241 Joe, Lazarus, Shania, Roger of Food & Finance H.S., 8242 Brian Rogers Chocolate Factory & Stuart Harker & Jerry, 8244 Ihawan2 Restaurant, 8249 Riverview Restaurant, 8250 Sheila Lewandowski Chocolate Factory, 8260 Jimmy Van Bramer, Christine Quinn, Sheila & Peter Vallone, 8273 Alex & Lisa LIC Market, 8278 Jimmy, Brian & Sheila, 8279 Japanese Restaurant, 8283 M Wells, 8319 Paul & Rosa Finnegan.
To move through the slide show at your own pace use the controls underneath the photos, or click here to view the photos of the Taste Of LIC 2011 in a photo album.
$element(ophoto,photo_slideshow,139,660,,5.00,fade)$
---
LIC Neighborhood - Long Island City Links
$element(adman,groupad,NHoodLIC)$
Click on these advertisements for promotions, discounts and coupons by retailers and restaurateurs in Long Island City LIC and nearby Queens.
Click this link to go to the:
Long Island City Neighborhood or LIC Business Directory
Long Island City Real Estate or Events & Things To Do In LIC
Restaurants In Long Island City or LIC Shops & Shopping
---
$element(adman,groupad,Catgry Rest)$
Site Search Tips. 1) For best results, when typing in more than one word, use quotation marks - eg "Astoria Park". 2) Also try either singular or plural words when searching for a specific item such as "gym" or "gyms".
$element(bwcore,insert_search,N)$
Click this link to search for something in our Queens Business Directory.
---
$element(adman,groupad,Sectional2 Ad)$
Click the log in link below to create an ID and post an opinion.
Or send this story to a friend by filling in the appropriate box below.
---