LEAP Showcases Dance In Queens
Sensuous, Dramatic, Traditional, Frivolous & Very Entertaining

June 17, 2011 / Long Island City LIC / Dance & Theater / Queens Buzz. Continued. If necessary, use the search function to find story introduction.
Music Is An Element - Malini Srinivasan
I arrived during the second performance. There on the stage was an woman dressed in traditional Indian garb dancing slowly to traditional Indian music. Her slow graceful poises unfolded, extending outward and then drew inward, as she transformed herself from one position to another in slow deft movements.
She danced around the stage, as though pleasing a master ... as well as herself. After repeating several full movements, the music grew faster, hastening the dance, eventually nearing a frenetic pace, before slowing, and then stopping, as she returned to where she had started looking at a sculpture on the floor [see photo to right].
A Mosquito - by Kiyoko Kashiwagi
In the third act a woman came out dressed in a black and white Raggedy Ann outfit, complete with the pigtails. She slowly emerged from the fetal position, the stark lighting dramatizing her movement.
At first she danced around the stage with great energy. The traditional Indian dancer came out and stood at a corner of the stage for a moment before exiting again. The music included news broadcasts, first of an earthquake in California, and later we learned it was the result of a nuclear explosion. Her limbs started shaking uncontrollably, first her hands, then her legs, and then she collapsed back into a fetal position. Kiyoko Kashiwagi is shown looking like a mosquito in flight in the photo above.
LifeFull - by Ken White & Steve Sclafani & performed by Lisa Craig, Dina Denis, Paul Monaghan, Stefanie Rude, Nicole Sclafani
The next performance was one full of motion and entanglement. There were five dancers who took the stage, interconnecting with one other in a number of poses resembling human sculpture.
In the photo to your left are the dancers of Life Full, performing one of the LEAP Dance Project Showcase pieces at the LaGuardia Performing Arts Center in Long Island City in Queens.
XXXV - Alberto Denis aka Superman
The lights came up and someone from the audience walked to the front of the stage floor and began addressing us in the audience. At first it was difficult to tell who he was and what was going on, as he cut a verbal deal with the audience to give him five minutes of dialogue.
He set the alarm on his ipod and summoned a friend to help him lay tape on the stage, outlining his apartment kitchen and then other rooms in the apartment in which he lives. He talked about his living room, which is also his bedroom and where he keeps his comic book collection … and oh, by the way, he's a big fan of Superman.
The alarm goes off, the tape has been laid, his friend steps back, and the dance begins. One – he's in his kitchen and he performs several dance steps. Two – he's eating breakfast and he performs several dance steps. Three – he twirls and takes off his shirt to reveal he's Superman. Four – he's on his way to work. Five – he's flying over Chicago. Six – he's flying over London … and so it went up into the twenties. And he seemed to fly, fly, fly … I found the performance fun and frivolous and very entertaining. After the performance I found I was not alone in liking Superman.
Give and Take - by Mariana Beckerman & performed by Danielle Courtier & Jessie Tomanek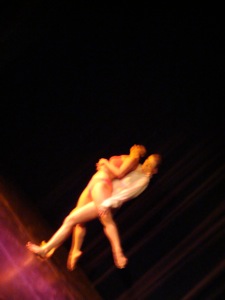 The last performance was, as one audience member described to me, 'Germanic'. Two dancers come out onto stage, one a taller male-like figure and the other a smaller female figure. They dance in this electric, rough frictional relationship that shows a kinetic connection between two individuals, battling for their own individuality, and dominance in the relationship.
There's a stark drama in their movements, their faces, and the music. Eventually a German voice starts a dialogue in tune with the music [sorry no translation] which turns to a moving rock rhythm. The dancers representationally make love, as part of their relationship. The love, the anger, the connectedness of two energy forms – positively and negatively charged was brought to life in this provacative allegorical performance.
Sadly, this was the end of the LEAP Dance Project Showcase. The crowd seemed to enjoy the performances as much as I did, and applauded them
enthusiastically. I watched as people came out of the theater, beaming with smiles on their faces, engaged in conversations about the splendors of the dance buffet they had just savored [see story introduction to understand this line].
Outside the building the rain had stopped and I began making my way home. My whole being had been taken to another place.
LEAP Dance Project Showcase - Queens NY
My compliments to Steven Hitt of the LaGuardia Performing Arts Center and Queens Council on the Arts for showcasing the local choreographers and dancers who participated in the project and created such entertaining works. And I'm sorry to those who missed it. The photos in the slide show below may give you a flavor for what we saw.
The dancers and dances above are shown in sequential order in the slide show. To move through the slide show at your own pace use the arrow keys on the control panel or click here to view photos of the LEAP Dance Project Showcase at LaGuardia Performing Arts Center.
$element(ophoto,photo_slideshow,143,520,,5.00,fade)$
---
LIC Neighborhood - Long Island City Links
$element(adman,groupad,NHoodLIC)$
Click on these advertisements for promotions, discounts and coupons by retailers and restaurateurs in Long Island City LIC and nearby Queens.
Click this link to go to the:
Long Island City Neighborhood or LIC Business Directory
Long Island City Real Estate or Events & Things To Do In LIC
Restaurants In Long Island City or LIC Shops & Shopping
---
$element(adman,groupad,Catgry Rest)$
Site Search Tips. 1) For best results, when typing in more than one word, use quotation marks - eg "Astoria Park". 2) Also try either singular or plural words when searching for a specific item such as "gym" or "gyms".
$element(bwcore,insert_search,N)$
Click this link to search for something in our Queens Business Directory.
---
$element(adman,groupad,Sectional2 Ad)$
Click the log in link below to create an ID and post an opinion.
Or send this story to a friend by filling in the appropriate box below.
---