Musical Saw Festival 2011 In Astoria
What's The Buzz – Tell Me What's A Happening
July 16, 2011 / Astoria Neighborhood / Live Music / Queens Buzz. There was a near sell-out crowd of just under 200 in the audience. They had come from far and wide, hailing from Minnesota, Japan, Sweden and India. I had the opportunity to speak to the wife of one of the saw players who helped me understand why they travel from so far away to come to this festival, which is now one of the leading musical saw festivals in the world … so far as we know.
Musical Saws - Players Aren't As Numerous As Passionate
Milka, is the wife of Michael, a Swedish saw player. He grew up in the New York area before settling down in Sweden with his wife and three children. The reason Michael and Milka traveled from so far away is that the festival fit into their vacation back to NYC and it's very hard to find other saw players. So both Michael and Milka seemed to be enjoying the festival, as did two of their three children. The exception being the youngest, who was only one and a half years old.
New York - Doc Hiller & His Electric Musical Saw

People just seem to gravitate to this musical instrument after seeing someone else play it. I had the opportunity to speak with Doc George Hiller who believes he was the first to add a 'pick up' to the saw, thus making it an electric musical saw. Unlike many of the other saw players, Doc uses a champagne cork hammer on a fiber glass stem to wrest the music from his electric saw. He then uses his other hand to bend the saw back and forth, while it emits ethereal sound waves into the air in rhythm with the tune he's playing.
This year Doc went professional and is now making money playing his electric saw with three different bands. Drummer, Stephen Lemonis, who plays in one of the bands Doc's a part of is shown in the photo with him outside the concert hall of the Hellenic Cultural Center where the festival took place.
Natalia Paruz - 'Saw' Dancing In The Music
I had the opportunity to meet, Natalia Paruz of Astoria, who is the woman who started the festival some nine years ago. Natalia was a dancer who had been injured in an automobile accident. The accident closed the door to continuing ballet, which was a pursuit that she loved. While on vacation in the European country of Austria, she was a man playing the saw. She found it intriguing, because the entire saw is used to generate the sound. She compared how the saw is twisted and turned to the movements of a dancer, as in some respects both become an instrument of the music. She acknowledged that this was a unique perspective, as most folks see the art of the musical saw as a quirky pastime.
Musical Saws In Astoria Queens - Poet's Choice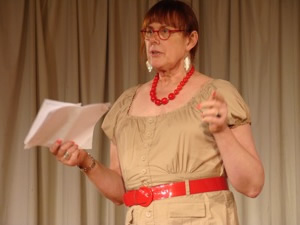 The musical saw emits a sound that in some respects mimics the eerie sound of an outer space sound on Star Trek. Natalia called it spiritual and angelic, but the NYC poet Willa France called it ethereal. Willa France read some of her poetry, which is dedicated to the art and her own personal discovery of, the musical saw and Natalia Paruz.
You see, Natalia is a member of Music Under New York. At the ticket counter, when I first entered, I met Nicola who is a friend of Natalia's. Nicola had met Natalia through Music Under New York which is a decades old organization [Nicola informed me that she hadn't been with it for decades] whereby the MTA or some governmental body l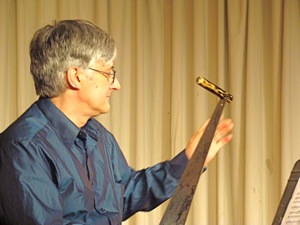 istens to local residents audition for positions to legally play in a number of public spots / locations around the city.
The reason for this digression is that Willa France's first encounter with the musical saw, and the subject of her poetry this day, was about her first encounter with this other worldly music in a subway station downtown. Some passers by glanced back to see where the music was coming from. Some ignored it. And some, like Willa France, couldn't get the 'ethereal sound' of the saw out of her head. She later encountered Natalia playing again and today Willa is writing poetry about it.
Musical Saw Festival - Started By The Saw Lady Of Astoria
It seems that the festival just kind of started rather circumstantially. Natalia put up a website www . SawLady . com and people looking for like-minded saw players started contacting her from all over. The first one was a Californian who asked if they could meet when he arrived in New York that summer. Natalia said she didn't know the guy at all and wasn't sure how to handle this request, so she agreed, but told him there would be quite a few others in attendance while they jammed on their musical saws. The photo to your left is of a T-shirt of the Saw Lady and the Musical Saws Festival in Astoria Queens.
The next year Natalia received a similar request, from another guy she didn't know, but from Canada. She took the same approach and the second 'festival' was held. When she received the third such request in a row, this time from a Japanese player, she knew it was fate. And ever since there's been a Musical Saw Festival and it keeps growing.
Musical Saw Festival - Funky, Fashionable & Fun
Last year Natalia Paruz played with 53 other musical saw players in the largest concert of its kind. She and the concert made the Guinness Book Of World Records.
I could go on. And tell you about the husband and wife team that does a vocals, comedy and musical saw routine. Or about the classical, rock and folk tunes I heard played on the saw. But I recommend checking it out for yourself one year. It's fun, quirky and very entertaining. In the photo to your right are the two women who handled ticket sales and the 'gift shop'.
Willa France probably put it best when she described the sounds of musical saws as "the music of nothing but itself".
---
Astoria Neighborhood Links
$element(adman,groupad,NHoodAstoria)$
Click on these advertisements for promotions, discounts and coupons by retailers and restaurateurs in Astoria and nearby Queens.
Click this link to go to the:
Astoria Neighborhood or Astoria Business Directory
Astoria Real Estate or Events & Things To Do In Astoria
Restaurants In Astoria or Astoria Shops & Shopping
---
$element(adman,groupad,Catgry Foodwine)$
Site Search Tips. 1) For best results, when typing in more than one word, use quotation marks - eg "Astoria Park". 2) Also try either singular or plural words when searching for a specific item such as "gym" or "gyms".
$element(bwcore,insert_search,N)$
Click this link to search for something in our Queens Business Directory.
---
$element(adman,groupad,Sectional2 Ad)$
Click the log in link below to create an ID and post an opinion.
Or send this story to a friend by filling in the appropriate box below.
---