Compost Solstice: Oh, Home On The Grange …
... no deer or antelope seen playing on Queens' Brooklyn Grange
September 30, 2011 / Long Island City LIC / Green Queens / Queens Buzz. I took a quick trip out to the country Friday night, boarding the 747 elevator at 37-18 Northern Blvd in LIC [bordering Astoria & Sunnyside], and landing on the building rooftop where there's a large spread of land used for urban farming called the Brooklyn Grange [we'll tell you more about the name later in the story].
The occasion for my foray up to the rooftop farm was the Western Queens Compost Initiative's [WQCI] first annual Compost Solstice. The fundraising event had been postponed a week due to the inclement weather last Friday. The WQCI is a program started by Stephanos Koullias with the help of some Con Ed money [won as a settlement from the 2006 blackout] and the support of Build-It-Green, which is a home improvement business in Astoria. Build-It-Green acquires and then sells / recycles building materials.
Click here to read our report on the Western Queens Compost Initiative's Compost Solstice at the Brooklyn Grange.
---
Compost Solstice: Oh, Home On The Grange …
... no deer or antelope seen playing on Queens' Brooklyn Grange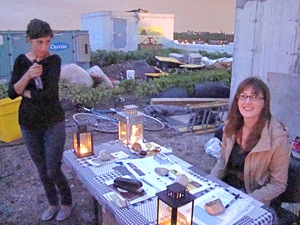 September 30, 2011 / Long Island City LIC / Green Queens / Queens Buzz. Leanne Spaulding, one of WQCI's leading environmentalists, was there to meet and greet the sold out crowd, which numbered a full capacity rooftop of 72 guests. Resident chickens and bees were not included in the rooftop guest headcount and had cut a collective barter deal, exchanging all natural honey and eggs for the price of admission.
The Brooklyn Grange is a significant user of all of the compost collected by the Western Queens Compost Initiative. In fact, the Brooklyn Grange receives hundreds of pounds weekly, of the compost collected by the Western Queens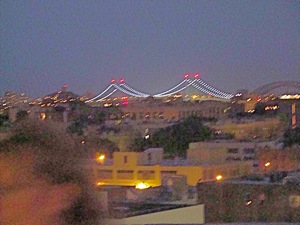 Compost Initiative. The Western Queens Compost Initiative also distributes the compost it collects to Queens community gardens and Queens parks as well. The Western Queens Compost Initiative collects the compost at many of the western Queens farmers markets such as the one along Skillman Avenue in Sunnyside and the one in Long Island City / Astoria at Socrates Sculpture Park and the one in Jackson Heights at Travers Park.
[Click here to view a listing and the hours of most of the farmers markets in Queens. Click here to see related story including the Western Queens Compost Initiative about the Going Green Queens Symposium in Flushing in early 2011.]
Western Queens Compost Initiative At The Brooklyn Grange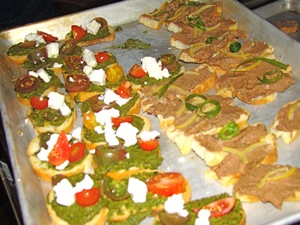 I made my way down toward the western end of the rooftop farm where all the non-agricultural action was. Along the way I spotted some hors d'oeuvres being made by a man from Kickshaw. Kickshaw is a fairly new restaurant just off the corner of Broadway and Steinway which purchases some of its produce from the Brooklyn Grange. One of the hors d'oeuvres included pate, while the other included a pesto sauce and tomatoes picked that day from the Brooklyn Grange farm.
I also had an opportunity to sample vanilla ice cream flavored with some of the Grange golden honey, compliments of the Jennifer and Sergio, founders of Malu, the Jackson Avenue, LIC ice cream shop and confectioners. The ice cream struck a delicate balance between creamy and sweet. Not something you'll easily find elsewhere.
WQCI Fundraiser - Live Entertainment At The Brooklyn Grange
Bucky Buckaw, the raspy voiced chicken farming radio celebrity, was serenading the guests with his alter ego persona, the ukulele-playing Robert McMinn. Meanwhile the guests seemed to be enjoying the music, the cool breeze and the scenic panoramic view of Manhattan to the west and Queens to the north, south and east.
I had occasion to speak with Ben Flanner, one of the founding fathers of the Brooklyn Grange. He told me that the grange had been started by five people: Anastasia Plakias, Gwen Schantz, Brandon Hoy, Chris Parachini and himself. They began the effort in late 2009 with their first fundraiser.
Brooklyn Grange Becomes Queens' Brooklyn Grange
They intended to start the rooftop farm atop a building in Brooklyn, where the majority of the founders lived, and hence named the company the Brooklyn Grange. They winded up cutting a deal with the owners of 37-18 Northern Blvd in Queens, which is how the Brooklyn Grange ended up in Queens, New York.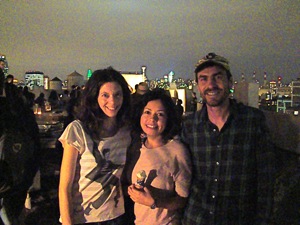 Currently Ben, Gwen and Anastasia all currently work the farm, along with a business manager, Chase Emmons, who is as busy as a bee. Chase is also the resident beekeeper and Stephanie Covell is the farm stand manager. The farm stand is open every Wednesday from 1 pm – 5 pm during the growing season, which is still in session, but beginning to wind down. They also sell their produce at the green market in Williamsburg at north 6th Street and Kent, as well as directly to restaurants such as Vesta, Kickshaw and Stefanos.
Brooklyn Grange - Rooftop Farm In Queens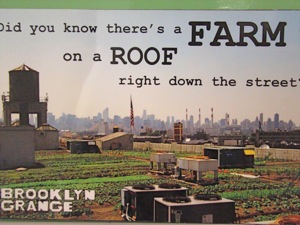 In 2010 the Brooklyn Grange hired cranes to lift 720 cubic yards or 1.2 million lbs of soil onto the roof. They built an irrigation system to water the rooftop farm and selected crops that didn't require deep roots and would grow well in the rooftop environment.
This is the Brooklyn Grange's second year of operation and this year they will have harvested between 12,000 and 14,000 lbs of fresh vegetables on the roof. About 25% of their crops are tomatoes and another 25% is comprised of various salad greens including lettuce, wild leaves, mustard and arugula. Other Brooklyn Grange crops include rainbow chard, kale, peppers, sorrel, onions, eggplant and okra. As mentioned above, they also care for egg-laying chickens and honey-producing bees.
Western Queens Compost Initiative - Awards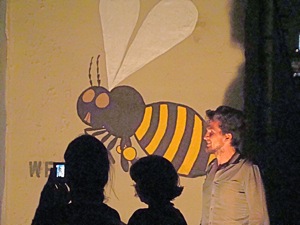 Stephanos Koullias and Leanne Spaulding handed out a few awards to some of the people who have been supportive and played key roles in establishing the Western Queens Compost Initiative. Daniel Tainow of the Queens Botanical Garden was honored. He taught Stephanos and Leanne many of the finer points of composting. I also met Erin Barnes, Executive Director of ioby, which also received an award for their help. Ioby is a non-profit dedicated to creating more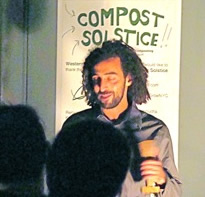 sustainable and regenerative communities. A couple of brief speeches were made while awards were handed out, thanking those who helped.
There was a general feeling of celebration in the air. Was it the solstice they were celebrating or the fall harvest? Or the accomplishments of the many volunteers who are working so hard, with little compensation, to make Queens an environmental enclave amidst the densely populated megalopolis along the eastern seaboard?
Western Queens Compost Initiative - Slide Show
Photos Atop The Brooklyn Grange
DSC03215- Leanne Spaulding, Environmentalist & WQCI Staff Member
DSC03226 – Kickshaw Staff Member [please send name]
DSC03231 – Brooklyn Grange co-founder Ben Flanner [capped / center]
DSC03237 – Radio talk show celebrity, Bucky Buckaw, aka Robert McMinn

DSC03250 – RFK / Triborough Bridge at night
DSC03254 – Environmentalist and local community garden co-founder, Peter Coyne

DSC03284
– Kickshaw hors d'oeuvres
DSC03286
– Dessert maker Mary Pontillo aka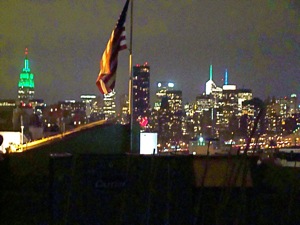 Socrates Sculpture Park composter
DSC03289
– Jennifer & Sergio of Malu in LIC
DSC03310
– Ben Flanner of Brooklyn Grange on right
DSC03311
– StephanosKoullias, founder of Western Queens Compost Initiative

DSC03312 – Daniel Tainow of Queens Botanical Gardens
DSC03317 – Helen Ho & Erin Barnes of ioby
DSC03318 – Lynne Serpe of Triple R Events & Jules Corkery of the Astoria Park Alliance
DSC03320 – Helen Ho winner of one of the awards – chicken and quail eggs
---
$element(ophoto,photo_slideshow,149,660,,5.00,fade)$
---
LIC Neighborhood - Long Island City Links
$element(adman,groupad,NHoodLIC)$
Click on these advertisements for promotions, discounts and coupons by retailers and restaurateurs in Long Island City LIC and nearby Queens.
Click this link to go to the:
Long Island City Neighborhood or LIC Business Directory
Long Island City Real Estate or Events & Things To Do In LIC
Restaurants In Long Island City or LIC Shops & Shopping
---
$element(adman,groupad,Catgry Foodwine)$
Site Search Tips. 1) For best results, when typing in more than one word, use quotation marks - eg "Astoria Park". 2) Also try either singular or plural words when searching for a specific item such as "gym" or "gyms".
$element(bwcore,insert_search,N)$
Click this link to search for something in our Queens Business Directory.
---
$element(adman,groupad,Sectional2 Ad)$
Click the log in link below to create an ID and post an opinion.
Or send this story to a friend by filling in the appropriate box below.
---