Reason's Clue Exhibit At Queens Museum Of Art
Flushing Meadows Corona Park / Queens NY / September 28, 2008. I had the good fortune to meet Tom Finkelpearl, Executive Director of the Queens Museum Of Art [QMA], who allowed me to preview an upcoming exhibit titled 'Reason's Clue", which is now showing at the QMA in Flushing Meadows Park.
Reason's Clue Art Exhibit At QMA
If you're in a hurry and want the scoop; it's this: Reason's Clue is beautiful, mind expanding art exhibit. The Reason's Clue exhibit includes oils, ceramics, bronzes and natural elements. The exhibit has a number of interesting themes running through it such as ancient East meets modern West, but it doesn't stop there. Scroll down to see photos of the exhibit, artists and the rest of the story on Reason's Clue at the Queens Museum of Art.
---
Reason's Clue Art Exhibit - Introduction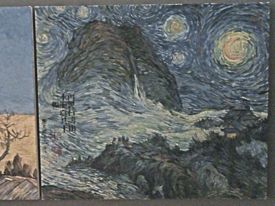 Reason's Clue, features eight artists: four from the island of Taiwan and four from main land China. I met, interviewed and photographed some of the artists while they were in the process of installing the exhibits. The theme of the exhibit refers back to the teachings of Lao Tzu, who was an ancient Chinese philosopher and the leading proponent of Taoist thought in and around the 6th century. It was during this time that Taoist thought came together as a complete philosophy.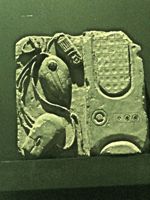 Taoist Thought Runs Through Queens Museum Of Art Exhibit
The core concept of Taoist philosophy focuses on yin and yang. Yin and yang are opposites. According to Taoist thought there are four basic tenets which guide opposites: 1) opposites attract, 2) inherent in every opposite is their opposite, 3) one cannot exist without the other, therefore opposites complement each other and hence make up a whole, and 4) opposites are in a continual state of transformation.
Confusing or Confucian? Pardon the pun, but it shouldn't be either. It's Chinese philosophy, the profundity of which, takes a long time to comprehend. Ancient texts say that it takes a life time or longer. But let's move on and take a deeper look by seeing the artists work and hearing what they had to say.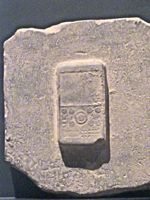 Meet The Artists At The Queens Museum Of Art
Nora Gomez, showed me around and introduced me to the artists. On the front page there is a photo of her next to the works of Zhang Hongtu, with whom I did not get an opportunity to discuss his work. But in the painting behind Nora and in the photo above, you can see he draws from the style of Van Gogh to paint ancient Chinese landscapes.
The first artist I met was Tu Wei Cheng who is from Taiwan. As he didn't speak English, and my command of the Chinese language isn't what it used to be, we spoke through an interpreter. Tu has an archeological theme running through his art.
Iconic Asian Influenced Art At QMA In Flushing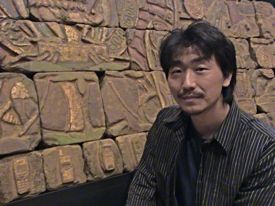 Tu creates what look like ancient artifacts, but in which are embedded current day icons, such as cell phones or the computer mouse. The point is to get people to think about who we are, today, from the vantage point of someone looking back in on us thousands of years from now. Or, in keeping with the Taoist theme, to think about where we came from to get us here, to today. This latter concept he addresses by also embedding art from other cultures, into his works. All of these influences have some bearing on who we are today.
In the photograph, the work he's standing next to has Buddhist, Indian, Chinese and Mayan cultural icons or techniques included in the work, as well as showing a telegraph, an old telephone, a cell phone and a grandfather clock. The theme for this piece is communication, and if I got it right, he calls it "Future Gate".
Fairytales And Art At QMA In Queens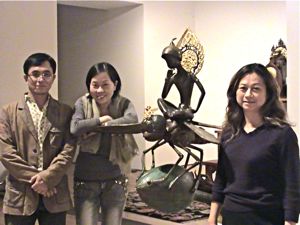 The next artist I met was Yang Mao Lin. As a young child he would play with insects in Taiwan to pass the time away. Hence he incorporates insects into his work as well as fairy tale characters such as Peter Pan. To them he adds iconic religious symbols and poses, such as halos and Buddhist poses, respectively. These works are done in bronze to which he adds a finish that almost makes them look ceramic. Standing in the photo, left to right, are Yang, Tina Keng[center] who runs a gallery in Taiwan, who helped Luchia Lee [right] put together the exhibition[Luchia is the QMA guest curator]. Luchia curates both public and private shows, including having curated "Nexus" in 2004 at QMA.
Taiwanese Art Exhibited At Queens Museum Of Art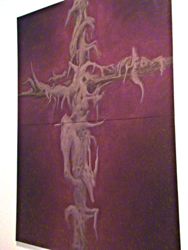 Lin Ju was the next artist I interviewed. He grew up in Taiwan and had a tumultuous youth. His youthful emotional turmoil lends itself to his work as he creates paintings rich in symbolism but incorporating influences of today. One such example is a crucifix, comprised of a vascular system. He also draws upon the Chinese landscape tradition, but adds to it something intimate, some part of himself, into every work, such as the baby on a barren landscape.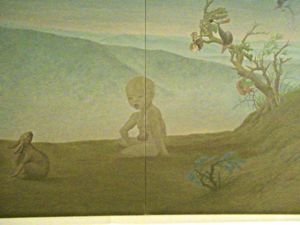 He told me that the actual landscapes were from his home island of Taiwan. In keeping with the Taoist theme of 'Reason's Clue', one could view Taiwan and main land China as a sort of opposites, and see the art from these artists as something shared between them. In a sense a part of a greater whole.
I communicated with Jin through an interpreter and unfortunately some of his quick humor didn't make it through to me. His work does cause me to ponder Jin's internal complexities which he expresses through his art.
Mainland Chinese Calligraphy - Art From Nature At QMA
Cui Fei was the next and last artist with whom I had the opportunity to interview. She's been living in the U.S. for about ten years, so I had to opportunity to converse with her directly. Her work is called "Manuscript Of Nature V" [please note that the V stands for roman numeral five]. She's originally from Shan Dong province, which is about three hours south of Beijing on the Chinese main land.
It's important to understand Fei's background since her work speaks to it, and about it. All around her, Fei sees change. Her home country in China has undergone a huge transformation over the course of her lifetime, and it has evolved into something very different from the country in which she originated.
Since her departure from China some ten years ago, she has had many experiences that have changed her. Hence, like her country, she has evolved into someone different, than she was just ten years ago. Hence all the world is changing around her, within her, so Fei seeks to find something constant – something universal – in her work. The timeless value of universal truths was something taught by the Chinese ancients, such as Lao Tzu.
$element(flashss,slideshow,16,Nasc)$
Fei draws reference to Chinese calligraphy, which has been fairly constant for many thousands of years. She uses vines, which are all natural, and hence universal, to represent Chinese calligraphy. She notes that vines can be found here, as well as in China, which lends a universality to them – like a universal truth. She looks at me, wondering if I understand what she's trying to communicate.
Art Exhibit Runs Into December At The Queens Museum Of Art
This exhibit opened at 3 pm Sunday, September 27, 2008. The exhibit runs through December 7th, 2008 and is well worth the visit. And remember, I only interviewed half of the artists, so you've only taken a small bite out of this multi-dimensional exhibit. The artists not mentioned include: Hong Hao, Michael Cherney, and Xu Bing. The Queens Museum is easily reached by taking the number 7 subway which can be connected to from the V, G, R, E or F in Jackson Heights at 74th / Broadway. See below for a link to a map showing the Queens Museum Of Art.
Reason's Clue Art Exhibit At The Queens Museum Of Art In Flushing Queens NY - Related Links
Click this link for a story about the Contemporary Indian Art Of The Diaspora exhibit shown at Queens Museum Of Art in Flushing Queens NY, or the Queens International Art Exhibit at the Queens Museum Of Art in Flushing Queens NY. Click here for a map showing the location of the Queens Museum Of Art in Flushing Queens NY. Click this link to obtain the contact info and website url for the Queens Museum Of Art in Flushing Queens NY.
Click this link to go to the Flushing & Corona Neighborhood News / Flushing & Corona Neighborhood Guide and Map / Flushing & Corona Restaurants Guide & Map / Flushing & Corona Shops Guide & Map / Queens & Flushing & Corona Events / Flushing Business Directory / Flushing & Corona Shop Announcements.
RETURN LINK TO Queens Buzz Front Page.