No Angels At The Laughing Devil
New Comedy Club Opens Doors To Press & LIC
January 18, 2012 / Long Island City LIC / Performing Arts / Queens Buzz. I attended the Grand Opening night of the Laughing Devil Comedy Club in Long Island City Queens tonight. They had a full line up of comedians, who they had charged with lightening up the Queens NYC press corps, which wasn't exactly a roomful of jokesters. Steve Hofstetter, one of the club owners, is shown in the photo to your left.
Steve was the first comedian on stage. I arrived shortly before he walked off stage and the next comedian, Moody McCarthy, quipped how Steve hadn't exactly set the house on fire. But the night was young and the time soon began to fly as we were treated to a full barrage of laughing gas, some of which was delivered by comedians from Queens. Steve returned to do a second set, which turned out to be one of the more entertaining performances of the night.
Click here to view our full report about the Laughing Devil Comedy Club in LIC.
---
No Angels At The Laughing Devil
New Comedy Club Opens Doors To Press & LIC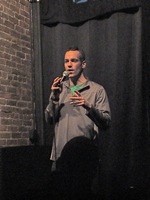 Continued. January 18, 2012 / Long Island City LIC / Performing Arts / Queens Buzz. Steve's repertoire included references to a real or fictitious childhood and some television shows. One of his recommendations for improving educational performance was to hold contests where a predator and a 5th grader compete on questions centered around school work. If the predator wins, he keeps the kid. Given this situation he asks, what 5th grade kid wouldn't study hard?
Moody McCarthy was up next [see photo to right]. You have to like a guy who has two last names, versus those who have two first names – like George Michael. Moody lives in Astoria where he says the only noise you hear at night is the roaring cheers when Ecuador scores a goal. His material included remarks about the subway system, and a lot about his current girlfriend. I'm guessing she didn't make this show as he quipped, "we must be getting serious, because it's not fun anymore".
Comedy Clubs in LIC - The Laughing Devil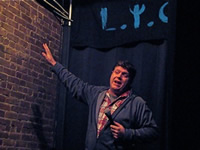 I liked the format for the evening, as each comic had about 10 – 15 minutes to find the group's funny bone. I find stand up comedy to be a contact sport, as there's no room for mediocrity – you either get them laughing or you don't. It's not like theater or music, where the audience plays a rather passive role. And a good comedian is always trying out new material to stay freshly funny.
Moody was followed by Mike Trainor [see photo to right ha, ha]. Mike is a hearty fellow and as such; chose food, sex and some of his experiences on the road; for his material. He doesn't recommend the NASA space foam beds for sex, as unlike spring beds, they don't provide any ergonomic assistance.
Laughing Devil in Long Island City NYC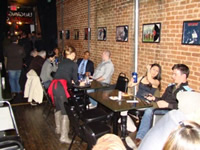 The comedy club is probably about twenty feet wide and a couple of hundred feet long [see photo to right]. It has exposed brick walls and a rather small stage, which has black curtains. The curtains provide a very slight dramatic effect. There's one bathroom at the rear of the club and it's painted a bright red. The club seats about 50 people, and most of the comedians figured they could probably come up with something to say about the club size, but given it was the grand opening and we were the press, they decided not to.
Comedy In Queens & Long Island City - Matt Baetz
Matt Baetz was up next. He actually got me laughing the hardest. He's getting married next week [I generally assume
they're making this up], and as such, he told us how he went the traditional route and asked her father for his soon-to-be wife's hand. Her father responded, "Are you sure?" After Matt started to go on about how he loved her, the father instructed him to cut to the chase as there was a Jets game on.
Before he asked his soon-to-be wife [he didn't like the word fiancée as he figured that was only used by women to make other women jealous] to marry him, he asked his mom how she knew his dad was "the one". She went on about something, and while she was talking he recollected that they grew up in a small town that everybody else had left. And it began to occur to him that his dad was the 'one guy' in town still around, so he became "the one".
What Makes Someone Funny To One Person & Not The Next?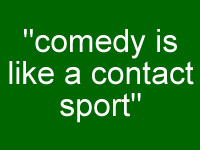 Marshall Chiles was up next. He told us that he's married with kids. His repertoire had a pretty hard edge to it, as he took us on a verbal knock on raising kids, abortion clinics protesters and a fatherly porn folder on his computer. It contained a bit of the macabre, and little to none of which I found funny. But to be fair, others in the audience laughed.
Steve returned and took us into the world of airport security and the TSA. He told us that TSA had never foiled a plot, and that a few terrorists actually boarded planes before they were captured. He went on to examine the value of limiting carry-on shampoo bottles to 3 oz or less. "Like two terrorists couldn't get on a plane and combine their bottles of shampoo so they'd have 6 ounces of shampoo."
Entertainment Options In Long Island City LIC
Steve was stopped by TSA security recently and the security agent asked him what he does for a living. As he's a stand up comedian, he hates being asked this question, because the follow on line is always, "make me laugh". After he answered the question, true to form, the TSA security agent said, "tell me a joke". Steve hesitated and then said "Airport security". The people behind him started laughing. The security agent looked bewildered and asked him again, "Tell me a joke." and again Steve replied, "Airport security". The agent continued the line of questioning asking, "what are you flying for?". Steve said, "I understand it's the quickest way to get between two places."
Steve was followed by Exeine [see photo above right]. Exeine talked about trips to faraway lands and cultural differences in the way we, and others, live and do things. Many of the lines were kind of funny, but none quite swept me.
It's Fun To Laugh At The Ironies In Daily Life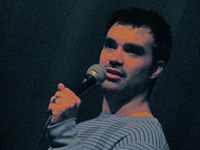 And Joe Larson was last at bat [in photo to left]. Joe told us he was recently married to his girlfriend. He found the words, "until death do you part" kind of daunting, but then remembered that his girlfriend had been recently divorced, so obviously didn't take these words too seriously.
Joe and his wife have a child [do the math], and he thinks that if condom sellers said, "you'll have to get up at 4 am every day for the next year if you don't use these" that their sales would shoot through the roof. He points out that telling folks condoms will prevent sexual diseases just doesn't do it, because most sexual diseases are curable.
So all in all it turned out to be a pretty entertaining evening. As we were the press, the event was free, but I noticed on the Laughing Devil website that the fee would have been $35. See our Queens Events calendar in the Comedy section for more details.
The Laughing Devil Comedy Club
I spoke to Steve after the show. I asked him about starting the Laughing Devil Comedy Club and how he'd gotten into the business. He told me that he grew up in Queens and about ten years ago, post college, he started doing comedy gigs. He said the trick in stand up comedy is to develop material over time that's been tested by an audience.
As he started traveling around the country, he began to make friends in the business, and eventually began doing some of the programming and marketing for comedy clubs. While the Laughing Devil is his main focus, he also collaborates with another comedian and some

friends / investors in the management of this club as well as a couple of others outside of NYC.
So as billed, and as you can see for yourself by what I've written above - I found plenty to laugh about and no angels - at The Laughing Devil at 47-38 Vernon Blvd in Long Island City. Their logo, shown to the left, is a bit reminiscent of a 1960's comic book character called 'Hot Stuff'.
---
LIC Neighborhood - Long Island City Links
$element(adman,groupad,NHoodLIC)$
Click on these advertisements for promotions, discounts and coupons by retailers and restaurateurs in Long Island City LIC and nearby Queens.
Click this link to go to the:
Long Island City Neighborhood or LIC Business Directory
Long Island City Real Estate or Events & Things To Do In LIC
Restaurants In Long Island City or LIC Shops & Shopping
---
$element(adman,groupad,Catgry Foodwine)$
Site Search Tips. 1) For best results, when typing in more than one word, use quotation marks - eg "Astoria Park". 2) Also try either singular or plural words when searching for a specific item such as "gym" or "gyms".
$element(bwcore,insert_search,N)$
Click this link to search for something in our Queens Business Directory.
---
$element(adman,groupad,Sectional2 Ad)$
Click the log in link below to create an ID and post an opinion.
Or send this story to a friend by filling in the appropriate box below.
---