Chinese New Year 2012 in Flushing
Flushing Town Hall - Building Cultural Bridges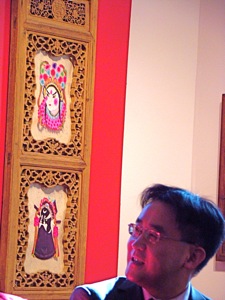 January 25, 2012 / Flushing / Ethnic & Religious Culture / Queens Buzz. I attended the opening ceremony at the Flushing Town Hall celebrating the Chinese new year. Flushing Town Hall is a neighborhood and Queens borough cultural center, which has easily become one of the leading places in Queens and NYC, where one can familiarize themselves with authentic Asian cultures.
Flushing Town Hall presents many exhibits and programs, which nurture an environment of cross cultural understanding. They are also an important location for innovative theater performances, jazz, and world music, of which you can read more about by using the search function on this site.
One of the reasons for Flushing Town Hall's emergence as an Asian cultural center is that Flushing is the home to the largest Chinese community in New York, equaling – if not surpassing - Chinatown in Manhattan. And New York City is home to the largest Chinese community outside of China.
This year is 2012 AD in the western world, but to the Chinese this is the lunar year 4709 and the year of the lucky dragon. Steve Chen of Crystal Window & Door Systems in Flushing [current exhibit sponsors], speaks about the Antique Chinese Windows and Doors collection currently on exhibit at Flushing Town Hall.
Click here to read more about the upcoming Chinese New Year Parade 2012 in Flushing Queens and Chinese Culture.
---
Chinese New Year 2012 in Flushing
Flushing Town Hall - Building Cultural Bridges in Queens
Continued. January 25, 2012 / Flushing / Ethnic & Religious Culture / Queens Buzz. I arrived at Flushing Town Hall in time to hear many of the remarks being given by a group of community leaders about the Chinese New Year 2012. The speakers included representatives of several Chinese and Korean community / business groups, as well as a Korean musician and a Chinese master of calligraphy and other ancient Chinese arts.
Ellen Kodadek, Executive and Artistic Director of Flushing Town Hall, opened the ceremony by greeting everyone and commenting on the lucky year of the Dragon, as well as the exhibits and events that the Flushing Town Hall will be presenting over the next month.
Flushing Town Hall Celebrates the Year of the Dragon 4709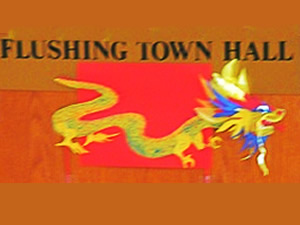 This is the 4,709th lunar new year in the Chinese calendar. The difference in years is worth thinking about, as the western Christian solar calendar started only 2012 years ago. For other cultures this is the year 5773 [Jews], 5270 [Indians] and 1443 [Muslims]. To commemorate the occasion, Crystal Window & Door Systems loaned their collection, Antique Chinese Windows and Doors, to be displayed at Flushing Town Hall.
Steve Chen, of Crystal Window and Door Systems, [see photo in the story introduction] spoke about the age of the items included in the exhibit, which date back between a hundred years to hundreds of years ago. The doors pre-date modern manufacturing processes and are hand carved, and hence unique. The ornamentation on the doors depicts animals as well as patterns from everyday life at the time.
This is the Year of the Lucky Dragon - Chinese New Year 2012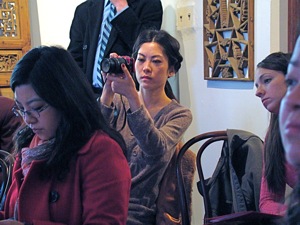 Veronica Tsang of the Cathay Pacific Bank talked Chinese birth signs [there are twelve] and then went on to explain to us the characteristics of those born in the year of the Dragon. The dragon, she told us, is creative, enterprising and brave. In Chinese culture, couples try to have babies during this year, as it is a fortuitous sign. She also remarked about the upcoming Flushing Town Hall programs to commemorate this year.
Steve Chen had previously shared an anedote with us, to highlight cultural misunderstandings. On a recent trip to China, he had asked a representative what her birth sign was. She didn't answer, which left him wondering why. He later found out that it's impolite to ask such a question in Chinese culture, because by knowing somebody's birth sign, one can generally figure out how old they are. Following this event, I did a bit of research into the Chinese birth signs and found that the twelve Chinese birth signs appear to share some similarities to the twelve signs of the Zodiac. Each birth sign exhibits certain personality characteristics and is associated with another living creature.
Feng-shui, Taoism, Yin Yang - Cultural Elements of Current Exhibit
The Flushing Town Hall Master Teaching Artist, Dr. Hsing-Lih Chou, gave a brief talk about some of the meaning inherent in the windows and doors on display. He talked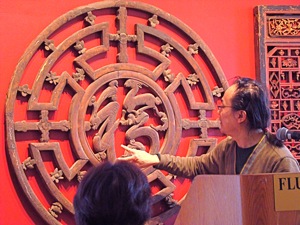 about the importance of Feng-shui which is the practice of situating things [houses, doors & windows] in harmony with the energy of the universe. This is one of the Taoist influences on Chinese culture.
Historically Lao Tzu is attributed to have started the Tao philosophy / religion, which is believed to have originated as a core body of knowledge about 2400 to 2600 years ago. In Taoism, it is important to be aware of the positive and negative energy forces in life in order to live in harmony with nature. It's also worth noting, as a point of reference, that about 100 years ago, western science discovered / proved that the energy foundation of the planet, is based upon electrons and protons, which are negatively and positively charged particles.
Dr. Hsing-Lih Chou went on to tell us that each of the ornaments on the windows and doors contained signficance [see photo]. The large one standing behind the podium signified luck. He then pointed to the panels hanging on
the southern wall and informed us that each of those panels signified something different. He named each of them, and I recall hearing things like, prosperity, longevity and good health. He encouraged us to explore the exhibit and observe and enjoy the artwork inherent in the collection.
Fred Fu of the Flushing Development Center, talked about the importance of Flushing Town Hall as a cultural center to help foster an environment of understanding. And Ellen Kodadek returned to the podium to introduce Paul Yeon Lee, a Korean Flushing Town Hall resident composer.
Korean Culture In Flushing & Queens - Music & Dance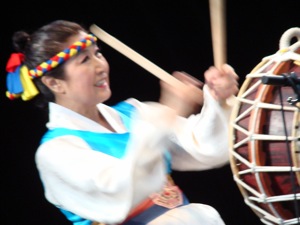 Paul told us how he had become familiar with Flushing Town Hall [through a friend] and about his residency there. He has been working on several new musical compositions which he has practiced at Flushing Town Hall and which he will present on February 25, 2012 from 2 to 4 pm [see Queens Events Calendar for February 2012 on this site]. The work is for daegeum [Korean flute] and piano and entitled Scattered Winds.
Meanwhile upstairs in the theater, a Korean dance group and a Korean drum group were performing for literally hundreds of school children. Included in the performance was a discussion about the history of dance and music in Korea. I caught a bit of the discussion which included talking about things like how to breathe while dancing.
Chinese Cultural Diffusion in Queens - Chinese Calligraphy & Tai Chi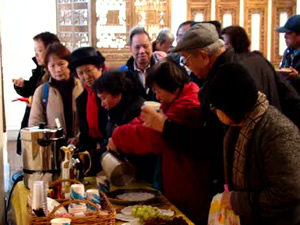 At the urging of a Flushing Town Hall representative, I made a trip down into the basement of Flushing Town Hall where Dr. Hsing-Lih Chou teaches Chinese calligraphy, as well as other classes related to Chinese culture.
Hsing-Lih told me about the history of calligraphy, which is an ancient Chinese writing system that originated about 3,000 to 4,000 years ago. The Chinese used to inscribe calligraphy on ox bones and turtle shells, so many of the early texts survived thousands of years and remain intact today. In comparing current calligraphy to ancient texts, the system remains relatively unchanged.
Chinese Culture In Queens - The I-Ching Book Of Changes
I engaged Hsing-Lih in a roving conversation about two of the three primary influences in Chinese culture: Taoism and Confucianism [the third is Buddhism which I didn't get to]. Hsing-Lih and I talked about the I-Ching or ancient Chinese Book of Changes. It's an ancient text, believed to be one of the oldest surviving Chinese texts, dating back 4,000 to 5,000 years ago. The book is based on positive and negative energy forces that are captured in the toss of a coin [heads or tails]. You throw three coins six times and the markings of positive or negative on the coins, enable you to match the results of the coin toss, to a hexagram in the book [see photo to left].
The hexagram symbols in the book chart [in the photo to your left], match the symbol in a section of the book which contains several paragraphs of ancient wisdom. The I-Ching is based on Taoism, yin and yang, but much of the commentary was written by the Confucianists and Neo-Confucianists. Generally the Confucianists didn't subscribe to the Tao system, but nonetheless are believed to have kept the teachings intact.
Chinese Culture - Taoism & Confucianism In Ancient China
Hsing-Lih told me that in ancient China when Confucius was asked about god, religion and the after-life, he responded,
"If you don't know how to live, why do you need to know what happens to you after you die?"
The Confucian Analects, which are the teachings of Confucius, instruct their readers about how to conduct themselves in this world. The analects include instruction with regard to discipline, ethics and studying hard.
Scholars were among the most revered people in ancient China, because obtaining a good education was expensive, which meant that someone invested in you. Scholars had to have many skills, including calligraphy, musical talent, poetry and teaching skills. Teachers were given great respect, and education was an important profession. When someone taught you well, I was told, "you respect them like a parent for the rest of your life".
Chinese New Year 2012 In Queens - The Lantern Festival
Hsing-Lih gave us a demonstration of calligraphy. He showed us the caligraphy for 'longevity' in the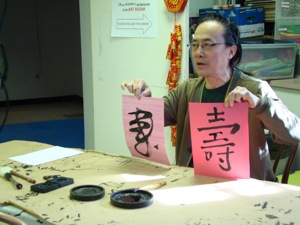 'standard style' and in the 'racing style' of calligraphy. There are over one hundred ways to write longevity in calligraphy. Hsing-Lih also teaches tai chi and origami classes. Tai chi is an exercise that is designed to help keep the energy flowing within, and oragami is paper construction art.
As a last note, Hsing-Lih told us that celebration of the new year in ancient China used to go on for the first month of the new year. It ended with the Lantern Festival, which was the culmination of the new year celebration. The Lantern Festival was the only day during which children were allowed to use fire in ancient China. Today the celebration in China lasts two weeks. I can't confirm this as a fact, but I got the sense that the Lantern Festival, at least here in Flushing Queens, is celebrated more on a personal / family level than publicly.
The Flushing Town Hall has a web presence on this site which includes much of its events schedule for the remainder of the first half of the year. Click here to view a schedule of events in Flushing at Flushing Town Hall.
Speakers At Flushing Town Hall - Chinese New Year 2012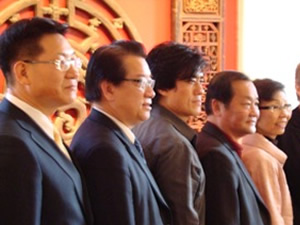 The speakers at the opening event of the Antique Chinese Windows and Doors at Flushing Town Hall included the following:
In the photo to your left are: Kyung Ha Lee, President of the Federation of Korean-American Association of Northeastern USA; Fred Fu, President of the Flushing Development Center; Paul Yeon Lee, Composer, Arranger & Conductor [and resident musician at Flushing Town Hall]; Peter Tu, Flushing Chinese Business Association; Veronica Tsang, Senior Vice President of the Cathay Pacific Bank. See photo to your left.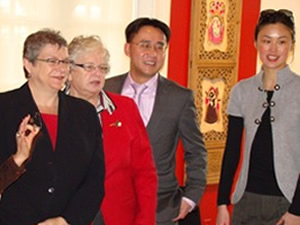 In the photo to your right are: Ellen Kodadek, Executive & Artistic Director of Flushing Town Hall, Toby Ann Stavitsky, NYS Senator 16th District; Steve Chen, Executive Vice President Crystal Window & Door Systems; and Linda Sun, representative of NYS Assembly member Grace Meng. Terry Osborne, Director for Tourism and Culture in Queens, also spoke but was not present when this photo was taken.
Ellen Kodadek, Executive & Artistic Director of Flushing Town Hall officiated the event [2nd from left in photo to right]. And Dr. Hsing-Lih Chou, the Master Teaching Artist at Flushing Town Hall, gave a brief talk on some of the meanings inherent in the windows and doors [see Hsing-Lih in the calligraphy photo above]. It's worth mentioning that Dr. Chou is also the Director of the NY Institute of Culture and the Arts and producer of the Dance Sampler at Flushing Town Hall.
Chinese New Year Parade 2012 in Flushing
Parade Route & Starting Time in Flushing Queens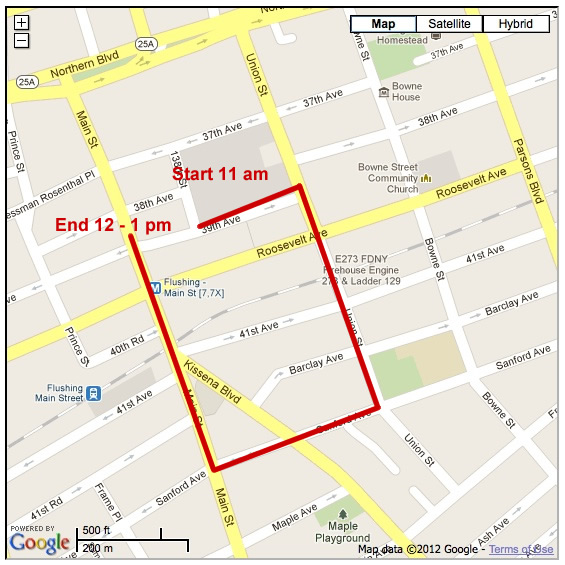 The Chinese New Year Parade in Flushing for 2012 begins at 11 am on Saturday February 4th, 2012.
The Chinese New Year Parade generally begins at Queens Crossing Mall Parking Lot and then winds its way south along Union Street. It turns west at Sanford Street and then winds its way back north up along Main Street ending between Queens Crossing and Northern Blvd.
The parade generally ends about two hours after it starts, although NYC cutbacks last year shortened the length of all parades, so we're not sure what to expect this year. Between 4,000 and 5,000 people marched in the parade last year, and we estimated that upwards of 10,000 people came out to see the parade. As this is Flushing, there's plenty of space to find a good viewing location so the kids can generally snatch a bit of the candy handed out by the marchers in the parade. Happy New Year 4709 - the lucky year of the dragon.
---
Flushing / Corona Related Info
$element(adman,groupad,NhoodFlush)$
Click here to go to the Art Exhibits, Galleries & Museums section of this site.
Click these links for promotions by advertisers in Queens.
Click this link to go to the Flushing Neighborhood.
---
$element(adman,groupad,Catgry Entertain)$
Site Search Tips. 1) For best results, when typing in more than one word, use quotation marks - eg "Astoria Park". 2) Also try either singular or plural words when searching for a specific item such as "gym" or "gyms".
$element(bwcore,insert_search,N)$
Click this link to search for something in our Queens Business Directory.
---
$element(adman,groupads,Sectional Ad)$
---
Click the log in link below to create an ID and post an opinion.
Or send this story to a friend by filling in the appropriate box below.
---