Small Business Financing In Queens NYC
SBA In Queens & Business Outreach Center In Corona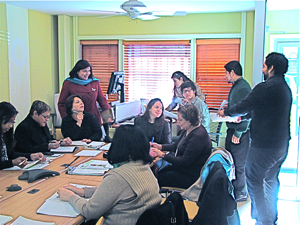 January 31, 2012 / Corona / Queens Business / Queens Buzz. Last summer I decided to take Queens Buzz through the SBA process to raise capital to raise capital and to provide a description of the process that a new or small enterprises must go through in order to obtain non-traditional funding.
Over the course of the past decade, government and non-profit organizations have increasingly become aware of the importance and value of helping new and small businesses survive and thrive as a means of retaining and creating jobs within communities. In the current economic environment, helping these small companies is critical to accelerating the current economic recovery.
I entered the process of seeking a loan in July of 2011 ... click here to read more about the Business Outreach Center in Corona Queens. The photo above was taken at a 2012 seminar sponsored at the Business Outreach Center in Corona Queens entitled Financing Your Business.
---
Small Business Financing In Queens NYC
SBA Financing Via Business Outreach Center - Corona Queens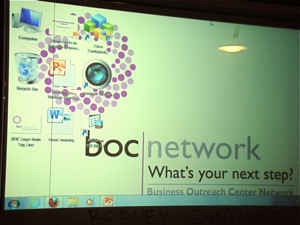 Continued. January 31, 2012 / Corona / Queens Business / Queens Buzz. I went into the process requesting a small loan and met with an SBA counselor at LaGuardia Community College in late July to discuss my situation.
We discussed the reasons I was seeking the loan, as well as the current state of the business's revenue, profit and assets. And we identified potential sources of collateral I was able to offer for the loan. I wanted to use the money to accelerate the growth of the business and my financial position was probably not unlike that of many entrepreneurs.
SBA Loan Documentation
During our meeting, I was given an outline of the documentation I would need to provide. I pulled together copies of the following documents over the course of the next couple of weeks. Meanwhile the SBA counselor sought potentially interested parties who might finance the loan I was seeking.
The supporting documentation requested, included the following:
Letter specifying how the funds will be used (Itemized Listing)
Copy of Purchase Order if applicable
Business Plan Outline showing at least 12 months Expenses and Cash Flow Projections 
Business License Certificate or Incorporation Papers
Business Checking Bank Statements (last 6 months)
Personal Bank Statements (last 6 months)
Rent receipt (last 3 month)
Copy of Lease Agreement 
Three most recent pay stubs if employed outside of the business
Tax Return 2009 (W2) (Personal and Business)
Tax Return 2008 (W2) (Personal and Business)
Copy of a recent Credit Report (we will access if you decide to apply for the loan)
Supply the same personal financial documents for Guarantor
Copy of Photo ID (also for Co-borrower or Guarantor, if applicable)
I met with the SBA Counselor a couple of weeks later with the documentation in hand, and we began to draft a narrative describing the background and nature of the business I was in, as well as my company's position within the market. The intent of the narrative was to provide the lender with an understanding of the industry, the current business plan and the value of the collateral in order to assure them that they would be repaid.
Small Business Administration - SBA History & Mission
During the course of this process I encountered several different entities engaged in the process of helping small businesses. The SBA [Small Business Association] was the first, which is a federal government agency designed to assist small businesses. I had long known about them and generally had a good impression of them, which is why I started with this agency.
The Small Business Administration was created in 1953 with the following mission:
"an agency of the federal government to aid, counsel, assist and protect the interests of small business concerns, to preserve free competitive enterprise and to maintain and strengthen the overall economy of our nation"
Hence the SBA does not make loans itself, but prepares the business owner(s) to file a loan request, and guides them to potential lenders. Many, if not all, of these lenders are provided federal funds at special rates to lend to small businesses. The government alos sometimes guarantees some percentage of the loan in order to encourage lenders to make the loans to spur job creation.
Business Outreach Center - Small Business Counseling & Loans
At the next meeting the SBA and I had a solid narrative, all of the supporting documentation and one potentially interested party - the Business Outreach Center [BOC] in Corona Queens. We sent the supporting documentation to BOC along with the narrative and set up a meeting. At the meeting, which took place in early September, I presented the narrative and supporting documentation.
Generally the BOC staff members were satisfied with the depth, breadth and integrity of the documentation. They liked the industry and business growth trends, but advised me to hold off submitting a loan request, as it was probable that my current numbers wouldn't enable me to qualify for the loan. And they also weren't sure how to value the collateral as they didn't have much experience with it. So we agreed to postpone my application until after fourth quarter results came in, which I had projected to be break even or better.
Business Outreach Center Queens - Mission Statement
The Business Outreach Center [BOC] was founded in 1996 by Nancy Carin who is currently its Executive Director. The BOC is a non-profit agency whose mission is to:
"bring community development organizations together to provide comprehensive services to local small businesses and new entrepreneurs. Targeted to low/moderate income communities, BOC Network's purpose is to create local community wealth, economically empower individuals, create jobs and deliver more disposable income to disadvantaged women, minority and immigrant entrepreneurs"
BOC helps small businesses to help spur job growth in the NYC metro area. BOC works in collaboration with federal, state and city governments as well as with the help of private entities and local banks. Local banks get involved with BOC as part of the federal government requirement of the 1976 legislation entitled the Community Reinvestment Act [CRA] which mandates that a lender must earmark some portion of its lending to investing in the growth of the community in which it is located.
Business Outreach Center History
In 2002, six years after BOC opened in 1996 as a small business counseling operation in Brooklyn, it opened up a financing arm so it could not only help small businesses prepare to pitch a loan, but to also make the loans themselves. And although BOC's mission targets women and minorities, I [as a white male] was assured that everyone is welcomed by the agency to participate in most of its programs [a couple of its programs are only designated for women and minorities].
Business Outreach Center - Corona Queens
The BOC opened its Corona Queens office in 2006. And today BOC also has affiliated offices in Manhattan [Chinatown & Washington Heights], on Staten Island, Westchester and in Newark, NJ. In addition to providing business counseling which includes guiding them in the development of a business plan, they also provide technical assistance and when qualified, financing. Just as the SBA referred me to BOC, BOC makes referrals to other agencies, including to NYC Business Solutions.

NYC Business Solutions - Mission Statement & Services
NYC Business Solutions mission is to:
" help businesses start, operate and expand in NYC"
NYC Business Solutions offers classes on taxes, marketing and how to use the accounting software program Quickbooks. NYC Business Solutions will help entrepreneurs with guidance on rent / contracts and identifying the right legal framework for the business. And NYC Business Solutions provides guidance with setting up checking accounts, managing credit and finding alternative lenders like BOC. They also provide guidance to small businesses with regard to navigating through city ordinances and requirements [see NYC business express URL]. NYC Business Solutions was started in 2002 by the municipal government of NYC.
Business Outreach Center - BOC Loans - Real Case Scenario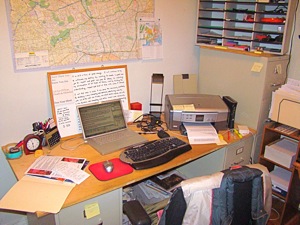 I resumed contact with BOC in late December and provided them with my fourth quarter financials. Starting in fourth quarter I started hitting my revenue projections without any BOC funding, and began operating in the black. So it's become possible and even probable that I will be able to survive and thrive without any outside funding.
Conclusions About SBA & BOC Small Business Help In Queens
I found the SBA loan process both interesting and logical. It probably took me about a week in total to pull together the documentation and draft the narrative [I'm pretty organized and have written these kinds of things before, so it could take longer]. The benefit was that I was able to obtain the perspective of a qualified outsider who guided me in the development of the story of my business which I believe will be useful in future business dealings like hiring and seeking future financing.
Cost / Benefit Of The Small Business Loan Application Process
Following the work with the SBA, I met with the BOC in a couple of meetings, and via emails and telephones. The interactions and updates generally didn't consume a lot of time [less than a day to update the package and meet again]. And I'll soon find out as to whether I qualify for a micro loan.
Business Outreach Center - Small Business Loans In Queens & NYC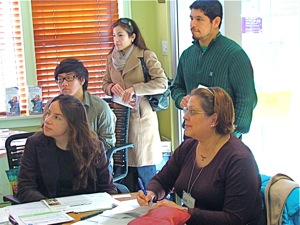 Plenty of NYC and Queens entrepreneurs have had good BOC experiences, including in technology related industries. I was told that web designers, consultants and apps builders have sought and received BOC funding, as well as a wide range of other small businesses.
BOC makes loans from as little as $1,500 to as much as $150,000. The smaller loans were for home based businesses like child care, street and retail operations, and car / taxi services. The larger loans tend to be contract based, meaning a business has a legal contract that it needs money to execute. Some of these are construction based or project based, like a fashion designer producing inventory in advance of a trade show.
Since 2002 BOC has made $5.1 million in loans to small businesses in the NYC region. But it's worth noting that back in the beginning in 2002, BOC made fewer and smaller loans. Since then lending has accelerated over the past ten years, and in 2011 BOC made about $1 million in loans to between 40 and 60 NYC region businesses.
I came away with a solid business plan that can be easily updated for future financing, a greater awareness of some of the government resources available to me, and possibly some funding to invest in the future growth of the business. So if you're looking for help starting or improving your small business, the organizations mentioned above may be able to help you. The people I met were professional, knowledgeable and sincerely interested in helping.
Click here to read another report about financing for small businesses in Queens & NYC.
---
Jackson Heights / Elmhurst Related Info
$element(adman,groupad,Catgry Finance)$
Click this link for promotions, discounts and coupons in Jackson Heights, Corona and Queens.
Click this link to go to the Jackson Heights & Elmhurst Neighborhood News / Jackson Heights Restaurants / Jackson Heights & Elmhurst Shopping.
$element(adman,groupad,NHoodJHTS)$
Site Search Tips. 1) For best results, when typing in more than one word, use quotation marks - eg "Astoria Park". 2) Also try either singular or plural words when searching for a specific item such as "gym" or "gyms".
$element(bwcore,insert_search,N)$
Click this link to search for something in our Queens Business Directory.
---
$element(adman,groupads,Sectional Ad)$
---
Click the log in link below to create an ID and post an opinion.
Or send this story to a friend by filling in the appropriate box below.
---