st pats parade queens st pats for all sunnyside woodside
St Pats Parade Mixes Pageantry & Politics
St Pat's For All Parade Evolving Into Political Pageantry & Forum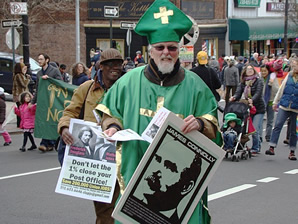 March 5, 2012 / Sunnyside & Woodside / Ethnic & Religious Culture / Queens Buzz. It was a beautiful March day, with temperatures in the 40's, as I made my way down to hear the speeches and watch the St. Patrick's Day Parade in Sunnyside and Woodside.
Last year they moved the parade gathering area up a few blocks from 43rd Street to 47th Street. The new location seems to provide a more communal gathering spot than had the venue on 43rd Street which is in the middle of one of Sunnyside's busiest intersections.
I was amazed at the turn out of potential NYC mayoral candidates. NYC Public Advocate Bill Di Blasio, Manhattan Borough President Scott Stringer, NYC Comptroller John Liu were all in attendance. Notably absent was St Pat's For All Parade regular, City Council Speaker, Christine Quinn. After the parade we contacted Quinn's office to inquire why she was absent and were informed that she wasn't feeling well.
Click here to read more about our report on the St Pat's For All Parade in Sunnyside & Woodside Queens. The report includes a slide show with photos of the speakers, pre-parade dance & musical performances and the parade.
---
St Pats Parade Mixes Pageantry & Politics
St Pat's For All Parade Evolving Into Political Pageantry & Forum
Continued. March 5, 2012 / Sunnyside & Woodside / Ethnic & Religious Culture / Queens Buzz. Outgoing Mayor, Michael Bloomberg, also arrived to make a few remarks at the event. According to well places sources, he took a helicopter from the Staten Island St Pat's Day Parade so he could also attend the pre-parade festivities at the Sunnyside St Pat's Day Parade.
Bloomberg Copters In - Three Of Four Mayoral Candidates Speak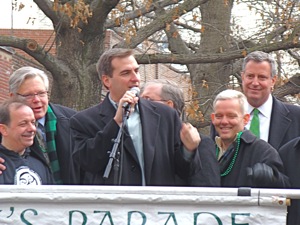 All three potential mayoral candidates gave short speeches about the inclusiveness and diversity of the St Pat's For All Parade in Queens. Congressman Joe Crowley and State Senator Michael Giannaris talked about representing the neighborhood. Danny Dromm told us Christine Quinn sent her regrets. And Jimmy Van Bramer struck a personal note, saying he was proud to be able to serve the 26th District as an openly gay man. In the photo to your left State Senator Michael Giannaris at the podium with [L - R] Brendan Fay, Co-Chair of the parade, State Senator Tom Duane, Scott Stringer [behind Giannaris], City Councilmember Jimmy Van Bramer and Public Advocate Bill Di Blasio. Kathleen Walsh D'Arcy, Co-chair of the parade, was not visible on the stage at the time this photo was taken, but is shown in the second photo of the slide show below.
St Pats Parade Co-chairs, Brendan Fay and Kathleen Walsh, emcee'd the pre-parade festivities. In addition to introducing the government officials mentioned above, they introduced Ireland's Consul General, Noel Kilkenny, who is the first official representative from Ireland to attend the parade. He also echoed the sentiments of inclusiveness and diversity.
Novelist & Social Worker Discuss The Times In Which We Live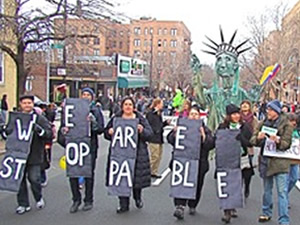 Mary Brosnahan, Director of the Coalition for the Homeless was also a guest speaker, and she asked us not to shun those in need during these difficult economic times. She told us that there are currently 41,000 people living in homeless shelters in NYC, of which 17,000 of them are children. Those are stunning statistics, when you actually think of what these people's lives must be like.
Historian and novelist Peter Quinn also made a few remarks. Apparently he's the son of a New Deal Democrat who was a judge from the Bronx. He reminded us of the story of an Irish immigrant, Grace Farrell, who at age 35 died of over-exposure on the steps of St. Brigid's Church on Avenue B on the lower East Side in mid February 2010. St Brigid's church had been erected in the 1840's by Irish immigrants.
In the photo above, there were marchers from Occupy Queens. There were also marchers representing Occupy Astoria / LIC, and a few other activist / social causes, such as LGBT rights, Dignity USA, the Ethical Humanists, GOAL [anti-poverty], AIDS, Guatemalan Victims of medical experimentation, Taxi Workers Alliance, Veterans For Peace and Free Bradley Manning. That said, the parade continues to be predominantly Irish, with quite a number of Irish groups from Queens marching in it.
Time To Dance & Let The Music Begin
The Brian Fleming Band returned this year to tickle our toes with some energetic Irish dance music. The band members include Jerry Arias on the djimbe drum, Carmen on the tamborine, Vonnie Quinn on the fiddle, Dave Barckow playing guitar and Brian playing the bodhran drum.
We were treated to a couple of dance performances, first by Caroline Duggan and the Celtic Dream Dancers of PS 59 in the Bronx and secondly by Niall O'Leary & co. The Celtic Dream Dancers were African American and Latinos and their teacher was from Ireland. This was followed by a performance by the Niall O'Leary School of Dance, who generally also dance in the parade.
And so the parade began. It began with groups of government officials, followed by tons of other groups. This was the best St Pat's For All Parade that I've watched in the four years I've been covering the event. But judge for yourself by viewing the photo slide show below. And you can compare it with the slide shows we've done in prior years [2010 was quite good too] by clicking this link into our archives of prior years St Pats For All Parade in Sunnyside, Woodside and Queens.
Slide Show - Photos of St Pat's Parade In Queens
Click here to view the slide show containing photos of the St. Pat's Parade in Queens. The Sunnyside & Woodside parade is the inclusive St Pat's Day Parade in NYC & Queens.
$element(ophoto,photo_slideshow,181,660,,5.00,fade)$
---
Sunnyside Neighborhood / Woodside Neighborhood Links
$element(adman,groupad,NHoodSSWS)$
Click on these advertisements for promotions, discounts and coupons by retailers and restaurateurs in Woodside, Sunnyside and nearby Queens.
Click this link to go to the:
Sunnyside & Woodside Neighborhood
Sunnyside Business Directory or Woodside Business Directory
Sunnyside & Woodside Real Estate or Events & Things To Do In Sunnyside & Woodside
Restaurants In Sunnyside & Woodside or Sunnyside & Woodside Shops & Shopping
---
$element(adman,groupad,Catgry Foodwine)$
Site Search Tips. 1) For best results, when typing in more than one word, use quotation marks - eg "Astoria Park". 2) Also try either singular or plural words when searching for a specific item such as "gym" or "gyms".
$element(bwcore,insert_search,N)$
Click this link to search for something in our Queens Business Directory. Also check out Taste of Sunnyside.
---
Click the log in link below to create an ID and post an opinion.
Or send this story to a friend by filling in the appropriate box below.
$element(adman,groupads,Sectional2 Ad)$
---