Donnie Wahlberg Makes Arrest In Woodside
Crime In Woodside Is Back Under Control Thanks To Detective Reagan
July 20, 2012 / Woodside Neighborhood / Woodside News / Queens Buzz. On Friday, CBS began shooting scenes for the 2012 fall season of its action / drama series entitled Blue Bloods. Blue Bloods is a detective series that is shot on location in NYC and on Friday, July 20th Woodside became one of those locations.
The Blue Bloods series revolves around an Irish American family of police officers and detectives. One of the central characters is Frank Reagan, played by Tom Selleck, who is the son of a former police commissioner and is now one himself. I had hoped to photograph Selleck …
Click here to read our report on the shooting of Blue Bloods in Woodside, including a photo slide show.
---
Donnie Wahlberg Makes Arrest In Woodside
Crime In Woodside Is Back Under Control Thanks To Detective Reagan
July 20, 2012 / Woodside Neighborhood / Woodside News / Queens Buzz.
Continued … but Selleck was not in Woodside for the shooting of these Blue Bloods scenes. Another of the central characters is Danny Reagan, Frank's son, who is played by Donnie Wahlberg. Donnie was in Woodside for the shooting of the Blue Bloods scenes and I managed to get a couple of late night / no flash photos of him in action.
CBS Blue Bloods Shot On Location In Woodside Queens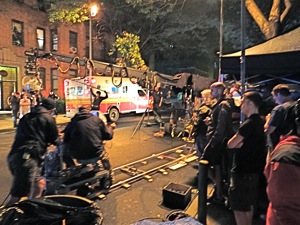 The Blue Bloods television series on location shooting began Friday afternoon around 2 pm and ended in the early morning hours of Saturday [they estimated about 3 am]. In this scene I watched, someone appears to have been injured, and a young man with a basketball is taken in for questioning by Danny Reagan played by Wahlberg.
The show first aired in 2010, and has attracted a significant and steady audience. Blue Bloods has received positive reviews for its on location NYC production, as well as its efforts to tackle modern moral issues and dilemmas. In 2012 the neighborhood of Woodside, Queens, which is still somewhat of an Irish American neighborhood, will make its way onto the program. The series runs Friday evenings at 10 pm EST.
CBS wouldn't confirm when the scenes shot in Woodside would air, but it was hinted that it might be in September / the fall.
Photos of Filming Blue Bloods in Woodside 2012
Click here to view photos of the filming of Blue Bloods in Woodside in 2012. You can view the photos below at your own pace by clicking on the arrows.
$element(ophoto,photo_slideshow,201,660,,5.00,fade)$
---
Sunnyside Neighborhood / Woodside Neighborhood Links
$element(adman,groupad,NHoodSSWS)$
Click on these advertisements for promotions, discounts and coupons by retailers and restaurateurs in Woodside, Sunnyside and nearby Queens.
Click this link to go to the:
Sunnyside & Woodside Neighborhood
Sunnyside Business Directory or Woodside Business Directory
Sunnyside & Woodside Real Estate or Events & Things To Do In Sunnyside & Woodside
Restaurants In Sunnyside & Woodside or Sunnyside & Woodside Shops & Shopping
---
$element(adman,groupad,Catgry Foodwine)$
Site Search Tips. 1) For best results, when typing in more than one word, use quotation marks - eg "Astoria Park". 2) Also try either singular or plural words when searching for a specific item such as "gym" or "gyms".
$element(bwcore,insert_search,N)$
Click this link to search for something in our Queens Business Directory. Also check out Taste of Sunnyside.
---
Click the log in link below to create an ID and post an opinion.
Or send this story to a friend by filling in the appropriate box below.
$element(adman,groupads,Sectional2 Ad)$
---