Maspeth Classic Car Show in Queens
Preserving The Past, While Promoting Good Causes
September 25, 2012 / Maspeth NY Queens / Queens Business / Queens Buzz. I attended the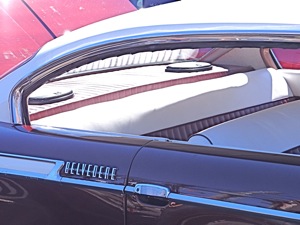 Maspeth Classic Car Show on Sunday. It was my second such venture into the world of classic auto collecting in Queens; and first time visiting the show held in the Maspeth Federal Savings Bank [hereafter abbreviated to FSB] parking lot off Grand Avenue on 69th Street.
The purpose of this show, as well as several other classic auto shows in Queens [see upcoming auto show date & time below], is to have a little fun while raising money for good causes. The proceeds from this auto show would go to Maspeth Town Hall.
I saw vintage cars from the 1930's, 1940's, 1950's, 1960's and 1970's. Some were four door sedans, others two door coupes, a number of convertibles and even a kit car. The classic design and styling are some of the hallmarks of the older cars, but the men who preserve and take car of them, do it because …
Click here to read our report and view photos of the Maspeth Classic Car Show / Autos in Queens.
---
Maspeth Classic Car Show in Queens
Preserving The Past, While Promoting Good Causes
September 25, 2012 / Maspeth NY Queens / Queens Business / Queens Buzz. Continued. I arrived around 11 am on Sunday morning. I met John Monti of Maspeth Town Hall, George Ries SVP of Maspeth FSB and Joe of Frank's Deli at the gate. Maspeth Federal Savings Bank [FSB] and Frank's Deli of Maspeth are the event sponsors and, as mentioned above, Maspeth Town Hall is recipient of the proceeds.
In the photo (left to right) are Joe of Frank's Deli, George Ries of Maspeth Federal Savings Bank and the third from the right is John Monti of Maspeth Town Hall. Please note that there are many more photos [enlarged] of the Maspeth Classic Car Show in the slide show below.
Maspeth Town Hall. John of Maspeth Town Hall told me that his organization oversees a number of social programs designed to help kids and assist seniors. One of their primary efforts is to manage a number of after-school programs for the kids of IS 73, IS 119, PS 49 and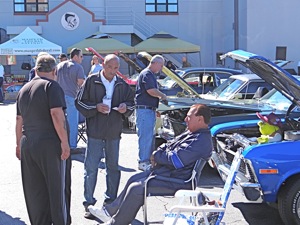 PS 229. They also manage a summer camp for kids, daycare for working parents; and exercise [tai chi and yoga] and arts & crafts classes for seniors. Maspeth Town Hall is located at 53-37 72nd Street in Maspeth. In the photo to your right you can see people viewing the classic cars and strking up conversations with their owners. Seated on the right is Mike of the Bow Wow Boys Car Club of Howard Beach.
Maspeth Federal Savings Bank. George of Maspeth FSB told me that they've been hosting the Maspeth Classic Car Show since the Fall of 2001. The event is hosted in the Maspeth bank parking lot which serves as a good place for the auto show because it's clean, there's plenty of room, and it's enclosed. George estimated that there were about 50 to 70 cars expected to show today. And as I looked around I saw a number of visitors had already begun strolling through the show, viewing the antique vehicles.
Frank's Deli in Maspeth. Joe of Frank's Deli at 52-18 72nd Place in Maspeth told us that they enjoyed sponsoring this event because the proceeds go to a good cause. He also remarked that it was a nice way to spend a Sunday, conversing with some of the Maspeth Classic Car Show guests, some of who are Maspeth neighbors.
11th Annual Classic Car Show at Maspeth Savings Bank
So I began to make my way into the show, photographing the cars as I went along, and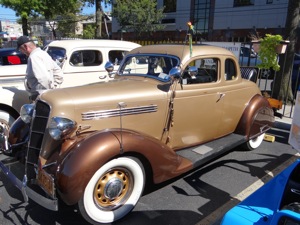 conversing with many of the owners as well. The following is an account of what I saw, including tidbits by many of the owners, and in some cases my educated guesses on some of the makes and models of the cars.
There were two classically styled gangster cars near the entrance. I photographed my hosts in front of them [see above]. The bronze car might be a 1936 Ford Coupe, which might have cost $500 - $700 about 85 years ago, when it was new. Right next to it was another beautiful white car, I'm guessing that it's a 1934 Buick Club Sedan, which might have cost about $800 at the time. The bronze 1936 Ford Coupe and the white 1934 Buick Club Sedan are shown in the photo to your right.
Maspeth Classic Car Show - History of Buicks
It's worth mentioning that Buick is the oldest surviving automobile brand [started around 1900] and the foundation for General Motors Corporation [GM], which for most of the past half century has been the largest automobile company in the world. GM is headquartered in Michigan, and GM innovations include the first completely enclosed body about 1910, turn signals around 1940, and the V8 engine in 1955. This is meant to be sampling of some of its innovations, and not anything even close to a complete list.
Buicks were known to be reliable, powerful and glamorous in their early years and continue to hold that perception even today. Back about 1940 a four door convertible Buick sedan cost less than $1400, while a new 2012 Buick Regal costs between $28,000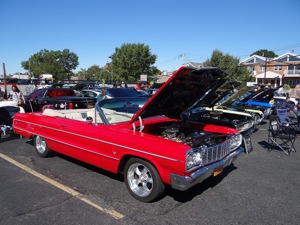 and $35,000. In the 1930's and 1940's GM and the other car companies started offering a variety of makes and models with different looks and features. This was a significant change from offering one size fits all, which was the early hallmark of Henry Ford, because it enabled efficient production and hence lower car prices.
Classic Cars in Queens - 1969 Ford Torino at Auto Show in Maspeth
I came upon a red convertible I thought might be a 1969 Ford Torino. The car was Ford's effort to break into the moderately priced sports car category in the late 1960's. The Ford Torino won 29 car races in 1970 and at the time cost about $3,000. It succeeded in its mission to open up the sports car market to Ford.
Bow Wow Boys Car Club of Howard Beach Queens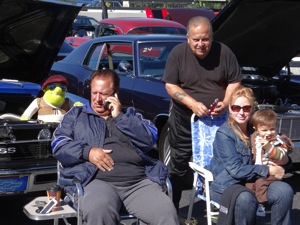 I met Mike of the Bow Wow Boys Car Club of Howard Beach. Mike is the owner of a 1971 Nova, which he paid $100 for about 25 years ago. The car has 130,000 miles on it - and as you can see by the photos in he slide show - the engine looks mighty clean.
Mike also has a 1976 Cadillac, which he didn't bring to the show. Mike was accompanied by his wife and child are shown in the photo to your right. You can see Mike's 1971 Nova a in the slide show below.
Cadillacs were named after one of the great French explorers of the Great Lakes. Cadillac established the outpost which is now the city of Detroit and fur trading on Mackinac Island which would provide John Jacob Astor with his early fortune. He was also one of the early explorers of the Louisiana Territory in the late 17th and early 18th centuries.
Car Clubs in Queens - Bow Wow Boys Car Club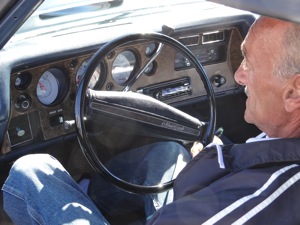 Mike introduced me to Frank, who is the president of the Bow Wow Boys Car Club. I photographed Frank sitting inside of his 1971 Monte Carlo. Frank bought this gem in 2005 for what seemed like a good price, and then proceeded to invest another $12,000 in it along with six years of his life.
The car runs like new and has only 38,000 miles on it. Frank is what he termed a 'street mechanic'. He told me that he did the bodywork and that he teamed up with his son-in-law, who is a certified mechanic, to complete the mechanical work. Frank informed me that many of the charity events sponsored by the Bow Wow Boys Car Club go to U.S. War Veterans.
Plymouth Belvedere - Classic Car Show in Maspeth Queens
This beauty is the 1961 Plymouth Belvedere, but without the tailfins. From the 1920's to the 1960's America's car makers began offering cars in multiple models, providing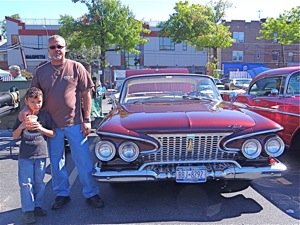 options on things like doors, tailfins, colors, storage, air conditioning and heating, and headlights. The styling of cars during this period included art deco curvature in noticeable designs.
In the 1950's automakers began offering automatic transmissions. The use of manual transmissions began to decline and air conditioning was included as an automotive option. My apologies to the owner and his son standing next to the 1961 Plymouth Belvedere in the photo to your left, as I didn't get their names.
By the time the 60's came around, classical styling was considered old fashioned and automakers began toning down some of the more flamboyant designs. Over the next three decades [1960's – 1980's] automotive design moved toward more minimalist, less interesting designs. The new designs were more aerodynamically efficient, more fuel efficient and more cost efficient to produce.
Volkswagons in Queens - At The Classic Car Show in Maspeth
I came upon two Volkswagons, laden with trophies and medallions. The VW Beetle or Bug is one of the longest surviving car models on the planet. The car was first produced by Porsche at the instigation of Adolph Hitler who wanted a "people's car" [hence the name volks wagon = people's car]. The VW beetle trunk is located in the front of the car making it terribly unsafe, particularly in a head on collision. And the original models had air cooled engines, which as a former owner of a used 911 in the 1980's [a VW station wagon], I can tell you that air cooled heating didn't work in the Wisconsin winters.
There was also a VW Karmann on the lot right next to the VW Beetle. This car was in production from 1955 - 1974 and it was difficult to tell what year it was because they didn't change the styling for most of the 20 years it was in production.
The Volkswagon cars are shown in the photo to your left.
He's a 'Rambling' Man - Classic Car Show in Maspeth Queens
I met John and Ellen Connors who are the owners of a 1967 AMC Marlin with four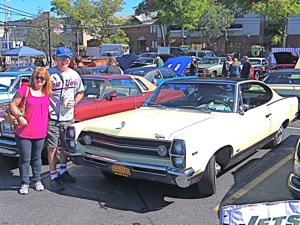 headlights, vertically positioned. AMC was located in Kenosha, Wisconsin and once run by George Romney, Mitt Romney's father. AMC was a distant fourth automaker, representing the merger of Hudson Motor Company and Nash Kelvinator in the mid 1950's. AMC produced a budget line of cars called the Ramblers, bought Jeep, merged with Renault and was subsequently acquired by Chrystler. None of its original brands survived, but the Jeep / AMC brand did.
John told me that he bought the 1967 AMC Marlin just last year. He knew that they had only made about 2,545 of them, and that he had one of the 80 to 90 cars of this make and model still in existence today. He told me that he was doing it to preserve a bit of American history. And he liked going to shows and talking about cars.
1934 Businessman's Coupe Reproduction - Collecting Cars In Queens
I met Danny of Howard Beach who is the owner of a 1934 businessman's coupe. Coupe is the French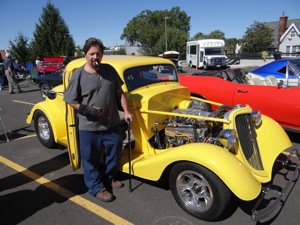 for word for cut as in being cut shorter than the standard four door sedans. The businessman's coupe either didn't have a backseat or had a removable backseat, so that the businessman could store his briefcase or sales materials in the shortened car. Hence the name - the businessman's coupe.
Not long ago the LA Times reported that a 1934 Business Man's Coupe was recovered. The Times valued the coupe at $250,000. Danny volunteered that his 1934 was a reproduction, so he wasn't very worried about it being stolen.
Danny is also from Howard Beach and he used to be a motorcycle enthusiast. Since then he's become a bit of a car collector, as he owns a 1957 Chevy two-door hardtop and a 1951 Ford Coupe. He told me he uses the '57 Chevy nearly everyday. The 1950's were considered by many to be the heyday of the American auto industry.
1951 Ford Deluxe Custom Sedan - Zen & The Art Of Car Maintenance
I came upon a band of 'old men'. They were having a good time, swapping tales and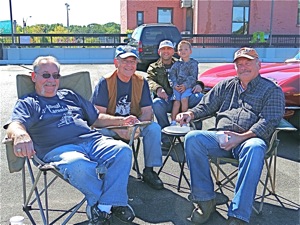 banter as I looked at their cars. I first took an interest in Paul's car, which was a 1951 four-door Ford Custom Sedan. In 1951 Ford offered two models, the custom and the deluxe. In traditional marketing manner, the deluxe was actually the more affordable model. I guess that's like McDonald's calling their small coke a Medium.
Paul had purchased the car about 15 years ago. He spent the next nine years working on it. I guess I must have looked at him with a bit with disbelief, because he told me, "Some guys play golf. I like to work on my car." He went on, "My wife says I go into the garage in one mood, and I come out happy, so she's all for it." His statements reminded me of a book we were required to read in college called Zen and the Art of Motorcycle Maintenance. In the photo above, seated left to right are Paul, Steve (missed getting the names of the man and his son) and James (right). Paul's 1951 Ford Custom Sedan is shown in the slide show below.
1952 MGTD - Preserving Maspeth & Queens History Too
One of Paul's friends, James, was cracking jokes left and right. James is the owner of a 1952 MGTD Roadster convertible sports cars. These cars were built between 1936 and
1955 in the UK. They have 12 volt electrical systems which were hard to service in the U.S. This may [in part] have accounted for their discontinuance, because many of them were sold into the American market. Paul and James told me that they tried to attend between five and ten car shows per year.
Paul said that originally he'd purchased the car for his wife some 35 years ago. He started by putting a 1957 motor in it. Then the first child came. Then they bought a house. Then the second child came. Then they moved to a bigger house. So thirty years later he finished the car.
Paul's interest in history went well beyond cars as he told me how the oldest Church in Maspeth, St. Saviour's Church, was knocked down in 2009 to make way for a new development. He noted that one of the oldest houses along Maurice Avenue is still standing, but he wondered … for how long?
James is shown seated in his 1952 MGTD. We show more photos in the slide show below.
Beribo Replica Automobiles - Replica Cars in Queens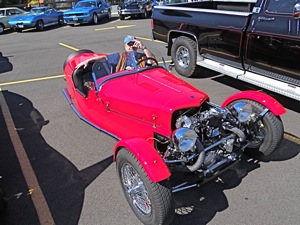 Steve Kaplan was one of the three men seated in the photo above. He had prepared a write up about the car he owned which was a BRA replica auto. The car kit maker is located in Wales and began in the late 1970's.
Steve started his journey building the replica car he was showing, in August 2001. He first bought a Honda motorcycle engine to use for the car he intended to build. In December of 2001 he ordered the CX3 car kit, which he received in July of 2002. He spent the next seven years building the car, completing it in 2009.
You can see Steve sitting in his BRA replica at the Maspeth Classic Car Show in September of 2012.
Classic Car Show Charity Event in Maspeth Queens - 1955 Chevy
It was getting close to time to wrap up, but I had noticed a 1955 Chevy near the back of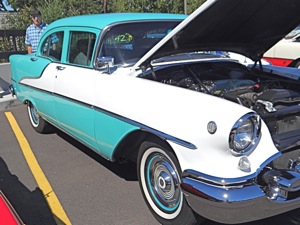 the parking lot. I walked over to admire its retro colors and styling, knowing that underneath the hood was one of the best damned auto engines on the planet, the first V8 engine. Unfortunately I was unable to locate the owner, so I started to make my way out.
On my way out of the Maspeth Classic Car Show I thought about the American history preserved here. It was also an opportunity to view some great automotive styling and design, a chance to speak with some very knowledgeable hobbyists, enjoy a bit of fun and banter, while knowing the proceeds go to a worthy cause.
Antique Autos - Classic Car Show in Queens 2012
There's another auto show coming up on October 14th at the Forest Park bandshell from 9 am – 4 pm. I was informed that there are usually about 100 cars that show for the event and the proceeds go to St. Mary's Healthcare System For Children in Bayside.
Thanks To Organizers, Sponsors & Participants

Many thanks to the organizers and sponsors of this event including Maspeth Federal Savings Bank, Frank's Deli of Maspeth and Maspeth Town Hall. As well as to all of the antique or classic car owners in Queens and neighboring areas who participated in the event.
Photo Slide Show of Classic Car Show in Maspeth
The following is a photo slide show of the Classic Car Show in Maspeth. Use the arrow keys on the slide projector to move through the show at your own pace or click the link above to go to the photo album.
MORE PHOTOS TO BE POSTED THIS WEEKEND
$element(ophoto,photo_slideshow,209,660,,5.00,fade)$
---
Sunnyside Neighborhood / Woodside Neighborhood Links
$element(adman,groupad,NHoodSSWS)$
Click on these advertisements for promotions, discounts and coupons by retailers and restaurateurs in Woodside, Sunnyside and nearby Queens.
Click this link to go to the:
Sunnyside & Woodside Neighborhood
Sunnyside Business Directory or Woodside Business Directory
Sunnyside & Woodside Real Estate or Events & Things To Do In Sunnyside & Woodside
Restaurants In Sunnyside & Woodside or Sunnyside & Woodside Shops & Shopping
---
$element(adman,groupad,Catgry Realestate)$
Site Search Tips. 1) For best results, when typing in more than one word, use quotation marks - eg "Astoria Park". 2) Also try either singular or plural words when searching for a specific item such as "gym" or "gyms".
$element(bwcore,insert_search,N)$
Click this link to search for something in our Queens Business Directory. Also check out Taste of Sunnyside.
---
Click the log in link below to create an ID and post an opinion.
Or send this story to a friend by filling in the appropriate box below.
$element(adman,groupads,Sectional2 Ad)$
---