---
Flushing Meadows Corona Park History & Development
Exclusive Coverage Of Flushing Meadows Corona Park
Special Section Dedicated To Our Coverage Of Flushing Meadows Corona Park. Stories about the history of Flushing Meadows Corona Park and stories of developers trying to develop it and privatize it.
---
Yankees Join Sheik For NYC Soccer
Sheik & Yankees Team Up For NYC Soccer Team
May 21, 2013 / Queens Buzz. The Yankees joined the Sheik to acquire an MLS NYC soccer team, thus adding an influential local owner to the roster of MLS stadium supporters. The Sheik's Manchester Club would own the majority shares.
MLS is seeking to locate a 13 acre stadium in the middle of Flushing Meadows Corona Park. If professional soccer continues growing in popularity, MLS could quickly outgrow the proposed 25,000 seat stadium, and need to expand. Plans are to begin MLS soccer play in NYC in 2015.
Click here for related story on the history / issues associated with building stadiums in Flushing Meadows Corona Park. The photo above was taken at an out-of-league soccer game played at CitiField in 2012.
---
Flushing Meadows Corona Park Update
USTA Proposal Moves Ahead / QMA Hosts Visioning
April 22, 2013 / Queens Neighborhoods / Queens Buzz. In early April, there was a meeting held to vote on whether to give up 0.68 of an acre of Flushing Meadows Corona Park to the USTA to allow them to proceed with their expansion plans.
Most Queens elected officials have now taken public stands on the issue, as it is a matter of some concern with Queens voters. Nonetheless, in spite of their public statements, only a few City Councilmembers made the effort to show up to vote on it. According to a story in the Queens Chronicle, the only Queens City Councilmembers who showed up to vote on the proposed USTA Expansion Plan were: Daniel Dromm of Jackson Heights, Peter Koo of Flushing, Donovan Richards of Rosedale and Ruben Wills of Jamaica. As we reported earlier this year, the Queens Community Boards representing the neighborhoods that had surrounded the park, had split votes on the matter with three Community Boards voting for it, and three voting against it.
Outgoing [term limited] Borough President, Helen Marshall, was the Queens elected official who made the decision for the borough, supporting the USTA expansion. According to the Queens Chronicle story, she was quoted as saying that she insists the alienated parkland be replaced. Her statement is at odds with the Bloomberg Administration position taken earlier this year, where they said that the Flushing Meadows Corona parkland doesn't have to be replaced by the USTA, even though NY State law requires it [apparently there is some wiggle room given to the municipal executive].
The Queens Museum of Art hosted a visioning session to see what the general public would like to see come of the park. Julissa Ferreras, City Councilmember representing Corona was on hand to speak, as well as several students from the Pratt Institute of Brooklyn which has a highly respected program for sustainable urban development. Participants included over 100 local residents as well as representatives of the USTA.
Whose park is it? And whose park will it be? Stay tuned - as you are likely to decide the matter by whomever you vote for in this upcoming election. Click here to read an early account of Flushing Meadows Corona Park history and click here to read our second account about early Flushing Meadows Corona Park development with relevant analogies to some of the proposed developments working their way through the governing process today.
---
CB Votes Split On USTA Expansion Plan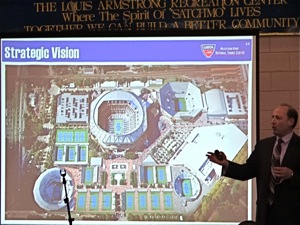 March 14, 2013 / Flushing Corona / Issues Facing Queens / Queens Buzz. The USTA has asked the city of New York to give it .68 of an acre of Flushing Meadows Corona Park so that it can proceed with an expansion plan. The expansion plan is estimated to increase the sports complex capacity for the U.S. Open by about a third, while increasing the USTA footprint in the park by .68 of an acre. The USTA informed the audience attending the Community Board 3 meeting that this will result in more jobs in Queens. They also talked about the positive estimated annual $784 million economic impact that the USTA has had on NYC - according to a study done by a private consulting firm named AKRF, Inc.
The detractors informed the audience that this is the first step in a much larger effort toward a massive privatization of Flushing Meadows Corona Park by several large, well-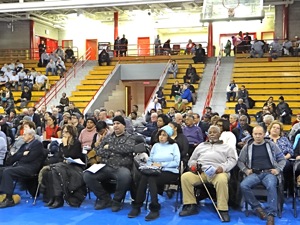 funded corporate interests. The opponents talked about three other proposals which were not a part of the USTA plan. These other proposals to develop private interests on public parkland include the development of a shopping mall by a private investment group in tandem with the owners of CitiField; 2) a condominium / hotel complex done by another group of private investors; and 3) a 13 acre soccer stadium by Major League Soccer, which is also a privately held corporation.
Community Board Tally & Boro Prez Candidates Positions
In the end Community Board 3 voted against the expansion plan, citing among other things, promises not kept when the USTA asked to expand its footpint in 1993. All six Community Boards have now voted on the USTA Expansion proposal, with three voting for it and three voting against it. We'll post a far more complete report on this Community Board Meeting at a later date.
While I was attending the Community Board 3 Meeting in Corona, all six Queens Borough Presidential candidates were attending a forum about the issues facing Queens at the Greater Astoria Historical Society in Astoria. The issue of turning over public parkland to private interests came up during the forum. To date only City Councilmember Tony Avella has come out against giving up public parkland to private interests. NY Senator Jose Peralta is the only other candidate to take a stance on the issue, but only on one of the proposed developments, namely the erection of the MLS Soccer Stadium on 13 acres of FMC Parkland [which he conditionally supports if MLS fulfills all of their promises]. All four other candidates have taken a wait-and-see stance on the issue.
Click here to read our past reports related to the proposed development plans for Flushing Meadows Corona Park. The first report provides an early history of Flushing Meadows Corona Park I and the second report provided an intermediate history of Flushing Meadows Corona Park II which included a number of relevant historic lessons related to sports complex developments in FMCP as well as NYC.
---
$element(bwcore,article_picker,971-974-774-141,Y,N,page_title_home,N)$
---
Flushing / Corona Related Info
$element(adman,groupad,Catgry Wedding)$
Click here to go to the Art Exhibits, Galleries & Museums section of this site.
Click these links for promotions by advertisers in Queens.
Click this link to go to the Flushing Neighborhood.
Flushing Events / Things To Do In Flushing
Flushing Real Estate & Business
---
$element(adman,groupad,Catgry Queens)$
Site Search Tips. 1) For best results, when typing in more than one word, use quotation marks - eg "Astoria Park". 2) Also try either singular or plural words when searching for a specific item such as "gym" or "gyms".
$element(bwcore,insert_search,N)$
Click this link to search for something in our Queens Business Directory.
---
$element(adman,groupads,Sectional Ad)$
---
Click the log in link below to create an ID and post an opinion.
Or send this story to a friend by filling in the appropriate box below.
---