Pirira
A Moving Performance Of Four People's Lives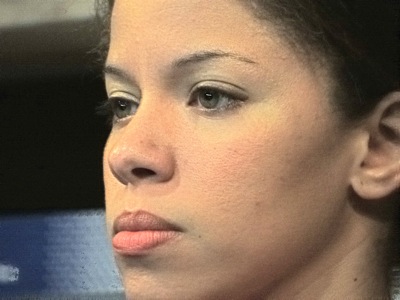 November 5, 2013 / Long Island City LIC Neighborhood / Theater in Queens / Queens Buzz. I had an opportunity to experience the play Pirira just before it opened on October 10th. The original script production is being performed at the Chain Theater in LIC through this weekend, ending November 10th.
It's rare when a play draws tears to the ducts, providing a sort of cathartic release - very much in response to a command performance, as well as from the emotional grist buried beneath the surface in our own lives. Actress Flor De Liz Perez is shown in the photo above right performing in the dress rehearsal of Pirira.
The play is staged in two locations, halfway around the world. One of the locations is in a flower shop in New York, while the other is in the backroom of an American charitable organization in Malawi in Africa. The actors are ... click here for a full review of the play Pirira produced by 167 Theatre.
---
Pirira
A Moving Performance Of Four People's Lives At The Chain Theatre
November 5, 2013 / Long Island City LIC Neighborhood / Theater in Queens / Queens Buzz. Continued. I arrived at the Chain Theatre in LIC shortly before the dress rehearsal performance was about to begin.
Ari Kreith, Director, Talks About Pirira
Director Ari Kreith was patiently waiting for the actors and actress to begin, having
mostly completed the contributions associated with her roles of producing, casting and directing the play. While we waited I had an opportunity to chat with her about the Pirira.
Pirira was written by J. Stephen Brantley, who is an actor and playwright. J. Stephen and Ari worked together on a earlier Theatre 167 production, the third segment of the Jackson Heights trilogy entitled Jackson Heights 3 AM. Stephen approached Ari with the script early in 2013 and she immediately liked 'the idea of it'.
Ari told me that the impulse by people to help others should be simple, but in fact it's complicated. People's cultural and psychological histories create borders that separate us from our common humanity. Our histories change and define us; and in doing so, complicate our interpersonal relationships. Ari said she aspires to use theatrical performance to enhance the audience's understanding of how we are all connected. In the photo above, Director Ari Kreith watches Pirira with her heart and eyes ... the windows of the soul.
Pirira - Simultaneity & Similarities in Life
To that end [how we are all connected], the play shows two locales, an NYC flower shop and the back room of an NGO [non-government organization aka non profit] in Malawi, Africa.
Embedded in the format, we see how things going on in the lives of the characters halfway around the world - while culturally and economically very different and separated by time and space - are also very similar and simultaneous.
Pirira is about personal struggles and human connections. It's about four people trying to get comfortable with their emotions and their own personal places in the world. Something we all must do in life, either consciously or subconsciously. In the photo above left are Gilbert interacting with Todd [off photo to left], while Jack and Erika in Malawi, remain still.
Actors & Actress In Production of Pirira - Chain Theatre LIC
The production of Pirira is very different from the Jackson Heights Trilogy that Ari started several years ago. This production is very up close, personal and intimate. The cast includes only three actors and an actress. Writer Brantley plays the role of Jack, an American NGO worker in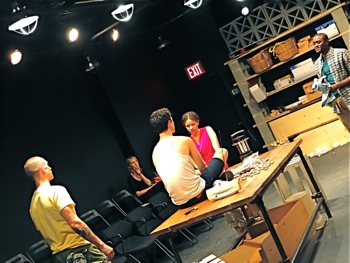 Malawi, opposite a visiting American manager, Erika, played by actress Flor De Liz Perez. And in the NYC flower shop, Todd Flaherty plays a young gay man, Todd; opposite a Malawian immigrant, Gilbert, played by Adrian Baidoo. The cast of the Jackson Heights Trilogy was, in some sense, a cast of thousands.
The Chain Theatre Stage
The play is performed in one room, providing context for two locales. On one side of the room is the flower shop, with flowers, knives and packaging. On the other side of the room we see wooden boxes in the back room of a non-profit in Malawi, Africa. All four performers remain on stage throughout the entire production which lasts an hour and a half.
The action seemed to moves effortlessly from one scene / context to the other. And the similarities kind of seep in, even though both the context and the lives of the four characters differ greatly. In the photo above, the stage showing the backroom of the Malawi NGO.
Pirira - A Moving Portrait Of Life In The 21st Century On Planet Earth
Playwright J. Stephen Brantley told me that Pirira means to persevere and to endure in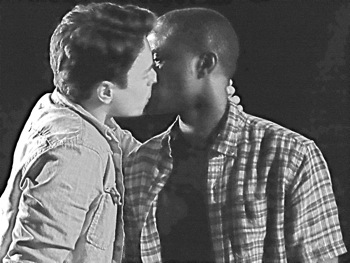 the Malawi language. He became interested in Malawian culture while doing volunteer work to help the people of that country, which is one of the poorest nations in the world. Brantley communicated electronically with people in Malawi, and over time he became interested in helping them tell their stories. Hence, Pirira.
Brantley also spoke about ubuntu, which is an African word meaning humanity or kindness. Its definition is also associated with a humanist philosophy that we humans are all one. We feel the same emotions, we have similar needs, we feel the same pain.
In the photo above, a scene reminiscent of the 1985 movie, Kiss of the Spider Woman, where William Hurt and Raul Julia acted out one of the first gay kisses for broadcast. In Pirira, Todd Flaherty and Adrian Baidoo act out an attempted recruitment to 'the other team'.
Pirira - The Play In LIC / NYC
As mentioned, the play begins in the NYC flower shop, where we find two of its employees tending the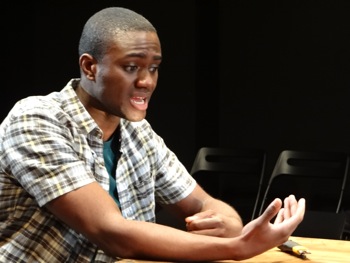 store. Gilbert (Adrian Baidoo) is an immigrant from Malawi and Chad (Todd Flaherty) is a young gay American male. We begin to see a cultural exchange between them, with Chad showing an interest in Gilbert's African culture and a bit of romantic interest in Gilbert himself. Gilbert is portrayed by Adrian Baidoo is shown in the photo to your left.
After we've settled into the flower shop, we're taken rather dramatically to Malawi where there's rioting in the streets. We're introduced to Jack who is played by playwright Brantley and Erika who is played by Flor De Liz Perez. In this segment of the play, Erika is visiting Jack in the Malawi office just as a riot explodes out in the streets.
The action then starts moving between the two venues. Erika has a chip on her shoulder. And Jack seems to have volunteered to help in Africa to escape some hidden pain. Meanwhile Chad starts making moves toward Gilbert, who is not gay, providing some comic relief prior to what follows.
The Lights Go Out In NYC & Malawi - Pirira
There's a power outage in both locales. It seems that power outages have become a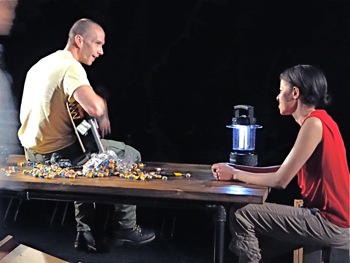 part of the universal experience. The effect of this, is that the performance becomes even more personal, shutting down our senses, focusing our attention onto the actors themselves. And the actors don't try to dodge the close scrutiny, they embrace it.
In what follows, each of the actors begins to open up, sharing a bit about their past lives. There's emotional damage and tragedy in each of their lives, and the hurting from the past continues to this day, yet they persevere ... endure ... pirira.
In the photo to your left Brantley and Perez begin to warm to each other.
In history we learn that the past, in great part, shapes the future. And it's no different in the individual lives of us all. If we live long enough and we open ourselves to love, we're likely to let the hurt come in. It's a part of our humanity, our ubuntu.
Anyhow, it was a moving play. As I mentioned at the outset, it brought the tears to the duct gateways, before I pushed them back. And the acting was superb. So if you're looking to let a little fresh air into your soul, you might want to catch the last weekend of Pirira at the Chain Theatre in LIC. Tickets, locale and showtimes are linked below at the Theatre 167 website.
Chain Theatre - Pirira Tickets & Show Times
As mentioned above, the Chain Theatre is located at 21-28 45th Road in LIC. Tickets to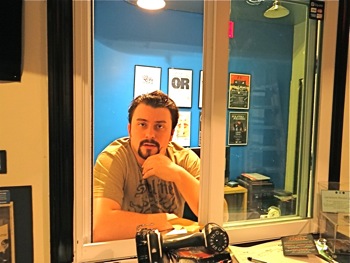 Pirira are $18 and the show runs through November 10th. You can purchase tickets online at Theatre 167. Showtimes are 8 pm Thursday through Saturday and 3 pm on Sunday.
Special Thanks To ..
Special thanks to Director Ari Kreith for producing and directing the play and allowing me to attend the dress rehearsal performance. Thanks to Flor De Liz Perez, Todd Flaherty, Adrain Baidoo for their moving performances, and to Stephen Brantley for authoring and acting in the well written original work. And thanks to Kirk Gostkowski, Artistic Director of the Chain Theatre, for his hospitality [shown in photo above].
Chain Theatre in Long Island City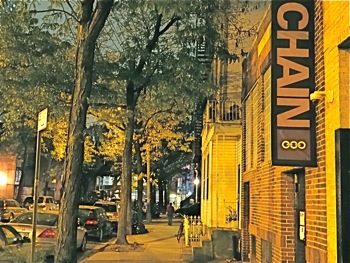 The Chain Theatre is a new performance venue in LIC, having opened at this location in late 2012 / early 2013. It's an artsy, Greenwich Village-like theater .. only cleaner.
Chain Theatre is located at 21-28 45th Road in LIC, just down the block from the Court Square Diner. In the photo to your right is the Chain Theatre in LIC. The #7 Court Square subway stop is at the end of the block [ahead].
Photos of Pirira Performance - Theatre 167 Queens
The following slide show contains photos of Pirira, an original script production of Pirira by Theatre 167 in Queens. Click here for prior Theatre 167 performances.
$element(ophoto,photo_slideshow,247,660,,5.00,fade)$
---
---
LIC Neighborhood - Long Island City Links
$element(adman,groupad,NhoodLIC)$
Click on these advertisements for promotions, discounts and coupons by retailers and restaurateurs in Long Island City LIC and nearby Queens. Click here for a related story about the hotels & restaurants in Dutch Kills section of Queens.
Click this link to go to the:
Long Island City Neighborhood or LIC Business Directory
Long Island City Real Estate or Events & Things To Do In LIC
Restaurants In Long Island City or LIC Shops & Shopping
---
$element(adman,groupad,Catgry Realestate)$
Site Search Tips. 1) For best results, when typing in more than one word, use quotation marks - eg "Astoria Park". 2) Also try either singular or plural words when searching for a specific item such as "gym" or "gyms".
$element(bwcore,insert_search,N)$
Click this link to search for something in our Queens Business Directory.
---
$element(adman,groupad,Sectional2 Ad)$
---
Click the log in link below to create an ID and post an opinion.
Or send this story to a friend by filling in the appropriate box below.
---