The Changing Face Of LIC Retail
LIC Partnership Conferences Retailers & Realtors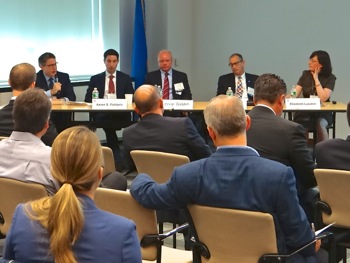 October 29, 2014 / LIC Neighborhood / LIC Shopping / LIC Real Estate / Queens Buzz. I attended a conference entitled Queens: The New Retail Frontier. The event was co-hosted by the LIC Partnership in tandem with the International Council of Shopping Centers. The International Council of Shopping Centers [ICSC] mission is to advance the shopping center industry and to promote its role in the commercial distribution of consumer goods and services. The LIC Partnership's mission is to promote neighborhood economic development and a vibrant and authentic mixed-use community.
The meeting was preceded with a bit of networking in conjunction with coffee and bagels. I spoke to an NYC mortgage professional who, in the course of our conversation, provided me with the following informational tidbits.
NYC Construction Spending At All-Time High
Construction spending is at an all-time high. The New York Building Congress confirmed this statement and estimated that NYC construction spending will be in excess of $37 billion dollars in 2014 and accounting for more than 130,000 [likely well paid] jobs. This is up from about $32 billion in 2013. This spending has been fueled in part by government spending since hurricane Sandy hit on October 22nd, 2012. According to the New York Building Congress, government spending accounted for half of construction spending in 2012 and is estimated to be somewhere in the 30% - 40% of construction spending in 2013 and 2014.
The mortgage broker went on to say that this construction in NYC was necessary as over 70% of New York City housing is more than 50 years old. I checked, and according to Fannie Mae, this compares with a national average of 56% of U.S.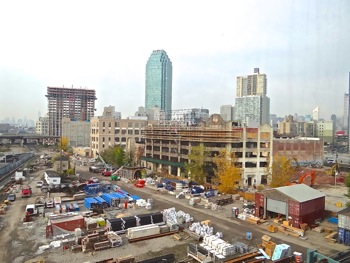 housing being more than 50 years old. Boston, by comparison, has only 38% of its housing stock built prior to 1960. A non-profit, Eye On Housing, notes that New York, Pennsylvania and Massachusetts are states with the oldest median aged housing in the nation. The median age of the housing stock in these states is estimated to be 57 years old.
I was told that the cost of land was one of the major issues facing developers / builders. The mortgage broker noted that the cost per square foot of land in Manhattan was about $500 per square foot south of 96th Street, and that the cost per square foot of land in LIC was $300. He opined that at these prices one could only develop to sell residential space – not rent.
Based on what I learned from this attendee, I expected the conference to be chock-full of usable information. Click here to read the rest of our report on the LIC Partnership & International Council of Shopping Centers conference about retail / commercial real estate in LIC.

---
The Changing Face Of LIC Retail
LIC Partnership Conferences Retailers & Realtors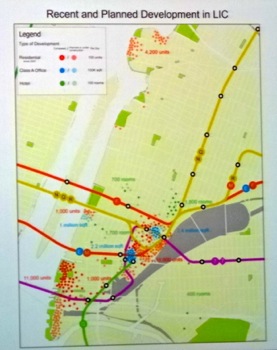 October 29, 2014 / LIC Neighborhood / LIC Shopping / LIC Real Estate / Queens Buzz. Continued.
Two speakers from the International Council for Shopping Centers introduced the panel moderator, Elizabeth Lusskin, President of the LIC Partnership and Executive Director of the LIC Business Improvement District [BID].
Map Showing Recent & Planned Real Estate Developments In LIC By The LIC Partnership
Elizabeth showed us a map containing blue, green and red squares showing completed real estate developments in LIC; as well as new developments in LIC that will be completed within the next couple of years. The red dots represent completed residential units, the blue dots represent completed office space and the green dots represent completed hotel space. The lighter versions of each color represent new developments that will come on line in the next three years. Most of the faded dots are clustered around the Queens Plaza / Court Square area, with the exception of residential units at the top of the map which represent the Hallets Cove and Astoria Cove real estate developments. All in all about 10,000 units were completed within the past few years and another 18,000 units will come online within the next three years.
The photo above right shows the existing and planned real estate developments in Long Island City. The photo below right shows Elizabeth Lusskin, President of the LIC Partnership, seated with the panel at a conference exploring retail real estate opportunities in LIC.
Elizabeth went on to say that in addition to the residential growth, that there are a growing number of companies that have decided to settle in LIC. She mentioned a few including longstanding MetLife and nearby Jet Blue. She told us that Jet Blue came to LIC a couple of years ago and already a third of their 12,000 employees now live here.
For those of us who've been watching the LIC real estate market evolve, it's easy to add the names of a dozen other large organizations that now have a presence in LIC including: CUNY Law, Citibank, RCN, SilverCup Studios and the NYC DOT – to name just a few. But the list goes on and keeps growing.
Elizabeth started talking about the new hotels that have come to the Long Island City neighborhood within the past half decade. She noted that there are currently 34 hotels with 2,000 rooms operating in LIC, and that another 17 hotels are in the planning stages. All in all she did a nice job of summarizing where the market is at today and what one can expect in the very near future.
Retail Real Estate Development In Queens - Queens Economic Development Corp
Seth Bornstein was the next speaker on the panel. Seth provided anecdotal snapshots of some of the retail development he's seen as the Executive Director of the Queens Economic Development Corporation since 2009. He noted that there are a number of thriving neighborhood retail centers sprinkled throughout the borough, such as those in Flushing, Jamaica, Bayside and Forest Hills.
There are other neighborhood retail shopping areas too, such as two retail areas in neighboring Astoria [along Ditmars & Steinway Street/ Broadway], another two in Jackson Heights along 37th Avenue and also Roosevelt Avenue in the 70's and 80's [streets]. There's also a corridor of shopping along Northern Blvd stretching from LIC to Flushing, including some big box retailers like Best Buy, Home Depot and the Sports Authority; as well as a whole slew of car dealerships and a number of small independent retailers in the Jackson Heights / Corona / Flushing neighborhoods along Northern Blvd.
Seth said that there are twelve Business Improvement Districts [BIDs] in Queens designed to help retailers in the market and to help retailers enter the market [FYI - There are currently 69 Business Improvement Districts in the five boroughs of New York City]. Seth talked about Target first coming to Queens by way of College Point, followed by
the opening of a second store near the Queens Shopping Center. He noted that in spite of the arrival of Target; the small independent retailers at nearby locations are still in operation.
LIC Real Estate Development Map: Residential Developments / Office Space Developments / Hotel Developments
Steven Baker of the Winick Realty Group spoke next. He started by talking about a deal they did for a cellular phone company in Flushing in recent years. Steven noted that they were shocked to have to pay Manhattan priced rents for a location in downtown Flushing – but he went on to add that they did - and now that location is one of that company's highest performing stores in NYC and the northeast.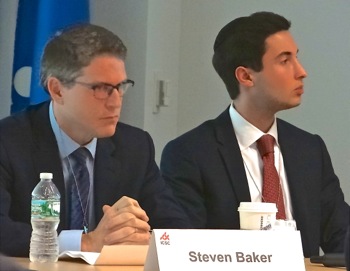 Winick Realty specializes in retail space. Steven started talking about some of the transactions his firm had done in LIC with companies like Blend, NYC Kids Club, and Sweet Leaf. He noted that less than four years ago he was renting retail space in LIC for $25 per square foot. He said that he recently leased some space for $50 per square foot.
Steven opined that eventually LIC would become home to a big box retailer - and that after the pioneer big box retailer came in – others would follow.
Aaron S. Fishbean of Winick Realty followed Steven. He returned to the map talking about relative advantages of the Queens Plaza / Court Square area such as access to eight subway lines [#7, N, Q, G, E, F, V & R] and twelve bus lines. He also mentioned how other companies like Foodcellar & Co were some of the earliest retail pioneers in LIC.
Key Food In Queens: Independent Cooperative Serves Diverse Markets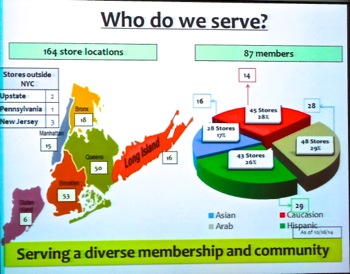 George Knoblock, Chief Operating Officer of Key Food, was next to speak. George was a man of few slides – twelve to be exact. Key Food is an independent cooperative of independent food retailers. They currently have 52 stores in Queens and expect five more to come online within the year. The stores vary in size from 4,000 to 35,000 square feet and in revenue ranging from $70,000 to $750,000 per week. He noted that Key Food was the fastest growing grocer in the NYC Metro area and possibly the northeast. White Rose, a competitor and large independent wholesaler of groceries, just declared bankruptcy in September of 2014, so Key Food expects to make further gains by picking up some of their stores.
George talked about doing business in NYC. He noted that many chain stores have difficulty obtaining reliable information which they need prior to making large investments in the market. He went on to say that the lack of reliable information is compounded by the complexity of the NYC and Queens market demographics, tastes and lifestyles.
George went onto say, what I interpreted as, these market factors make Queens a perfect market for a cooperative food retailer like Key Food. The reason Key Food does well in NYC is that it is operated by an ethnically diverse group of smart independent business people who tailor the size of their stores, as well as the selection and pricing of their goods to the local market. In Queens neighborhoods, these differences can vary as much as in traveling from one country to another.
The Queens food store chains include giants like Pathmark, Waldbaums and Stop N Shop, while the independent grocers include Shop Rite, Met Foods and C Town. The differences are one of scale / size as the chains average $500,000 per week in revenue versus an average of $150,000 - $160,000 per week for an independent grocer.
At this point, the conference went from prepared remarks to answering questions posed by Elizabeth of the LIC Partnership. She asked about the key drivers that are evaluated by retailers considering the neighborhood.
LIC Real Estate Development - 18,000 New Units 2014 - 2016
Steven of Winick Realty responded by saying that retailers "need to see buildings, not cranes." He opined that seeing the residential units filled, the new hotels open and more competitive pricing would, over time, begin to lure large new retailers into the area.
Steven said the erection of the new residential building that will replace the iconic 5 Pointz, will change the face and dynamics of the Court Square area. He also cited the Savanna Fund purchase of the 51 story, 1.5 million square feet Citi Tower Building for 'significantly more' than the half billion paid for it in 2011 as another example of the increasing interest in the neighborhood. The Citi Tower transaction was announced in September of 2014.
Seth of the Queens Economic Development Corporation remarked that retailing in Queens is vastly different from retailing in most / any other part of the nation.
George of Key Foods commented that it's difficult to predict retail volume, prices and profit when you're in a market where the demographics are changing like they are in LIC. It's a challenge to estimate volume until you see who inhabits the buildings and begin to see the lifestyles they live. He said it's far easier to buy an existing food store and build upon / improve its operations than it is to start a new store. He seemed to think that the smaller independents were more apt to take this risk than the food chain stores.
Commercial Real Estate Prices & Growth LIC Queens
Elizabeth of the LIC Partnership noted that a few local retailers were expanding into LIC. She mentioned Bareburger of Astoria and Sweet Leaf, both of which opened second locations. She asked, when will the large retailers begin to expand into LIC.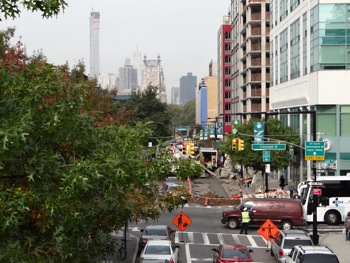 George of Key Food said that the population density is not yet in place and that retailers and real estate owners / developers are at odds over prices. George said that grocers normally pay 2 – 3% of revenue for rent. As a guideline that generally comes to about $20 - $30 / square foot for a store doing $300,000 per week. One has to make assumptions about the kind of volume and revenue one can make when negotiating the lease.
Steven of Winick Realty thought that the building owners who bought into Long Island City some time ago were most likely to cut a deal at the prices retailers were seeking because their cost basis is far lower than those who purchased LIC property in recent years. He reiterated that the purchase prices [not the rental prices quoted above] for land were estimated to be in the $300 / square foot range.
Aaron of Winick Realty said that a retailer did a rental in 2000 paying $20 / square foot and in a recent deal they paid $50 / square foot. He opined that prices now will be less than prices in the future.
Generally Competitive Retail Environment In NYC Queens LIC
Elizabeth asked what are the prospects for bricks and mortar retailers given the growth of online retailers like Amazon. She noted that Amazon is reportedly planning to launch an online grocery service in NYC this fall.
George of Key Food said that grocery purchases online is a very small part of the market [we confirmed]. He noted that folks look for location convenience, fair but not necessarily the lowest prices, and a good selection of the foods / items they want when selecting a grocer.
The audience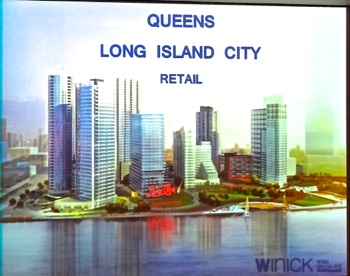 Questions & Answers portion of the program began.
One audience member asked if big box retailers would come here and if so where. Steven of Winick Realty thought that at least one big box grocer, apparel and hardware retailers would eventually come to the LIC market. And, as he had stated previously, he believed that others would follow.
Another question was about how to measure the real demographics of the daytime population of the area [someone answered public schools] versus census data which doesn't include the tenants in illegal basement apartments [and so forth].
Someone inquired about whether zoning changes would be needed to accommodate a big box retailer. No definitive answer was given. Someone mentioned that they believed the Upper West Side of Manhattan has guidelines / restrictions in place regarding zoning for large retail establishments [unconfirmed].
The two last issues discussed were: 1) the need for parking by big box retailers as the Queens Plaza / Court Square corridors are already heavily trafficked / parked, and 2) what could be done with regard to demolition clauses as the big chain and independent retailers generally don't accept such clauses in their contracts, as a building demolition essentially puts the retailer out of business at that location.
All in all it was a very informative session, which was preceded and followed with a fair bit of business networking. Happy shopping.
---
Click here to view the photo album containing the photos of the conference entitled Queens: The New Retail Frontier - about residential and commercial real estate development in LIC.
$element(ophoto,photo_slideshow,274,660,,5.00,fade)$
---
---
LIC Neighborhood Related Info
$element(adman,groupad,NhoodLIC)$
Click here to go to the LIC real estate section of this site.
Click these links for promotions by advertisers in Queens.
Click this link to go to the LIC Neighborhood.
---
$element(adman,groupad,Catgry Realestate)$
Site Search Tips. 1) For best results, when typing in more than one word, use quotation marks - eg "Astoria Park". 2) Also try either singular or plural words when searching for a specific item such as "gym" or "gyms".
$element(bwcore,insert_search,N)$
Click this link to search for something in our Queens Business Directory.
---
$element(adman,groupads,Sectional Ad)$
---
Click the log in link below to create an ID and post an opinion.
Or send this story to a friend by filling in the appropriate box below.
---