Luke Adams 1938 - 2014
Small Town In The Big City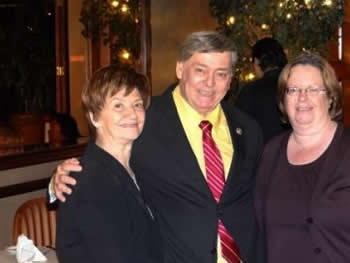 November 13, 2014 / Sunnyside Neighborhood / Queens Buzz. A warm hearted, quick-witted, long-time Sunnysider passed away earlier this week. He was a giver, not a taker. A lot can be said about Luke Adams, as there are as many tales to tell about the man as there are leaves on the trees in Sunnyside Gardens in summertime.
Luke grew up in Queens and as a fairly young man settled into Sunnyside. He ran a travel agency and took folks to places around the world. Lily Gavin of Dazies Restaurant shared Luke's passion for travel and she joined him on a number of trips. Luke was, by nature, an adventurer.
Luke's travel agency was adjacent to the office of the Woodside Herald. He became good friends with Joseph Sabba and his son Buster, both of whom were publishers of the Woodside Herald [in respective succession]. Luke assumed the role of a reporter and photographer for the paper, and he enjoyed those roles, which he would play in some manner for the rest of his life.
Click here for the rest of the story about Luke Adams Sunnysider.
---
Luke Adams 1938 - 2014
Small Town In The Big City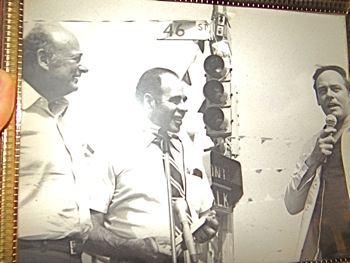 November 13, 2014 / Sunnyside Neighborhood / Queens Buzz. A warm hearted, quick-witted, long-time Sunnysider passed away earlier this week. He was a giver, not a taker. Continued.
Luke was also active in the cultural, civic, political and business life of Sunnyside & Woodside. Luke successfully campaigned to have the iconic Sunnyside arch erected at 46th and Queens Blvd and was supportive of the creation of the Sunnyside Artists organization. He was a member of the Kiwanis Club and the Lions Club. He supported many a candidate for political office, many of whom still play important roles in different levels of NYC, NYS and the federal government. And Luke was a long serving member and supportive advocate of the Sunnyside Chamber of Commerce, and at one time held the office of president in that organization.
But the lasting legacy of Luke Adams is the memories he created and shared with many of us in the community. Oguzhan Turan, President of the Queens chapter of the Turkish Cultural Center in Sunnyside, told a tale about how he met Luke - that sounded very much like my own. Oguzhan said when he arrived in Sunnyside, Luke Adams was the first person to reach out to him and welcome him into the community.
As I listened to Oguzhan describe meeting Luke, I recalled my own experience, receiving that same warm Luke Adams welcome on a cold December night in 2008. I was just getting started with covering events for Queens Buzz and I had made my way down to the St. Sebastian's Christmas tree lighting at Sohncke Park in Woodside. I recall not really knowing a single person at the event.
Luke, a big bear of a man, approached me and asked me what I was doing. After I explained that I was covering this event for a new website [he was covering it for the Woodside Herald], he welcomed me and starting introducing me to everyone at the event. Having spent most of the prior two decades in Manhattan, I was taken aback by such a warm and genuine welcome. He read my surprise and explained to me that, "Sunnyside is the Small Town in the Big City".
Yes, it certainly is. But sadly this week, we lost some measure of that small town warmth … with the passing away of Luke Adams ... Slan.
Click here to read related stories. One is about Luke Adams by close friend Patricia Dorfman, and another about Luke Adams Sunnysider of the Year.
---
Luke Adams Funeral - St Raphael's Church November 14, 2014
The funeral services for Luke Adams are scheduled for 11 am at St Raphael's church along Greenpoint Avenue in Sunnyside.
---
---
Sunnyside Neighborhood / LIC Neighborhood Links
$element(adman,groupad,NHoodSSWS)$
Click on these advertisements for promotions, discounts and coupons by retailers and restaurateurs in Woodside, Sunnyside and nearby Queens.
Click this link to go to the:
Sunnyside & Woodside Neighborhood
Sunnyside Business Directory or Woodside Business Directory
Sunnyside & Woodside Real Estate or Events & Things To Do In Sunnyside & Woodside
Restaurants In Sunnyside & Woodside or Sunnyside & Woodside Shops & Shopping
---
$element(adman,groupad,Catgry Foodwine)$
Site Search Tips. 1) For best results, when typing in more than one word, use quotation marks - eg "Astoria Park". 2) Also try either singular or plural words when searching for a specific item such as "gym" or "gyms".
$element(bwcore,insert_search,N)$
Click this link to search for something in our Queens Business Directory. Also check out Taste of Sunnyside.
---
Click the log in link below to create an ID and post an opinion.
Or send this story to a friend by filling in the appropriate box below.
$element(adman,groupads,Sectional2 Ad)$
---