Relaxing Rooftop Repast On The Grange
Edible Queens Hosts Farm Fresh Dining Days @ Brooklyn Grange
FYI - STILL A WORK IN PROCESS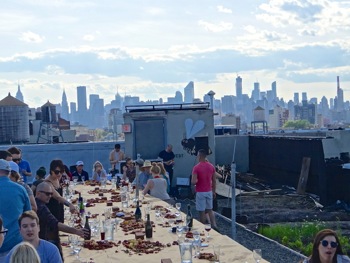 May 25, 2014 / Astoria LIC & Sunnyside / Food, Beer & Wine In Queens / Queens Buzz. I just returned from a very relaxing Memorial Day Weekend afternoon, spent out in the country, on a farm, enjoying a farm fresh dinner with a very laid back Queens crowd from many different walks of life.
I didn't leave the city. I didn't even leave Queens. And in fact, I barely left Sunnyside. But I felt like I had gone many, many miles away; into the rolling green farmlands and golden sunshine of … well … rooftop Queens.
I took the elevator up to the Brooklyn Grange, high atop the Standard Motor Lofts Building along Northern Blvd in LIC. It was like entering a tele-porter, that took me up and away from the city into Queens farm country.
Edible Queens, a quarterly magazine about dining & culture, organized the dinner which is one of a series they've entitled Butcher Paper Dinners. They have planned and scheduled five more of these afternoon / evening dinners between now and October so you'd best rsvp if you're interested because once word gets out about these dinners, tickets are likely to go fast.
The afternoon consisted of sipping unique blends of local beers made in LIC and crisp golden Reisling wines grown and made in upstate New York; while sampling freshly cooked tasso beignets and boiled crawfish by one of NYC's celebrated chefs.
Click here to read more about the Edible Queens dinners at the Brooklyn Grange rooftop farm in Queens.
---
Relaxing Rooftop Repast On The Grange
Edible Queens Hosts Farm Fresh Dining Days @ Brooklyn Grange
May 25, 2014 / Astoria LIC & Sunnyside / Food, Beer & Wine In Queens / Queens Buzz. Continued. It was a beautiful sunny day with temperatures nearing 80 as I checked into the first Butcher Paper Dinner of the season. Ellie, one of the volunteers, instructed me to take the elevator on the left [straight on] and push R to go to the Rooftop. And so I did.
Butcher Paper Dinners At Brooklyn Grange By Edible Queens
I walked out into the Brooklyn Grange farm where the wide open space and panoramic view of Queens very subtly begins the relaxation process. There was a gentle breeze that cooled things down, even as the warm sun shone down upon us [wear sunscreen].
The friendly folks behind the bar table welcomed us as we arrived. They invited us to try some of the beverages selected for the Butcher Paper Dinner, which included upstate wines and beers made in LIC. Both were new to me and I would soon return to learn more about them, but I had heard dinner was being served, so I made my way to the kitchen.
Brooklyn's Union Market Chef In Queens
At the kitchen I met Anne Shisler-Hughes who handles sales, events and marketing for Edible Queens. She introduced me to Jay Soysal and Lily Fleishman who own and operate Edible Queens. Jay began working at the magazine a few years ago, and purchased the franchise in early 2013. The other metro Edible franchises, like Edible Brooklyn or Edible Manhattan, are owned by someone else.
Last fall Jay hosted the first Butcher Paper Dinner atop the Brooklyn Grange in October. The weather wasn't ideal, but the dinner was a big success and hence this year they're hosting one dinner each month. The dinners are intended to feature locally made or distributed beverages, along with NYC & Queens chefs, oftentimes using ingredients from the Brooklyn Grange farm. Today, the salad was made with Brooklyn Grange greens.
The appetizer was tasso beignet, which was made by Mike Ciardi of the Union Market of Brooklyn. The Union Market is located in the Park Slope neighborhood of Brooklyn at Union Street and Sixth Avenue. The beignet is a fritter, which Mike had made with a light fluffy dough, upon which he had sprinkled powdered sugar and in which my tongue and teeth would soon find a juicy morsel of sautéed, Cajun-spiced ham. It was every bit as good as it sounds.
Beas & Greens At Brooklyn Grange
Anastasia Plakias, one of the Brooklyn Grange Managing Partners, was busy looking after the farm. Anastasia, and /or Founders Ben Flanner and Gwen Chance, are on site nearly every day during most of the year, except over the winter. During the winter when they cut back their daily visits to the farm, to about weekly, primarily to look after the chickens.
Anastasia told me that the chickens aren't big egg producers, but have become a popular attraction among visiting school children. She also told me that Chase Emmons has come onto the farm as a Managing Director in charge of the beehives which are very industrious honey producers, due in a large part to the lack of pesticides in the air. While not entirely sure of it, she thought that the two hives atop the Brooklyn Grange are home to a thousand bees apiece.
Brooklyn Grange - A Green Space Host For Adults & Kids
Chase has begun building satellite apiaries [aka beehives] atop other buildings in the area and she pointed to one nearby [see photo in slide show]. For anyone interested in hosting a beehive they can contact the Brooklyn Grange as they are ready to install them. The Brooklyn Grange will also do bee swarm pick ups, but you must send a photo as they do not do wasp swarm pick ups.
Also, Saturdays from 11 am – 4 pm the Brooklyn Grange hosts FARMILY activities in collaboration with Citigrowers. It's free and it's a nice way for kids to get their hands dirty searching for worms in compost, or planting seeds or saving seeds from plants to enhance sustainability. It's also a nice way for them to enjoy some rooftop greenspace and find out where their food comes from.
Lastly, Anastasia told me that the Brooklyn Grange has a second installation which was funded by NYC to help NYC become more environmentally sustainable. The second location is at or near the Brooklyn Navy Yard. You can click to earlier report we wrote about the Brooklyn Grange in which we had covered some of the finer points of the farm in terms of construction and output.
aLICe Brewery in LIC - Beer Makers Extraordinaire In Queens
My next stop was a return to the brewers and vintners table, or shall I say beer and wine? I met Robby Crafton, one of LIC's up-and-coming brewers. He's one of the master brewers at the Big aLICe Brewing Company in LIC.
I tasted the ale he'd brought to serve to the 70 guests at the Butcher Paper Dinner this afternoon. It was a Belgian ale with a rich flavor and clean taste.
We started talking about Big aLICe and brewing. Big Alice was named after the Big Alice generator at Trans Canada plant north of Queensbridge Park in LIC [formerly the Con Ed plant]. Big Alice was the largest generator in the world at the time it was installed [decades ago], and it still generates a great deal of NYC's power.
So why the name? Because the three partners who founded Big aLICe worked at Arista Air Conditioning at 38-20 10th Street in LIC, which is only a couple of blocks from the power plant. And because one of the founders, Kyle Hurst, came from West Allison in Wisconsin where Big Allis was made. And the Big aLICe Brewing Company is also located only blocks away from the power plant. I'm a beer guy and this made perfect sense to me.
So, how did they get started I asked. They were all working at Arista. Kyle, being from Wisconsin [which is the home of beer and brats] had been brewing beer for many years. Robby and the third founder, Scott Berger, liked the idea of brewing beer, so they began playing around with the idea, brewing beer in one of their homes. And then the idea of building a brewery came to them and they began planning.
Big aLICe has been open for about a year. They produce about 8 batches per month, which yields about 90 bottles per batch and each bottle contains about 750 ml or 25 ounces. They sell the bottles for about $18 apiece and generally it's done via a buying group plan modeled after the Community Supported Agriculture groups [CSA's – click here for Queens CSA's] which they've named CSB's or Community Supported Beer. You have to admit these guys are thinking outside the box. Maybe it's the beer they're drinking.
Anyhow, they decided to start a passion project to play around with making beers. Every batch they brew – and they've done over a hundred – yields brews with slightly or greatly different flavors. Robby explained to me that the beer taste we know today became institutionalized in Germany a couple centuries ago with the Beer Purity Laws. Prior to that, he explained, beer was pretty much whatever you decided to make it.
So they go beyond hops, malt, yeast and water and add things like herbs, spices, coffees, teas, hot peppers and produce. The passion project was planned for two years and they're at about the halfway mark. At the end of it, they will either try to ramp up to a micro brewery, which is estimated to cost between $1 and $2 million – or let it go. Right now they're exploring ways to raise capital.
Fresh Crawfish At Butcher Paper Dinner - Organized By Edible Queens
It was time for the crawfish. Mike Ciardi was giving lessons on how to open them to get at the good stuff. First you pull the tail. Then suck the juices out of the empty body cavity before throwing away the body and head. And then you unwrap the top shell panel before pulling out the white meat. The last step is to pull off the top in tandem with the strip along the back. The effort was well worth it, as the fresh juicy white meat had been boiled in a lemon and butter broth and cooked to provide texture and flavor.
After a few crawfish, I sauntered back to the beverage table in search of the New York State wines. I met the Di Salvo brothers who had started a distributorship in 2011. Forming the company took some time because of the legal licenses required to operate a wine distributorship in NYS and NYC.
The Di Salvo Brothers - NYS Wines - Distributors in Queens NYC
Jesse and Nick Di Salvo were at an upstate wedding in 2010 where they were served wines from the Finger Lake region of New York. They were pleasantly surprised by the quality of them and tried to find them in NYC once they returned – but couldn't. So the light went on and they decided to form a distributorship focused on New York State wines only.
They started with the Finger Lakes wines, and eventually branched out to some of New York's other wine regions. I was told that there are five of them: 1) Long Island, 2) Finger Lakes, 3) Hudson Valley, 4) Lake Erie and 5) the Niagra Escarpment.
Heron Hill New York State Reislings - Not To Be Believed
They distribute to both stores and restaurants. The Reisling I sampled, the Heron Hill Reserve was excellent. Actually competitive in quality with a German Reisling. It retails for about $24 a bottle. They told me that most of the wine they represent, which at this point includes about ten vineyards selling about 300 different bottles, retails in price for between $12 to $15 per bottle in the store. And one of the wines made by Heron will be featured on the cover of the June issue of Wine & Spirits magazine.
How Edible Is Queens - Strawberry Pie With Lemon & Cardamom Glaze
It was time for dessert. Mike had prepared a strawberry filled lemon pie. The strawberries were moist and delicious, flavored with a bit of lemon juice and surrounded by the soft baked dough, which had been topped with a lemon Cardamom glaze. It was even better than it sounds.
I spent a bit of time down by the table, where the diners were conversing, listening to the music and enjoying the rooftop view. The DJ had done a nice job of providing a continuous flow of modern rock, jazz, pop and likely more – throughout the afternoon.
I snapped a few more photos and began to make my way home to the city. And down the elevator went.
Many thanks to Edible Queens and the Brooklyn Grange for hosting this event. You can purchase tickets to any of the next five dinners at their website http://ediblequeens.com/2014/05/butcher-paper-dinner-rooftop-crawfish-boil/
Brooklyn Grange Photos / Edible Queens Butcher Paper Dinner Photos
The following slide show is filled with photos taken at the Brooklyn Grange of the Edible Queens Butcher Paper Dinner. Click the link above to view them in the photo album.
$element(ophoto,photo_slideshow,262,660,,5.00,fade)$
---
$element(adman,groupad,NhoodAstoria)$
Astoria Neighborhood Links
Click on these advertisements for promotions, discounts and coupons by retailers and restaurateurs in Astoria and nearby Queens.
Click this link to go to the:
Astoria Neighborhood or Astoria Business Directory
Astoria Real Estate or Events & Things To Do In Astoria
Restaurants In Astoria or Astoria Shops & Shopping
---
$element(adman,groupad,NhoodLIC)$
Site Search Tips. 1) For best results, when typing in more than one word, use quotation marks - eg "Astoria Park". 2) Also try either singular or plural words when searching for a specific item such as "gym" or "gyms".
$element(bwcore,insert_search,N)$
Click this link to search for something in our Queens Business Directory.
---
$element(adman,groupad,Sectional2 Ad)$
Click the log in link below to create an ID and post an opinion.
Or send this story to a friend by filling in the appropriate box below.
---