Queens Buzz OpEd / Queens Opinions - Audience Opinions Posted on Queens Buzz NYC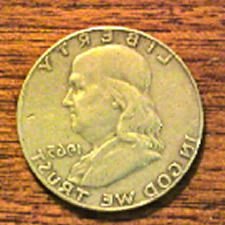 Queens Buzz Audience Opinions. This section contains opinions of our readers. These opinions reflect the perspective of those who authored them, not of Queens Buzz. Opinions begin in 2014 at the bottom of the page and the most recent are shown at the top of the page.


To have an opinion posted, it must meet the following requirements: 1) it must be grammatically written, 2) it must not contain spelling errors, 3) it must not contain hateful or abusive references and 4) it must not contain any personal attacks.


We reserve the right not to publish any submission, even in cases where they may meet the above criteria, which is subject to change as we become more experienced in moderating open public debate.
You might also find OpEds posted on our other websites including Bronx OpEds & Opinions NYC, Brooklyn OpEds & Opinions NYC, Manhattan OpEds & Opinions NYC, New York OpEds & Opinions NYC on Gotham Buzz, Queens OpEds & Opinions NYC and Staten Island OpEds & Opinions NYC.
Send opinions to the editor [at] / using our web magazine name [queensbuzz.com].
SEARCH
---
Queens Op Eds & Opinions - Queens NYC
Summer in New York City: Let's Get Outside
The flowers are blooming, the weather is warming up, and it's starting to feel a lot like summer in New York City. It's a great time to get outside, go for a run or walk, or just breathe in the fresh air. Summer also means that I get to do my favorite thing as Mayor: get on a Citi Bike and enjoy the outdoors with my fellow New Yorkers.
This year, we are making improvements to your experience in your neighborhood and across the five boroughs. This summer alone, 72 of our parks are getting improvements: from renovated playgrounds to new skate parks, and cleaner spaces for everyone. We will have 240 new city employees dedicated to cleaning parks, removing graffiti, and helping to take out trash at our city's most popular parks during peak use hours. That means no more overflowing garbage cans — and no more rats. I hate them, you hate them, and as we welcome New Yorkers to our parks this summer, we are going to send rats packing.
For parents and families, we are hosting over 300 Movies Under the Stars screenings in parks in all five boroughs. Grab your popcorn and curl up on a blanket with family and friends to take in classic films and popular movies on the big screen, all for free.
We are investing in more activities at our parks and playgrounds. That includes Kids in Motion, which is hosting New York City children at 50 playgrounds across the city to get in shape and have fun. We will also have free classes for children to learn about nature and their environment. To find out more about programming in a park near you, visit https://www.nycgovparks.org/.
And if you prefer indoor activity, we are expanding the hours at nine of our city's recreation centers. That means more opportunities for New Yorkers to play sports, swim, dance, and lift weights at recreation centers on nights and weekends.
We are also opening up streets across the city as part of our Open Streets program. You can step right outside your door to enjoy food, games, music, and more with friends and neighbors. This summer, Open Streets is expanding to 160 locations across the city. We also added over 400,000 square feet of permanent new pedestrian space in 2022, including six new pedestrian plazas. Street space is for everybody, and with Open Streets and new pedestrian spaces, it has never been safer or easier to enjoy your neighborhood.
This is the time to take advantage of all New York City has to offer. From live concerts to food festivals, outdoor markets, and Broadway performances, there is something for everyone. Check out https://www.nycgo.com/things-to-do/ to find events. I look forward to seeing you out there.
Mayor Adams
City Hall
May 26, 2023
---
Queens OpEds & Opinions - Queens NYC
The People's Money—Your Money to Improve Your Community
Have you ever looked around your neighborhood and thought—it would be great if we could have a community garden here, or maybe more afterschool programs for students, or special services for seniors? Now, you can bring those ideas to life. "The People's Money" is the first ever citywide participatory budgeting process run by our Civic Engagement Commission (CEC), and from today until June 25th, all New York City residents ages 11 and older - regardless of immigration status - can vote on how to spend $5 million dollars of our city's budget. To do so, go to our website: on.nyc.gov/pb and vote on projects that your fellow New Yorkers have proposed.
You can vote on projects for your borough, and the residents of 33 equity neighborhoods can vote on one additional project that will be funded in their neighborhood. The projects have been carefully selected from hundreds of proposals that were brainstormed by New Yorkers in workshops across all five boroughs earlier this year. In fact, the CEC facilitated 523 Idea Generation sessions across the city in which 12,344 New Yorkers participated. If you have ideas that you would like to suggest, please consider participating in this phase of the process next year.
Participatory budgeting gives you a direct say in the future of your community. You decide how our money is spent. Participatory Budgeting strengthens our democracy and deepens civic engagement. I championed the program as Brooklyn Borough President, and as mayor, I have made it even bigger, giving New Yorkers more money to invest directly in their communities.
Some of this year's proposals include: a youth multicultural arts program in Manhattan; workplace skills training for adults with autism in the Bronx; an intergenerational mentoring program in Brooklyn; a young entrepreneurs program in Queens; and a women and young girls health center on Staten Island.
Proposals in the equity neighborhoods include: teaching Bed-Stuy history in Bedford Stuyvesant; coding 101 for BIPOC youth in Fordham Heights and University Heights; food access support on the Lower East Side and in Chinatown; multilingual job fairs in Corona; and outreach to unhoused people with disabilities in St. George, Stapleton, Port Richmond and Tompkinsville.
Most projects can be implemented in a year. So you don't have to wait endlessly to see the results. The winners will be announced by July and the CEC will work closely with the organizations to make sure that all projects are completed successfully.
You may have voted on Participatory Budgeting projects through your City Council Member, but "The People's Money" is the first citywide process, and it uses mayoral funds.
Don't miss this opportunity to vote on how to spend $5 million of your money.
Visit https://cecpb.decision21.org/the-peoples-money-2023 and vote today.
Mayor Adams
City Hall
May 22, 2023
---
Queens OpEds & Opinions Queens NYC
A Historic Shift in How We Teach Our Children To Read
New York City has the largest public school system in the nation, and we are proud of our dedicated teachers and administrators who do so much to educate our talented students from so many different backgrounds and countries. We want to set up our students for success, and teaching them to read confidently is crucial to our efforts.
That is why we are making a historic shift in our curriculum, and launching NYC Reads, a program based on proven science-of-reading techniques. We will teach our students skills that they can fall back on to decode words when the level becomes difficult, and we will train our teachers so they can provide instruction effectively.
When our young people don't learn to read properly they are more likely to struggle, and they can fall into a cycle of poverty and even incarceration. A staggering 40% of our jail population cannot read properly, and 80% don't have a high school diploma or equivalency diploma.
The inability to read is not our students' fault nor our teachers' fault. It doesn't mean that a teacher isn't doing her job well or that a child is lazy or lacking in ability. We have been using the wrong methods to teach our children, and now we are shifting course so we can give our young people a chance at a better future.
NYC Reads is personal for me. Even now, when I enter a classroom as mayor, I'm reminded of my life as a child walking into class, hoping and praying that the teacher didn't call on me to read. I had dyslexia but it wasn't diagnosed—and every day I was laughed at and humiliated. I was told that I was dumb. Now, in addition to making sure that all our students are screened for dyslexia, we will be teaching them reading and mathematics through a proven, scientific, and methodical approach—so that they don't have to suffer the way I did.
As we switch to NYC Reads, we are asking our parents and community leaders to step up as well. Attend an Open House at your child's school, where you can learn about NYC Reads and ask questions. Ask your children or the children in your care what they are reading about. Can they tell you about the stories they are reading? And if possible, spend some time reading with them, or let your children see you reading as well!
A child's best day should not be the day their teacher doesn't call on them. Their best day should be when their teacher does call on them, and they can stand up and read. NYC Reads will make that possible.
Learn more about NYC Reads at: https://www.schools.nyc.gov/learning/subjects/literacy
Mayor Adams
City Hall
May 15, 2023
---
Queens OpEds & Opinions Queens NYC
The Jackson Heights Beautification Group (JHBG) opposes legislation to alienate parkland in Flushing Meadows Corona Park
A bill that would allow Mets owner, Steve Cohen, to build a casino in the parking lot of Citi Field is before the NYS Assembly. Though the parking lot has been paved over for decades, its 50 acres are official New York City parkland. If the legislation were to pass, "alienating" or decertifying its status as parkland, it would never again be available as parkland to future generations.
The borough of Queens already suffers from a shortage of parkland, we rank fourth out of the five boroughs. Removing park status from this land and allowing its development would be a terrible mistake, forever depriving residents of something in too short a supply—a place for recreation and to enjoy nature.
We wish Steve Cohen and the Mets well in their baseball endeavors, but considering the above the Jackson Heights Beautification Group's Board of Directors approved the following resolution.
The JHBG strongly opposes the alienation of parkland, particularly in Flushing Meadows Corona Park, which for too long has been the destination for the endless series of sports and business proposals that have no place in a public park.
These developments would never be acceptable in Central Park, Prospect Park, or Van Cortlandt Park, but are deemed acceptable for Queens' premier park.
It is time to say no to this loss of our public park space. We agree with the Queens Civic Congress, the Flushing Bay Guardians and other organizations and stand opposed to the bill introduced in the New York State Assembly as A5688. Link to the proposed bill https://outlook.office.com/mail/inbox/id/AAMkAGRhNDNmNjkxLT...
It is imperative that you share your opinion on the alienation of Queens parkland with our elected officials:
NYS Assemblyperson Jefrion Aubry, aubryj@nyassembly.gov
718 457 3615
NYS Senator Jessica Ramos ramos@nysenate.gov
718 205 3881
City Councilmember Shekar Krishnan, [mailto:skrishnan@council.nyc.gov
%C2%A0]skrishnan@council.nyc.gov[mailto:skrishnan@council.nyc.gov
%C2%A0]
718 809 6373
City Councilmember Francisco Moya [mailto:fmoya@council.nyc.gov
%C2%A0]fmoya@council.nyc.gov[mailto:fmoya@council.nyc.gov%C2%A0]
718 651 1917
NYS Assemblyperson Jessica Gonzalez-Rojas
[mailto:gonzalezroj@nyassembly.com
%C2%A0]gonzalezroj@nyassembly.com[mailto:gonzalezroj@nyassembly.com
%C2%A0]
718 457 0384
NYS Assemblyperson Catalina Cruz ccruz@nyassembly.gov
718 458 5367
Leslie Ellman
JHBG President
May 9, 2023
---
Queens OpEds & Opinions Queens NYC
Amnesty for Unpaid Water Bills
Water is a precious resource, and New York City has some of the best municipal drinking water on the planet. Our water comes from reservoirs in the Catskills and beyond, and travels hundreds of miles to reach our taps. New Yorkers pay just one cent per gallon for our exceptional drinking water. And we use that money to maintain and improve the critical infrastructure that keeps our water flowing and keeps New Yorkers hydrated and healthy.
However, we know that some New Yorkers have trouble paying their water bills, so we are extending our Water Bill Amnesty program to May 31st. If you pay the principal of your water bill in FULL, all of the interest will be forgiven. That is correct: you won't have to pay any interest. If you are not able to pay in full, we will help you set up a payment plan, and depending on the amount that is paid, a portion of the interest may be forgiven.
You can find out more by calling (718) 595-7890 or you can visit the Department of Environmental Protection's water amnesty website: nyc.gov/dep/amnesty.
We want to work with you. We helped the residents of the Shorehaven affordable housing community in the Bronx save $400,000 on their unpaid water bills. This will allow the community to invest in other important upgrades.
We are constantly looking for ways to make your life easier and more affordable, and the Water Bill Amnesty program is part of our working people's agenda. It was launched in January and has brought in $80 million from overdue accounts so far, and allowed New Yorkers to save more than $12 million in interest.
At the same time, we're not going to look the other way while millionaires and billionaires who can afford to pay their water bills choose not to – and drive up your water rates as a result. Last week, five properties – all valued above $4 million, and all with unpaid water debt above $100,000 – were informed that if they didn't pay within two weeks, we'd shut off their water. And already, four have paid or entered into payment plans.
But we don't want to shut off anyone's water, so we encourage all New Yorkers with unpaid water bills to check in with the Department of Environmental Protection and find out what their options are. By paying our water bills, we keep costs low and our wonderful water flowing for everyone.
Please take advantage of the extension of the Water Bill Amnesty and pay any unpaid bills. Remember: you have until the end of this month, May 31st to sign up.
Mayor Eric Adams
City Hall
May 8, 2023
---
Queens OpEds & Opinions NYC
NYC Executive Budget
Last week, the Adams Administration released our Fiscal Year 2024 Executive Budget. As President Joe Biden has often said: "Show me yourbudget and I will show you your values." That is why this budget invests in our Working People's Agenda, prioritizing education, jobs, housing, health care, and public safety.
As Mayor, I'm committed to protecting the safety and wellbeing of our people. But the challenges we face are real. It is no secret that our city is still recovering from the economic impact of the COVID-19 pandemic, as well as spending over millions on the ongoing asylum seeker crisis. These are unavoidable realities that have made a massive dent in our city's resources.
The good news is that we were able to balance this year's budget with better than expected revenues and efficient budgeting. We were able to create $1.6 billion in savings across the two fiscal years – without layoffs or service cuts. This $ 106.7 billion executive budget preserves essential services and continues to improve the lives of everyday New Yorkers.
Almost 60 percent of this budget, $62.5 billion in total, goes to education, healthcare, and social services. It provides money for schools that lost enrollment, as well as funding childcare, summer youth employment, and affordable housing. From expanding education to increasing our sustainability to investing in our infrastructure, this budget delivers on the essentials. And we did not cut a single penny from our libraries or cultural institutions.
This budget continues our efforts to put money back into the hands of working people. We will continue to support programs that help people claim all available benefits, including the Earning Income Tax Credit, cash assistance, SNAP, and more. We are bringing more attorneys on board to make sure that our neighbors who rely on government-funded housing vouchers can utilize them without being discriminated against by landlords.
We're expanding broadband in NYCHA developments so that New Yorkers at every income level can access the high-speed internet that is indispensable to so many aspects of daily life, from work to education to telemedicine. And we are adding online portals for childcare, workforce, and business services to our MyCity platform, making it easier for all New Yorkers to access city service they need.
New Yorkers are rightfully concerned about ensuring that education is strong and fully funded, and our Administration supports this vision. We're investing in job training and apprentices and continuing education, including Supporting the City University of New York's (CUNY) Inclusive Economy Initiative programs, which provide internships, mentoring, and job opportunities for students. We are also funding and expanding the CUNY Reconnect program, which helps students who left CUNY because of extenuating circumstances return and earn their degrees.
We are also investing more than half-a-billion dollars to redevelop the CUNY Brookdale Campus and create a world-class science park and research center.
This will generate billions of dollars in economic impact, lead to thousands of good jobs, and confirm New York City's role as a global leader in public health and life sciences.
We're investing in the Medgar Evers College Brooklyn Recovery Corps, which connects 200 students a year with nonprofits and small businesses in Brooklyn to work on projects that spur economic recovery and growth. And we are supporting the Mayor's Office for People with Disabilities' plan to promote workforce development for people living with disabilities.
This budget also strengthens our mental health resources by continuing the expansion of the Behavioral Health Emergency
Assistance Response Division (B-HEARD) program, supporting mental health services for high school students and children in family shelters, and increasing the capacity of the clubhouses that provide peer-led mental health support.
Paying our workforce a fair wage is one of our priorities. It puts more money in the pockets of working families and helps us recruit and retain top talent. Earlier this year, we settled long-expired labor contracts with DC 37 and the Police Benevolent Association. These contracts set the pattern for wage increases across the city.
We are proud that our Administration is supporting working families, creating providing access to good jobs, and improving public safety. This budget supports all those goals and more – ensuring that we can continue to Get Stuff Done for New Yorkers now and in the years to come.
Mayor Eric Adams
City Hall
May 1, 2023
---
Queens OpEds & Opinions NYC
Gov. Hochul Shifts Focus Away from Education Equity to Push for Zombie Charters
Expansion of Privately Run Charter Schools Comes at an Historic Moment for Equity in NY Public Schools
In response to Governor Hochul's announcement that a conceptual agreement has been reached on the 2023-24 New York State enacted budget, the public education advocacy organization Alliance for Quality Education released the following statement:
"Thirty years after the Campaign for Fiscal Equity lawsuit was filed and 15 years after the Foundation Aid formula was enacted, the New York State enacted budget will fully fund public schools, for the first time in its history. The completion of this historic investment brings public schools to the level of funding they have needed for decades, and will be particularly transformative for children in the predominantly Black, brown and low-income schools that have been shortchanged for so many years," said Jasmine Gripper, Executive Director, Alliance for Quality Education.
"It is unfortunate that, at this historic moment of opportunity for public education in our state, Governor Hochul was more concerned in doing the bidding of her billionaire donors than what is in the best interest of children.
"The Governor's initial proposal, which in addition to reauthorizing "zombie" charters, was extreme and would have created chaos and destabilized all New York's education system, including both public and privately run charter schools. With the decline of school age children, pushing to open more schools with not enough students to attend them would have set everyone up for failure.
"As it is, the reauthorization of "zombie" charters will cost New York City's public school system tens of millions a year going forward. Had Governor Hochul gotten her way in this budget deal, it would have caused even greater chaos in all New York's public schools. We owe great thanks to Senate Majority Leader Andrea Stewart-Cousins and Assembly Speaker Carl Heastie, who over these past weeks and months of negotiations have championed New York's children, and fought hard to limit the most harmful impact of the Governor's efforts to expand charter schools.
"This year's fight over charters was never about what's best for the people of New York, and it should never have been part of budget negotiations to begin with. New York's children and families deserve better than being reduced to a political bargaining chip.
"We applaud the Senate Majority Leader Andrea Stewart-Cousins and the Assembly Speaker for pushing back against the Governor's proposal and fighting on behalf of the children of New York State. We look forward to celebrating the CFE victory and continuing to progress toward equity for all New York's students."
Jasmine Gripper
Executive Director
Alliance for Quality Education
April 27, 2023
---
Queens OpEds & Opinions Queens NYC
PlaNYC: Getting Sustainability Done
Last week, New York City celebrated Earth Week by powering up new rooftop solar panels in Brooklyn, cleaning up parks in Queens, and releasing PlaNYC: Getting Sustainability Done, our new plan to create a more climate-resilient city for all.
This strategic climate plan builds on our city's ongoing efforts to protect New Yorkers from extreme weather, improve quality of life, and support our new green economy. Most importantly, these new initiatives are not happening in some far-off future, but right now, in your neighborhood.
The plan includes a new public solar program that will help everyday New Yorkers afford the cost of installing rooftop solar panels, heat pumps, and other energy efficiency retrofits. The plan also includes provisions to advocate for Home Energy Assistance Program (HEAP) reform – reforms that will help people afford new air conditioners and assist with their utility costs to keep cool during increasingly hot weather.
Thanks to our robust public transit system, New Yorkers already have some of the lowest carbon emissions per capita in this country, but we can go further. We're going to help more New Yorkers join the clean energy revolution by expanding our electric vehicle charging network across the five boroughs, so every New Yorker who chooses to drive can drive electric – especially our for-hire vehicle drivers. We are already electrifying our schools and our entire school bus fleet and working to reduce our emissions from every major source — buildings, transportation, and food.
The city will install solar energy, electric building infrastructure, green roofs, and other renewable energy on as much city-owned property as possible, including our DOE schools and our NYCHA buildings.
We will also phase out capital spending on new fossil fuel equipment and infrastructure and update our zoning practices to facilitate building retrofits and eliminate barriers to electrification. This is not only good news for our environment, but a path to more jobs and opportunity for New Yorkers working in the building trades.
Building a renewable energy future will bring down emissions and mitigate climate damage in the years to come, and it will also drive down pollution and improve air quality. We're going to amplify that effort by getting polluting trucks off our streets, creating new low-emissions zones in neighborhoods that have seen far too much traffic and congestion in the past. And plans are already in motion to expand New York City's tree canopy by 30%, planting thousands of new trees and iimproving our green spaces, parks, and recreation areas as well.
We've already seen what climate-driven storms can do to our city. From Hurricane Sandy to Tropical Storm Ida, we know that lives are at stake, and our homes and our infrastructure are at risk. This plan expands our efforts to prevent flooding and sewage problems, from building new overflow tanks along the Gowanus Canal to improving drainage in flood-prone neighborhoods.
All of these efforts will protect and sustain our environment, as well as lay the foundation for a new green economy. That's why a big part of this new plan is about providing education, training and opportunity for New Yorkers to acquire the skills and training they need to succeed in this new job market, one that will protect our future and support a new generation of workers.
There is so much more to this plan, which New Yorkers can read at https://climate.cityofnewyork.us/initiatives/planyc-getting-sustainabilitydone/.
New York City has always been a leader when it comes to climate solutions and environmental justice. We have so much to be proud of, and so much to protect. This new plan is a positive and practical roadmap to creating a cleaner, greener, and more just city for all.
Mayor Eric Adams
City Hall
April 24, 2023
---
Queens OpEds & Opinions NYC
Summer Rising: A Free Program for Grades K Through 8
Summer is a great time for children, but it's a challenging time for working parents. No parent wants to leave their child at home if they don't have family or trusted friends to look after them. Learning loss also happens over the summer. Studies have shown that during the summer students can lose about 40% of what they have learned during the school year. Summer Rising — a free program for New York City public school students in Grades K through 8—provides a safe, fun, and enriching alternative.
Summer Rising includes a full day (8am to 6pm) of in-person academics combined with social-emotional learning, art activities, field trips, and sports. Last summer, students participated in a variety of programs including "World Explorer," which focused on the food, language, and culture of different countries. They played ping pong and kickball; took part in nutrition classes and learned to cook with fresh vegetables; they went on trips to the Bronx Zoo, the Aquarium, Lincoln Center, NY Liberty basketball games, and visited the BioBus.
The Summer Rising session runs from July 5th to August 18th for students in Grades K-5, and from July 5th to August 11th for students in Grades 6-8. Students receive breakfast, lunch, and a snack, and students with disabilities receive the supports they need. Priority for the 110,000 Summer Rising seats will be given to students in temporary housing, foster care, and with 12 - month IEP.
You can enroll your child now at [cut & paste this link] https://www.schools.nyc.gov/enrollment/summer/grades-k-8
The deadline to apply is May 1st, and you will find out whether your child has received a seat via email about a week afterward.
I cannot emphasize how important it is for our young New Yorkers to be in a safe environment learning and socializing with their friends, and experiencing the attractions of our city, instead of sitting at home and surfing the internet. Summer Rising makes that possible—and our city offers it at no cost to you. As the child of a mother who had to work multiple jobs to make ends meet, I wish I had a program like Summer Rising to keep me and my siblings learning and engaged.
I hope you will apply, and please spread the information to other parents you think will be interested in this wonderful opportunity. And if your child was born in 2020 and lives in New York City, they are eligible to attend one of our city's free 3-K programs this Fall. You can apply now at [cut & paste this link] www.myschools.nyc.
Mayor Eric Adams
City Hall
April 17, 2023
---
Queens OpEds & Opinions NYC
Making New York City the Future for Women's Health
Every New Yorker has strong women in their life. The women who birthed and nurtured them: our mothers, sisters, aunties, and grandmas.
Our teachers, our doctors, nurses, engineers and scientists. The hardworking women who make life in this city possible and inspire us.
We owe so much to women. Yet for generations, women's health has not been prioritized. For decades the health care system has been centered around men.
This is personal for me. I am who I am because of a woman: my mother, Dorothy Adams. I watched my mom and my sister suffer as they navigated the health system. They were ignored, forgotten and struggled to get the care they needed.
Far too many New Yorkers know a woman who has gone through this.
My administration is already hard at work to change this. Last week, we held the first-ever Women's Health Summit to lay the groundwork to shape what the future of women's health care can be in this city.
We are going to make New York City the national model for supporting health for women and girls, including those in our LGBTQ+ community.
The summit brought together more than 100 experts from a wide variety of sectors to shape New York City's first "Women's Health Agenda."
It focused on four key areas critical to women's health: chronic disease, birth equity, sexual and reproductive health, and mental health.
Working mothers shouldn't have to choose between a paycheck or nursing their newborn child. Women shouldn't have to wait decades for an accurate diagnosis.
Black and Latina women shouldn't live with inequities that deny them access and care. And women shouldn't have to fight for their right to choose.
Black women are nine times more likely to die of pregnancy and birth related causes than white women. And maternal mortality among Black women increased during COVID. So, we are going to expand access to high quality maternal health care, including the use of doulas and midwives, to eliminate disparities in maternal mortality and reduce mortality overall.
It's no secret mental health was impacted during the pandemic. In fact, 14% of women in NYC experience depression. Rates are even higher among LGBTQ+ communities. So, we are going to build a mental health care system designed for women and members of the LGBTQ+ community to best serve their needs.
One in five women experience infertility. For this and many other reasons, we are going to ensure the city's sexual and reproductive health care system provides comprehensive care to women and girls, including menopause care, infertility, birth control and access to abortion medication.
Many don't realize this, but heart disease is the leading cause of death for adult women in NYC. And so many folks delayed critical preventive health screening during COVID. So, we are going to work to increase utilization of preventive care and lifestyle medicine approaches to reduce the rates of, and deaths from, chronic diseases.
We are also going to develop women-friendly workplaces – and this includes throughout city government – that promote health and wellness through space accommodations and policy reforms.
Women are diagnosed on average four years later than men across many of the most common health conditions. So, we are going to expand research into women's health issues and reduce disparities in medical research to reduce this gap in knowledge and outcomes.
This entire administration is committed to building a city that is here for all women and girls.
The result of last week's summit will provide the basis for the New York City's Women's Health Agenda report, which will be released this summer.
We have seen how quickly women's rights to health care can be taken away, with last year's Supreme Court decision to overturn Roe v. Wade. Health is wealth, and women need both.
We must make sure the women who have so often taken care of us are getting taken care of when they need it most. Last month was Women's History Month, and we must rededicate ourselves to the women we owe everything to. Together, we can make New York City the future for women's health.
Mayor Eric Adams
City Hall
April 7, 2023
---
Queens OpEds & Opinions NYC
Swim Strong Foundation Seeks Support for Water Safety Bill
Dear Fellow New Yorkers,
I hope this note finds you well. I am reaching out to you today with a request for you to support legislation, Senate Bill S2545A and sister Assembly Bill A4846, which at the heart of these bills encourages that water safety training be taught as part of curriculum in NY State schools grades K-12.
Please follow this link to sign the petition in support: Make Water Safety Education an Essential Right for All in NY | New Mode - https://act.newmode.net/action/surfrider-foundation/make-water-safety-education-essential-right-all-ny
This legislation is critical for the safety and welfare of our children who are inheriting a much more watery world. Between rising sea levels; storms which are increasing in strength, speed and frequency and waterfronts being developed providing much more access to open water our youth need to understand water much more deeply. The New York City Panel on Climate Change anticipates by end of century that New York will experience 25% more annual rainfall than today. The intensity of rainfall is increasing and more water is falling in shorter period of time. Frankly, we ALL need to develop a different relationship to water.
As friends of Swim Strong Foundation, you must know the simple fact is, we can no longer avoid water and so we must understand how to navigate safely through our changing world.
You also understand the criticality of swimming skills and water safety knowledge. Thank you in advance for your advocacy to help pass these life saving bills.
Happy to address any questions you may have or to introduce you to Swim Strong's programming which you can share with schools or purchase for your family.
https://www.swimstrongfoundation.org/know-before-you-go/
Share with your NY City and State family, friends and colleagues. Thank you!!
Shawn Slevin
shawn.slevin@SwimStrongFoundation.org
March 30, 2023
---
Queens OpEds & Opinions NYC
Supercharging Safety for E-bikes
Electronic transportation devices are everywhere in New York City now – and from daily commuting to food delivery, they are revolutionizing how we get around. E-bikes and e-scooters are a convenient and low-cost alternative to cars. They help reduce congestion on our streets and make our city cleaner
and greener. Tens of thousands of our delivery workers rely on them for their livelihoods, and we all rely on them when we have goods delivered.
E-bikes are here to stay, and our city wants to make sure they are safe and reliable for all - both on the street and when they are being stored and recharged. While most of the e-bikes and e-scooters in our city are safe, there are some that do not meet safety standards and contain uncertified lithium-ion batteries.
These faulty devices are causing fires and explosions, putting New Yorkers and our first responders in danger. Last week, the City Council and our Administration took action to protect New Yorkers and delivery workers from these faulty devices. We are also taking action to crack down on illegal electric mopeds that endanger pedestrians and cyclists.
Last week, I signed five bills that ban the sale of uncertified e-vehicles as well as refurbished batteries. And we released our Charge Safe, Ride Safe plan to help New Yorkers use e-bikes and e-scooters safely. New Yorkers deserve access to safe devices and batteries, and we are committed to helping them transition away from faulty and unsafe ones.
New York City is leading the charge on safety, and we will continue to support a transition to safe electric mobility devices. We are going to pilot options like battery swapping and safe charging systems for our delivery workers and identify opportunities to make safe and legal devices accessible and affordable. And we are going to work with Los Deliveristas Unidos and other community groups, visiting all corners of New York City to train people on safety measures.
We are expanding education, increasing enforcement on high-risk situations, and pursuing additional regulation from the Federal government to ensure that illegal devices are not on our streets.
Many people store batteries and battery-operated scooters in their homes, places of business, and in their restaurants. And every New Yorker who uses these devices can help keep themselves and the city safe by following these tips:
Purchase only legal, UL-certified e-bikes and e-scooters. Never use refurbished batteries. Use only the charger and battery made specifically for your device. Keep batteries away from heat sources like radiators. If a battery is damaged, stop using it. Do not store batteries near the exit of a room or apartment. And never leave batteries unattended when charging, especially overnight.
New Yorkers can dispose of lithium-ion batteries safely at DSNY drop-off sites or pop-up events, which you can find at nyc.gov/batteries.
All New Yorkers and our delivery workers deserve to be safe in their homes and on our streets. Thousands of New Yorkers are choosing a healthier and greener way to travel around this city, and we are going to ensure they can do so safely.
Mayor Eric Adams
City Hall
March 27, 2023
---
Queens OpEds / Opinions NYC
More Frequent Transit Service & New York's Climate Mandates
Dear Governor Hochul:
As you well know, climate change poses an existential threat to New York communities while our path breaking Climate Leadership and Community Protection Act mandates a robust response. As organizers and advocates for bold action to stop the worst of climate change, we strongly support a broad and deep approach to mitigation. We accordingly urge you to fund $300 million for more frequent subway and bus service to make public transit a better alternative to driving and help reduce vehicle miles traveled in New York.
Public transit has long been New York's competitive edge over other cities' and states' carbon footprints. New York City residents produce an estimated two-thirds less carbon emissions per capita than the average American. Public transit accounts for a large portion of the difference, with the MTA estimated to lower the tri-state region's carbon emissions by 30%. It should go without saying that any climate action is predicated on maintaining that edge and saving the MTA – and millions of daily riders – from the approaching cliff. And of course, the CLCPA requires that we even do better, reducing emissions 40% by 2030 and 85% by 2050. Indeed, the CLCPA scoping plan approved by the Climate Action Council last month identified improvements to MTA service as a key strategy to reduce transportation emissions.
Investing in more frequent service, which will cut wait times and speed trips overall, will enhance transit's competitiveness with driving. While vehicle electrification is an essential component of our response to climate change, reducing vehicle miles traveled is also of great importance. With the edge afforded by our legacy transit infrastructure, New York is uniquely positioned to cut emissions just by making the most of the subway and bus network we have today. Simply running more service on existing routes that serve densely populated communities will bring more riders on board and make travel times – particularly outside of the traditional rush hour when service is most frequent – more attractive to New Yorkers with multiple transit options.
Given the enormity of the emergency, we call on your leadership to take every opportunity to mitigate climate change. More frequent transit is a crucial complementary policy to all of the others in the state's growing climate action toolkit. As you negotiate a final budget, we urge you to make more frequent public transit service a top funding priority.
Sincerely,
Sent to Governor Kathy Hochul via email by
E2 Environmental Entrepreneurs
Earthjustice
Environmental Advocates of New York
Long Island Progressive Coalition
Natural Resources Defense Council
New York City Environmental Justice Alliance (NYCEJA)
New Yorkers for Clean Power
New York League of Conservation Voters
New York Public Interest Research Group (NYPIRG)
Sierra Club
Tri-State Transportation Campaign
Union of Concerned Scientists
Cc:
Senate Majority Leader Andrea Stewart-Cousins
Assembly Speaker Carl Heastie
Deputy Secretary of Transportation Nivardo Lopez
March 24, 2023
---
Queens Op-Eds
Earned Income Tax Credit: You earned it – and NYC will help you get
My mission as Mayor of New York City is to focus on the needs of working people of this city. One of the best ways we can do that is to get money back in your pocket – money you have earned, money you need to support your family.
Last year we went to Albany to get the Earned Income Tax Credit, better known as the EITC, expanded for the first time in 20 years. The EITC is a refundable tax credit provided to working New Yorkers and families. And I am proud to say that together with our state partners we got it done.
Promises made, promises kept.
The enhanced EITC put $350 million dollars in the pockets of hardworking New Yorkers. That means more money for the essentials: food, groceries, bills & rent. It is a lifeline for so many working people and families across New York City. This tax credit has helped 800,000 New Yorkers and this year we want to reach even more.
And last week we launched a $1.5 million television, print, subway, social media and radio marketing campaign on the enhanced EITC to spread the word to New Yorkers.
This tax season, we want to help more working people get the support they need through the Earned Income Tax Credit.
New Yorkers can visit nyc.gov/getcredit to see if they qualify for this cash back. If you do, you can apply for this credit while filing your taxes. It is that simple. New Yorkers can file their taxes for free at any one of our NYC Tax Prep locations across the five boroughs or online at getyourrefund.org/nyc
The EITC is a simple and straightforward way to make sure working New Yorkers get their fair share.
Under the enhanced EITC a single parent with one child with an income of $14,750 has seen their benefit increase from $187 to $933. And a married couple with two children and an income of $25,000 has seen their New York City benefit increase from $308 to $925 under the city payment.
I come from a working-class background. My mother worked a double shift as a cleaner to support my siblings and me. There are thousands of New Yorkers doing the same today in our city.
We know many New Yorkers are struggling right now. Rent is going up and inflation is driving up the cost of living. People are worried about whether they can keep a roof over their heads. And due to the pandemic, many have lost wages and childcare.
I know the hustle is real. And I want every hardworking New Yorker to know: We're looking out for you.
The EITC is one of the most effective support programs in history, helping low-income families and workers get a boost as they climb the ladder of success.
Through the EITC we are putting more money in working peoples' wallets and helping lift some of the burdens they face. Working New Yorkers deserve their fair share and credit, and we are giving it to them.
Mayor Eric Adams
City Hall
March 6, 2023
---
Queens Op-Eds / Opinions
On Track to a Safer New York City Subway
I started my career as a transit police officer, so I know firsthand that subway safety is public safety. Our transit system is the key to getting to work, to school, visiting family and friends, and experiencing all that New York City has to offer. It makes life in our city possible. And everyone who uses this essential resource — regardless of their ethnicity, age, or gender — has the right to feel safe doing it.
One year ago, Governor Kathy Hochul and I announced a Subway Safety plan, where we promised to devote more resources to helping those experiencing homelessness and facing mental health crisis get the shelter and the care they need. We announced our plan to disburse more homeless outreach teams in our subways and train NYPD officers to enforce the system's rules of conduct in a fair and transparent way, addressing the fare evasion and disorder that contributes to an unsafe environment. And we committed to improving collaboration between the state and city to effectively address safety concerns.
And this past fall, Governor Hochul and I took another bold step, announcing a historic surge of police officers to patrol subway platforms and trains. We added roughly 1,200 additional overtime officer shifts each day on the subway, dramatically increasing the police presence across the system.
We now have more police officers available to assist riders. Overall station inspections are up 43% in 2023 so far, compared to the same period in 2022. And we have stopped the cruel practice of just walking by people in need. Since announcing the first phase of our plan last February, we have removed the homeless encampments from our system and successfully connected more than 4,000 people facing homelessness with shelter and the assistance they deserve.
During the pandemic, subway ridership declined, and crime grew. Many riders, particularly women and people of color, sought alternative options, like the nanny who decided to bike to work in Brooklyn because of concerns about anti-Asian hate or the bartender who opted to split a cab with her co-workers because she didn't feel safe on the system late at night.
It's clear that our approach to making a safer subway system for these riders is working. As a result of our efforts, major crime in transit stations is down 18% since the beginning of 2023 through February 26th, compared with the same period in 2022. We are seeing the most riders on the system since the pandemic, and they are reporting an increased sense of security. In December, subway ridership topped 3.9 million people in one day, the highest number since the pre-pandemic period. Over 1 billion riders used the system last year. And with more people on the train looking out for each other, our system is feeling safer every day.
I take the subway and I talk to riders, transit officers, and MTA employees. They tell me that the feeling of normalcy is returning, and they encourage me to push forward. I hear them: we must continue to remain vigilant and keep building a safer system for all.
The New York City subway is the symbol of the greatest city on earth. It creates economic opportunities and access, improves traffic congestion, and makes the air better for everyone. Together, we will keep it safe and ensure that New York City remains the safest big city in the nation.
Mayor Eric Adams
City Hall
February 27, 2023
---
Queens OpEds / Opinions NYC
Cannabis Justice for All
Legalizing cannabis was a major step forward for equity and justice in our city. But legalization is about following the new laws, not a free pass to sell unregulated cannabis products.

Over the last few months, illegal cannabis retailers have taken advantage of decriminalization efforts, with unlicensed smoke shops popping up all over the city. This "Wild West" attempt to gain market share will not be tolerated. New York City has changed the laws, but we intend to enforce them — fairly, equitably, and thoroughly.
For many years, people of color in our communities were routinely targeted when it came to cannabis law enforcement. Cannabis criminalization was used to harass, arrest, and prosecute our brothers and sisters.

Advocates rightly pushed for an end to these practices, and fought hard to put racial equity at the center of New York's cannabis legalization
efforts. Past convictions were automatically expunged or suppressed. People with past convictions for marijuana and their family members are being given priority for these licenses. 50 percent of licenses have been set aside for social and economic equity applicants.
An open and democratic process resulted in the progress so many wanted to see — an end to the "war on drugs" mentality, the establishment of a safe and sanctioned cannabis industry for adults, and a pathway to restorative justice for those who were unfairly prosecuted in the past.
Legal cannabis is expected to be a $1.3 billion industry that will create thousands of jobs and generate approximately $40 million per year in tax revenue for our city. And 40 percent of the tax revenues from legal cannabis will be invested back in the communities that were most harmed by prohibition.

We have a moral obligation to make sure that the people who were adversely affected by marijuan criminalization get their fair share of this emerging market. That's part of the mission of the new CannabisNYC Office. his is a city agency that will make New Yorkers aware of opportunities to participate in this industry, promote equity, and help applicants navigate the licensing process.

In the last month, the first licensed cannabis dispensaries in our city have opened for business. One is owned by a not-for-profit that supports people living with H.I.V. and A.I.D.S., the other by a formerly incarcerated entrepreneur who received priority for a license because he is one of countless Black men who was harmed by the drug war in the 1990s.

But these legitimate businesses are facing stiff competition from shops that are not following the rules. Instead of respect for the law, what we have seen recently is the proliferation of storefronts across New York City, selling unlicensed, unregulated untaxed cannabis products.

Those who flout the cannabis tax laws and regulations are robbing the very communities that are finally on the cusp of benefiting from a just and equitable system.

We cannot allow that. We're not going to take two steps back by letting illegal smoke shops take over this emerging market, especially when so many of them are selling unlawful and unlicensed products that could seriously harm consumers.
It is time for the operation of illegal cannabis dispensaries to end.
Sheriff Miranda and our partners at the N.Y.P.D. recently took direct action to counter this trend. Over a two-week enforcement blitz, the Sheriff's Office issued 566 violations and seized $4.1 million worth of product at 53 locations.
And this week, the Manhattan District Attorney's Office sent letters to approximately 400 unlicensed smoke shops in Manhattan. The letters state that the city will commence legal eviction proceedings against commercial tenants who are engaged in illegal business activity. That includes the unlicensed sale of cannabis, the sale of untaxed cigarettes, and the sale of adulterated products. If owners and landlords fail to initiate timely eviction proceedings against these commercial tenants, the Sheriff's Office will take over and pursue eviction proceedings.

While we are not ruling out criminal prosecutions for tax evasion, money laundering, or the sale of cannabis to minors, the focus of this initiative at this time is civil enforcement. We want to give New York's legal cannabis market a chance to thrive — and deliver on the vision of safety, equity and justice that advocates fought for so long.
February 13, 2023
Mayor Eric Adams
City Hall
---
Queens OpEds / Opinions NYC
Composting for All
New Yorkers know that rats love trash bags full of food waste. And they know that I hate rats. This week, our Administration declared that Restaurant Week for rats in this City is finally over.

For too long, New Yorkers have had to bring their compost to neighborhood drop off sites, or deal with one-off collection programs that weren't designed to reach everyone. This meant mountains of trash bags on our sidewalks, attracting rats day and night.

New Yorkers have been saying loudly that they want a compost program across the City – they want the rat food out of the black bags and out of the landfills once and for all. For over twenty years, New York City has been trying to achieve citywide curbside composting that actually WORKS for everyone.

We are finally getting it done. By the fall of next year, New Yorkers in all five boroughs will be able to put their yard waste and food scraps out on the curb year-round, in the simplest, easiest, most efficient curbside composting program ever.
No more carrying your banana peels to neighborhood drop off sites or bagging up fall leaves to be thrown in the garbage. New Yorkers across all five boroughs will be able to compost kitchen scraps and yard waste every week on their recycling day. What could be more convenient for us, or more upsetting for the rats?
Starting March 27 of this year, composting service will restart in Queens after a brief winter pause. It will never take a seasonal break again. On October 2, we will roll out a composting in all of Brooklyn, followed by service in Staten Island and the Bronx in March 2024. And on October 7, 2024, we will expand composting to all of Manhattan, creating the largest citywide composting program in the country.
This is a new, free, universal service for New Yorkers, and we're making it as easy and straightforward as possible. You can use our Brown Bin or your own bin – no more complicated rules. And you can compost everything from vegetable scraps to coffee grounds and chicken bones. We like to say, "If you cook it or you grow it, you can throw it."

Our pilot program in Queens kept nearly 13 million pounds of kitchen and yard waste out of our landfills in just three months. That's more than the weight of 300 city busses! Imagine the impact when we expand that to 8.5 million New Yorkers across all five boroughs.

This is about more than making life easier for families and homeowners – and worse for rats. It's about improving our environment and quality of life across the board. New York City produces over a million tons of food waste every single year. Right now, we know that 1/3 of all material in our refuse stream is compostable material, which goes to landfill and decomposes over YEARS, releasing harmful methane gas.

Instead, we're going to capture and use that waste ourselves to make usable soil, biosolids, and renewable energy. Under this new program, some of the material will be composted at our facility on Staten Island and other places around the country; other material will be turned into usable natural gas and biosolids by the Department of Environmental Protection right in Brooklyn.
And all of that compost can be used by New Yorkers to grow healthy food. The soil will return to our parks, planters, and personal gardens. People will be able to pick this up for free. And those who love gardening or growing urban farms can grow fresh, healthy food right here in New York City.

I want to thank everyone who has made this possible, including the Queens residents who led the way, separating their compost and making the pilot program a success.

We are making composting easy in every corner and in every neighborhood in New York City.

This is huge win for cleanliness, a huge win for sustainability, and the environment we all share as New Yorkers. The only ones that lose are those rats.
February 6, 2023
Mayor Eric Adams
City Hall
---
Queens OpEds / Opinions NYC
Activists to Bring Rail Corridor Use to Community Since Mayor Didn't
Feb 4, 2023 1pm–4pm -- Rego Park, Woodhaven, Ozone Park. QueensLink activists will ask residents of three communities along the long-defunct Rockaway Beach Branch (RBB) line what they'd like to see built on the city-owned rail corridor, where the Mayor decided to build a park without community review.
Park and train advocates have been arguing over use of the 3.5 mile-long right-of-way for a dozen years. But five years ago, train advocates put forth a compromise proposal called the QueensLink, which includes both rails and trails. Last August, fifteen city, state and federal elected officials asked the Mayor and Governor to fund an Environmental Impact Statement on the QueensLink proposal, but Mayor Eric Adams announced in September that he was earmarking $35 million for the design of a new MetroHub park between Metropolitan Avenue and Union Turnpike. It would be designated for Phase 1 of a park-only proposal called the QueensWay, which would run from Rego Park to Ozone Park.
"The Mayor is spending money on a park plan without asking the community what they want," says Rick Horan, Executive Director of the QueensLink who lives on the transit-starved Rockaway peninsula. "So, we're going to ask them. We think we know the answer from years of outreach, and from a Queens College survey [insert link] in 2014." The survey found that 52% of people in the communities along the right-of-way said they wanted transit or both rails and trails. Only 29% said they preferred the park-only plan."
"Cities around the world have reused old rail corridors for mass transit and parks," added Rick Horan. "Queens can have both transit and green spaces, too, if they are planned together. But if a park is built first on this precious transit right of way, it will be difficult for people who enjoy it to accept tearing up some of the park for a subway train later."
QueensLink activists will be taking the issue to the streets in Rego Park, Forest Hills and Ozone Park on Saturday, February 4, from 1pm to 4pm, with information tables at:
Queens Center Mall (Hoffman Dr, Queens Blvd, and Woodhaven Blvd)
Metropolitan Avenue near Metropolitan High School and the proposed MetroHub portion of the QueensWay park
Rockaway Blvd in Ozone Park (Liberty Avenue, Cross Bay Boulevard, and 94th Street, near Q52/53 bus stops)
In subsequent weekends, they will provide information tables in other neighborhoods along the line, including Woodhaven, Glendale, Howard Beach and the Rockaways.
The QueensLink would divert the M train south from Rego Park to the Rockaways. Since the rail corridor is wide in various locations, 33 of the 47 acres could be used for parks, cycling and walking trails, and other green spaces. The train would be an alternative to the crowded Q52 and Q53 buses.
"I live in Rockaway … My commute takes an hour and a half," said Stella, a Q52 rider waiting for the bus. "The bus is too long and too crowded. Sometimes we wait half an hour in the freezing cold." Another rider chimed in: "[QueensLink] would make people's lives easier."
Received February 6, 2023
Rick Horan
Executive Director of QueensLink
Noelle Hunter
Communications Director of QueensLink
---
Queens OpEds / Opinions NYC
Governor Hochul Undermines Historic Investment in Public Schools by Pushing for a Permanent & Massive Expansion of Charters Schools in NYC
ALBANY, N.Y. (February 1, 2023) — In response to Governor Hochul's Executive budget address on Wednesday, the public education advocacy organization Alliance for Quality Education [AQE] released the following statement:
"We applaud Governor Hochul for keeping her promise to New York's children by fully funding the Foundation Aid formula at 100 percent for the first time since its creation nearly two decades ago," said Jasmine Gripper, Executive Director of the Alliance for Quality Education. "The Foundation Aid formula was created to ensure equity and to strategically drive state resources to the students that need it the most. This means that districts with high populations of students in poverty, students that are English Language Learners and students with disabilities will see a significant increase in state aid."
"Unfortunately, this historic investment may not reach many of the children in New York City due to the Governor's proposal to drastically expand the number of charter schools in New York City by removing the regional cap and reauthorizing 'zombie charters'. Allowing a drastic increase in new charter schools in New York City will siphon off millions of resources that would otherwise be going to public schools, which educate 80 percent of the student population there.
"New York City currently spends about $3 billion per year on charter schools, a price tag that will continue to increase because it is the only district in the nation required to pay rent for charter schools, and the only school district in the state that does not receive charter school transition aid to offset those costs. At a time when New York City is grappling with a declining population of school age children due to a number of factors, there is no justification for increasing the number of charter schools in New York City.
"We urge the New York State Senate and Assembly to completely reject the Governor's proposals to remove the regional cap on charters and reauthorize 'zombie charters.'"
Jasmine Gripper
Executive Director
Alliance for Quality Education
Received February 2, 2022
---
Queens OpEds / Opinions NYC
A Working People's Agenda
Last week, in Queens — the borough I grew up in — I reported to New Yorkers on the state of our city. I outlined what we've accomplished in the year since I took office, and my vision for the future. We are going to build a city for working people, one that is more affordable, safer, cleaner, and more livable.
We focused on four essential pillars: jobs, safety, housing, and care.
Because without a strong working class, this city cannot survive.
Working people need good jobs and pathways to get those jobs. And those jobs need to be able to support a home for New Yorkers and their families.
That is why we are reimagining our workforce system, connecting 30,000 New Yorkers to apprenticeships through a new Apprenticeship Accelerator. It's also why we are creating the jobs for the future, through our first of its
kind biotech start up incubator that will be home to the next generation of transformative companies, and our Kips Bay life sciences hub, which will help create jobs and train New Yorkers for high demand careers in the life
sciences, healthcare, and public health.
And we are ensuring that more city dollars go to minority and women-owned businesses as well as creating a new Nursing Education Initiative to support 30,000 current and aspiring nurses over the next five years.
And while we are finally seeing crime begin to decline in New York City, we must continue to make our streets safe, and it starts with getting New York City's Most Wanted off our streets.
We are going to get the roughly 1,700 known offenders responsible for a disproportionate amount of the city's violent crime off the streets.
And we are going to keep our streets safe by holding reckless drivers accountable. We are going to go to Albany to get legislation passed that increases the penalties for serious crashes, running red lights, and impaired driving.
Our city cannot be livable unless it is clean and sustainable. So we are investing millions to make our city cleaner and greener.
Last year we launched the country's largest curbside composting program in Queens in order to Get Stuff Clean, and by the end of 2024, composting will be citywide and year-round. We are electrifying our city vehicles, and we
have reached a deal with Uber and Lyft to have a zero emissions fleet by 2030.
And we are going to build on the success of our Open Streets and Open Restaurants programs by creating permanent community spaces in each borough.
We must have homes for working people. We are working to add 500,000 more homes across all five boroughs—so that everyone has an affordable place to live. We are going to build in every borough and every neighborhood.
And that means creating housing in areas that currently only allow manufacturing and office uses while protecting good jobs in the center of our city's economy. We are going to make Midtown Manhattan a true live work
community. And we are building more housing in high-opportunity neighborhoods and near transit hubs. I recently announced plans for 6,000 new homes and 10,000 new jobs around four new metro stations in the Bronx.
And at Willets Point we're working to build the largest new 100 percent affordable housing development in 40 years — that's 2,500 new, affordable homes for New Yorkers.
Building new houses is essential for our future, but we also need to address the housing crisis today. So we are going to protect tenants and help New Yorkers stay in their homes by investing over $22 million in tenant protection
programs.
We must also ensure that the social safety net is there for working people, so we are expanding it; making it easier for New Yorkers to access public benefits and healthcare. This is an agenda for working people.
As we pursue these programs, we want to keep New Yorkers up to date on the very latest. That's why we're launching a new initiative to talk directly to New Yorkers about the issues you care most about. You can sign up for this email newsletter at nyc.gov/hearfromEric to receive breaking news and updates on city initiatives — all tailored to your personal interests. Whether it's a new park opening, or a new Open Streets in your neighborhood, you'll be the first to know.
Mayor Eric Adams
Monday, 1/30/2023
---
Queens OpEds / Opinions NYC
Willets Point—A Vibrant New Neighborhood in Queens.
It's time to create a New York City where working New Yorkers can have safe, affordable homes, find well-paying jobs, send their children to good schools, and live close to public transportation so that they don't have to spend hours commuting.
Willets Point in Queens, previously known as the "Iron Triangle" or the "Valley of Ashes," was filled with auto repair shops, prone to flooding and lacked infrastructure. Today, it offers our city a once-in-a-generation opportunity to create a vibrant, thriving neighborhood from scratch.
The cornerstone of Willets Point will be 2,500 new homes that are 100% affordable. That's the largest 100% affordable housing project in New York City since the 1970s. Many of these rental homes will be within reach to families making $40,000 a year or less. This is a game changer for so many New Yorkers. Environmental cleanup and infrastructure improvements for sewage, storm lines and water mains are already underway. And we are breaking ground on the first phase of housing in 2023—one year early!
The neighborhood will also have a 650-seat K-8 school, retail space that serves local residents, 40,000 square feet of open space, as well as a hotel and a Major League Soccer stadium. Both the stadium and the hotel will be 100% privately financed. The city will not be spending a single dollar on their construction. The stadium will be New York City's first professional soccer-specific stadium, and a permanent home for the 2021 MLS Cup champions: the New York City Football Club.
The stadium and the hotel will be constructed with union labor, and will prioritize working with minority and women-owned businesses, and hiring locally. Through the redevelopment of Willets Points, we will create 14,200 construction jobs, and 1,550 permanent jobs from the stadium, hotel, retail and housing. Because that's what New Yorkers deserve: good jobs, homes, and the chance to gain a secure financial footing so they can raise their families and grow old in the city that they love.
Willets Point will also cement Queens' reputation as a world-class sports destination. With the new stadium, the Mets' Citifield, and the Billie Jean King National Tennis Center, we will have soccer, baseball and tennis all in one place. World-class sports for the World's Borough—all just minutes away from the Long Island Railroad, the Mets-Willets Point station on the 7 train, JFK and LaGuardia Airports, and within walking distance from Flushing Meadows Park.
The Willets Point project grows out of a vision first developed by members of the community back in 2018, and local residents will continue to be heard throughout the approval and construction process.
This project delivers on my blueprint for economic recovery and for affordable housing. It is the result of a public-private partnership between New York City, the New York City Football Club, and Queens Development Group (a joint venture of Related Companies and Sterling Equities).
We are delivering housing across the five boroughs, and this Willets Point project, combined with the Innovation Queens project, would have advanced 8,000 housing units in November alone.
Willets Point gives us an opportunity to create a new neighborhood with homes, schools and economic possibilities. It gives us an opportunity to re-envision how our city can meet the challenges of the 21st Century, like housing, climate change and developing pathways to financial stability for all New Yorkers. As our city rebuilds from the pandemic, we are reimagining our neighborhoods and our boroughs to ensure that everyone benefits from our prosperity, not just the few. Willets Point is just the start.
Mayor Adams 11/28/22
---
Queens OpEds / Opinions NYC
Mayor Eric Adams' Community Op-Ed: Supporting NYC's Asylum Seekers
New York is a city of immigrants. We are made up of hundreds of cultures, more than 700 languages, and people born in more than 150 countries. Immigrants keep our cultural life vibrant and our economy running strong. They are the past, present, and future of New York City.
As New Yorkers as know, we have seen an influx of asylum seekers arriving in our city over the past several months. Migrants from the United States' Southern border have been placed on buses and sent to our streets in record numbers.
New York City is doing everything in our power to support the newly arrived asylum seekers. We are working around the clock to provide medical care, food, and a safe place to stay. In the past weeks, my Administration has set up 48 emergency shelter sites. We have opened a navigation center to offer case management, settlement options, vaccinations, and more. As of October 12, we have provided assistance to over 19,400 asylum seekers. But New York City is running out of space in our shelter system. We are
now housing a record number of people—and more are arriving every single day. We expect to spend more than $1 billion this fiscal year on support. This is putting a strain on our resources as we continue to provide essential services like education, healthcare, and sanitation to the 8.8 million New Yorkers who are already here and who rely on us for essential services. We need more help to fund all of these priorities. That's why I have asked the federal government and the State of New York for assistance. But let me be clear: we will not give up. We will not change our fundamental values. We will continue to support those who arrive on our city's shores.
I want to thank every New Yorker who has volunteered their time and opened their hearts to help our newly arrived brothers and sisters. I also want to recognize our city agencies who have gone above and beyond in the face of this unprecedented event. New Yorkers have risen to the occasion, as they always do. I am so grateful to everyone who has been part of the response. New Yorkers know that diversity is our strength, and it is my privilege to celebrate all of our cultures as your mayor. Just this weekend, I joined our Italian community to celebrate the contributions of Italians and Italian-Americans to our city. Every borough and every block in this city has benefited from their hard work and community spirit.
Whether we are Italian, Venezuelan, or Indian we all share a title: we're New Yorkers. We're made from the best stuff on earth.
Mayor Adams 10/17/22
---
The Trump Train
Fake News or Fake President?
February 19, 2017 / NYC Neighborhoods / NYC Politics & Media / News Analysis & Opinion / Gotham Buzz NYC.
I know a lot of people have found watching the news both addictive and frustrating lately.
They're tired of hearing the president make unsupported false statements every week, and listening to the media rebroadcast or reprint or repeat these false statements before they go onto correct him.
Hitler Said Repeat a Lie Often Enough and it Will Be Believed
Why does the media give these statements life in the first place - by repeating them at all?
It just gives these untruths some sort of strange validation, especially to those voters who make their decisions based on the noise level of soundbytes, instead of doing the research needed to understand the serious issues of the day, and the candidates' positions on them.
Jefferson said that those who believe they can be ignorant and free - believe in something that never was and never will be.
It seems to me that all of us need to start refocusing our attention from the petty distractions of what appears to be a Celebrity Apprentice President all-too-real TV show, to the serious business of addressing the issues facing the nation.
The president seems to be setting the tone for this chaos with his outrageous statements and theatrics. And the media - as during the 2016 campaign - seem to be knee-jerk reacting to almost everything he says.
They are enabling the president to suck up all the news oxygen out of the nation because all we hear about is Trump, Trump, Trump. They cover his antics - like he's media crack.
Enough already.
Special Request of the American Press: Separate the News from the Mockery
If the only thing the Trump Administration offers at its press conferences is of entertainment value, then I recommend that the news organizations treat it as such and forward the video outtakes of the 'fake president's fake press conferences' - which make a mockery of the office - to the 'fake news' outlets - meaning the late night comedy shows.
Folks who don't stay up late to watch these shows, can now catch these fictitious news shows on Youtube. Stephen Colbert of the Late Show, Seth Meyer of Late Night, and Saturday Night Live all seem to be on a tear. It's funny - but then again - it's sad.
As for the news organizations, if you can't get anything of real substance out of the White House / Administration press briefings - then get out of your comfort zones and begin wandering the Capitol in search of the legislators, staffers, policy experts and industry experts who understand the issues and are working to address them. Put them front and center on the front page of your newspapers, websites and news shows, instead of the Trump Train.
By taking away the open mic you've been giving Trump since he began campaigning for the presidency, you will either influence him to start engaging in the issues and start acting like a real president - or begin marginalizing him - thus giving visibility to the people with the education, experience and knowledge to guide the nation in the right direction ... whatever that may be.
Special Request of the American People: Start Engaging in the Democratic Process
But we, the audience, are also part of the problem. Could it be that both Trump and the media are giving the audience 'what they (appear to) want' based on our behavorial response in watching, reading and clicking into the Trump Train News?
Perhaps it's time for us to tune out this show which parodies our system of government, while mocking us as a society. And maybe it's time to start listening to the advice of Mahatma Ghandi who said, "Live the change you want to see."
Instead of helplessly standing by, perhaps it's time for us to get involved at the grass roots level of the causes or issues we care about - on either side of the ideological spectrum. And maybe now is the time for us to get out from behind our computer screens so that we can infuse new energy into our own real lives. Spring is a good time for new initiatives.
Of course, then again, we could keep watching the Trump Train - if we want to keep this unreal TV show on the air - by continuing to contribute to its ratings success.
And even though our role in the process may sometimes feel insignificant, collectively we are each, one of the many deciders.
Special Presidents Day Request for Donald J. Trump
I have a special Presidents Day request to make of Donald J. Trump - and that is that you quit acting like a rich, spoiled brat and start acting like the president of the United States of America.
This request includes NOT encouraging the people who work for you (like Steve Bannon) telling the press to shut up, NOT ignoring 'tough' questions you don't like posed by members of the press who in some measure are asking the questions that many of us have, and most certainly NOT tweeting that the press is the enemy of the American people.
The First Amendment of the United States Constitution guarantees the right to freedom of expression / free speech / freedom of the press.
These sorts of statements made by you and your Administration, since you've taken office, might be expected of your good friends from less free countries, like RUSSIA - but NOT by the Leader of the Free World - which likie it or not - you are.
Either grow up quickly and quit embarrassing us - or please resign and let Mike Pence become the 46th President of the United States of America.
Have a Happy Presidents Day.
---
Transportation Alternatives Queens Activist Committee
Statement on the Fatal Hit & Run on 21st Street, April 6, 2016
The TA Queens Activist Committee and the many neighbors and organizations that have come together in the Coalition for Street Calming on 21st Street are deeply saddened by this loss of life on 21st Street. Foremost, the driver has to be found and held accountable. There are 4,000 hit-and-run crashes every year that result in injury or death in NYC, but only 1% of those are investigated by the NYPD's Collision Investigation Squad. We call on Mayor de Blasio, Police Commissioner Bratton, and the City's district attorneys to put together an action plan to combat the scourge of hit-and-run crashes that places all of us at risk.
But the City also has to be held accountable. We are calling on NCYDOT to implement traffic calming on 21st Street that deserves the name. And we call on Councilmembers Costa Constantinides and Van Bramer to stand by our side to insist on these urgent improvements to prevent further loss of life and health.
21st Street feels like a highway that cuts through a residential neighborhood. We repeat: A residential neighborhood. With increasing construction along the corridor, this will worsen. There are many children and elderly who simply cannot cope with the insanity and ugliness of this street. They should not be forced to cope with a street that effectively prioritizes drivers' desire to speed over the needs for safety of ALL other street users.
For more than two (2) years, TA Queens and the Coalition for Street Calming on 21st Street have requested a full "road diet" for 21st Street--street safety measures that ensure that this street accommodates EVERYONE and is appropriate for a residential neighborhood.
Just over a year ago, in March 2015, NYCDOT presented a plan to Community Board 1 in response to these requests from the community. The plan was approved by CB1—but with the explicit caveat that this is only a beginning and that we need more. We also welcomed these changes, but said then that it was not enough and more needed to be done to make this street safer.
The DOT plan does NOT include the following essential measures that were requested repeatedly:
• Traffic lights at 28th Ave, 30th Road, 33rd Rd, mid-block between 34th and 35th Ave, and 39th Ave.
• Bike infrastructure below Hoyt Ave to both make bicyclists safe and calm the street for pedestrians
• Safety improvements to the dangerous three-way intersection with 27th Ave and Astoria Boulevard
• Other measures to reduce speeding and help pedestrians cross, such as mid-street pedestrian island
The NYCDOT's argument for not installing traffic lights is that the "federal warrants" for traffic signals are not met at these locations. These federal rules are clearly written for the benefit of car drivers in suburban areas, not for dense city neighborhoods like Astoria and Long Island City. Moreover, it is difficult to accept that the warrants are not satisfied by the deplorably unsafe conditions on this very busy North-South artery. We call on DOT to disclose the engineering study that justifies its conclusions. And if the warrants are insufficient to protect us on our city streets, then NYC DOT should join us in lobbying U.S. DOT to revise the warrants to properly address urban reality.
In any event, we cannot hide behind federal warrants and allow lives to be jeopardized. Even if NYC would not receive federal funding for such traffic signals, we must spend our own funds to protect our residents. In Manhattan almost every intersection has a traffic light, so it is very hard to accept the claim that somehow streets such as 21st Street in Queens do not require the same protections. Lives are literally at stake, and the City must take action now before anyone else is killed or seriously injured on 21st Street.
Signed,
Peter W. Beadle, Chair, Transportation Alternatives Queens Activist Committee
Angela Stach and Steve Scofield, 21st Street Campaign
Jaime Moncayo, TA Queens Organizer
Posted April 11, 2016
---
Education Law Center says
Governor Cuomo Wrong on Receivership
To Governor Andrew Cuomo:
Last year, you insisted on enacting a receivership law that targeted schools as "failing" or "persistently failing" based upon Common Core test scores. You defined the law and the metrics that schools must meet in order to improve, metrics that many experts consider unreliable and inappropriate for use in prescribing top-down, punitive interventions. Using test scores as a high stakes metric is a blunt and ineffectual instrument as your most recent education task force concluded as it relates to teacher evaluations.
Now 70 out of 144 schools subject to the receivership law have met the metrics you defined in law. They are no longer priority schools and therefore no longer subject to receivership. Yet in negotiations you are currently seeking to force these schools back into receivership. You defined a set of standards that set expectations for these schools and their students— students who, as you have been quick to vocally point out, are overwhelmingly black, Latino and poor. Now that these schools and their students have met that standard, you wish to change it in order to keep these 70 schools classified as "failing." Doing so would create a mockery of the entire receivership program as it would send the message to students and their schools that if they meet the bar for performance as defined in the law, then you will just redefine the bar.
Paragraphs 1a and 1b of New York Education Law 211-f, the receivership law, define clearly two categories of schools are subject to the law: "failing" and "persistently failing." Paragraph 1a defines a "failing school" as a school designated as a "priority" school for three consecutive years under the state's accountability system. Paragraph 1b defines a
"persistently failing" school as a school designated as a "priority" school in the state's accountability system for ten consecutive years (or the equivalent of "priority" school under the state's previous accountability system, as the new system is not ten years old). The key to qualifying as either a "failing or "persistently failing" school is the requirement that a school be on the priority schools list for the specified number of consecutive years.
According to the state's definition of priority schools, a definition that was already in place when the receivership law was enacted, a school is no longer a priority school if for two consecutive years student test scores are high enough to exceed the thresholds for identification (their combined performance index score in ELA and math is higher than the
cut score to be a priority school). The schools that are no longer identified as priority schools made the progress necessary on the defined metrics in 2013-14 and again in 2014-15.
Therefore, the underlying designation justifying their placement on the "failing" or "persistently failing" list no longer exists for the 70 schools. These schools can no longer be defined as either "failing" or "persistently failing" pursuant to the language of the statute itself. Accordingly, they do not fall within the purview of the receivership law, NY Education Law 211-f.
According to your chief advisor and the architect of this policy, these schools must stay under receivership for three years regardless of any progress they make. This is not what the law says. What the law does say is "each school intervention plan shall be authorized for a period of not more than three years."
The problems with using high stakes Common Core tests to grade schools as "failing" is underlined by the fact that there is a full school year data lag in the publication of these test scores. The improvement in these schools' metrics was actually based upon test score outcomes for the 2013-14 and 2014-15 school years. So in fact, if not for the data lag, these schools would never have been subject to receivership in the first place. The receivership law, the law ostensibly written to assist these schools, had absolutely no effect on the progress the schools made. These schools should be allowed to continue making progress following these locally-developed plans. They have a track record of success, as contrasted by the as-yet unproven receivership law.
Sincerely,
Wendy Lecker / Senior Attorney

Education Law Center / Newark, NJ
Posted April 11, 2016 / Received 3/31/16
---
Brian F. Will of Queens Quiet Skies says
Applying the Principles of Resource Management to Airspace Conservation
Fisheries management is heavily scrutinized in the media and by stakeholders in commercial fishing communities. The general public seems to play a dual role in fisheries management, by lamenting the loss of historic fishing ports but also steadfastly determined to restore our aquatic marine resources. Having worked on the management side for 10 years, mostly as a freelance biologist, I have heard compelling arguments from both sides. Our ocean resources are a public resource with multiple user groups, and arguments are usually centered on how to fairly distribute an increasingly limited allotment of that resource. A fisherman's allotment, or quota, is his livelihood, and management decisions can put his livelihood and community on the line.
Our airspace is also a public resource with multiple user groups. But unlike fisheries resources, when changes to our airspaces are implemented, you'll find few public meetings, comparatively little scientific data and almost no stakeholder involvement. The allotment of our airspace is divided up among business and government interests with a bare minimum left for noise and pollution mitigation. Airspace is allotted in a one directional way, with no public dialogue, and not even a hint of a willingness to have one.
And our airspace is getting very crowded. Air travel demand will double by 2050, and airport operators from New York to London are calling for extra runways, reduced vertical and horizontal separation between planes and a condensing of flight routes. All this, and we'll still have to make space for drones. These airspace changes have become necessary, we're constantly told, to ensure our economic survival.
On the other side of the issue, as yet unheard, is the noise and particulate pollution burden that airspace overutilization has already caused. From Queens to Phoenix, many thousands of people are quietly realizing they cannot live amicably underneath the new superhighways in the sky. With a predisposition to expand and almost no space to do it, the aviation industry effectively cleaves off a small section of human habitat with every new route.
When it comes to our nation's airspace, perhaps it's time to take a cue from other conservation disciplines: we are over utilizing this resource, to the detriment of the general public, and it's going to get worse. Like fisheries and many other public resources, airspace can and should be carefully managed and conserved. Equal stakeholder involvement should be incorporated into management decisions, and land use studies should be used to determine an equitable balance of airspace usage between all the relevant user groups.
If the general public would demand airspace management with the same fervor that they demand management of other resources, we might prevent the degradation of potentially hundreds of communities. Looking up at the sky 10 years from now, and finding that every open patch of air is filled with an aircraft or drone, it will have already been too late.
Queens Quiet Skies was established in 2012 to fight aviation noise pollution problems related to the FAA's NextGen project. The group lobbied intensively for a community aviation roundtable, Part 150 study, and a dramatic increase in noise monitors.
The group can be reached at https://www.facebook.com/QueensQuietSkies/ or directly via email at queensquietskies@aol.com.
Brian F. Will
Biologist & Vice President of QueensQuietSkies.us
Submitted February 22, 2016
---
---
Brian F. Will of Queens Quiet Skies says
Need For Straight Talk From FAA & Government Officials
Something that continues to frustrate members of the Queens community is the evasive dialogue of the FAA. It hasn't changed a whole lot in the 3 years since the FAA first implemented NextGen technology at both airports. FAA Administrator Carmine Gallo has appeared in Queens several times during that span, including a recent town hall meeting in Jackson Heights. Still, he has yet to engage in a transparent conversation about the drastic airspace changes that are taking place. When it comes to the FAA, it's always about the weather (or construction).
The reality is that there is a lot more going on above our heads than just weather. Here I will try to summarize some of the more important changes that Administrator Gallo and the FAA often neglect to mention:
1. The Recategorization of Wake Turbulence Separations (RECAT)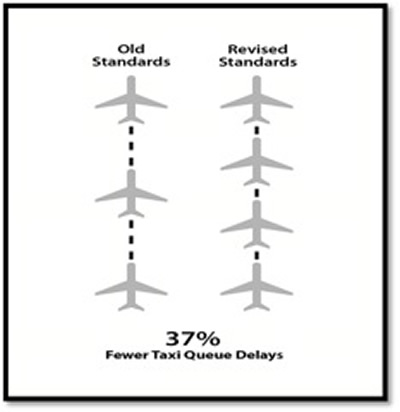 This initiative was implemented at LaGuardia airport in February of 2015. It was tied to the NextGen project, thus avoiding a proper environmental analysis. RECAT reduces the separations of planes on the same route, such as planes arriving over Jackson Heights into LaGuardia's runway 4. The separations reduction under RECAT has gone from a standard of 5 miles of separation to as little as 2.5 miles.
The FAA maintains that LaGuardia will handle growth of passenger demand with larger aircraft, but the FAA's RECAT fact sheet lists capacity increases as a benefit of RECAT. From the FAA's website: "The new standards are significantly improving the efficiency of operations at Memphis, Louisville, Cincinnati and Atlanta. FedEx boosted capacity by 20 percent"
Yes, FedEx boosted capacity by 20%. And the Memphis airport increased its slot limit from 72 to 99 flights per hour. LaGuardia's current restriction is at 71 flights per hour.
2. Lifting of the "Perimeter Rule"
The perimeter rule mandates that all LaGuardia destinations be within a 1,500 mile radius, thus keeping the airport's planes of an equitable size and weight. Currently, there are no four engine jets at LaGuardia, largely because of the perimeter rule.
A lifting of the rule would likely bring A380's and B787's to LaGuardia. This is something that the Port Authority will decide, likely when the Part 150 study is near completion and can't be included in the data. The FAA would also like the perimeter rule to end, and have consistently maintained that they will meet passenger demand with "larger aircraft". The FAA has said this, even before lifting of the rule was being openly debated, which makes one wonder.
The larger aircraft would bring more engines lower to the ground, thus increasing noise. Heavier planes also have a lower takeoff trajectory and cannot turn efficiently, which brings us to the next new FAA initiative…
3. Optimum Profile Descent (OPD)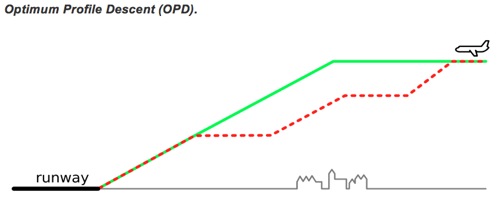 Above is an FAA rendition of how the NextGen satellite navigation system which will guide aircraft into LaGuardia's runway 4 in the near future. Whether or not planes will slam into the runway at a 35 degree angle, as implied above, remains to be seen. The plane in the drawing doesn't look like an Airbus.
Optimum Profile Descent could potentially bring heavier arriving planes closer to Jackson Heights than they already are. The FAA asserts that Optimum Profile Descent will reduce noise because it allows planes to glide right in.
4. JUTES
The JUTES Climb is the route that terrorizes Jackson Heights on most weekends. It is a NextGen RNAV, thus it has never been studied for impact on the human environment. The Port Authority maintains that when capacity enhancing runway construction is finished, the route will subside. We'll see.
But if it doesn't, please know that there is an entry in the current LaGuardia Standard Operating Procedure which states: "avoid departing runway 22 to the maximum extent possible". Runway 22 points directly at Jackson Heights and is the source of JUTES. The statement is in the runway selection guidelines and not the noise abatement section, which leads to the assumption that the FAA is weary of departing too many planes over the area's very tall structures.
https://nyartcc.org/wiki/index.php/LGA_SOP
5. The FAA's "hidden" noise data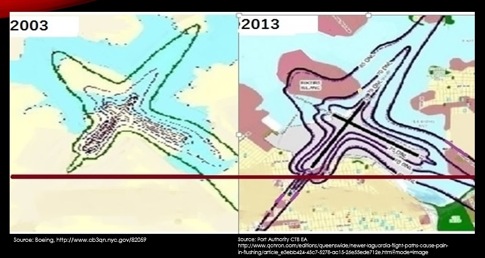 A 2013 FAA funded study "Residential Exposure to Aircraft Noise and Hospital Admissions for Cardiovascular Diseases", published by Harvard University's School for Public Health, revealed that the FAA produced noise contours for 89 U.S. airports out to 55 DNL in the year 2010.
MSP Fair Skies investigated the possibility of acquiring all of this data through FOIA requests, as the FAA had never publicized the data. Using the FAA noise data that they received, they produced a map for LaGuardia Airport. The map is available here, in one of MSP Fair Skies superb documentaries: http://mspfairskies.com/videos/
It is the first map of our area that shows noise exposure out to 55 DNL (average decibel level over a 24 hour period). It clearly shows 55 DNL extending from runway 4 all the way into Brooklyn!
Below are two additional noise exposure maps, shown side by side for comparison. Prepared by Boeing and the Port Authority, the maps show the growth of our 65 DNL noise burden over a ten year period.
6. Lastly, a word about "quieter engines"
When the perimeter rule disappears, the number of engines on many planes will increase from two to four. With RECAT, the frequency of noise events will increase. Optimum Profile Descent and larger aircraft could bring the noise source, the engines, closer to the receiver. With the number of slots poised to increase and LaGuardia inching towards 24 hour operations, there is a potential of:
(24 hours) X (81 planes per hour) X (4 engines) = 7776 engines per day.
Quieter engines are great, and should be supported, but not without putting other noise abatement scenarios in proper perspective. Quieter engines are not a cure all, and industry will have to make some concessions. Whether it be noise mitigation flight routes, curfew, late night exceptions, maintenance of slots, altitude restrictions or something else, technology alone will not bail us out.
Respectfully,
Brian F. Will
www.QueensQuietSkies.org
November 3, 2015
Editor's Note: This was sent to us in response to a story we published about a meeting held in Queens to address airplane noise in NYC.
---
Queens Chronicle says
Keeping Jamaica Bay alive, on film and for real
Here at the Queens Chronicle, the next installment of "Star Wars" isn't the only film years in the making and set for release in the months ahead that we're eagerly looking forward to.
No, while we enjoy the events of a long time ago in a galaxy far, far away as much as anyone, we're thinking closer to home and can't wait for the first full screening of "Jamaica Bay Lives," the documentary about our favorite big estuary by environmentalist, author and former Chronicle Editor-in-Chief Dan Hendrick. He expects the film, now nearing the end stages of production, to be ready this fall. He hopes to show it on public television, at film festivals and in the communities that surround the bay.
You could hardly find a better topic for an environmental documentary film in New York City. Jamaica Bay has a long and often tortured history and is full of contradictions, but remains vitally important to the ecology of not just the city but really the entire Eastern Seaboard.
Of course it was not always protected as well as it is now, and more must be done to restore it as much as possible. That's one of the major reasons Hendrick's film is so important — to draw more awareness and, perhaps, funding and other resources to this 18,000-acre wetland estuary that's home to hundreds of species of birds, beasts and fish. It is, as he points out, the city's largest open space, bigger than Central, Prospect and Van Cortlandt parks combined. It's nearly the size of Manhattan, and occupies almost one-tenth of the city's entire geographic area.
For a long time it was abused, a dumping ground ringed by landfills and industry. To some degree it still is. On its eastern end, Kennedy Airport is one of the two dozen busiest in the world, with all the pollution that brings. On its western end, Floyd Bennett Field used to be an airport. On the western side of the Floyd Bennett peninsula is Dead Horse Bay, named for just the reason you'd imagine: It's where they used to dump the bones of the horse carcasses processed there. Charles Park in Howard Beach certainly needs a major cleanup but it's got nothing on Dead Horse Bay's Bottle Beach, an utterly filthy stretch of shoreline filled with garbage from a landfill dating back a century. Four sewage treatment plants empty into Jamaica Bay.
Yet the estuary and much of its wildlife survive, demonstrating the power of nature against the worst mankind can throw at it. And for the last several decades, they've had a lot of help. Master planner Robert Moses got thousands of acres declared parkland in 1938 and thwarted proposals to build an industrial port and make more landfills. After the Jamaica Bay Wildlife Refuge was established, one Herbert Johnson worked to save and restore the nesting grounds of shorebirds and waterfowl that call the bay home.
In more recent times, the government and environmental groups such as the American Littoral Society, NYC Audubon and the Trust for Public Land have worked together on restoration projects ranging from the rebuilding of the disappearing marshlands to plain old volunteer beach cleanups. Birds in particular are thriving, with the bay being a key stop for many that migrate along the Atlantic Flyway, though sadly, some have been killed out of concerns they could disable planes. And Hurricane Sandy certainly took its toll on the marshes and more.
This is the wondrous place explored in "Jamaica Bay Lives." The film's stars, Hendrick says, are four activists working hard to protect the bay: Don Riepe, Dan Mundy Sr., Dan Mundy Jr. and Barbara Brown. But it's the bay itself that gets top billing. We're sure the movie will be a fitting tribute to this gem in our midst. Don't miss it.
by Queens Chronicle Updated August 27, 2015
Posted Here September 2, 2015
---
Newspapers, Magazines, TV Stations, Filmmakers, Artists, Photographers, Journalists, Actors, Musicians, Writers & Software Developers
Copyright Law Change Alert: Pending Legislation May Curtail Your Ownership Rights
July 5, 2015 / Queens Notices / News Analysis & Opinion / Queens Buzz. Click the Queens Notices link to view proposed overhaul of copyright laws which would significantly curtail the ownership rights one has to their own work. It includes a bit about how you can help by sending a notice to the government regarding this effort to overhaul copyright law.
According to the report, the law would weaken content creators' ownership rights and thus their ability to monetize their creations. They also allege that the big internet companies are pushing this. We surmise that this is because the big internet companies are using everyone's content, collecting revenue for organizing and distributing it, and not compensating the content creators for the use of it. This may leave a huge outstanding, unestimated legal liability on their balance sheets.
The weakening of copyright laws has disturbing societal implications as well, as it completely destroys the economic incentive for artists, filmmakers, writers, journalists, photographers, actors, recording artists and software developers to invest their time and resourcess in the creation art, film, journalism, photography, music, software and other media content and entertainment. And in doing so, paves the way for considerable consolidation and control over freedom of speech and what media and entertainment content we as a society consume.
The net effect of the law is to curtail content creator ownership rights, and thus in some good measure transfer the ability to monetize content from the content creators to the content distributors. But it's not too late for you to do something about this.
The deadline for comment is July 23rd, 2015. Click Queens Notices and scroll down to first notice. There are links there to the authors of the report, as well as instructions and links to making a comment to government officials. Is retaining ownership rights to your work worth 10 to 15 minutes of your time?
"Many hands make light work." Chip in and make your concerns heard.
---
Going Solar Will Solve Many Of America's Biggest Problems
Dear Editor,
Transitioning to solar has the potential to narrow America's trade deficit, reduce America's government deficit, increase America's employment, reduce the probability of trade or military wars with China, and reduce America's carbon footprint.
Most armed conflicts take place in locations that are in or adjacent to large oil production locations or along strategic passageways for oil. It's worth noting that there are rising tensions in the South China Sea over signficant oil & gas resources there. Some believe these rising global tensions may lead to WWIII. As is true in all wars, many innocent men, women and children die. This is going on right now, as as fighting continues in Crimea, Gaza, Syria, Afghanistan, Sudan, Iraq, Nigeria & D.R. Congo.
Most of these Middle Eastern, African and impending Asian conflicts would likely be resolved if solar and wind energy were the nation's / world's primary energy sources. Instead of fighting over the remaining fossil fuels on the planet and their safe transit into use; let's use the solar and wind technologies we have already mastered, to prevent future military conflicts and mitigate the current ones.
Reduction of our reliance on oil / fossil fuels should be the nation's primary goal as it will:
1) reduce our trade deficit by enabling us to produce more or all of our own energy, thus cutting our reliance on imported oil,
2) enable us to reduce our military spending and hence overall government spending, deficits and taxes by reducing our need to guard oil production and transit ways around the world,
3) keep us out of other people's wars - which would be far easier to settle - if the riches and strategic importance associated with oil began and continued to decline,
4) provide a cleaner environment and slow climate change by reducing our consumption and hence the pollution of fossil fuels and
5) provide more domestic jobs as we could become a clean and net energy producer.
So why don't we do it?
Because those who profit from the current state of affairs will do whatever they can to slow or prevent this change from occurring because it will reduce their wealth and the future value of their holdings.
These not-so-special interests primarily consist of: a) those who profit from wars or the perceived threat of wars like the defense contractors; and b) those who profit from the heavy American reliance on fossil fuels like the big oil companies.
Both the oil companies and the defense contractors use American taxpayer dollars to fund their wealth by: a) collecting hundreds of billions of tax dollars for defense equipment investments and b) demanding that a signficant portion of American Armed Forces budgets [time, manpower and equipment] be directed toward the protection of American oil company transit ways and holdings abroad. They argue that this is because oil is a strategic asset. That is currently true, but it wouldn't be if America transitioned to solar and wind energies.
So in summary, we can mitigate some of the inhumanity of war, lower our trade deficit, lower our government spending, lower our taxes, become energy self-sufficient, pollute less, slow global climate change and increase domestic employment by accelerating our transition to solar and wind energies.
We can transition from fossil fuels to regenerative energy sources by using the same approach used to curb smoking nationally. Educate the public about how to transition and put economic incentives in place to support the transition. This means slowly, like cigarette taxes, commit to increasing taxes on oil consumption by some dollar or percent amount every year. Then take these funds and use them to provide tax deductions and business incentives to move to renewable / regenerative fuels and energy conservation through more energy efficient autos, solar powered homes and the like.
Sincerely,
Francis M.
Posted April 1, 2015
---
---
Site Search Tips. 1) For best results, when typing in more than one word, use quotation marks - eg "Astoria Park". 2) Also try either singular or plural words when searching for a specific item such as "gym" or "gyms".
$element(bwcore,insert_search,N)$
Click this link to search for something in our Queens Business Directory.
---
Click the log in link below to create an ID and post an opinion.
Or send this story to a friend by filling in the appropriate box below.
---