Vintage Subway Trains & Rides in Manhattan & Queens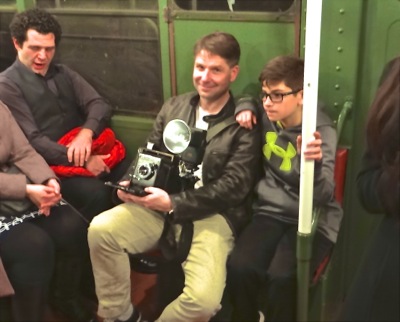 December 21, 2015 / Queens Neighborhoods / Queens History / Queens Buzz.
I decided to take a ride on one of the Vintage Subway Cars that run through Manhattan & Queens on each Sunday in December from 10 am to 5 pm. You can ride the vintage subway cars for the regular fare of $2.75, even though back in the day, the ride only cost 10 cents. It's a fun outing and some of the people dressed up for the occasion, only a bit of which is shown in the video.
Click here to read the rest of our report about riding the Vintage Subway Trains & Rides in Manhattan & Queens over the holidays, including the subway lines and stops to which it pertains, as well as the approximate schedule as they only run about every hour and a half.
In 2015 the last day of this special offer is Sunday, December 27th.
---
Vintage Subway Trains & Rides in Manhattan & Queens
December 21, 2015 / Queens Neighborhoods / Queens History / Queens Buzz. Continued.
Things To Look For While Riding The Vintage Subway Trains over the Holidays in Manhattan & Queens
Remember Sundays Only & Only on the M line. So a few things to look for when riding these vintage trains are the seats which no longer have the padding provided in the vintage trains. They also had ceiling fans instead of air conditioning, which makes one appreciate some of the comforts made possible by advancing scientific achievement. Subway riders along got their nickname 'Straphangers' from the handles that are present in the vintage subway trains but aren't any longer in the new cars which provide handle bars. There are also incandescent lights in the trains, which during the Depression were occasionally stolen and have since been replaced by embedded flourescent lighting. And of course the advertising placards lining the upper walls is vintage as well and there are a number of interesting tidbits contained in those as well. I didn't see any cigarette advertising which I have to believe there was a lot of ... back in the day prior to it being regulated.
Vintage Subway Trains Running On Sundays in December
The Vintage trains run every Sunday in December of 2015. This includes December 6, 13, 20, and 27 - running from 10 am to 5 pm. The Vintage Subway cars will be stopping at stations along the weekday M line between Queens Plaza in Long Island City [not to be confused with Queensboro Plaza] and 2nd Avenue at Washington Square in the Village.
Vintage Subway Train Stations & Times in Manhattan & Queens NYC
The vintage subway trains will be stopping at these stations:
Queens Plaza • 34 St Herald Sq
23 St-Ely Av • 23 St (6 Av)

Lexington Av/53 St • 14 St (6 Av)

5 Av/53 St • W 4 St Wash Sq

47-50 Sts/Rockefeller Center • B'way-Lafayette St

42 St Bryant Park • 2 Av (F line icon line)

Departures from 2nd Avenue / Washington Square are at 10 am, 11.30 am, 1 pm, 2.30 pm and 4 pm.
Departures from Queens Plaza are at 10.45 am, 12.15 pm, 1.45 pm, 3.15 pm and 4.45 pm.
Vintage Subway Train Cars Running in December in Manhattan, Queens & NYC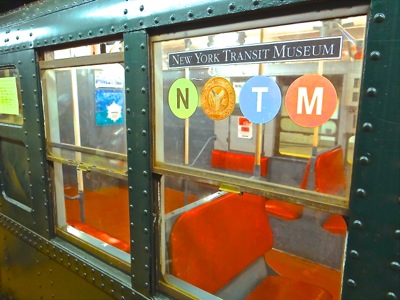 The following vintage subway cars are running on the MTA subways on Sundays in December.
Subway Car No. 100: Manufactured by American Car & Foundry, this R1-type car was the first car in the initial order of 300 placed in service for the opening of the IND subway.
Subway Car No. 484: Part of a 500-car order of R4 cars manufactured by American Car & Foundry. In 1946, this car received a retrofit of bulls-eye lighting and a public address system.
Subway Car No. 1575: Originally manufactured as an R7, this car was sent to the American Car & Foundry factory and rebuilt as prototype of the next generation R10 subway car.
Subway Car No. 6095: In 1925, the Brooklyn-Manhattan Transit Corporation (BMT) introduced a three-car articulated unit called the D-Type Triplex. The design meant passengers could walk from one car to another in the unit through an enclosed passageway. They carried more passengers and had fewer moving parts, making them efficient and easier to maintain.
---
Click The Refresh Button & / or Play Button To View Video
Queens Buzz Voluntary Single Copy Sales or Subscriptions
We're not independently wealthy. So if you like what we're doing, you can help us continue to provide you with this coverage and possibly expand it, by voluntarily paying for a single copy or by subscribing to

Queens Buzz. Click button for details on how to make a purchase for as little as $5 which is less than what you'd pay for one issue of a magazine.
---
Queens Neighborhoods / LIC Neighborhood Links
$element(adman,groupad,Catgry Queens)$
Click on these advertisements for promotions, discounts and coupons by retailers and restaurateurs in Woodside, Sunnyside and nearby Queens.
Several years ago the Hunters Point South development was approved by Community Board 2 and subsequently approved by the New York City Council and Mayor. Click the link above to read the earlier report. Click these links to gain a broader perspective of the Long Island City Neighborhood in which these units reside, as well as of the LIC real estate market for apts and condos or the Long Island City real estate market in general.
Click this link to go to the:
Sunnyside & Woodside Neighborhood
Sunnyside Business Directory or Woodside Business Directory
Sunnyside & Woodside Real Estate or Events & Things To Do In Sunnyside & Woodside
Restaurants In Sunnyside & Woodside or Sunnyside & Woodside Shops & Shopping
---
$element(adman,groupad,NhoodLIC)$
Site Search Tips. 1) For best results, when typing in more than one word, use quotation marks - eg "Astoria Park". 2) Also try either singular or plural words when searching for a specific item such as "gym" or "gyms".
$element(bwcore,insert_search,N)$
Click this link to search for something in our Queens Business Directory. Also check out Taste of Sunnyside.
---
Click the log in link below to create an ID and post an opinion.
Or send this story to a friend by filling in the appropriate box below.
$element(adman,groupads,Sectional2 Ad)$
---