Jamaica JAMS Festival
Queens, The Home Of Jazz, Hits Another High Note
August 16, 2015 / Jamaica Neighborhood / Music Scene in Queens / Queens Buzz.
Two weekends ago I headed down to Jamaica town, to partake in the Jamaica JAMS festival of music, which begins the eve before the big festival day. It was a near perfect summer evening as I ascended from the underground tunnels of the MTA's E train, and up onto the bustling streets of Jamaica, Queens.
I headed west along Jamaica Avenue before turning north at 153rd Street which runs along the eastern side of Rufus King Park. There were plenty of people out and about. I saw parents watching their kids at the playground as they all enjoyed the lazy midsummer evening, there were energetic teenage boys playing spirited half-court games of basketball, and an entire field filled with soccer moms, dads and kids passing, rollling and kicking the ball around. But in the northwest corner of the park, something else was a happenin'.
I crossed the field and came up behind the Jamaica JAMS [Jamaica Arts & Music Summer] audience that had gathered on the lawn and on the chairs facing the JAMS festival stage. Emcee and saxophonist Craig Crawford was conversing with the winner of a dance contest that had just ended [see photo above].
Click here to read more about the Jamaica JAMS musical festival in Rufus King Park, including a short, less-than-two-minute music video with saxaphonist Craig Crawford, followed by vocalist Toni-Ann-Semple.
---
Jamaica JAMS Festival
Queens, The Home Of Jazz, Hits Another High Note
August 16, 2015 / Jamaica Neighborhood / Music Scene in Queens / Queens Buzz. Continued.
In the photo at right is Liz Black [left] of WBLS and WLIB; and on the right is Tyra Emerson, Founder of the Jamaica JAMS festival.
Up alongside the stage they were serving food to the musicians, performers and the other folks who had helped make the Jamaica JAMS festival happen. This Friday night event could easily have been a food truck event, but alas – at least this year - it was not meant to be.
I asked Tyra Emerson, the Founder of Jamaica JAMS festival, why there weren't any food vendors selling to the audience. She told me that she had encouraged food trucks and foodies to participate in the Friday night event, but for reasons not known to her, they decided not to come. This was a bit of a miss for these scrappy food entrepreneurs, as there were hundreds of people in the audience, and based on my periodic perusals back to the food stand, this was a made-to-order audience. I can't tell you how many attempts were made to purchase the donated food reserved for the musicians and workers, but my guess is that they would have added up to a good night for a couple of food trucks.
Since, technically I was working the event by covering it, Selima - one of the folks overseeing some of the food service - provided me with a few samples of the donated fare. The food included sesame chicken and fried chicken provided by Vibe Café [143-08 Liberty Ave at Remington St]. Some call this soul food, but I call it finger-licking chicken [see photo at right].
Fresh & Healthy served an attractive salad. And Taste & See, located in the Jamaica Market Food Court at 159-15 Jamaica Avenue, served fresh spinach fritters, and the Tavern Lounge, at 97-07 Jamaica Avenue in Woodhaven, brought a pasta. It's not much of a stretch to think that the Jamaica JAMS music festival will one day be catered to by a number of enterprising food and beverage vendors.
Tyra and I began talking about the history of the Jamaica JAMS festival. We had discussed this a few years back on Saturday [the big day], but on the evening prior to the big street music festival, things were calmer, so we had a bit more time to talk and with fewer interruptions.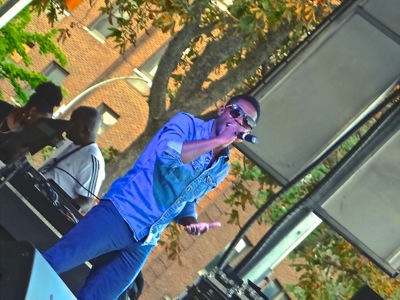 The Jamaica JAMS [acronym for Jamaica Arts & Music Summer] festival first began at York College in 1996. It was an idea Tyra championed because she missed the Queens summer fairs of old, which were fun and quite popular with local residents. She enlisted support from the local YMCA and Community Board 12 to get the ball rolling. With a twinkle in her eye, Tyra informed me that when she started this event nearly 20 years ago, she was only five years old ...
Anyhow that first year, in 1996, approximately 7,000 people showed. This was well above anyone's expectations. In the second year, 1997, word got out and some 30,000 people attended the second Jamaica JAMS event. So in year 3 they moved the Jamaica JAMS festival to Rufus King Park. The first year in the park another 30,000 people came so they started looking for a bigger venue. By year 5 there were so many people in attendance that they took the Jamaica JAMS day-long Saturday festival onto the streets of Jamaica on Jamaica Avenue, where every first full weekend in August, it remains to this day.
I reckon you could say the rest is history. The Jamaica JAMS festival is the largest festival of its kind in Queens, and is estimated to attract tens of thousands to it … and possibly more.
Tyra said that music has always been a part of the Jamaica JAMS festival. In the beginning she and the group that runs the Cultural Collaborative [official organizers of the program] limited musicians to performances of jazz.
Queens and jazz have a long history. In the 1920's, 1930's, 1940's and 1950's Queens had earned the reputation as the 'Home of Jazz' because many of the legendary jazz and blues musicians of that period resided in Queens. Performers like Louis Armstrong, Dizzie Gillespie, Ella Fitzgerald, Billie Holiday and others performed all around the world ... and would then come HOME TO QUEENS … hence the nickname. The image to your right is a segment of a Queens Jazz Trail map created by Marc H. Miller and illustrated by Tony Millionaire which is sold by Ephemera Press showing many of the legendary jazz and blues musicians who used to call Queens their home.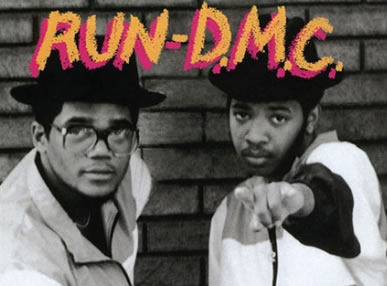 As the Cultural Collaborative evolved, younger members began to join the organizing group and voice an interest in expanding the musical genre performances beyond jazz. They persisted in pressing their case, noting that Queens is and was also home to a number of the early, great Rap and Hip Hop musicians. Nas, Run-DMC, A Tribe Called Quest, LL Cool J and Mobb Deep – to name just a few. These Queens musicians helped bring Rap and Hip Hop into the nation's mainstream. And some of the talented musicians who sent in their non-jazz audition tapes, CD's and DVD's - helped support the case made by the youthful members of the organizing group.
Hence, sometime between year 5 and year 10, the Jamaica JAMS festival broadened its musical mission and opened up the program to musical performances of all genres. Tyra and the Cultural Collaborative organizers review in the neighborhood of a hundred submissions a year, and select those who will perform at the Jamaica JAMS festival. Nearly all of the musicians are local talent.
And speaking of talent … I had planned to make my visit short to satisfy my curiosity about what happens the 'night before' the Jamaica JAMS festival. For a number of years, I have covered the big day of the street fair / music festival on Saturdays – but I had never covered the Friday evening portion of the event. I figured I would swing by for a quick meet and greet photo shoot, but I was pleasantly detained by way of a number of interesting conversations, including one with a Republican candidate for NYS Assembly, Scherie S. Murray.
This conversation was followed by my venture into the soul food arena described above, and then an introduction to vocalist Toni-Ann-Semple and emcee / saxophonist Craig Crawford. My interest in hearing Tyra tell me the full tale of the founding of the Cultural Collaborative and the Jamaica JAMS festival took me well past dusk, when the sun had set and the music and the stage became the full center of attention. Liz Black, radio personality for WBLS and WLIB, took the stage on several occasions to entertain the audience in between performances.
In the neighborhood of a dozen performances were scheduled for the evening, but unfortunately my account includes only the two that I tuned into after I had wrapped up some of my other inquisitions. I hadn't planned to video tape the performances, but I was so moved by them, that I figured I would give it a shot with my trusty camera.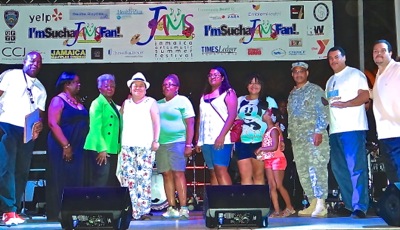 And thus, on the video below, you can enjoy a bit of the Jamaica JAMS festival. There's one very short 20 second piece by Craig Crawford doing an impromptu sax piece, followed by vocalist Toni-Ann-Semple doing an enraptured performance of one of her own songs.
As you will see for yourself, the quality of both performances is impressive. And it's worth noting that in years past I've been treated to other very talented Jamaica JAMS performances, including a memorable performance by Djhani, whose melodies and vocals are comparable to those of platinum-selling recording star Michael Jackson [unfortunately her work is not very accessible on the internet].
Next year is the 20th anniversary the Jamaica JAMS festival. I am already looking forward to the Friday evening cool, communally intimate, and the grassy knoll comfort of Rufus King Park.
And who knows, maybe even some of the food trucks / vendors will show up on the 20th anniversary, to celebrate another summer of art and music in Jamaica.
You May Have To Refresh Page To View The Sax / Vocals Music Video
---
---
Jamaica NY Related Info
$element(adman,groupad,NhoodJamaica)$
Click this link for promotions, discounts and coupons in Jamaica and Queens.
Click this link to go to the Jamaica Neighborhood News / Jamaica Restaurants Guide & Map / Jamaica Business Directory / Jamaica Shopping Center and Map.
---
$element(adman,groupad,Catgry Entertain)$
Site Search Tips. 1) For best results, when typing in more than one word, use quotation marks - eg "Astoria Park". 2) Also try either singular or plural words when searching for a specific item such as "gym" or "gyms".
$element(bwcore,insert_search,N)$
Click this link to search for something in our Queens Business Directory.
---
$element(adman,groupads,Sectional2 Ad)$
---
Click the log in link below to create an ID and post an opinion.
Or send this story to a friend by filling in the appropriate box below.
---