The Forest Hills / Kew Gardens Neighborhoods
---
Cadillac Man - Survival On The Streets
Year 2009 / Forest Hills Neighborhood / Queens Buzz NYC.
I attended a fascinating talk on Saturday afternoon given by a man who had lived for thirteen years on the streets of New York City. He goes by the name of Cadillac Man and he is the author of the newly released book entitled 'Land Of The Lost Souls' which is available in Barnes & Noble and Borders books. It was released on March 17th of this year.
Cadillac Man told us how he survived living on the streets of Manhattan, Queens & Brooklyn where the average life expectancy of a homeless person is about two years. A former GI from the Vietnam War, Cadillac Man vacated his home following the loss of his job, a spate of alcohol abuse and regular arguments with his wife. During one of those arguments she asked him to leave and he did. Once on the street, he had to learn how to survive, finding a place to sleep, food to eat and earning a enough to keep himself a bit clean and clothed. We'll post more on a fascinating tale of one man's journey into and out of the abyss later in the week.
---
Green Possibilities Dances Into Forest Hills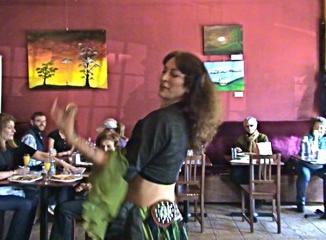 Year 2009 / Forest Hills Neighborhood / Queens Buzz NYC.
This was an unexpected treat. Who would have expected to encounter Flamenco dancing on a Sunday afternoon at Tierra Sana restaurant? Out of curiosity I decided to cover an event which a new member, Maria Tabone, posted in our members calendar just a week or so ago.
The event, Green Possibilities, was sponsored by a group formed under the leadership of Stephanie Fiallo, co-owner of the Tierra Sana restaurant. The environment was the theme and the program included entertainment, food, educational seminars [held in a comfortable back room], as well as booths where ten vendors sold environmentally friendly products and services.
In the photo a performer dances to entertain the crowd at the Green Possibilities event at Tierra Sana restaurant in Forest Hills.
---
---
View Queens Photos
Local Events / Local Store Merchandise
Click into the Photo Album to see photos posted by community groups about their events. You will find these photo albums listed in the Org category. You may also view photos posted by Queens Buzz photographers listed in the QBuzz category. You may also window shop the merchandise of local stores by clicking into the advertiser albums located in the C category [C stands for Commercial]. Click here to go into the Photos of Queens in the Buzz Photos Gallery.
---
Kicking Back In Forest Hills
On this August day the streets near Austin and 71st Avenue were busy with shoppers and diners. This is a slideshow about being there.
Forest Hills Shopping Map & Guide - Forest Hills NY
This is the Austin Street Shopping District in Forest Hills. It is easily traveled to via the G, R and V subway lines from Manhattan. Use our site search engine or business directory for a partial listing of the businesses that can be found on Austin Street and surrounding area in Forest Hills Queens NYC.
---

---
Queens Community & Commercial Events Calendar
This events calendar contains events submitted by community and commercial members. Community events include readings, art shows, musical performances, open houses and so forth. Commercial events include NFL and Holiday parties, wine tastings, clothing sales, apartment open houses, pool / billiards leagues and more. Click the drop down menu to submit events [ID required].
Click here to view the Queens Buzz Queens Events Calendar.
Calendar: Member Calendar
Click here
to subscribe to "Member Calendar" and receive an email whenever a new event is created
If the ICAL logo above does not work,
right click
here, copy the URL, and paste it into your favorite calendar application.
---
---
Non-Profits Can Post Events Free
Non-profit members can post comments to stories, create homepages, start blogs and in some cases may be given rights to post photos to our photo albums. All of this is free to our audience as long as it's non-commercial. All you have to do is create a free ID.
---
Free Classified Ads
Create an ID to post free non-commercial classified ads and arts, performance and community events. Commercial classified ads and events may be posted for a small fee of $10 per listing, with discounts for purchases of more than five in a given year.
Two Search Engines
Queens Buzz employs two site search engines. One is focused entirely in the Business Directory and is best used when trying to look up a certain type of business listing / items.
The second search engine scans the entire site and returns its findings by site section. This is the most comprehensive search tool on the site, but doesn't always give you the best match.
To get the best results try both plural vs singular words like 'gym' and 'gyms'. And when doing multiple word searches use quotation marks [eg. "Astoria Park"] for best results.
---

ERROR: poll element file "poll_sidebar" doesn't exist.
Forest Hills / Kew Gardens Story Archives
Click on the links below to go to the Forest Hills / Kew Gardens Neighborhood shopping section or the Astoria Restaurant section.
---