---
Sunnyside Yard Development - SS Yard Real Estate Development LIC Queens Astoria Sunnyside NYC
Sunnyside Yard Plan Moving Ahead
The Whopper of All 21st Century Real Estate Developments in NYC
September 25, 2019 / Sunnyside Neighborhood / Long Island City Neighborhood / Astoria Neighborhood / Queens Real Estate / News Analysis & Opinion / Queens Buzz NYC.
I attended the Sunnyside Yard Master Planning meeting last week at Aviation High School in Sunnyside / LIC. Given the significance of the real estate development being planned - at the nexus of Astoria, Long Island City and Sunnyside - I was surprised by the low turnout of members in the community. Perhaps it's because the NYC EDC didn't seem to do a very good job of notifying the community that there would be a meeting.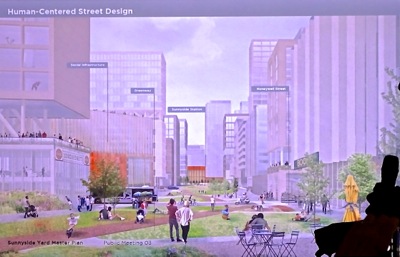 The illustration at right shows how a Sunnyside Yard development might look sometime in the foreseeable future.
There was a protest group there, possibly comprising somewhere between a quarter and half of those who attended during the second [of two] sessions that I attended. The sessions were held in a regular sized classroom, which contained an overflowing crowd, and most of the protesters, who were fairly disruptive, were also kept outside.
Exploring the possibility of the Sunnyside Yard real estate development project began a number of years ago [I've seen documents that indicate work began in 2014]. The concept was first presented to the public in Mayor de Blasio's first State of the City Address in 2015. Governor Cuomo seemed to try to upstage the Mayor earlier that same day, by pre-emptively mentioning it, only hours before the Mayor gave his Address.
The photo below right shows how the Sunnyside Yard looks today.
Much has been done since then, both in planning and in preparing the site for development. So if you want a say in how the 180 acres of space that is adjacent to Long Island City, Astoria and Sunnysideis going to be developed, you'd best begin ramping up to speed now - and fast - because the first pass at a relatively concrete Master Plan is expected this winter. The proverbial train is about to leave the station - or in this case the Sunnyside Yard.
---
Over a Century of Railroad History in Sunnyside Yard
Over a Century of Railroad History in Sunnyside Yard
Railroad Historian Dave Morrison Brings Back to Life the Glorious Past of the Queens Rail Yard & the Hell Gate Bridge at the Greater Astoria Historical Society
January 15, 2017 / Sunnyside Neighborhood / Astoria Neighborhood / Queens History / Queens Buzz.
On Saturday afternoon I attended a lecture and book signing event at the Greater Astoria Historical Society in the Quinn Building, only blocks from the Museum of the Moving Image. The book is entitled Sunnyside Yard and the Hell Gate Bridge and it was written by Railroad Historian Dave Morrison of Plainview, New York. The Greater Astoria Historical Society hosted the event as part of its Hell Gate Centennial commemoration efforts.
It didn't take Dave long to convince those of us in attendance that he was not only an expert in the subject, but also a passionate railroad history aficionado. Dave's presentation included photos from the book, as well as many other photos he'd collected which didn't make it into the book. In the photo at right, Dave Morrison signed a number of copies of his new book, Sunnyside Yards & the Hell Gate Bridge, following his presentation of excerpts from it at the Greater Astoria Historical Society.
Dave began his story in Brooklyn, in the mid 1800's, when the residents of Brooklyn protested building a train rail yard in the borough because of all the noise, dirty coal steam and traffic it would bring to the fast growing, bustling borough.
Click here to read the rest of the story, including a photos, of the presentation made by Dave Morrison about the history of Sunnyside Yard and the Hell Gate Bridge.
---
Taste of Sunnyside 2016 Photos & Video
Serving Sunnyside a Taste
Neighborhood Businesses Provide Samplings of Beverages & Cuisine
May 24, 2016 / Sunnyside Neighborhood / Queens Food & Wine / Queens Buzz.
Lowerys Wine & Liquor Prepares for Taste of Sunnyside 2016
On Tuesday afternoon on my way home from a gig, I found myself stopping in at Lowerys Wine & Liquors for a brief hello. Lowerys has long been an institution serving the Sunnyside community, and I found Owner Anthony Lodati and Manager Janet Rios hard at work, preparing for the 7th Annual Taste of Sunnyside, which was to be held later in the day.
Along the casked walls there was an ample selection of wines, and I found Anthony moving about the store like a sommelier in pursuit of a mix of wines for the evening. Meanwhile, back in the office and staging area, I found Janet preparing party favors for the event, which were to be gifted at half-hour intervals, during the Annual Sunnyside Taste 2016.
As they were both pre-occupied, I shot a few photos and continued my journey home.
Later that afternoon, I headed over to the Taste of Sunnyside, for a few nibbles and sips. This year the Taste of Sunnyside featured seven beverage companies and 25 Sunnyside restaurants.
7th Taste of Sunnyside 2016 in Photos & Video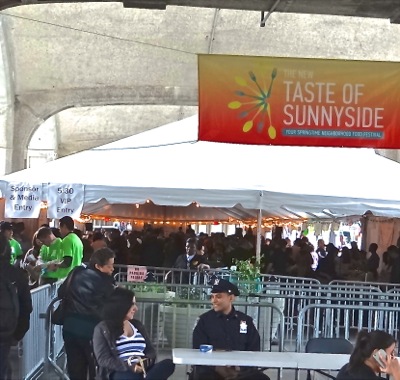 The Taste of Sunnyside 2016 is in its 7th year, the first of which started at Queens Boulevard and 39th Street in 2010. The intent of the Taste of Sunnyside event is to raise awareness of some of the restaurants and beverage companies serving the neighborhood, while simultaneously raising funds for the Sunnyside Shines Business Improvement District [BID].
The Sunnyside Shines BID's mission is to promote a specified commercial district of the neighborhood running from about 50th Street down to about 38th Street along Queens Blvd and the eastern section of Greenpoint Avenue through a combination of area maintenance and business enhancement services.
Click here to read the rest of the story about the Taste of Sunnyside 2016 with photos & video.
---
Passover Celebrated in Queens
Passover Celebrated in Queens
Millennial Old Tradition Continues at Sunnyside Synagogue
April 22, 2016 / Sunnyside Neighborhood / Holidays & Holy Days in Queens / Queens Buzz.
On Friday morning, the first day of Passover, I visited the The Young Israel of Sunnyside Synagogue, located along 43rd Avenue at 46th Street. There I met Stephen Weiner, a former president and longtime member, with whom I spent some time reviewing the importance and significance of the Passover tradition in Jewish culture.
Passover Commemorates Jewish Flight From Slavery in Egypt 3,500 Years Ago
Passover commemorates the Jewish exodus from Egypt about 3,500 years ago. The exodus was easily one of the most defining chapters in the Hebrew tradition, as it marks the Jews flight to freedom, which ended with them settling at the base of Mount Sinai after traveling 44 days through the desert. We'll return to the Jews settling at the base of Mount Sinai later in this report, as that happened 44 days after the period of the Jews escape from Egypt which is remembered in the Passover celebration.
Young Israel of Sunnyside – An Orthodox Synagogue
Stephen told me that the Young Israel of Sunnyside Synagogue was an Orthodox Synagogue. Generally speaking orthodox branches of any religion hold more firmly to time tested traditions, while reform movements generally take some liberties in modifying some of the religious practices, ostensibly to modernize them. The Christian religion has an Orthodox branch, a Roman Catholic branch and a Protestant branch. The relationship of the Protestant branch of Christianity vis a vis Roman Catholics and Orthodox Christians is similar to the relationship of Reform Jews are to Orthodox Judaism.
Origins of the Jewish Cultural Narrative About 4,000 Years Ago
The Jewish tribes began with Abraham, Isaac and Jacob. Jacob was the father of Joseph, who as the story goes, was left for dead by his brothers in a well. He was saved and rose to become something like the Prime Minister of Egypt.
Following his death, the reigning Pharaoh became concerned that the Jews would eventually take over the kingdom, or side with the Egyptians' enemies to overthrow them. So the Pharaoh made slaves of the Jews and eventually decided to start drowning the first-born males in the Nile River. Moses, as the story goes, was saved by being placed in a basket and floated down the Nile, where he was saved by the Pharaoh's daughter.
---
Flicks N' Jazz in the Garden - Sunnyside Gardens Park
Flicks N' Jazz in Sunnyside Gardens Park
Flicks N' Jazz In The Garden Attracts Crowd of Nearly 800
September 28, 2015 / Sunnyside Neighborhood / Jazz in Queens / Queens Buzz.
I attended the fifth annual Flicks N' Jazz in the Garden in Sunnyside Gardens Park. In prior years I had written several stories about the film portion of the program, so this year I decided to focus on the new addition to the event moniker … jazz.
Sunnyside is home to quite a number of jazz musicians, and the neighborhood periodically gets to enjoy listening to these talented performers for free or only a few dollars. The Bix Biederbecke concert in August is one such occasion, and the Flicks N' Jazz in the Garden is another.
In the first year of Flicks in the Garden [2011], Sunnyside Gardens Park had set up the screen in an area near the park entrance. Phil Valenti and the Broken Hearted Blues Band was the first band to play for the Flicks event. They were, in a sense, the warm up band or the preamble for the Flicks in the Garden event. Their bluesy tunes were a big hit with the crowd. Phil Valenti runs Go Natural Health Foods and Juice Bar on Queens Blvd between 45th and 46th Streets.
Click here to read more about Flicks N' Jazz in the Garden & see video of Wake Up! including members of the Street Beat Brass Band.
---
First Calvary Cemetery Maspeth - Memorial Day Fiction in Queens
Memorial Day With Chief Joseph
A Conversation in First Calvary Cemetery in Queens
May 30, 2022 / Woodside & Maspeth Neighborhoods / Queens Culture / Queens Fiction / Queens Buzz.
On Memorial Day, I decided to make a trip to the First Calvary Cemetery to visit the graves of those who gave their lives defending this nation because the founding charters promise all [wo]men the right to life, liberty and the pursuit of happiness. They fought for a noble cause I thought as I made my way, on a beautiful day, to the Calvary cemetery in Queens.
The First Calvary cemetery opened in the late 1840's [circa 1847 – 1848] and was located only a short ferry ride away from Manhattan, up Newtown Creek. A couple more cemeteries were opened as the 19th century wore on, as most of Queens was still rural farmlands and woodlands. Many of the burials of the first century of operation were of Catholic Irish, Italian and Polish immigrants - many of which were children who died because of poor living conditions and medical care. Many soldiers had been buried here as well, many of whom were from the Civil War era.
As I was viewing a collection of the tombstones, reflecting on the lives sacrificed in the war over slavery, as well as the more recent wars that pulled nearly the entire planet into battle, a figure in the distance caught my attention. They appeared to be making their way in my direction, in this lonely empty section of the cemetery. I pulled out of my musings, and began to focus on this emerging presence as they made their way up the hill.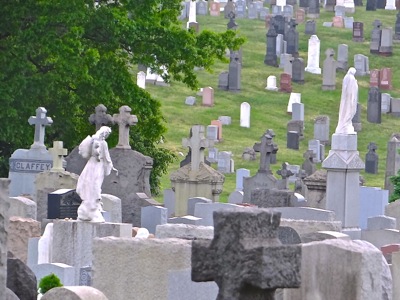 As they came closer, I could see that it was an old man, of medium height, with long black and grey hair and a weathered, leathery, tan skin. He was wearing an old brown work shirt and khaki trousers and beaten leather shoes. No, they were mocassins.
I'm not sure why I thought of this, but his countenance resembled that of a legendary American Indian: Chief Joseph. Chief Joseph was a tribal leader of the Nez Perce tribe in the Wallowa Valley in northeast Oregon. Chief Joseph was born in 1840, only years before this cemetery was founded. He had actually visited New York City in 1897, to march alongside Buffalo Bill in a Wild West Parade.
The man slowly raised his right arm, palm open and fingers standing straight up like the Boy Scout salute, and in a deep full voice he said,
"How."
I stood a bit at attention, as I returned the greeting.
"Hi. How are you today?"
He spoke again, this time in a language I did not understand.
"Mumba goycha tay."
I looked at him and shook my head back and forth indicating that I did not understand what he'd just said.
Click here to read the rest of our Memorial Day fiction in Calvary Cemetery in Queens.
---
Independent Film In Queens - Freedom Summer
African American History Revisited
African American Film Makers Explore Their Predecessors' Experience With Fresh Lens
Film Event In Sunnyside
February 17, 2014 / Sunnyside Neighborhood / Film in Queens / Queens Buzz. On Saturday evening, February 22nd, the East Coast premiere of Freedom Summer is being hosted at the Sunnyside Reformed Church. Emmy Award winning filmmaker, Stanley Nelson, will be on hand to discuss the making of the new film which premiered at the Sundance 2014 Film Festival in January.
I spoke with Stanley via telephone about the documentary, which covers the summer of 1964 when Mississippi was burning. White Mississipians expected African Americans to bow their heads in deference and to step aside on sidewalks as white folks passed. Mississippi had a whole host of laws and customs set in place which denied African Americans their full rights as American citizens, and as fellow human beings. And anyone - white or black - who tried to question the norms; felt the wrath of the white supremisists who embraced the culture.
About seven hundred students from around the nation [Student Nonviolent Coordinating Committee] went down to Mississippi to help African Americans exercise their rights. Three of them - Michael Schwerner, Andrew Goodman and James Early Chaney - went missing. After intense media / television coverage and national outrage, the FBI began a manhunt. The victims' bodies turned up 44 days later. All three had been shot at close range. The photo above is a still from the film Freedom Summer.
The documentary incorporates historical photos and media coverage and a little heard recorded telephone conversation between LBJ and J. Edgar Hoover. This report also includes background on film maker Stanley Nelson who runs a film making company / incubator in Harlem as he will be present to discuss film making at the event. Click here to read the rest of our report about Freedom Summer - premiere of an independent film in Queens or click here to rsvp a ticket to the free East Coast film premiere in Queens.
---
Bike Paths & Bike Lanes
Bike Paths & Bike Lanes In Queens - Forum
Bicyclists & Others Meet To Discuss Bike Paths & Bike Lanes In Queens
Spring / Sunnyside / Biking in Queens / Queens Buzz. I attended a bike forum at the Sunnyside Community Services Center on a warm, wet Saturday in March. I noticed quite a few bikes locked to signs and poles outside the center as I entered. Inside there were between 50 – 75 people in attendance, most of who were bicycle enthusiasts, although I was informed that a few of the attendees were not.
The forum had been organized as a collaboration of Community Board Two [hereafter referred to as CB2], City Councilmember Jimmy Van Bramer and the Queens Department of Transportation [hereafter referred to as QDOT]. Evan O'Neil and Emelia Crotty of CB2 moderated the session, outlining the history of bike lanes in western Queens, and the current state of bike lanes and bike parking. This helped put things in context, so that in the bike forum breakout sessions, participants could spend their time planning for the future.
Click here to read our report about the bike forum about adding bike lanes & bike paths in Queens. We've included a bit of NYC bike lane history and some info on what's going on in other parts of the world. There's also a slide show of the bike forum presentation and participants. Click here to view maps of bike lanes in Queens as of the end of 2011.
---
Thalia Theatre - Spanish Theater In Sunnyside
Thalia Theatre Bridges Cultural Divide
Sunnyside / Fall & Winter. I enjoyed a dance performance by the Mestizo Dance Company last Friday evening at the Thalia Theatre in Sunnyside. The show, which runs weekends through December 6th, is a panoply of colorful costumes, music by an accomplished eight piece band, all in support of an impressive performance by a full troupe of talented dancers. All tolled they performed nearly twenty dances from various parts of Latin America which the audience seemed to greatly enjoy.
Click here to view a story about the Best Of The Mestizos at Thalia Spanish Theatre in Sunnyside Queens.
---
History Of Leon Bix Beiderbecke - Jazz in Queens
Queens The Home Of Jazz
Bix Beiderbecke Concert in Sunnyside
August 19, 2012 / Sunnyside / Live Music in Queens / Queens Buzz. In the 1930's and 1940's Queens became known as the home of jazz because so many great jazz and blues musicians lived here. Some of the greats such Louis Armstrong, Dizzy Gillespie, Billie Holliday and Ella Fitzgerald all had homes in Queens.
Bix Beiderbecke didn't live long enough to become as well known as those mentioned above, but he was considered one of the great jazz musicians of his time and, over time, he's being given greater recognition for his contributions to the art of the music.
Bix died in Sunnyside on 46th Street between Queens Blvd and 43rd Avenue where he spent his final days. And every summer since 2001, Sunnyside has celebrated his life with a musical get together.
Click here for more about the history of Bix Beiderbecke and the Bix Beiderbecke concert in Sunnyside.
---
American Meat - Indie Food Film
American Meat - Unfinished Film
Documentary About Current State Of Food & Farming
Film Making in Queens / Sunnyside Neighborhood / Food & Wine / Queens Buzz. I managed to obtain an invitation to a screening of American Meat, which is an unfinished documentary film, at Cafe Marlene in Sunnyside. The screening was sponsored by Queens Harvest Co-op, which is an organization working to build an organic food cooperative in Queens.
The film is a rather eye opening look into how the economics of food / meat production in this country have taken us down an unsustainable path. A path which not only has significant health implications, but possibly even more dire consequences. The film provides an intelligent, behind-the-scenes look at how economics have been driving: 1) food production methods, 2) the composition of what's in the meat being sold at the grocery store, and 3) what we're feeding our children and ourselves.
The film was envisioned and began production in the spring of 2007 and the producers are hoping to finish it in 2011. Click here to view our preview of the unfinished documentary film entitled American Meat independent film at Cafe Marlene in Sunnyside and hosted by Queens Harvest Co-op.
---
Sunnyside Gardens Park
Sunnyside Gardens Park
Membership Benefits & Dues
Private Parks in Sunnyside / Sunnyside Neighborhood / Green & Parks / Queens Buzz. This Saturday people from Sunnyside, Woodside, Astoria and further neighborhoods, made their way to the annual Sunnyside Gardens Pumpkin Patch and Oktoberfest. The day-long event attracted a larger crowd than I have ever seen there before.
Based on my photos and a quick and dirty head count, the event was likely attended by well over 1,000 people. We tried to photograph as many people as possible, as the slide show and photo album will attest.
Click here to view our report on Sunnyside Gardens Park including information about services, membership and dues [and the Pumpkin Patch and Oktoberfest event of 2011].
---
---
---
Woodside / Sunnyside Attractions Archives
---
Site Search Tips. 1) For best results, when typing in more than one word, use quotation marks - eg "Astoria Park". 2) Also try either singular or plural words when searching for a specific item such as "gym" or "gyms".
Click this link for promotions by advertisers in Queens.
Click this link to search for something in our Queens Business Directory containing over 1,000 listings. Click here to view the offerings of a Woodside bakery that's competitive with the finest Sunnyside bakeries as well as other top bakeries in Queens .
---
Click the log in link below to create an ID and post an opinion. Or send this story to a friend by filling in the appropriate box below.
---