Things To Do Columbus Day Weekend Queens
Things To Do In Queens Over The Columbus Day Weekend
October 4, 2021 / Things To Do Queens NY / Queens Buzz NYC.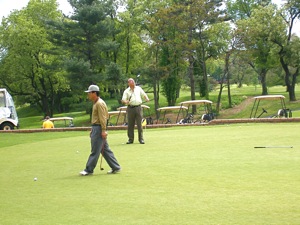 More Columbus Day events coming on the Friday October 8, 2021 ahead of the weekend.
Also see updated Weather on Friday afternoon by clicking the header above to go to the Front Page for Weekend Update.
This report contains a listing of some of the things to do in Queens over the Columbus Day Weekend including art museums, theaters, live music / comedy / dance venues, sporting & social events, and restaurants for Queens NYC.
Weather. As of October 4, 2021, the Temperature highs will be in the 70's all four days of the long weekend. The temperature lows will be in the low 60's throughout the weekend. There's a 35% chance of a small amount of rain [2/10th's of an inch] between Saturday evening 5 pm and Sunday evening 6 pm. Winds will be about 5 - 10 mph Friday and Monday and between 10 - 15 mph on Saturday and Sunday. The Humidity will be between 65 - 75% on Friday & Saturday, and 70 - 80% on Sunday and Monday. Click for Queens Weather.
Columbus Day Events In Queens
Click here to obtain information about things to do Columbus Day Weekend in Queens. This events calendar is updated monthly with about 100 different Queens fun / cultural events.
Columbus Day Parade - Astoria Queens
There's a Columbus Day Parade in Astoria Queens on the Saturday before Columbus Day beginning at 12 noon at Kaufman Studios and marching up Steinway Street and then 31st Avenue. Check the front page of this website for other things to do on Columbus Day in Queens.
Queens Public & Private Parks & Public Indoor Swimming Pools
Queens has one of the best collection of parks and golf courses in the NY Metro area, if not the best. Queens has at least 17 great parks. Click here for a listing of the Queens Parks including maps showing their locations along with a bit of park history.
Effective September 30, 2021 NYC public indoor swimming pools will reopen at 33% capacity and CoVid guidelines will remain in effect.
Golfing In Queens - Columbus Day Weekend
Queens has four golf courses and all of them are open this weekend [10/8-10/11/21]. Click here for details about Queens Golf Courses including maps and links to the operators' websites.
---
---
Columbus Day Weekend In Queens
Things To Do In Queens Over The Columbus Day Weekend
October 4, 2021 / Things To Do Queens / Queens Buzz NYC. Continued.
Street Fairs Columbus Day Weekend In Queens
On Columbus Day Weekend in Queens there are a number of street fairs planned in Sunnyside, Jackson Heights and Astoria. Click here to view the Columbus Day Weekend Street Fairs in Queens, including dates, times and map links.
Shopping In Queens - Columbus Day Weekend
This is a great weekend to do a bit of shopping during the pleasant weather. Click here to view our shopping sections of the following neighborhoods: Astoria Shopping, LIC Shopping, Sunnyside Shopping, Woodside Shopping, Jackson Heights Shopping.
Each of these shopping sections includes links to home pages, which have slide shows of merchandise as well as maps, store hours, phone numbers and telephone numbers. Also see our street fairs and farmers markets pages which you can find by clicking the shopping link on the top tool bar.
Bicycling In Queens - Columbus Day Weekend
Queens has a long and growing list of bike paths. Click here to view bicycling events in Queens.
I'm working on a useable map of bike trails in Queens, but it'll be a while so don't hold your breath. NYC.gov usually has a good one on their website. In the photo to your right, are the 5 Boro Bike Riders cycling through Queens on a nice day in May.
ON HIATUS OCT 2021 _ Kyaking Along The East River In Queens - Columbus Day Weekend
Click here to view a story about kyaking along the East River in Queens with the LIC Boathouse. Before CoVid hit, you could check their website and they generally went kyaking on a Saturday or Sunday between 1 and 5 pm at Hallets Cove just north of Socrates Sculpture Park or at Gantry Plaza at 50th Street & Center Blvd [see www.licboathouse.org for update]. Click here to view the date, time, map link and site link to the LIC Boathouse which sponsors kyaking along the East River in Queens on Columbus Day Weekend.
Harbor Lab at 53-21 Vernon Blvd also hostings kyaking events, but none are scheduled for the Columbus Day weekend [or rest of year?].
Columbus Day Weekend - Dining In Queens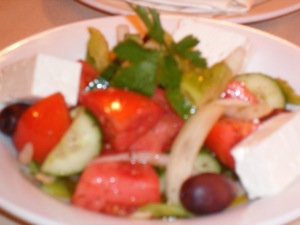 Food in Queens has always been good. The authentic ethnic restaurant choices are difficult to match anywhere, and the prices too. Click here to view the Queens Restaurants section of the site, which includes reviews of the restaurants we've selected to review.
Music & Art in Long Island City Queens Columbus Day Weekend
The PS1 MoMA Museum in Long Island City is open throughout the weekend [hours 12 noon - 8 pm Fri & Sat / and until 6 pm Sun & Mon] and pre-CoVid pandemic oftentimes hosts a number of different art / music performances. On Friday 10/8/ 21 there's a members shopping fair.
The Queens Museum is also open and is hosting an event targeted for teens examining the U.S. Constitution from 11 am - 2 pm. They are closed on Mondays.
Theater In Queens - Columbus Day Weekend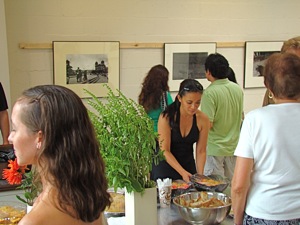 Click here to view the Theater section of the Queens Events Calendar to see what's doing this Columbus Day weekend theater in Queens. Thalia Theater is performing 'A Thrilling Theater Game' all three weekend nights [not Monday] beginning at 8 pm Fri / Sat and 4 pm Sunday [$35 / $27]. The Secret Theater in LIC closed during the CoVid pandemic.
Art Exhibits In Queens - Columbus Day Weekend
Click here to view some of the in-progress art exhibits in Queens this Columbus Day weekend.
And if you feel the urge to go elsewhere, here's a list of and Things to do Manhattan Columbus Day Weekend and Queens Things To Do Columbus Day Weekend and Things to do Bronx Columbus Day Weekend and Brooklyn Things To Do Columbus Day Weekend and Staten Island Things To Do Columbus Day Weekend. More events will be added to the Front Pages of each of these sites on Friday.
---
Queens Neighborhoods - Queens Neighborhood Links
Click on these advertisements for promotions, discounts and coupons by retailers and restaurateurs in Long Island City LIC and nearby Queens.
Click this link to go to the:
Astoria Neighborhood or Astoria Shops & Shopping or Astoria Restaurants or Astoria Maps
Flushing Neighborhood or Flushing Shops & Shopping or Flushing Restaurants or Flushing Maps
Jackson Heights Neighborhood or Jackson Heights Shops & Shopping or Jackson Heights Restaurants or Jackson Heights Maps
Jamaica NY Neighborhood or Jamaica NY Shops & Shopping or Jamaica NY Maps
Long Island City Neighborhood or LIC Shops & Shopping or Restaurants In Long Island City or LIC Business Directory or Long Island City Maps
Sunnyside Neighborhood or Sunnyside Shops & Shopping or Sunnyside Restaurants or Sunnyside Maps
---
Site Search Tips. 1) For best results, when typing in more than one word, use quotation marks - eg "Astoria Park". 2) Also try either singular or plural words when searching for a specific item such as "gym" or "gyms".
Click this link to search for something in our Queens Business Directory.
---
Click the log in link below to create an ID and post an opinion.
Or send this story to a friend by filling in the appropriate box below.
---