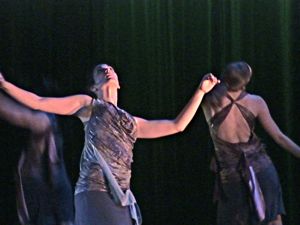 Dance Entropy Enthralls LPAC
Long Island City / December 14, 2008. Valerie Green and Dance Entropy gave a captivating performance at the LaGuardia Performing Arts Center to an enthusiastic audience. They danced about eight different pieces to original music scores and choreographs that were 21st century, multi-cultural aesthetic delights. Some of the dancers were from LaGuardia Community College, who worked with Valerie Green / Dance Entropy in their new outreach program. Scroll down to see the full story on the Valerie Green / Dance Entropy Performance at the LaGuardia Performing Arts Center in Long Island City, including many photos of the dancers in motion.
---
Valerie Green / Dance Entropy Enthrall LaGuardia Performing Arts Center
La Guardia Performing Arts Center LPAC / Long Island City / December 15, 2008. There appeared to be a sell out crowd for the Valerie Green / Dance Entropy performance at the LaGuardia Performing Arts Center [LPAC] in Long Island City on Sunday afternoon,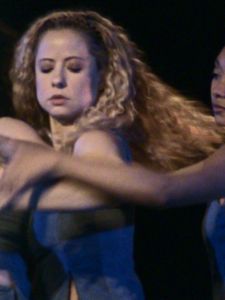 December 14th. And as Steven Hitt of LPAC will tell you, it was not without good reason.
Modern Dance At The LaGuardia Performing Arts Center
What we saw in the ensuing two hours turned out to be a sensual feast. The program started with a work titled Thread, in which three dancers, dressed in drab grey dance pants and similarly colored sleeveless tops wind their way in and out and around each other. The music was distinctly modern, but morphed throughout the score seeming to have, at various times, elements of Indian and traditional Highland dance sounds.
The stage set lighting provided rapidly changing
visual highlights and contrasts without moving, as the dancers slipped into and out of the bright spotlights and dark shadows. I surmised that this was the story of three friends, who play roles in each others lives, sometimes playing the lead role and other times playing the supporting role, but constantly connected, and shall we say … dancing in some sort of timed step with the others.
Premier Dance Performance In Long Island City

The next piece was titled Rip Tide, and it is our understanding that this was its premiere performance. This piece involved six dancers, all dressed in a sort of modern rendition of the tunic, with bluish grey skirts and complex purplish-colored tops that left the shoulders and upper back bare. This dance, which was also created by Valerie [all dances were choreographed by her individually or collaboratively], contained a sort of dancers in parallel, separate-but-connected going on. This multi-dimensional theme seems to run through a lot of Valerie's work.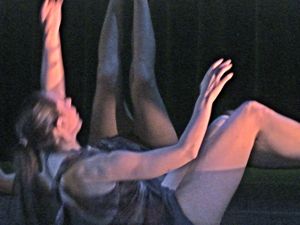 We see two sets of three women, dancing in unison; and then three sets of two women, again dancing in unison. Throughout this piece the dancers break into and out of their own individual movements, sometimes shaking, writhing and spinning to the sound of the violin. They bow down, reach up, swirling around in full energetic motion, opening themselves up, reaching out, and bowing down, writhing, lithely on the stage floor. At the end, feet raised, slowly moving back and forth, they bid us farewell. This dance was set to classically inspired music, which made liberal use of the violin's ability to excite and incite movement.
Valerie Green Solo At LPAC

Perhaps my favorite was the solo by Valerie titled 'Underground'. I thought the music had a sort of Zorba-like Greek element to it, with a clanging-like sound, albeit produced by the vibration of stringed instruments. She was dressed in tights and wore an apron-like smock. She used small blue lights encased in black hexagonal frames tied to red ribbons, which she used as props throughout the dance. First placing them about the stage, weaving in and out and around them, before eventually slowly pulling them in unison off of the stage.
Valerie's movements claimed their position in time and space, with a sort of intensity and concentration that showed her commitment to her art. There was one segment in the dance, where she descends to the stage floor, stretches, reaching out, her arm slowly unwinding up through her hand and then … slowly … gracefully … her finger unfolds … and points. She stops. We pause .. and look .. and reflect. And then she winds back up, arising and channeling her energy back into the dervish swirls set to the energetic beat.
Dances Included LaGuardia Community College Students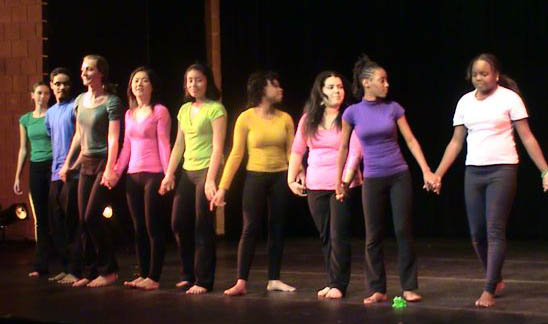 There were four more pieces that the troupe performed for us, three of which followed intermission. The last one prior to intermission was about 'Kin', which was a sort of dancers duet, which I interpreted to be about two friends or sisters. This was followed by a piece named 'Twilight' was about bridesmaids and included flowing gowns that appeared to limit the potential movements that could be choreographed into the piece.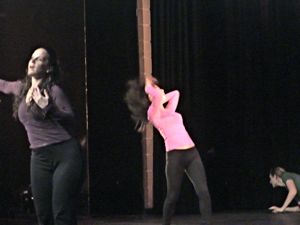 'In Search Of' was performed by a number of students from LaGuardia Community College who are currently involved in a workshop outreach project in conjunction with Green Space. The students showed their talents throughout the dance by expressing themselves in a number of different expressionist steps and poses. They wore brightly colored tops, which provided a colorful panoply of human motion.
The last dance, titled 'Chiquita Chiquita' was a colorful and mirthful piece with island music setting the backdrop, colorful gowns were worn by the dancers and the lead danced with a blanket which ended under her shirt to signify pregnancy, as she walked off stage.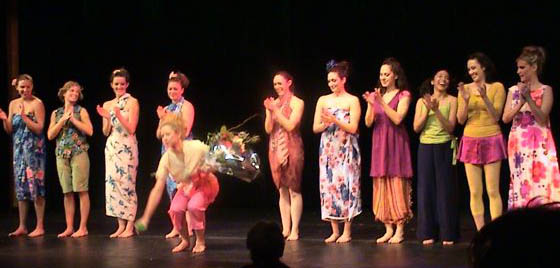 All in all it was a great show. The audience loved it, applauding with enthusiasm for what turned out to be a visual feast of energy and movement, dressed in a beautiful pageant of fabric, set to modern, eclectic, original music.
LaGuardia Performing Arts Center Long Island City NY - Related Links
Click this link to read / view a story about Rioult Dance Company at the LaGuardia Performing Arts Center or Ben Allison At the LaGuardia Performing Arts Center. Click this link to view a map of the LaGuardia Performing Arts Center in Long Island City. Click on this link to obtain info, including the url and link tothe LaGuardia Performing Arts Center, which was the sponsor of this event. Click this link to obtain the contact info and website url for Dance Entropy / Green Space. Click this link to go to the Long Island City Neighborhood News / Long Island City Neighborhood Guide and Map / Long Island City Restaurants Guide & Map / Long Island City Shops Guide & Map / Queens & Long Island City Events / Long Island City Business Directory / Long Island City Shop Announcements.