Restaurants In Astoria
Kyclades - Albanian Seafood Restaurants


Astoria Neighborhood / Astoria Restaurants / Queens Restaurants / Queens Buzz. Taverna Kyclades is located on Ditmars in northern Astoris. The Albanian style seafood restaurant provides its clientele with a full Adriatic menu and is well known for its delights from the sea. One could get the feeling of being along the Adriatic on a rainy windswept evening as we dined on octopus, red snapper and lamb chops, as well as a full complement of side dishes.


Kyclades is located along Ditmars Blvd and can be reached via the N Subway line. Click here to view the full review of the
Taverna Kyclades - Albanian Greek restaurants in Astoria.
---
Restaurants In Astoria
Kyclades - Adventure On The Adriatic
Astoria Neighborhood / Astoria Restaurants / Queens Restaurants / Queens Buzz. This is a sea faring tale of the Adriatic Sea. It is the story of Kyclades, a restaurant owned and managed by a Greek and Albanian couple who have built an enthusiastic Astoria & Queens restaurant clientele over the better part of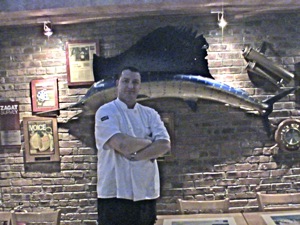 the past decade [8 years] that they've been in business.
These pictures introduce you to Andy, the Chef at the end of the evening, as well as showing you the many delights we had in the course of the evening. We arrived around 9.30 pm, as they don't take reservations. There was a small crowd waiting in the lobby. After we put in our names, and left our cell phone number, we headed off to a nearby bar to have a glass of wine while we waited.
Tonite my guest was Professor Peterman, doctor of foodology from the Yarish Institute just outside New Caanan, Connecticut. Professor Peterman is an expert extraordinaire and helped greatly with this review. After receiving the call, we hurried back to be seated in a table in the tented area of the restaurant. With the wind blowing, it felt a bit like we were on the coast. Overhead a heat lamp was properly adjusted so that we were comfortable the entire evening.


Appetizers At Astoria Restaurants - Peasant Salad & Grilled Octopus
We started with a Peasant Salad and Grilled Octopus. As scary as the octopus sounds, it was cooked to perfection. The soft, juicy, tender white meat was lightly covered with oil and lemon. It tasted as good or better than many swordfish I have had. The peasant salad was in keeping with the mood, and it was as simple as its name implies, with olives, feta cheese, lettuce, cucumbers and tomato.
The portions were generous and the prices for the appetizers ranged from as low as $5 for yogurt, garlic and cucumber dip to $10.95 for dishes like the grilled octopus. We also ordered a bottle of white wine [Agioritiki Tentah], the name of which I may not have gotten right, but you will find the unusual bottle shown in the slide show. This cost somewhere in the mid twenties.
$element(flashss,slideshow,8,Nasc)$
So the professor and I talked about visiting the Adriatic Sea many years ago on separate trips. The tent atmosphere, the Chef's accent, and the plentiful fun dishes all seemed to conjure up memories of trips gone by.
Astoria Restaurants Main Courses - Red Snapper And Lamb Chops
We ordered the Red Snapper [Market Price] and the Lamb Chops [$19] for our main entrees and asked to share each. The lamb was tender and juicy and only lightly seasoned with pepper and herbs. They were gone in a minute. The Red Snapper was pretty much the highlight of the evening. It was cooked so well I couldn't tell if it was too wet or too dry. I eventually decided he'd gotten it just right.
The size of the fish was quite large as you can see by the photo, so that I took it home and had it for a delicious meal the next day. The interesting thing about Kyclades' technique is the fresh natural simplicity with which they treat the food. It's almost minimalist, such that they let the quality of the goods they buy and the cooking techniques they use, provide their customers with a clean, honest, wholesome meal. And at quite reasonable prices for NYC restaurants. But that's true for most restaurants in Astoria.
Astoria Restaurants - Side Dishes Of Lemon Potatoes And Beets
We also had lemon potatoes and beets for side dishes. The lemon potatoes are boiled potatoes without their skins so that they look like lemons. And the beets were also fresh and cooked slightly al dente.
Taverna Kyclades Restaurant In Astoria - Location
And lastly, but not least, the service was excellent. Our waiter was consultative when it came to helping us with our choices and we never for a minute were found waiting for anything. Kyclades is located on Ditmars, at the north end of Astoria, just off the BQE Expressway. Perhaps the only drawback to Kyclades, if there is one, is that for public transit users it is located at the end of the N and W subway lines. But from there it is only a couple minute walk.
Kyclades Restaurant In Astoria NY - Related Links
Click this link to view a map of the Taverna Kyclades - Albanian Greek restaurants in Astoria. Click this link to obtain the contact info and website url for the Taverna Kyclades Restaurant in Astoria Queens.
---
Astoria Neighborhood Links
$element(adman,groupad,Catgry Rest)$
Click on these advertisements for promotions, discounts and coupons by retailers and restaurateurs in Astoria and nearby Queens.
Click this link to go to the:
Astoria Neighborhood or Astoria Business Directory
Astoria Real Estate or Events & Things To Do In Astoria
Restaurants In Astoria or Astoria Shops & Shopping
---
$element(adman,groupad,NhoodAstoria)$
Site Search Tips. 1) For best results, when typing in more than one word, use quotation marks - eg "Astoria Park". 2) Also try either singular or plural words when searching for a specific item such as "gym" or "gyms".
$element(bwcore,insert_search,N)$
Click this link to search for something in our Queens Business Directory.
---
Click the log in link below to create an ID and post an opinion.
Or send this story to a friend by filling in the appropriate box below.
---
$element(adman,groupad,Sectional2 Ad)$
---