Crane Street Studios / 5 Pointz
Grafitti Building / Artists' Lofts & Studios In Long Island City LIC
Transcendent Love Affair Found At Crane Street Studios Open House
Long Island City Queens NY / November 2007 / VIDEO. This was a video of an interview with Zito, an artist who paints portraits of a broad spectrum of people. He talked about his most recent work: a 19th century woman whom he met online. We ceased doing video in late 2007 / early 2008 for a number of reasons, not the least of which was the amount of resource it consumed, so the video and Zito, are no longer shown. Joseph Morales is featured in the photo to your right with his vibrant grafitti-style work.
Other Artistic Works At Crane Street Studios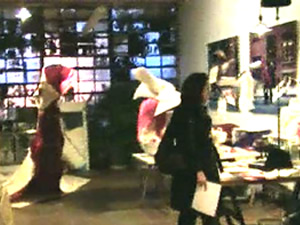 In addition to Zito's work there were a number of oil paintings by several artists that cover a wide range of subjects from abstract modern, to political commentary to psychedelic madness. There was also some stonework by a female sculptor and carvings by an artist who worked with wood. The studio of one of the artists, Maia Martinelli, is shown to your left.
Click this link to a photo album of our visit to the Open House at Crane Street Studios in Long Island City LIC in November 2007.
Brief History Of Crane Street Studios In Long Island City LIC
Crane Street Studios aka 5 Pointz was a collection of artists' studios for many years, possibly dating back to the 1980's. The outside of the building was provided to the artists to use as a sort of living canvas, as well as a means to publicize their work. We had done an earlier video of that as well, but have ceased running it. A photo of the building, with artists at work is shown to your left.
In 2009, due to building code issues, Crane Street Studios has either winded down or is winding down operations. The fate of the building, long an iconic landmark for Queens residents who travel along the #7 subway line, remains uncertain. The artists meanwhile have been scrambling to raise funds to keep the building going, but the outcome of that also remains uncertain, particularly during these lean times.
Long Island City LIC - Related Links
Click this link to go to the LIC - Long Island City Section / LIC - Long Island City Restaurants / LIC - Long Island City Shopping Center & Map.
Email This To A Friend: Scroll down and fill in the box / form below.
Site Search Tips. 1) For best results, when typing in more than one word, use quotation marks - eg "Astoria Park". 2) Also try either singular or plural words when searching for a specific item such as "gym" or "gyms".
$element(bwcore,insert_search,N)$
Click this link to search for something in our Queens Business Directory containing over 1,000 listings.
---