LIC Space Long Island City
What's It All About Alfie?
LIC Space Kicks Off The Fall Art Season
Long Island City / September 1, 2009. 'What's it all about' has been a question that has followed me throughout the ages, but tonight a ray of light came beaming through from outer space, or rather licspace, to help answer that question. In the photo to your right, licspace party go-ers as seen reflected from and looking through a glass pane in the gallery.
Art, Wine & Cheese - Long Island City Queens
I went down to an licspace reception tonite to see their new exhibit on display at one of their three locations. Kristina or rather Kristy greeted me upon arrival as we'd arranged for me to shoot a couple of photos and do a story. There upon the walls were the fruits of the summer of her discontent …
Water was the theme, and lots of it. Rains, storms, and calm and raging seas. Kind of reflective of the summer of storms we've just come through. To me the storms didn't just reflect the stormy summer rains, but also the turbulent economic seas we've just weathered through too. Yes, but now the summer is over and the beauty of autumn is upon us. The painting above [zoom photo] was by Kristy.
Fun Things To Do - In Queens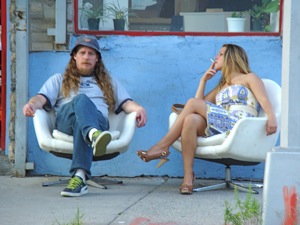 It was a perfect dry warm September day. As I approached the gallery there were a couple of folks sitting out on some chairs just outside the exhibit doorway. One of them was Walker, the lead singer and guitarist of the Queens Denim Rockers band. I'd heard of the Queens Denim Rockers on any number of different occasions, but had never had the opportunity to meet one of them, or better yet, hear them play. So now I've met one and he's working on setting up a couple of gigs this fall in addition to finishing a CD, so stay tuned.
How about the food and wine? The spread looked pretty good, as there were many different cheeses and the wine looked tempting too. In the photo above, Walker of the Queens Denim Rockers, is sitting to your left.
Film Series - LIC Space Long Island City
Then "Poof" arrived. Poof is the movie maestro who organizes the weekly Wednesday movie night at another licspace location. How, I asked, do you select the movies? And on into movie land we went. As it turned out Poof [aka Eileen] is actually a teacher of film editing in Manhattan who has become a friend of Kristy's through the licspace experience. Poof is standing in the middle of the photo to your left.
It seems that a lot of folks are tied into this eclectic culture center via Kristy who started the licspace adventure shortly after the turn of the
millennium. Like most of us in Queens, she too is an immigrant. But unlike immigrants from other countries, she's an immigrant from another state. Nonetheless she fits the Queens mold of a hard working, enterprising force, who makes things happen. And tonight it definitely appeared to be happening.
I have a bit more to report before signing off, about a couple of people I met, the sculptures which were also on display at the reception, and to mention a couple of ongoing things licspace does. Two of the metallic sculptures are featured in the photos to your right.
Sculptures - LIC Space
One of the sculptures was this metallic wave, which was definitely in keeping with the water theme [lower photo to right], and possibly my favorite piece. I also enjoyed playing around with another one in the window, by photographing it in situ [upper photo to your right]. And there were a few other pieces as well, which revealed their beauty in curvaceous rounded metallic form.
LIC Space Mission - Save The Artists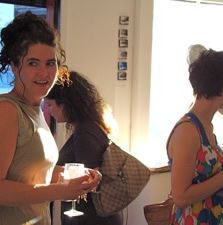 While interviewing Kristy I met Sachiko, who actually asked one of the more important questions of the evening, "What is the mission of licspace?" Kristy responded, "To make space available to artists so that they can continue developing their work, instead of getting weeded out too soon". In this regard, licspace is a bit like Van Gogh's brother Theo, who supported Vincent all the while he painted those "worthless self portraits" [a quote from Vincent's mother who wanted Theo to throw them out after Vincent had died]. Kristy is standing in the photo to your left.
Licspace has three locations. Eventually I'll be able to explain better where and what they are, but to date I've only experienced this one location at 25-17 41st Ave in Long Island City. There's another on 42-16 West Street on the second floor. And there's a third space which I gather to be what was once an empty lot and is now a curated space at the end of Orchard Street. I guess the name makes sense.
Film, Art & Fun Things To Do - Queens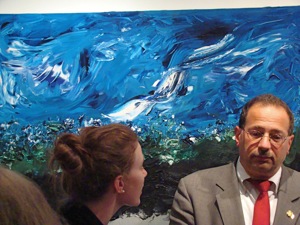 LIC Space hosts movies every Wednesday night at 8 pm at the West Street location [free]. Licspace hosts a monthly 'First Fridays' which generally includes a wine and cheese reception for its new exhibit [donations accepted]. I recommend this Friday, September 1, 2009 – as they're adding a band to the event [this Friday only], so it seems a great way to kick off the long Labor Day weekend.
And if not this weekend, then check it out another time, as licspace appears to provide a fun, carpal pendingulator, existential experience. In the photo to your right, a couple of visitors are conversing in front of one of Kristy's paintings. You may use the box below to email this story to a friend.
Long Island City Events, Stories, Stores & Restaurants
Click this link to go to the Long Island City Section / Long Island City Restaurants Guide & Map / Long Island City Shopping Center & Map. Click here to view a map of LIC Space locations in Long Island City Queens.
$element(bwcore,insert_search,N)$