Bix Biederbecke Concert Swings Sunnyside
Sunnyside NY / August 8, 2009.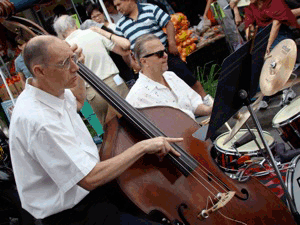 This afternoon and into the early evening, residents of Sunnyside and passersby along Queens Blvd at 46th Street, were treated to an excellent jazz concert commemorating Bix Beiderbecke.
Bix Biederbecke you ask? Who is he? He is a one time Sunnyside resident and one of the best jazzmen in the 1920's, the age of jazz. Biederbecke was a contemporary of Louis Armstrong and his improvisational style has been compared to Armstrong's, but Bix was a cornet player while Louis played the trumpet. The cornet is also a valved instrument and member of the trumpet family.
Click here to read a full story of the Bix Beiderbecke Memorial Jazz Concert in Sunnyside Queens including a link to the photo album or click here to go directly to view photos of the Bix Beiderbecke Concert in Sunnyside NY.
---
Bix Beiderbecke Concert
Queens Legend Lives On In Sunnyside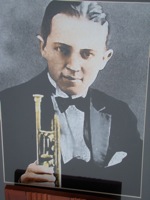 Sunnyside / August 8, 2009. Continued From The Front Page.
The 8th annual Bix Beiderbecke Jazz Concert was held on Saturday August 8th on Bliss Street in Sunnyside, just a block away from where Bix once lived and where he eventually died at the youthful age of 28.
I had the occasion to meet Paul Maringelli, the Bix Beiderbecke Memorial Band drummer, at the Sunnyside Art Show a while back. Paul is the event founder and I recently had the opportunity to interview him about the event and how it started.
Bix Beiderbecke Concert - Queens
In 2001, Paul had heard on a Ken Burns PBS Special about jazz, that Bix Beiderbecke had died in Sunnyside. Having encountered visitors from South America who knew of Bix and visited Queens to view his home, Paul decided to find out where Bix had died. After a month or so of casually poking around the neighborhood and on the web, Paul contacted several official sources. The official reply from one of them ran as follows, "Who is Bix and why should we care?" Well that was enough to get Paul going.
Live Jazz Concert - All Saints Church Sunnyside NY
In concert with the pastor of All Saints Church on 46th Street a small candle light vigil was held in the All Saints Church Courtyard on August 6, 2001 to commemorate the 70th anniversary of Bix's death. A trumpet player played one tune and about twenty to thirty people showed. Coincidentally, Bix had died next door in the apartment building at 43-30 46th Street, but by this time Paul and the others knew that.
Historical Events In Queens
Paul managed to get the Community Board 2 to officially sanction the event the first year, and in 2002 was able to secure a small bit of funding from the Kiwanis Club and Cathy Nolan's office. Paul gathered together a five piece band and the Bix Beiderbecke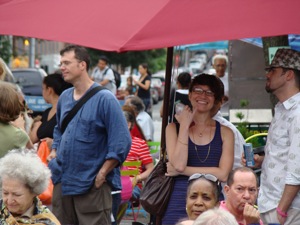 concert continued on into its second year, this time with an even larger audience.
Over the years the event grew in interest and stature. More musicians became interested in playing in the event and the audience has grown. In 2004 with the help of Bob Singleton and the Greater Astorical Historical Society Paul & Company installed a plaque on the building where Bix had once lived and eventually died.
Support From Sunnyside Shines BID
This year Alyssa Bonilla, the Executive Director of Sunnyside Shines, the BID [Business Improvement District] offered to feature the Bix Concert for its first Summer Streets event. Paul also persuaded Tom Lopez to add to
the nostalgia of the concert by contributing his 1928 Model A Ford as a prop to lend a sort of twenties something to the event. This year there were fourteen musicians who participated in the event in a band that was put together by trombonist Frank Pedulla who is also a Sunnyside resident.
As you can see by the photos via the link to the concert photo album below, there were well over a hundred people in the audience. And throughout the afternoon it's estimated that hundreds more took a bit of time out from their busy afternoons to enjoy the event. On the 78th anniversary of Bix's death, it seems the jazzy fun quality of his music will live on … in Sunnyside.
Bix Beiderbecke & Sunnyside Related Stories / Links
Use the box at the bottom of this page to send a link of this article to a friend, or to make comments.
Bix Beiderbecke lived at 43-30 46th Street, which is on the north side of Queens Blvd and south of 43rd Avenue on 46th Street. There's a plaque hanging on the front building wall commemorating his presence. A large photo of the plaque is included in our photo album. Click this link to go the album with photos taken at the Bix Beiderbecke Concert In Sunnyside NY.
---
Sunnyside Neighborhood / Woodside Neighborhood Links
$element(adman,groupad,NHoodSSWS)$
Click on these advertisements for promotions, discounts and coupons by retailers and restaurateurs in Woodside, Sunnyside and nearby Queens.
Click this link to go to the:
Sunnyside & Woodside Neighborhood
Sunnyside Business Directory or Woodside Business Directory
Sunnyside & Woodside Real Estate or Events & Things To Do In Sunnyside & Woodside
Restaurants In Sunnyside & Woodside or Sunnyside & Woodside Shops & Shopping
---
$element(adman,groupad,Catgry Foodwine)$
Site Search Tips. 1) For best results, when typing in more than one word, use quotation marks - eg "Astoria Park". 2) Also try either singular or plural words when searching for a specific item such as "gym" or "gyms".
$element(bwcore,insert_search,N)$
Click this link to search for something in our Queens Business Directory. Also check out Taste of Sunnyside.
---
Click the log in link below to create an ID and post an opinion.
Or send this story to a friend by filling in the appropriate box below.
$element(adman,groupads,Sectional2 Ad)$
---