Virtual Arts TV Shows Their TITS
Wired Arts Fest Celebrated in Queens
March 8, 2013 / Theater in Queens / Long Island City Neighborhood / Queens Buzz. I attended a Virtual Arts TV performance, entitled TITS, on February 19th at the Secret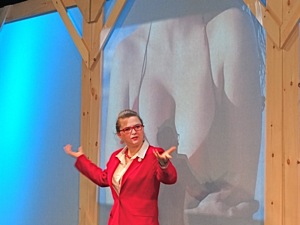 Theatre in Long Island City. The performance was part of a twelve-day event entitled Wired Arts Fest. Wired Arts Fest is one of the first of its kind, and by the looks of things, appears to not only have legs, but great TITS as well.
TITS, the show, is the brainchild of Ege Maltepe who is a Turkish actress from Turkey who now resides in NYC. The comedy lecture takes on one of huMANity's favored subjects: TITS. It seems Ege stumbled upon the American [and perhaps global] fascination with this part of the female anatomy while joking around. She found that both women, as the owners, and most men; have something between a fascination and obsession with TITS.
And so she created Professor G, the main character in this one-woman comedy lecture. Click this link to view the Virtual Arts TV Queens performance of TITS, including photos of the performance [NOT FOR CHILDREN].
---
Virtual Arts TV Shows Their TITS
WiredArts Fest Celebrated in Queens
March 8, 2013 / Theater in Queens / Long Island City Neighborhood / Queens Buzz. Continued. I entered the performance a bit late at Professor G was talking about her
favorite subject: TITS. It seems Professor G, came to life as Ege Maltepe began researching all of the aspects associated with the social, sexual and economic power of two mammary glands when affixed to the female anatomy. In a sense, we joined Ege on that journey, via Professor G's lecture.
As one might expect of a professor, the lecture was structured in chapters. I had missed a couple of the early chapters which included things like the history of tits on famous women, different classifications of tits based on sizes and shapes, and other important tit classifications. When I entered Professor G was talking about tit cancer, which was the one somewhat serious side of the lecture. Professor G talked about her mother's trials with breast cancer and how it affected her as a woman and human being, which is why she chose to delve into this particular subject. Professor G's resemblance to her mother, as shown in the photo above, was striking.
Theatrical Performance About Women's Breasts
She continued about some of the social aspects of breasts. Like how restaurant patrons complained of women breast feeding in public. She asked, given the publicity breasts get
in advertising, on television and the internet, whether they objected to the public display of them – or was it that only one was showing at time? Most people like to see the 'twins'.
She talked about a study she conducted to determine whether there was an inverse relationship between a woman's breast size and her intellect. The studies included videos of the professor doing field work, where she interviewed women of various proportions.
She talked about how breasts completely change a woman's stature socially, "once they're out there". Playing sports with the boys is no longer acceptable, and young women get attention from men they'd never seen before. She mentioned how she once ran against a large breasted woman and lost.
Original Theater In Queens - TITS by Ege Maltepe
And finally she began to wind the lecture down with a discussion about tit suppression.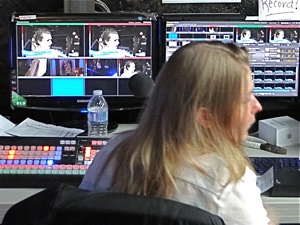 About how tits sometimes just want to just jump out there and make themselves known; while at other times they want to hide completely and be left alone. As Professor G had been nipping on a bottle during the lecture, today was not a day for tit shyness, as Professor G began unbuttoning her blouse …
The TITS performance was a fun, quirky mix of comedy, urban anthropology and the pursuit of an interesting question which is why are tits so damned important? We know they play a role in life, but in some larger sense we don't really know why. Kind of like asking why is the sun 92,000,000 miles away. We don't know. It just is.
The performance was webcast around the world. Ege's family clicked in from Turkey to watch her performance for $2.50 a computer, while the non-virtual audience paid about $18 per person per show or a $35 all festival pass which included twelve original productions. In the photo above, you can see Professor G through the control room panel, as she's being interviewed by someone from Virtual Arts TV.
Virtual Arts TV - Producer of WiredArts Fest In Queens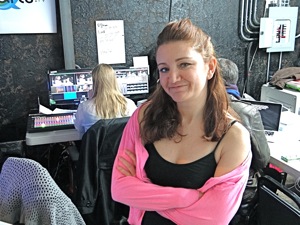 I spoke to Kathryn Vevel Jones, Founder of Virtual Arts TV, after the show [see photo to right]. She told me that Virtual Arts TV 'kind of' started in 2007 when live streaming became an accessible / usable technology. Kathryn's background was in theater, but she was also a techie, and together with some friends they produced a show entitled 35.
In 2011, the company formed officially, with five other people who were there at the performance. This is their first Virtual Arts TV Wired Fest, and it seemed to be well received off line as well as online. You can find Virtual Arts TV at www.virtualarts.tv.
Photos of Wired Arts Fest TITS / Virtual Arts TV in Queens
Click here to go directly into the gallery containing photos of Wired Arts Fest in Queens or click through the slide show below.
$element(ophoto,photo_slideshow,234,660,,5.00,fade)$
---
LIC Neighborhood - Long Island City Links
$element(adman,groupad,NhoodLIC)$
Click on these advertisements for promotions, discounts and coupons by retailers and restaurateurs in Long Island City LIC and nearby Queens.
Click this link to go to the:
Long Island City Neighborhood or LIC Business Directory
Long Island City Real Estate or Events & Things To Do In LIC
Restaurants In Long Island City or LIC Shops & Shopping
---
$element(adman,groupad,Catgry Wedding)$
Site Search Tips. 1) For best results, when typing in more than one word, use quotation marks - eg "Astoria Park". 2) Also try either singular or plural words when searching for a specific item such as "gym" or "gyms".
$element(bwcore,insert_search,N)$
Click this link to search for something in our Queens Business Directory.
---
$element(adman,groupad,Sectional2 Ad)$
---
Click the log in link below to create an ID and post an opinion.
Or send this story to a friend by filling in the appropriate box below.
---