Recyclefest A Success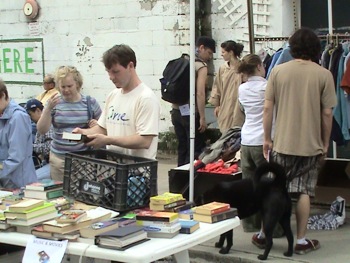 Meanwhile on Saturday, the Recyclefest Block Party on Saturday was a big success as piles of recyclables were brought and picked through by hundreds of residents. Three rock bands played music and over 500 free hot dogs were consumed over the course of the afternoon affair. Composting booths, energy alternatives, stop and swap [Two Coves Garden] and Build It Green all had booths educating the public about what they can do to live a greener lifestyle. In the photo to your right you can see browsers looking through old books and clothing which they either re-cycled or re-used. I interviewed the two initiators of the event and will post more later.
---
Queens Green Drinks / Astoria CSA Social
Weekend Events To Be Posted Midday Thursday
Astoria / March 18. 2009. The Himalaya Tea House hosted the March Queens Green Drinks event which was co-sponsored by the Astoria CSA [Community Supported Garden]. Stacey Ornstein of the Astoria CSA is in the photograph to your right. The event was a huge success as in the neighborhood of some fifty plus environmental activists met to talk about everything green under the sun. There were people affiliated with the Long Island City Boat House, the League of Conservation Voters, Queens Botanical Garden, Two Coves Community Garden and Triple R Events. Naturally I have to thank Helen Ho, the Queens Green Drinks event organizer for introducing me to all of these fine folks. Helen and Daniel Tainow of the Queens Botanical Garden are in the photograph below on your left.
One of my favorite conversations of the night came from Lynne of Triple R Events. Lynne and co-founder, Robyn Sklar, are sponsoring a 'Clothing Swap' and Book Drive event this Saturday at the Arrow Community Center in Astoria from 11 am to 2 pm. "So what's a clothing swap?" I inquired. "People swap clothes they don't want for clothes they do want" she replied. I had to laugh. I visualized the long legged model swapping pants with the petite bookie, or the linebacker football player trading shirts with the skinny computer guy, and so forth.
But after she explained it a bit more, I could see the possibilities. You could trade for a hat or tie or pair of gloves, or socks or an oversized nighty tee shirt, or for a book, or for ... I guess the possibilities are only limited by who shows up at the event and your imagination. So you could end up with something good, or you could just end up with a few laughs and a good time.
The April Queens Green Drinks is on Earth Day at the Bohemian Hall & Beer Garden in Astoria. There will be related / follow up stories over the course of the next month. Click here to view a prior Queens Green Drinks story, or use the search function to find all Queens Green Drinks reports - but you'll have to scroll down past the Business Directory to the Articles section.
---
Green Astoria NY - Related Links
You may use the box below to send this story to friends. Click this link to go to the Astoria Neighborhood News / Astoria Restaurants Guide & Map / Astoria Business Directory / Astoria Shopping Center & Map.
$element(bwcore,insert_search,N)$