Flushing Harbor Queens - The Waterpod Continued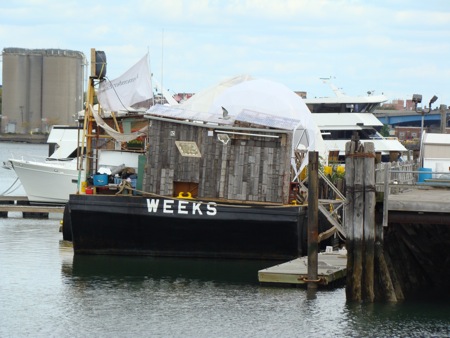 Flushing / September 26, 2009. Early Draft - Re-write & Full Photo Album to follow. We don't usually publish this rough a draft without hiding it on the site, but since Sunday, September 27 might be their last day we thought you, the viewers, should have a shot at seeing this event for yourselves.
The Waterpod barge floated into and docked in Flushing harbor some two weeks ago. The quirky 'ship' doesn't quite seem to fit in alongside its well heeled neighbors. But like a pretty, but poor cousin, the little beauty … The Waterpod … is by far and away the most popular boat in the harbor.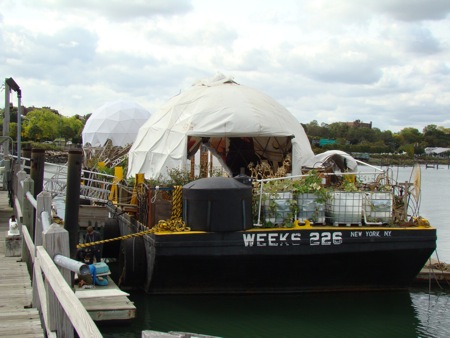 As I rode up to it, I got the impression that it was part space ship and part floating farm. There were white spandex coverings over wooden or steel framed teepees upon the boat. Along the back section of the barge there was a garden, which at one point had contained 'pastures' of corn and other edibles. I enjoyed observing the humor in the beautiful ten foot long stone pathway that lead into the garden.
Art & Ecology Is The Waterpod Project
The main teepee served as a sort of office / reception area / chicken coop, where the 'natives' aboard the ship greeted the many inquiring visitors who'd come to see what was going on. There inside I met Ian, one of the two performance artists / eco activists who'd been aboard the ship for many months. Ian had helped Mary Mattingly, The Waterpod's creator, build the barge into what it has become today.
Ian was a friendly sort, who welcomed guests like me who interrupted him from his email correspondence. One might say that Ian is the ship's curator, given that that is what he'd been doing prior to becoming a stow away on the environmental, eco-activist Boston tea party ship.
There was a sort of beauty to it all. Green coloring from the plants, white coloring from the spandex tents, and various shades of brown and grey from the wood aboard the ship. Kind of an organized sort of chaos, with a nice palette of color. And on the windy day I'd chosen to visit, one could see how well these two had maintained things as everything seemed well fastened down.
I couldn't ignore the beauty surrounding them. The open water, the wooden Flushing Harbor dock, long ignored since its inception so many years ago. Oh, off in the distance one could see the airport and closer in along a different angle one could see the new Citifield, but I imagine on a beautiful clear night they probably see the stars.
The Waterpod - Performance Art In Flushing Queens NY
Ian was kind to provide me with some insights into his day, which started with farming. Watering the garden, collecting eggs from the four chickens and reprocessing urine into the grey water filtration tanks as they re-use most everything.
Mary gave me a tour where upon I saw the crew's quarters, which I have to say had absolutely idyllic views and a sort of fantasy, charming, adventurous feel to them. Small, yes, but really all one needs … at least for a while.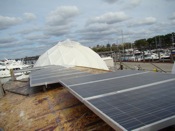 Both Mary and Ian have only disembarked a few times this summer as part of the 'mission' is to show that one can survive in such a space. I was also informed that they produce about 80% of all of the food they consumed this past summer and they use solar panels to collect 100% of all of the energy they use on the ship.
The Waterpod - Eco Activism In Flushing Queens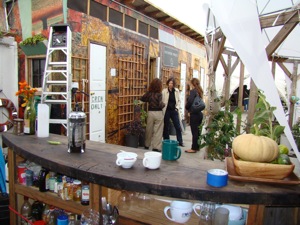 They cook using a hot plate which is powered by a battery that is powered by the solar panels atop their living quarters and they have another stove which uses firewood. They have wireless internet access which keeps them in touch with the rest of the world and the battery recharges also come from their solar power.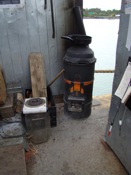 There's a shower embedded above their tool shed and the kitchen off from that corner. The kitchen includes a small refrigerator that has very thick doors so that it's very energy efficient.
I was impressed by the idealism in this venture and the positive approach taken to trying to do their part to "save the planet". I know this is an overused term, but in this case, it really seems to fit.
They host school groups, from grade schoolers to college students. Architects and artists come aboard, some of whom stay with them in the guest quarters. Girl scouts come to learn about the systems they've set up which enable them to recycle most of what they use and to live on mostly what they produce. No landfills for this boat.
Great Things To Do In Queens Sunday September 27, 2009
Ian has been keeping a log of his time while Mary, a photographer, has been taking photos of how things change. The plants, the people, the ship installations. People who've come to stay have added things including helping work through the methods of keeping the whole process intact.
So I asked Mary how she came to this. Earlier this decade she had worked on a sort of 'suit' which would become one's home. So that you could essentially set up shop wherever you wanted and survive. She's been working on the issue of how mankind can use technology to live more harmoniously with the environment and with each other. She finds that in some respects technology has removed people from human / personal interaction.
That eventually lead her to conceive this project because it uses technology to live harmoniously with the environment but also to live more socially together. Apparently Queens hasn't given the publicity to The Waterpod that it has received at earlier destinations, possibly in part because it's winding down, possibly in part because it arrived in Queens a week late and possibly just because. But my point is that during this time I saw some twenty or so people come to view the boat in about two hours. This was a very modest traffic flow compared to some other locations and times. It lead for a very relaxing and very enjoyable interaction with the ship's host and hostess.
Flushing Harbor - Flushing Queens
They're going to be in Flushing Harbor tomorrow, open from about 12 noon to about 6 pm. You can reach them by taking the number 7 subway train and walking north through the Citifield parking lot or by walking south to the Queens Museum Of Art where you can pick up a trolley bus to the barge.
I highly recommend it in spite of the fact that it's going to rain on Sunday, because I can pretty much guarantee you'll walk away a bit inspired by these people, the concept and the uplifting idealism and intelligent use of technology to help do something good for everyone.
---
Flushing Harbor Queens - Related Links
Click on this link to view the location where the Waterpod docked on this map of Flushing Harbor in Queens.
Click this link to go to the Flushing & Corona Neighborhood News / Flushing & Corona Restaurants / Flushing & Corona Shopping Center & Map.
Queens Buzz Site Search Tips. 1) for best results, when typing in more than one word, use quotation marks - eg "Astoria Park" and 2) try both singular and plural when searching for a specific item such as "gym" or "gyms".
$element(bwcore,insert_search,N)$
Send this story to a friend by filling in the appropriate box below.