Billiards Billar Jackson Heights Queens nyc
Billiards & Pool Halls In Queens
Billiards Tournament In Jackson Heights
Jackson Heights Neighborhood / October 10, 2009. I had the opportunity to meet some of the nation's top billiards players at BQE Billiards in Jackson Heights. About fifty of the top players including the reigning champion, Mika Immonen, had come to play in the Tony Robles Predator 9 Ball Tournament. The tournament is a traveling tourney through which about 1,000 players in the eastern section of the country have participated over the past year. Returning champion, Mika Immonen, shown warming up at BQE Billiards in Jackson Heights.
Tony Robles Predator Nine Ball Tour In Queens NY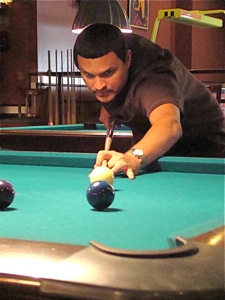 Tony teamed up with William Finnegan to organize the traveling tournament which began in February of 2008, and it has been catching on as it evolves. I spoke with Tony and he mentioned that Predator Nine Ball does about 20 tournaments each year, at some of the best pool halls in the region. I overheard a number of the players commenting favorably about this tournament host location, BQE Biliiards in Jackson Heights. Predator Nine Ball founder, Tony Robles, is shown taking a shot at BQE Billiards prior to the tournament start.
Some of the players are fairly new and some are very, very seasoned. The tournament provides all of them with an opportunity to enhance their game and give them a chance to see how they stack up against some of the greats. Many of the players seem to know each other, dating back years of bumping into each other at billiard tournaments. While the tournament is a contest, it becomes a sort of meeting place for an unofficial club of northeastern pool players.
Nine Ball Billiards - Pool In Jackson Heights
I asked Tony why they play nine ball in the tournament. He explained that nine ball is the most common variation of the game played in tournaments, including the U.S. Open which begins on

October 18th in Virginia. Many folks who play pool recreationally [like myself] are likely to be familiar with 'Last Pocket' where each side shoots either the odd or even numbered balls in, before sinking the eight ball in the pocket in which you sank your last ball. In the photo to your right is one of the original set ups during billiard warm ups.
Nine ball is structured so that you shoot the balls in ascending numerical order. For example the number one ball goes in first, the number two second and so forth. If you hit a ball in out of order, your opponent gets to set the cue ball anywhere on the table for their next shot.
Pool Hall Contests - Billiards In Queens NY
There was a prize of some $5000 for this tournament. The players pay an entrance fee upon registration. Numbers are created for each registrant which are then thrown into a bag from which they are randomly selected. Each number selected is assigned to the registrant in the order in which they came in. Each number also corresponds to a starting position on the tournament chart and so the players are matched and the tournament is in play. The tournament administrator carefully matching the randomly selected numbers to the player names and tournament positions.
Pool Sticks & Cases - Queens NY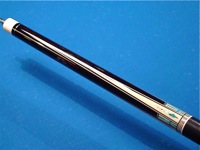 I met Mika, the current U.S. Open champion, who is preparing to defend his title on October 18th. He has an inlaid tortoise shell, turquoise and ebony cue formed in the image of the Finnish flag [his homeland]. This customized cue cost him a cool $2,000, and seemed a combination of technology and art. I asked him about the geometry and skill used in the game and he said, "It's all math and physics". As I watched him warm up, it was interesting to see how carefully he surveyed the table, calculating the potential opportunities and angles before he settled in to execute his plan. Mika's pool stick is in the photo to your left.
I also met one of the few females competing in the sport. Her name is Liz Ford. She hails from Forest Hills and is currently ranked 11th in the U.S. and 37th in the world. If I overheard a conversation correctly, she's heading for a tour of Asia before year's end. Liz is shown below warming up before the pool tournament in Jackson Heights.
Pool Contests & Pool Halls In Jackson Heights Queens
I also met the second most "winning-est" player in the game, Jose Parica, who started playing at the age of 7 in 1956 in the Phillipines. He's currently 60 years of age, but doesn't look it. I guess the game has treated him well, which his record winnings would indicate.
While there I met Jerry who runs a website dedicated to billiards playing. He's part industry videographer, part journalist as well as a contestant. He showed a passion for billiards, not just as a sport, but also as an art form. Jerry is shown videographing an interview at the pool tournament at BQE Billiards in Jacskon Heights.
I asked Tony if he thought that pool was a sport or a hobby. He replied, "Definitely a sport as it requires all sorts of walking [around the table], stretching and serious hand - eye coordination. You can get someone who won't walk for exercise to walk around that table all day long without realizing it."
NYC Grind - Website About Pool & Billiards
Modesty seems to be a trait of many of the players, as they talk about the game, surrounded by their competitors knowing full well the outcome of the match was a long ways away. One can sense their concentration and intensity as they line up a shot, working carefully to execute it with the full precision of an army weapons system. There's a lot at stake in these tournaments as only one wins the main prize.
And there is also a sense of community as well. Many of the players know each other from other tournaments. They are familiar with each other's skills [and probably weaknesses] and they all have a real love of the game. For a novice coming in, the group seemed very accessible, in spite of their high national rankings. About ten of the players competing at BQE would go on to compete in the U.S. Open later this month.
Indoor Sport - Pool Halls & Billiards In Jackson Heights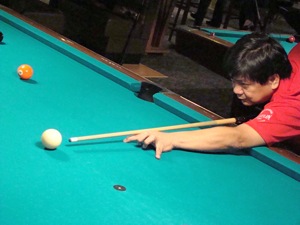 I asked Tony if luck played a role in the game and he said "A big role". He said, "You can run an entire table one minute and not sink anything the very next game. Part of it has to do with where your opponent leaves the ball, as sometimes there just aren't any shots to take." In the photo to the right is Jose Parica one of the most "winningest" pool players of all time.
Billiards has some similarities to golf in that it requires walking, stretching and precision. So the sport is a good means of exercising, especially in the winter. The game is also inexpensive to play, costing between $15 and $20 for two players to play for three hours.
---
Jackson Heights / Elmhurst Related Info
$element(adman,groupad,Catgry Recreate)$
Click this link for promotions, discounts and coupons in Jackson Heights, Corona and Queens.
Click this link to go to BQE Billiards & Bar home page on this site.
Click this link to go to the Jackson Heights & Elmhurst Neighborhood News / Jackson Heights Restaurants / Jackson Heights & Elmhurst Shopping.
---
$element(adman,groupad,NHoodJHTS)$
Site Search Tips. 1) For best results, when typing in more than one word, use quotation marks - eg "Astoria Park". 2) Also try either singular or plural words when searching for a specific item such as "gym" or "gyms".
$element(bwcore,insert_search,N)$
Click this link to search for something in our Queens Business Directory.
---
$element(adman,groupads,Sectional Ad)$
---
Click the log in link below to create an ID and post an opinion.
Or send this story to a friend by filling in the appropriate box below.
---