24 Hours At LaGuardia Performing Arts Center
Internationalists Event Close Up
Long Island City / November 8, 2009. One Saturday night in early November I went down to see what LPAC's [LaGuardia Performing Arts Center] 24 Hours event was all about. Essentially it was a round the clock and round the world event, wherein multiple locations around the world would be skyped into each other via the Internationalist's website [link provided below]. Hence one could watch others performances and would be given the opportunity to share some of their own.
LaGuardia Performing Arts Center - 24 Hour Events
The event started at 3 pm on Saturday and would go until 3 pm on Sunday. Many of the people involved had decided they would stay the night to soak up the experience. Mattresses were laid out in the Main Stage Theatre so that people could catnap along the way.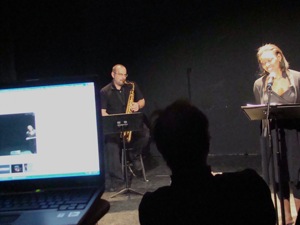 The program involved both performing and viewing. LPAC had created an extensive program including multiple performances both on Saturday afternoon and evening as well as Sunday morning. The whole event would be concluded with a discussion starting early afternoon on Sunday.
One of the first programs, which I missed, was done by a playwright who watched the performance from Paris. The play was performed on screen, with actors / actresses from New York City [aka the Queens Borough], Berlin, Paris, London and Istanbul. All of them were playing their part from their home locations, and mixed interactively upon the skyped screen. The play was a sort of Jerry Springer version of the Trojan War. Unfortunately I missed this one.
Art, Performance & Technology @ LaGuardia Peforming Arts Center
I asked Steven Hitt, Managing Director of LPAC, what the point of this was. He told me it was essentially an experimental project, through which performers would be able to share and view their art with peers from around the globe. The idea was to create a sort of international community without borders. The idea is to help accelerate understanding of other cultures through the performance arts of dance, theater and music. Hmm, I thought, sounds good, but so, so very ambitious.
The Internationalists - Long Island City NYC
He seemed to recognize that and informed me that this was just one effort in what, over time, will be a long and arduous journey. Apparently this was also done last year, initiated by the Internationalists, who have taken up a residency at LaGuardia for this school year [2009 – 2010].
The Internationalists began in 2007, when some of the students coming out of the Lincoln Center Directors Lab decided to stay in touch and to work toward creating a venue for shared, cross-cultural performance art and collaboration.
I met Jake Witlen who is one of the Core Associates and in residency at the LaGuardia Performing Arts Center. He was busy prepping for the JAZ peformance which was an oratory with music about the history of jazz as told by JAZ herself, as if she were a person. After each delivery of near poetic oratory, the saxaphone player in the background would translate the words into jazz. Cool mon, very cooolll. Our own former Queens native, Louis Armstrong, would likely have approved.
Original Theatre In LIC
Handan Ozbilgin is the Artistic Director for LPAC in the theatrical area. Both she and Steven used the 24 Hours event as a learning opportunity for their classes. Handan teaches theater while Steven teaches dance. I had the opportunity to see Handan's class perform and as you can see from the photos I took, they weren't camera shy and didn't seem to be holding back any stage fright.
Handan's piece was about developing a character and developing a scene using Facebook at the universal thread for each story. As the play opens they are all online through their computers, cell phones and other digital devices. The play is a series of vignettes, wherein each act is about communicating online. Most times the scenes include communicating offline, but at least in one instance this was not the case. Handan said that the exercise was intended to 'Bring the world to the stage and learn how to make technology a friend of your art'. This is a paraphrase of Handan's words from David Bromley who manages communications.
Generally the brief stories were about people sharing their aspirations, their woes, their sadness and their joys via the new medium, the internet.
LaGuardia Performing Arts Center In Long Island City - Taking Risks
By the time I left, past midnight Saturday night, I hadn't drawn any real conclusions about my foray into this experimental event. Today, as I mull it over I still find in myself a sort of unsettledness, which usually means that something has happened. That I didn't draw conclusions meant that it might be too early to do so, which means I just participated in something so avante garde that it will take time to digest.
It got me thinking about how these students, about the age of twenty, are already easily communicating with their peers in other countries via these skyped performances and email. But likewise, many of them are so engrossed in communicating via their devices that they frequently don't look around them or communicate with the people standing next to them. That begs the question, will technology bring us closer together or further separate us? Maybe both. Perhaps some of the students of LPAC can share their own thoughts or experiences below.
You may click this link to view the photo album containing pictures shot of some of the event and performances during the evening at LaGuardia Performing Arts Center in Long Island City Queens. You may view it via this link to the co-sponsoring organization, the Internationalists website.
---
Long Island City Events, Stories, Stores & Restaurants
Click this link to go to the Long Island City Section / Long Island City Restaurants Guide & Map / Long Island City Shopping Center & Map.
To find restaurants, shopping or other things to do in any of the neighborhoods, use the search function.
$element(bwcore,insert_search,N)$
Send this story to a friend by filling in the appropriate box below.