A Closer Look Into Beauty Spas In Queens
Beauty Spas - Are Fun & Refreshing
Updated 2017 / December 2009 / Sunnyside & Astoria / Queens Buzz.
Angel Spa in Astoria CLOSED in late 2012. And in 2015 Pure Spa relocated into the CityView Raquet Club in LIC.
I recently visited one of the leading spas in Sunnyside and Queens to see what's going on in the relaxation business. It seems that after a rather intense year, we are all in need of a bit of relaxation. For this report I visited Pure Spa on Queens Blvd near 40th Street in Sunnyside and Angel Spa on Steinway off Northern Blvd [Angel Spa closed their doors in 2012].
The part of these spas I was interested in was a combination of beauty and relaxation. You know, anything to do with massages, facials, skin treatments, manicures, pedicures and waxings. All the things a girl needs to keep her beauty emanating from within, and a few offerings for the men too.
Pure Spa - Spas In Sunnyside
I met Regina at Pure Spa one morning to tour the spa and talk about treatments. Regina and her husband Patrick own the spa and they also own and manage the Copper Kettle restaurant, which is also in Sunnyside. They began Pure in late 2004. Sinead, one of the Pure Spa managers, was my guide through the facilities.
I had been to Pure Spa a couple of years ago, to attend a yoga class which was held in the basement on a beautiful clean pebble floor, which I had not forgotten. I was informed that they had discontinued yoga since so many other places now offer it. As a matter of fact they were in the process of transforming a section of the spa into a hair-coloring salon. This transformation was just about to begin, and has since been completed, but won't be included in this report.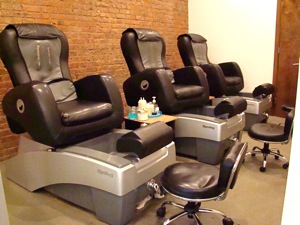 The entire facility is fairly new as you can tell by the photos. Just behind reception there is a room [studio] with chairs for one to relax in as they receive their manicures and pedicures. Down the hall from the studio there are several massage rooms, where one may obtain various types of massage treatments. Across from the rooms are comfortable changing rooms. And downstairs there are a few more massage rooms. Since my visit I believe that the hair coloring section of the spa was installed downstairs. All in all, the Pure Spa facilities had the feel of a mix between a nice hotel and a well-kept clinic.
Angel Spa - Spas In Astoria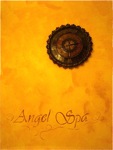 I had also visited Angel Spa several times prior to writing this report. Rosie, the owner and manager, and Patricia her manager are both certified estheticians who provide a warm, welcoming atmosphere that lends itself nicely to their chosen profession.
The Angel Spa walls are painted a soothing gold and there are a few murals painted on the walls, all of which give the spa a bit of additional charm. The comfortable manicure / pedicure chairs are located behind open partitions. One of the massage rooms on the main floor, while the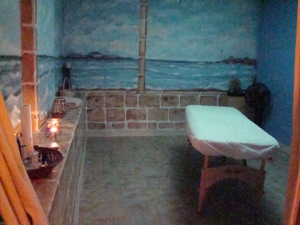 other three are downstairs where, like Pure, it's very quiet.
One of massage rooms downstairs is a larger room that gave the feeling of being at the beach a bit after sunset. When I come back for my massage, that room will definitely be my first choice as it actually helped transport me away from the day to day of my own life.
Massages in Queens - Beauty Spas In Queens
Both spas use soft lighting and candles to provide a soothing atmosphere and both also use scents in subtle doses. The masseuses are hired on an contractual basis, so it's recommended that you schedule your appointment in advance – a day or more, if possible.
The spas offer a range of massage treatments, including reflexology, deep tissue, shiatsu, swedish, prenatal, hot stone, aromatherapy and relaxation style massages. A shiatsu massage is a Japanese form of the art wherein the massage therapist applies pressure along the energy meridians in your body. The deep tissue / sports massages are given such that the massage therapist digs deep into those tight tense muscles in order to lengthen and relax them. And the relaxation massage is a blend of a soothing massage and some applied pressure, all of which is intended to help your circulation and relax your body. And lastly, both spas offer a variety of enhancements that one can add to your experience via special lotions and scents.

Facials, Manicures & Pedicures In Astoria, Sunnyside & Queens
Rosie gave me a quick education on facials, manicures and pedicures. All manicures and pedicures are done by licensed nail technicians, while facials must be done by a licensed esthetician. There is a science to it and it's important to know and follow the guidelines, as these professionals use scrubs, washes, lotions and equipment, all of which contribute to the art of it all.
Many people purchase these services for various reasons. Some do it to slow the aging process, while some have facials to manage skin conditions such as acne or rosacea. As Rosie told me, "For many people facials aren't a luxury, they're a necessity to keep skin looking healthy and youthful for as long as possible." There are additional techniques that can be used to help people manage the health or appearance of their skin. For example, photo therapy or microdermabrasion can help minimize pores and remove dead skin and fine lines.
Facials In Astoria, Sunnyside & Queens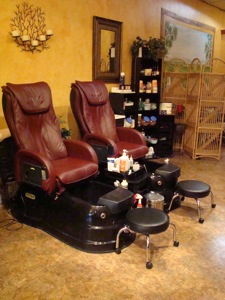 Apparently aromatherapy is used to adjust ones mood while promoting good health. Frequently the therapy is applied to the face. Both Angel and Pure have menus of their spa services, including fun names like 'champagne and roses' [a body polish] and 'chocolate decadence' [facials, pedicures & more] and 'glow and go' [exfoliation followed by lotions]. Apparently there's a science to relaxation, and it seems to by in sync with treating yourself, but in this case in a healthy manner.
I asked Regina of Pure Spa, what the three most popular services were. She informed me that a package including the facial, manicure and pedicure was probably the most popular, followed by massage and the facial [only]. Pure also offers specials on a monthly basis to help fill in the slow times and to provide clients with a lower price option.
Both places indicated that the costs of these services in Queens goes for a significant discount versus what is paid in Manhattan. They also provide bundled packages, which also helps reduce the cost. Based on what I saw, it seems one could walk into either of these spas a 'stressed mess' and walk out relaxed, rejuvenated and refreshed. I believe they sell gift certificates. And it's worth saying that about 15 – 20% of the massages are given to men.
Click here to view the home page for LIC Massage Therapy - for massage / masseuses in LIC & Queens.
---
Sunnyside Neighborhood / Woodside Neighborhood Links
$element(adman,groupad,NHoodAstoria)$
Click on these advertisements for promotions, discounts and coupons by retailers and restaurateurs in Woodside, Sunnyside and nearby Queens.
Click this link to go to the:
Sunnyside & Woodside Neighborhood
Sunnyside Business Directory or Woodside Business Directory
Sunnyside & Woodside Real Estate or Events & Things To Do In Sunnyside & Woodside
Restaurants In Sunnyside & Woodside or Sunnyside & Woodside Shops & Shopping
---
$element(adman,groupad,Catgry Wedding)$
Site Search Tips. 1) For best results, when typing in more than one word, use quotation marks - eg "Astoria Park". 2) Also try either singular or plural words when searching for a specific item such as "gym" or "gyms".
$element(bwcore,insert_search,N)$
Click this link to search for something in our Queens Business Directory. Also check out Taste of Sunnyside.
---
Click the log in link below to create an ID and post an opinion.
Or send this story to a friend by filling in the appropriate box below.
$element(adman,groupads,Sectional2 Ad)$
---