Jackson Heights Real Estate
Jackson Heights Real Estate - Demographics & Description
Jackson Heights / December 2009. The Jackson Heights community has a population of about 65,000. This was once a mix of Italian, Irish, German and Jewish immigrants. Since then, the population has been augmented by waves of Indians, Pakistanis and Latin American immigrants, as well as by domestic immigrants from all parts of Queens and Brooklyn. Today the Jackson Heights community is one of the most ethnically mixed neighborhoods in New York City and the world.
Over the past two decades a number of the large apartment complexes in the Jackson Heights real estate market went from rentals to coops [please note that this analysis refers primarily to Jackson Heights north of Roosevelt]. In addition to those units which were purchased by residents, many were also sold to incoming buyers from other parts of Queens, as well as Brooklyn. The Brooklynites came because many of them had been priced out of their own market by rising prices. Many of the incoming residents began starting families in Jackson Heights due to its affordability, large safe garden courtyards and proximity to high paying city jobs. Since then some of the older families have begun to migrate east in search of more suburban lifestyles. Click here to view our Jackson Heights Neighborhood section, including coverage of events, restaurants and shopping.
Jackson Heights Real Estate - History and Architecture
Jackson Heights was one of the first planned communities in the U.S. The Queens Boro Corporation bought huge tracts of farmland in the early part of the 20th century and carefully developed a community of large apartment complexes, many of which contain large garden courtyards, which essentially serve as private parks for building residents. The apartment complexes were erected beginning in the teens, going through the thirties, which really was a sort of golden age of construction for these types of buildings. Many of the apartments still have the original beautiful hardwood floors, working woodburning fireplaces, large sunny and airy windows and prewar structures which seem like they could last hundreds of years. Much of what the Queens Boro Corporation built remains intact to this day. And much of this housing stock was upgraded in this last real estate boom, so that many of these apartments are quite desirable from a move-in-today point of view.
Jackson Heights Real Estate - Apartments For Sale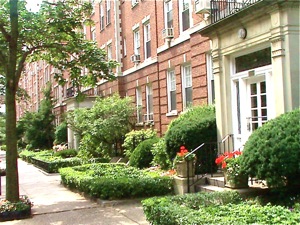 There seem to be a fair number of truly beautiful garden apartments for sale in the Jackson Heights real estate market, as well as a number of single or multi-family homes. Unlike many of the other neighborhoods in Queens, there's not much available space upon which to build. Hence the housing inventory of Jackson Heights has changed little in the past decade, in spite of the building boom. What has transpired is that a number of large real estate corporations bought into the Jackson Heights neighborhood, renovated their properties and are now interested in selling because the Jackson Heights market has [to date] been holding its price level better than many other areas in the metro area [down 15 – 20%]. Hence there is a fair amount of good inventory on the market. And while the price levels haven't sunk as far nor as fast as the general market, housing in the Jackson Heights real estate market still sells at a considerable discount to comparable housing within similar commuting distances of midtown Manhattan [20 minutes].
Apartments For Rent - Jackson Heights Real Estate
Rentals in the Jackson Heights real estate market, like in the Astoria real estate market, appear to provide good value for those wanting good apartments with nearby neighborhood shopping and dining choices, within close commuting distance to Manhattan. In addition to the planned portion of the community from the 1920's and 1930's [generally north of Roosevelt Avenue] there are many smaller apartment buildings and some single and multi-family dwellings. There still seems to be good demand for rentals because they are priced quite competitively relative to rentals within similar commuting distances into the city, including other sections of Queens. Part of the reason is that Jackson Heights is further from the city in terms of distance, which is compensated for by the speed of the express E and F trains.
Click here to go to the Queens Real Estate section of this site. Click here to view a story about Queens Real Estate in general with links to stories about Astoria real estate, LIC / Long Island City real estate, Sunnyside real estate & Woodside real estate.
---
---
Jackson Heights / Elmhurst Related Info
$element(adman,groupad,Catgry Realestate)$
Click this link for promotions, discounts and coupons in Jackson Heights, Corona and Queens.
Click this link to go to the Jackson Heights & Elmhurst Neighborhood News / Jackson Heights Restaurants / Jackson Heights & Elmhurst Shopping.
---
$element(adman,groupad,NhoodJHTS)$
Site Search Tips. 1) For best results, when typing in more than one word, use quotation marks - eg "Astoria Park". 2) Also try either singular or plural words when searching for a specific item such as "gym" or "gyms".
$element(bwcore,insert_search,N)$
Click this link to search for something in our Queens Business Directory.
---
$element(adman,groupad,Sectional2 Ad)$
Click the log in link below to create an ID and post an opinion.
Or send this story to a friend by filling in the appropriate box below.
---