Friends Meeting House
Oldest Continuously Used Quaker Meeting House In America
December 13, 2009 / Flushing Neighborhood / Flushing History Queens NYC / Queens Buzz NYC.
The Friends Meeting House in Flushing is one of the oldest and longest continuously used Quaker meeting houses in the U.S. The Friends Meeting House has in its origins, a deep association with the freedom to practice your own religious beliefs - a cultural and institutional hallmark of this nation. Read on to learn more about The Friends Meeting House which continues to operate to this day.
---
Friends Meeting House - Queens History
December 13, 2009 / Flushing Neighborhood / Flushing History Queens NYC / Queens Buzz NYC.
George Fox was the founder of the Society Of Friends in the mid 1600's, which later became known as the Quakers. He was a dissenter of the state religion of England at the time and believed that people could rely on their own inner spirituality to guide them.
The Quakers or Friends crossed the Atlantic to practice their beliefs without interference and settled in Vlishing / Flushing in the 1650's. John Bowne worshipped with the group that eventually built this meeting place and his house was considered to be a precedent of it. The Vlishing Remonstrance of 1657 and John Bowne's subsequent struggle with the Governor and the West India Company came about as a result of the Quakers' desire to practice their faith in Vlishing [aka Flushing].
The Friends Meeting House - Quaker History In Queens NY
This is the second oldest continuously operating Quaker meeting houses in the nation. The building was erected in 1694 and was expanded upon in 1714.
George Washington is said to have visited it twice during his life. The Meeting House only ceased operations twice since its inception – once during the Revolutionary War when the British took it over, and again during the Yellow Fever plague of 1793, which had its origins in Pennsylvania, the Quaker state.
Religious Services At The Friends Meeting House In Flushing
Today the services remain unstructured in accordance with George Fox's first teachings. Many times the services end up being hour-long periods of silence and meditation. And other times people get up and speak from their hearts when they believed they've been spiritually motivated to share what's in their heart with the other members of the congregation.
Just as the services are unstructured, so too is the meeting house seating configuration. The service seating is arranged in a sort of community town hall style, which varies from the hierarchical structures I've seen in most other Christian places of worship.
The Quakers & the Friends Meeting House in Flushing Today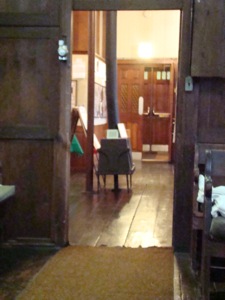 Today there are about thirty members of the house and about another dozen or so attendees who practice their faith every Sunday from 11 am to 12 noon. The service is followed by an hour long social.
Thanks to Bridget and Ruth for providing insights and some of the information contained herein, and the Queens Historical Society.
---
Friends Meeting House Is Queens History - Related Links
Flushing History in Queens NYC Related Links
---
Flushing / Corona Related Info
$element(adman,groupad,Catgry Queens)$
Click here to go to the Art Exhibits, Galleries & Museums section of this site.
Click these links for promotions by advertisers in Queens.
Click this link to go to the Flushing Neighborhood and Flushing Restaurants.
---
$element(adman,groupad,NhoodFlush)$
Site Search Tips. 1) For best results, when typing in more than one word, use quotation marks - eg "Astoria Park". 2) Also try either singular or plural words when searching for a specific item such as "gym" or "gyms".
$element(bwcore,insert_search,N)$
Click this link to search for something in our Queens Business Directory.
---
$element(adman,groupads,Sectional2 Ad)$
---
Click the log in link below to create an ID and post an opinion.
Or send this story to a friend by filling in the appropriate box below.
---