Bars & Restaurants In Jackson Heights - Briefs
---
We just started this compendium of brief reports about bars and restaurants in Jackson Heights. These reports are intended to highlight some of the interesting things we find in our travels in the Jackson Heights neighborhood that we think might be of interest to our audience.
---
Jazz Age Lounge Act Returns To Jackson Heights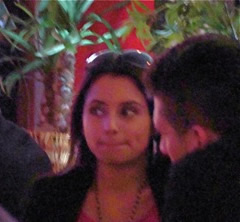 Update February 7, 2010. The Cavalier Restaurant and Lounge closed their doors today. Click to this report for details on the Cavailer Restaurant and Lounge closing.
Jackson Heights / January 18, 2009. I spent part of last Friday evening at the Cavalier Restaurant and Lounge in Jackson Heights, enjoying the return of a retro forties lounge act. Bethany Wild sang some beautiful tunes reminiscent of the jazz age, while the crowd enjoyed dinner and / or drinks.
Her soft, sensuous voice wafted through the lounge with piano [via track] in the background. The crowd included an eclectic mix of people who might have enjoyed similar tunes in their youth, as well as young couples in their twenties, thirties and forties. It was a nice mix of ambiance, alcohol, acoustics and alliteration. Bethany returns next Friday from 7 to 10 pm.
Click here to go to the website of Bethany Wild to hear the sounds to which you'll be treated and click here to view the photo album of the Cavalier Restaurant and Lounge to see if your date will enjoy relaxing with you in this classic jazz age lounge [scroll down once in the album]. Then decide for yourself.
---
Jackson Heights Neighborhood - Related Links
Click this link to go to the Jackson Heights & Elmhurst Neighborhood News / Jackson Heights & Elmhurst Restaurants Guide & Map / Jackson Heights Business Directory / Elmhurst Business Directory / Jackson Heights & Elmhurst Shopping Center & Map.
Site Search Tips. To find restaurants, shopping or other things to do in any of the neighborhoods, use the search function: 1) for best results, when typing in more than one word, use quotation marks - eg "Astoria Park" and 2) try both singular and plural when searching for a specific item such as "gym" or "gyms".
$element(bwcore,insert_search,N)$
Send this story to a friend by filling in the appropriate box below.
---