Cavalier Restaurant & Lounge - Jackson Heights
Cavalier - Iconic 1950's Lounge Bids Au Revoir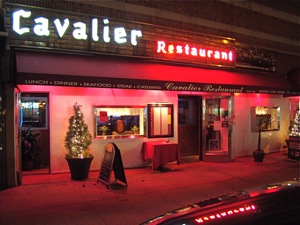 Jackson Heights / February 7, 2010. Today I went to Jackson Heights to visit the Cavalier Restaurant and Lounge, for what would be my last time. I had this sad feeling in my heart as I hopped aboard the # 7 subway on a beautiful crisp sunny Sunday afternoon.
I felt like I was on my way to a funeral. The funeral of a friend that I knew everyone was really going to miss. The sort of friend with whom everyone seemed to have their own personal tie. And a kindly friend with whom many had shared special times. Ah, yes, this was indeed a sad, sad day.
Legendary Lounge Closes - Jackson Heights
The restaurant was bustling with activity when I arrived. Brunch was being served and all of the booths were occupied. Alfonso Londono, the owner, was orchestrating the whole scene, as he'd been doing for nearly forty years. But, today was a different sort of day, as everyone there knew this would be their last day at the Cavalier Restaurant and Lounge. Since the news was released early last week, well wishers had been coming from far and wide to pay their respects.
"What can we say?" Alfonso asked, looking me in the eye. I nodded, as there is little one can say when a man's life's work comes to an unexpected and swift end. But in the back of my mind, I wondered - or perhaps hoped, is this just a brief hiatus? Or is this really the end? I pursued this line of thought, asking Alfonso what he'd intended to do with the interior. He and his daughter, Nathaly, both told me that it was going into storage. Hmm, I thought, perhaps the Cavalier will ride again.
Real Estate Investment Group Raises Rents
We understand that the reason for the Cavalier closure wasn't for lack of income, but rather due to a near doubling of rent this year by the new landlord. Apparently a venture group recently closed on the building, part of which the Cavalier occupies, and the new venture group is now moving quickly to find ways to recoup a return on its investment.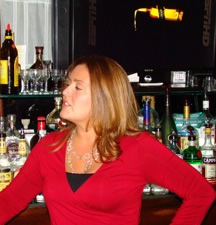 Family Business - Gone Or On Hiatus?
Nathaly had arrived a bit later in the afternoon. We exchanged greetings, and I could see she wasn't her usual, relaxed, bantering self. She acknowledged as much when she responded to one of my questions, "I haven't really had time to think about things. It's been so busy since we made the announcement. I'll tell you what I think after we close."
Mrs. Londono, was always an enigmatic figure to me. She reminded me a bit of my own mother: a quiet, supportive spouse in her husband's work. As it turns out, the Cavalier had really been the family's life's work. Nathaly pretty much grew up here, during which time the Cavalier became a home away from home. Nathaly and her mother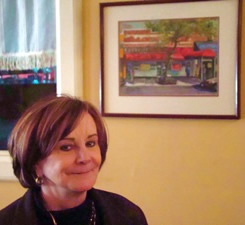 helped organize baby showers, wedding showers, birthday parties and anniversary parties for countless customers over the course of four decades.
Some of the Cavalier staff, such as Carlos, had also been there for decades. And there was a warmth and familiarity between the clientele that seemed to be a relic of a more community minded age.
We hope the story doesn't end here. Mr. and Mrs. Londono and Nathaly are going to evaluate their options in the coming weeks; perhaps longer. They have a home page on this site and they will keep you informed of their plans as their plans become clear. So we hope that this is
not a 'farewell' to the Cavalier Restaurant and Lounge, but only an 'au revoir' which translated means 'until we see each other again'.
Footnote: Al Londono and the Cavalier Restaurant and Lounge played leading roles in the now famous, locally produced, independent film entitled 'Lovely Lily'. Use the search function below to read more about it.
---
Jackson Heights Neighborhood - Related Links
Click this link to go to the Jackson Heights & Elmhurst Neighborhood News / Jackson Heights & Elmhurst Restaurants Guide & Map / Jackson Heights Business Directory / Elmhurst Business Directory / Jackson Heights & Elmhurst Shopping Center & Map.
Queens Buzz Site Search. To find restaurants, shopping or other things to do in any of the neighborhoods, use the search function: 1) for best results, when typing in more than one word, use quotation marks - eg "Astoria Park" and 2) try both singular and plural when searching for a specific item such as "gym" or "gyms".
$element(bwcore,insert_search,N)$
Send this story to a friend by filling in the appropriate box below.
---