"Lights, Action, Camera"
Models, Designers and Paparazzi Snap Into Action As Queens Fashion Week Goes Live
Astoria & LIC / February 18, 2010. Some of the top designers with Queens connections collaborated with many up-and-coming Queens models to strut their stuff at the Queens Fashion Week opening night. The event took place tonight, after a week delay due to snowstorms, at the Standard Lofts, a recently renovated factory building turned residence along Northern Blvd at the foot of Steinway Street.
About twenty eight models participated in the event, walking down the runway with beautiful new clothing, designed to complement their figures and forms. The models consisted of both females and males, nearly all of whom I believe were in their twenties. This is a report of the first day of the event, which took place on a Thursday evening. Friday is the young designers night, which will be followed on Saturday with a day of exhibits with the closing runway show on Saturday evening. Click here to view the rest of our report on the opening night of the Queens Fashion Week.
---
Lights, Action, Camera
Queens Fashion Week Opening Night
Astoria & LIC / February 18, 2010. Queens Fashion Week got its start tonight at Standard Lofts in Astoria / Long Island City. Tonite, I was informed, I would witness twenty-eight Queens models strut their stuff, showing the designs of between five and ten of the top designers with Queens connections.
Queens Fashion Week At Standard Lofts On Northern Blvd
The Lofts building is a recently renovated factory building turned residence. Hence the entrance had some similarity to a well-heeled apartment building, while the event space was comparable to a vacant soho loft in the 1980's.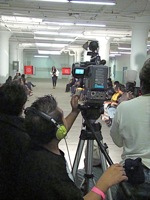 As I entered the space in which the event was being held, I was struck by the airy feeling the building provided. There were twenty feet high ceilings and a large expansive open space covering half of the ground floor. Approximately one hundred chairs lined the runway, providing everyone in attendance with a birds-eye view. The runway lead from the dressing room on one end of the floor, all the way across to the cadre of photographers lining the other end of the room. I believe it was comparable in length to the runways of Milan, Paris and New York.
Queens Fashion Week - Fun Hip Things To Do In Queens
A crowd of about one hundred people were there, mostly twenty and thirty something females and a smaller contingent of men of the same age [good dating odds for the men]. A VIP room was open, serving an appetizing array of food and beverages to those who'd paid to dine and drink.
I sought and was granted permission to enter the dressing room, so long as I didn't photograph anyone in a compromising pose. The ladies were putting on their make up and adjusting their robes, while the men were posing for another photographer [see top photo].
I went back to sit with the crowd and soon the show began. Delali opened the event, telling us that Queens Fashion Week was created to help publicize local designers, and that creating demand for local designers would also help the borough create more local jobs.
Delali introduced the emcee for the evening, the lovely Amber, a professional model who was born and raised in Queens. Amber turned out to be a good choice, as she mixed it up with the crowd in a series of unabashed Oprah style audience interactions. To a man wearing a Yankees cap she commented, "We have a Mets thing going on in this boro. You know, the 1986 World Series Champions."
She also seemed to take a shine to a well-dressed man in the audience. The two of them did a little back and forth about wha designer clothing he was wearing and he eventually got up, walked back into the dressing room where he changed to model some apparel.
Up & Coming Designers Of Womens Clothing In Queens
And then came the models and their 'wears'. First up was Qrystal Frazier, a designer from one of the neighborhoods in Queens. She created a number of interesting looks, one of which you see in the photo to your left. Bright colors, chiffon-like fabric and weaves that keep a viewer guessing. Her designs come in sizes 4 – 24 and are for sale at a store in Elmhurst.
Next up were the designs of Stella Gialla of the Glendale neighborhood in Queens. The clothing she chose to show was geared toward the summer, with a couple of tight-fitting sleeveless and collarless tops and skirts that hugged the forms of the women who wore them. She also put together an eye-catching ensemble that included a classic mix of miniskirt and boots with a colorful sleeveless top and attention grabbing hat, all of which you can see in the photo to your right.
The last designer we viewed called their work the Eye Collection. I found one of the tops in this collection to be totally alluring, reminding me of one of the runway shows in the late 1980's that put Linda Evangelista on the map. This top is shown in the photo to the left. Step aside Milano, there's a new Queen in town.
Queens Fashion Week 2010
There are two more days left to Queens Fashion Week. Friday night admission is dedicated to the young designers [Holiday Inn LIC with admission $10] and Saturday the event returns to Standard Lofts where there are exhibitions during the afternoon and the final runway show Saturday night [admission is $20].
Click here to go to our events calendar for times of the events on Friday night and Saturday including maps. Lastly, we could not stay for the entire show and missed the display of swimsuits by Monica Yepez, as well a knitwear by Michiknitwear and clothing by osundesigns. For more information about these designers or models click to the Queens Fashion Week website.
---
Astoria Neighborhood Links
$element(adman,groupad,NHoodAstoria)$
Click on these advertisements for promotions, discounts and coupons by retailers and restaurateurs in Astoria and nearby Queens.
Click this link to go to the:
Astoria Neighborhood or Astoria Business Directory
Astoria Real Estate or Events & Things To Do In Astoria
Restaurants In Astoria or Astoria Shops & Shopping
---
$element(adman,groupad,Catgry Womens)$
Site Search Tips. 1) For best results, when typing in more than one word, use quotation marks - eg "Astoria Park". 2) Also try either singular or plural words when searching for a specific item such as "gym" or "gyms".
$element(bwcore,insert_search,N)$
Click this link to search for something in our Queens Business Directory.
---
$element(adman,groupad,Sectional2 Ad)$
Click the log in link below to create an ID and post an opinion.
Or send this story to a friend by filling in the appropriate box below.
---