Greek Orthodox Easter Approaches
81 Year Easter Week Tradition Continues
Astoria / Queens Buzz. I had occasion to meet with Reverend Anastasios G. Pourakis of the St Demetrios Cathedral in Astoria. I met with him as I was planning to cover some of the Greek Orthodox services on Holy Friday [April 2nd] including a long procession through a small section of Astoria, in which about 2,500 Astoria residents participate. The reverend had a warm and welcoming manner and I would soon learn he was well versed not only in scripture, as one might expect, but also in the history associated with its origins.
During my discussion with Father Anastasios, I was encouraged to delve a bit deeper into the Greek Orthodox tradition and religion. Hence, I give you this introductory report, of the Greek Orthodox services leading up to Holy Week and Holy Friday [the Greek Orthodox equivalent of Catholic Good Friday] and culminating in Easter Sunday.
Greek Orthodox Lent In Astoria
The Greek Orthodox Holy Monday and the Catholic Ash Wednesday, both started about two weeks ago [February 15th and 17th respectively]. Both religions began a special five week period of contemplation and fasting, leading up to and culminating in Easter Sunday. During this time services are provided by both St Demetrios and its affiliated church, St Catherine and George. A link to a map showing the location of both churches is provided below.
Greek Orthodox Easter In Astoria
Based on my conversation with the reverend, I understand that about every ten years the Greek Orthodox and the Catholic Easter Sundays fall on the same day, like they do this year. But it is extremely rare, possibly only every 800 years or so, when the Catholic and the Greek Orthodox Easter Sundays fall on the same Sunday for two years in a row, as they will this year and in 2011. That highly unusual coincidence seemed worth contemplating, in and of itself.
Greek Orthodox & Roman Catholic History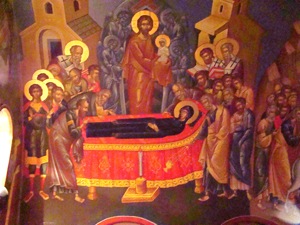 Father Anastasios informed me that the Christian Church began as a formal religion in 313 AD. This was done by Constantine I who was also known as Constantine the Great. Constantine was great for several reasons, not the least of which was the Edict of Milan wherein religious tolerance was advocated and religious persecutions stopped. Constantine is also recognized as the first Christian Roman emperor. Hence both of these Christian religions share their origins, but over time they diverged.
St Demetrios & St Catherine and George – Greek Orthodox Services In Astoria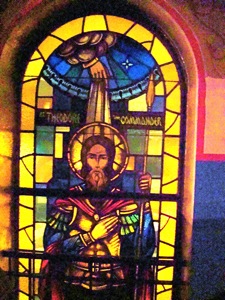 During the five weeks of the Lenten period, St Demetrios and its affiliated church, St Catherine and George, will conduct weekly services. The intent of these services is to prepare one for a stronger connection with God, culminating in Easter Sunday, considered to be the most holy of all days. One of the Lenten services is held every Friday evening at both houses of worship starting at 7 pm. Below we have provided a link to the Greek Orthodox Archdiocese website calendar so you may review all of the Lenten and Easter services.
Akathist Hymn In Astoria
The services include an Akathist Hymn which is dedicated to Mary, the mother of Christ. During the first four weeks, only six stanzas of the Akathist Hymn are sung, progressing through the entire twenty four stanza hymn by the end of the fourth week. On the fifth week, leading into Holy Week, the entire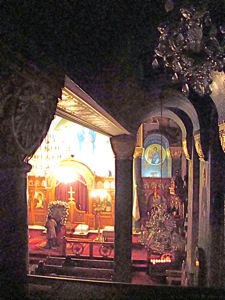 twenty-four stanzas during are sung all together.
The Akathist originated in the 7th century [626 AD]. At the time Constantinople was under siege by its neighbors (the Persians and Scythians [Avars and Slavs]). During the siege, the Christians spent an entire night praying in their church. In the morning a grand storm came and destroyed and dispersed the enemy ships. The city was saved. Thereafter, in commemoration of this divine intervention, the Akathist tradition was made annually. Akathist, by the way, refers to 'not sitting' as the hymn is only sung while standing.
We'll follow up on this report during Holy Week. Special thanks to Reverend Anastasios Pourakis and the clergy and staff of St Demetrios in Astoria.
Click here to view photos of the Greek Orthodox Easter procession in Astoria in 2010 and click here to read a report and view photos of the Greek Orthodox Easter in Astoria 2011. Click here to view a map showing the locations of St Demetrios Church and St Catherine & George Church in Astoria. Click here to go to the Greek Orthodox Archdiocese website where you can obtain additional information.
---
Astoria Related Info
Click this link to go to the Astoria Section / Astoria Restaurants Guide & Map / Astoria Shopping Center & Map.
Site Search Tips. 1) For best results, when typing in more than one word, use quotation marks - eg "Astoria Park". 2) Also try either singular or plural words when searching for a specific item such as "gym" or "gyms".
$element(bwcore,insert_search,N)$
Click this link to search for something in our Queens Business Directory containing over 1,000 listings.
Send this story to a friend by filling in the appropriate box below.
---