Sapori D'Ischia Restaurant - CLOSED OCT 2012
Southern Italian Restaurant In Woodside NY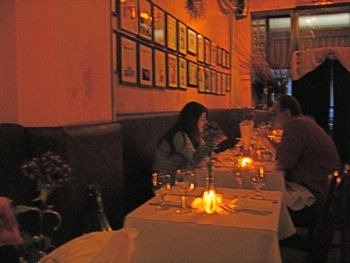 Woodside Neighborhood / Sunnyside & Woodside Restaurants / Queens Restaurants / Queens Buzz.
I had heard about Sapori D'Ischia from a friend of mine in yoga class. She hadn't been there in a while but had suggested I try it sometime. We had discussed other restaurants reviewed by this site, and I was always impressed by her awareness and knowledge when it came to good food and good restaurants. So this past Tuesday, when a good friend called spontaneously to suggest we rendezvous for dinner 'somewhere nice', I decided to try Sapori D'Ischia.
Sapori D'Ischia Restaurant - Ambiance & Appetizers
Unfortunately I starting the evening by walking my companion through ten blocks of the neighborhood in high heels [I had urged her repeatedly to change shoes, but she favors style over comfort]. So when we arrived she was in a less than happy mood. Thankfully, that soon changed. We were greeted at the door, immediately seated [it was a Tuesday night after all], given menus and provided bread, olives and olive oil. As she sat back in her cushioned seat, I could see her begin to absorb the isle vibes through the pleasant aesthetics of the restaurant, which included a lot of candle lighting, flowers, some interesting pictures and a large mural of the island port.
Sapori D'Ischia Restaurant - Woodside Queens History
We began to embark on the psychic journey to an island off the coast of Naples, Italy; far, far away from the day we had just left behind. Ischia is a small sister island to a much more famous island called Capri. While Ischia is less well known, it may possibly be even more captivating than Capri since it hasn't been as traveled and hence spoiled by visiting tourists. It's well known for its thermal baths, unusual volcanic rock formations and teeming gardens and orchards. It's a virtual paradise.
The owners are Franco and Antonio Galano, who came from the island decades ago. The father started a store at the location, with a focus on authentic, premium Italian food. About eight years ago, they started serving dinner in the store, and over time smartly arranged things in order to provide an atmospheric restaurant, in which the use of candle light romances the clientele, while making the store décor fade into the background. Sapori, means 'Taste Of', so the theme is A Taste Of Ischia.
Sapori D'Ischia - Serving Italian Wines
My dining companion wanted white wine and I wanted red, so we decided to order by the glass. She ordered the Gavi di Gavi which she described as chilled with a crisp flavor. I had the Tuscan, which had a clean but deep flavorful berry taste. It's worth mentioning that while the wine was quite good, it cost $48 for the four glasses, which in Queens seems a bit pricey.
Appetizers - Polpetti Octopus & Cruda Salad
For appetizers we ordered the Polpetti, which is baby octopus served in a rich stew of capers and fava beans in a dish underscored by a warm flame. The octopus was lightly seasoned, and grilled such that its texture was similar to calamari, but the flavor was more like a delicious sword fish steak. We lapped up the sweet stew with our bread. The octopus was served alongside the Cruda Salad which included fresh classic southern Italian leaves, slightly cooked asparagus, topped with aged parmesan cheese.
Main Courses - Porcini Ravioli & Tagliatelli
For dinner we both decided to go for the pastas. She ordered the ravioli filled with porcini mushrooms, artichokes and goat cheese. It had a lovely texture and a mix of the doughy pasta was augmented by the flavor of the goat cheese, the saltiness and vegetable texture of the artichokes and the subtle flavors of the porcini mushroom.
I had the Tagliatelli, which came in a hot steaming bowl. The eggplant, salty capers, rich flavorful olives came together in one whirling mass of delicious forkfuls. I had had a large lunch earlier in the day, and their portions were generous, but nonetheless I managed to consume the entire dish in about the same time as my companion had finished her ravioli. Dessert was offered, but we were too full to indulge. They called a taxi for us so that I wouldn't get in trouble on the way home.
Sapori D'Ischia is open Tuesday through Sunday for lunch and dinner, but not in between. And it's worth noting that they do not accept credit cards. Their website did not appear to be working at the time of this writing, but check the contact info below for a link.
Sapori D'Ischia Italian Restaurant Woodside NY - Maps, Transit & Shopping
Click this link to view a map of Sapori D'Ischia - one of the Italian restaurants in Woodside. Click this link to obtain the contact info and website url for the Sapori D'Ischia Trattoria in Woodside Queens. Click this link to view other reviews of Sunnyside & Woodside Restaurants.
---
Sunnyside Neighborhood / Woodside Neighborhood Links
$element(adman,groupad,NHoodSSWS)$
Click on these advertisements for promotions, discounts and coupons by retailers and restaurateurs in Woodside, Sunnyside and nearby Queens.
Click this link to go to the:
Sunnyside & Woodside Neighborhood
Sunnyside Business Directory or Woodside Business Directory
Sunnyside & Woodside Real Estate or Events & Things To Do In Sunnyside & Woodside
Restaurants In Sunnyside & Woodside or Sunnyside & Woodside Shops & Shopping
---
$element(adman,groupad,Catgry Foodwine)$
Site Search Tips. 1) For best results, when typing in more than one word, use quotation marks - eg "Astoria Park". 2) Also try either singular or plural words when searching for a specific item such as "gym" or "gyms".
$element(bwcore,insert_search,N)$
Click this link to search for something in our Queens Business Directory. Also check out Taste of Sunnyside.
---
Click the log in link below to create an ID and post an opinion.
Or send this story to a friend by filling in the appropriate box below.
$element(adman,groupads,Sectional2 Ad)$
---