Sunnyside Shorts Film Festival 2010
Continued / Sunnyside / September 25, 2010 / Queens Buzz. I just returned from the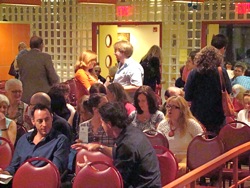 Sunnyside Shorts Film Festival. The festival ran about two hours, during which time they showed eight films. As mentioned in the introduction, there were comedies, dramas, documentaries and one animated film.
Before I tell you what people thought about the films, I'll give you a brief sampling of the films shown at the festival. The numbers in parentheses denote the length of each film in minutes. 1) Marble Rye [16], 2) The Flight [16], 3) The Coffee Bird [5], 4) Some Jobs Are Simple [14], 5) Fight Factory [7], 6) Remedy [18], 7) Oro Verde [14] and 8) Hunting [3].
Marble Rye & Remedy - At Sunnyside Shorts
These two films were both about germ phobic people. One was an American film [Marble Rye] while the other was an English film [Remedy]. Unfortunately I missed the first, but was given a brief review by a member of the audience, who we'll call E. She said it was an interesting film, which took theaudience through some of the tedium of those who are not only are obsessive-compulsives, but are completely obsessed with germs. She liked the film because the main character eventually ventured out into our germ-infested world … and survived.
Remedy was shot in black and white and was about a germ phobic pharmacist. It opens by taking us through the pharmacist's morning as he heads into work, prepped as it were, to wade through the germ infested world that lies between his sanitized domicile and his sanitized section of the pharmacy. As things would happen, the pharmacy is held hostage by a thief, who forces our germ phobic pharmacist into a store room with one of the most germ infested clients the pharmacist knows. The ending? You may never know.
The Flight - Film Festivals In Queens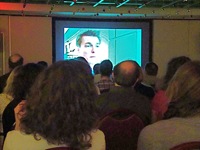 I entered the theater in the middle of this film, but found it most engaging. It's about a young corporate exec who's trying to buy drugs over the telephone as he heads off to catch a chartered jet with his boss. There's a lot of electronic communication going on as his girlfriend tries to reach him numerous times - leaving voicemails - while he's calling around, desperately seeking illicit drugs.
It's a stylized film that does a nice job of taking us through vignettes. For example in one scene he's being queried by security personnel as he passes through the airport. The music includes a rhythmic heartbeat. And in another scene he approaches the plane, the camera zooms in and out, reflecting his discombobulated state of mind. The story ends on a philosophic note – as he contemplates why, with all of our ability to connect electronically, are we all so disconnected?
The Coffee Bird - Animated Film
This is an animated film about a man who finds a bird who has fallen into his coffee. They become fast friends and enjoy each others' company over a period of time. Eventually the bird dies and the man sends him off, Indian style, on a burning funeral pyre.
Some Jobs Are Simple - Things To Do In Queens?
This film had the makings of a feature length movie. A woman meets up with this guy in an empty bar and asks him to steal her jewelry. The scene ostensibly involves a mob type hit man. As it turns out it's satircally comedic as the hit man plays it straight but has
comedic lines. Like when she asks him how will she pay him, he says "I take Visa, MasterCard and American Express."
So they make the arrangement for him to steal her jewelry. He informs her that he will take a gun because she's informed him that her husband has a gun in the house. The next scene shows him breaking into the house. He finds her jewelry and she comes downstairs and into the room, while he's stealing it. He's surprised to see her. She explains, "She can't sleep." And then she shoots him. He looks at her inquisitively, askign why she's done this?
Her husband comes down and she shoots him with the burgular's gun. She places the guns in the two dead men's hands and 'frantically' calls the police. Boy, was I glad I wasn't married to her.
Fight Factory - Documentary Film
This was a documentary of Gleason's Gym, which is an NYC repository of boxing history. It's located in Manhattan near Madison Square Garden and nearly every great American boxer has worked out in Gleason's gym. It contains a number of black and white boxing clips set to modern music. It was essentially a documentary of the gym and its inhabitants.
Oro Verde - Cinema En Queens
This threw a few folks off as it was done in Spanish with English subtitles. It's an Argentinian documentary about growing tea on a family farm. It's an interesting film about tea, the farm and the immigrant family that arrived in Argentina about fifty years ago. I now know how to grow tea.
Hunting - A One Man Show In Sunnyside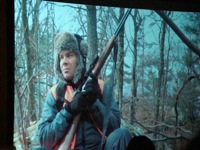 A very short short. This opens with a guy in the woods - the hunter. He's steadfastly watching, working the area, wiling away the hours, waiting for his prey. We catch him reading his 'How To Hunt' manual. Three days later … he looks beleagured, haggard after all this time alone in the woods, so he begins randomly shooting ... We met the director, Matt Fabiano, who told us that this was a one man production. Directed, acted and filmed by ... Matt Fabiano out in the Catskills. You never know what you may find in the Catskills.
Sunnyside Shorts Film Festival - Audience Commentary
So, nearly everyone had something to say about the germ movies, and while they generated a lot of conversation, they didn't top the charts as favorites. Everyone we
spoke to found these two movies [Marble Rye and Remedy] kind of fascinating and it apparently heightened their awareness of the germophobic branch of the obsessive compulsive disorder [OCD] condition.
One woman told me she liked the Coffee Bird. She found that the producer managed to create a bond between the man and the bird in a very short time. And by the way, she told me, she also has a bird. Another woman told me she liked the Gleason's movie because it was a view into a world she'd never see.
One guy said he liked 'Some Jobs Are Simple' because it was funny, suspenseful and shocking with its surprise ending. Another guy said he liked Hunting, but couldn't verbalize exactly why. Someone opined that they liked 'The Flight' because it showed real drama. And everyone I spoke to said they enjoyed themselves with the variety and quality of the short films.
I also met up with Teresa Ward, who has been involved in the festival for years, and who informed me that this year she focused her efforts primarily on the film festival program [she's pictured to the right standing in the photo above].
Susan Walsh & Matt Fabiano
I spent a bit of time with Susan Walsh, who screened the films with Sherry Gamlin [producer of the event] and several others. Susan works in corporate communications in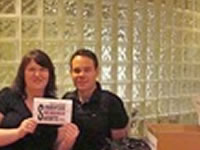 Manhattan and moved here a few years ago from Astoria. She told me how they began seeking films in March, started receiving submissions in May, and began screening them in August. During the process they sifted through some 25 films to arrive at eight, two of which were holdovers from the screening process of 2009.
Susan noted that she and Sherry were helped by Matt Fabiano, director of 'Hunting', and Jesse Gebryel, the director of 'The Flight'. Jesse Gebryel also spliced together the entire production, which was broadcast from a Mac. Susan and Matt are shown in the photo above holding a festival program.
Sherry Gamlin - Executive Producer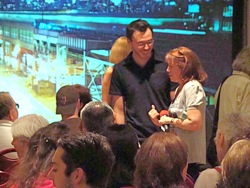 After the festival I caught up with Sherry Gamlin, the producer of the Sunnyside Shorts Film Festival. She informed me that festival attendance was up versus a year ago in spite of the soft economy. She also informed me that film submissions were down by about half this year, which she surmised was due to the soft economy. But she added, the general production quality of films submitted was up. In parting Sherry told us that she was looking forward to next year when the Sunnyside Shorts Film Festival will enter its fifth year. It is now the longest continuously running film festival in the borough. Sherry is shown standing in the photo above.
By the way, if you really need to know the ending to 'Remedy' just post a comment below and we'll tell you. That unfinished business was a test to see if anyone out there is obsessive compulsive.
---
Sunnyside Related Sections. Click this link to go to the Sunnyside Woodside Neighborhood News / Woodside & Sunnyside Restaurants / Sunnyside & Woodside Shopping Center & Map.
Site Search Tips. 1) For best results, when typing in more than one word, use quotation marks - eg "Astoria Park". 2) Also try either singular or plural words when searching for a specific item such as "gym" or "gyms".
$element(bwcore,insert_search,N)$
Click this link to search for something in our Queens Business Directory.
---
Click the log in link below to create an ID and post an opinion.
Or send this story to a friend by filling in the appropriate box below.
---