Societa' Sant' Amato Di Nusco

Century Old Italian Community In Long Island City
Continued / November 7, 2010 / Long Island City / Queens Buzz. The Societa' Sant' Amato di Nusco has a number of origins. The first of them being Saint Amato, who lived in the town of Nusco in the province of Avellino in the 11th century AD. Saint Amato was canonized a saint following his death in 1093. Pictures and statues of Saint Amato are shown further below, while the picture to the right depicts Padre Pio about whom we will add more about, at a later date.
Saint Amato Di Nusco - Of Avellino Province In Italy
I was informed that Saint Amato was the bishop of Nusco and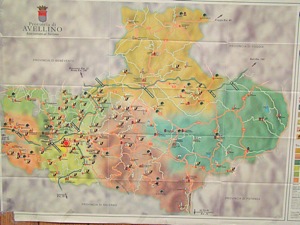 during his life he performed many great services to the town and neighboring communities, including helping the town establish defensive structures one thousand years ago, helping those in need, and building churches. The province of Avellino is near Naples in Italy and today has a population of about 4,500.
Societa Sant' Amato Di Nusco - LIC
Fast forward 811 years from Saint Amato's death in 1093 to 1904 in Long Island City NY. A number of Italians from the town of Nusco had migrated to America in the late 1800's and early 1900's. Some went to Pittsburgh, while many settled in Long Island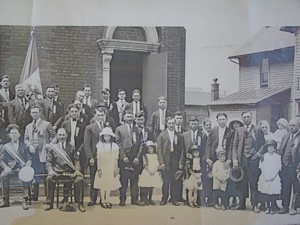 City along Borden Avenue, 51st Avenue and 5th Street. In 1904 they established the Societa' Sant' Amato di Nusco.
The purpose of the Societa' was to help community members who needed it. It's important to bear in mind that the Society was created prior to the widespread availability of health and life insurance, the establishment of unemployment insurance, Medicare, Medicaid and Social Security. Community members paid dues, participated in the society's community and helped each other as needed. Thus when members lost jobs, the society helped them get back on their feet. When members became ill, the society helped them return to good health. And when members lost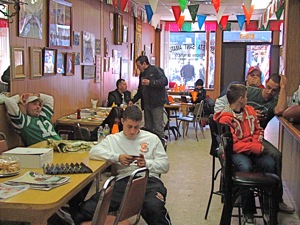 a loved one, the society gave them a tidy sum of money to help them transition through their loss.
Over time the mission of the society has remained constant, but the involvement in its members' private lives is not as intense – largely due to the establishment of private insurance and government programs, which lessened the need for private communal support during difficult times. Today there are about 1,500 members, of which a couple of hundred remain active.
Societa' Sant' Amato Di Nusco - Italian Neighborhoods In Queens
Programs today are dedicated to helping the town of Nusco, as well as local members in need. In the 1980 there was a horrible earthquake in Italy, which destroyed Nusco and many surrounding towns. I was informed that while other towns suffered casualties during the earthquake, Nusco didn't lose anyone in the town, although one of Nusco's townspeople was killed while visiting another community.
The Societa' Sant' Amato di Nusco sent money to help the victims get back on their feet. Most recently the Societa' sent money to finish repairing a section of the church, which had not been fixed since the earthquake.
Societa' Sant' Amato Di Nusco - Nusco, Italy In U.S.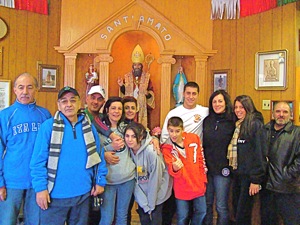 I inquired as to how people become members and if they had to come from Nusco. Nearly all of the current members have relatives in Nusco. Those who don't have a direct Nusco connection are married to or have some affiliation with members who do have a Nusco connection. In fact thirty members visited Nusco on a group trip within the past year or so. And at least one member I interviewed said that he and his wife make a visit to Nusco once every year.
Italian Events In Long Island City - LIC Queens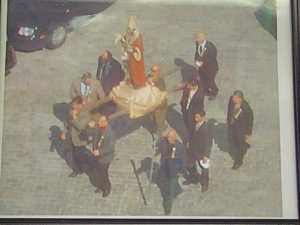 That said, the Societa' Sant' Amato Di Nusco welcomes the general public to many of its events. Perhaps the biggest event is the annual festival celebrating the death of Sant' Amato on the last Sunday in September. A mass is held at St Mary's Church a couple of blocks away. There is also a parade where they march down Vernon Blvd with the statue of Sant' Amato and the Italian flag to commemorate the occasion. Naturally, being Italian, the ceremonies are followed by a wonderful feast. The statue of Sant' Amato came from Pittsburgh after that chapter of the organization folded.
Italians In Long Island City - Local Festivals & Events
While I was visiting on NYC Marathon Day, I was treated to some delicious home made pizza topped with tomatoes, as well as hot potatoes and eggplant made by Josephine Terrezza and Carmella Bicchetti. I found that the Societa' Sant' Amato di Nusco has a top Chef, Ronnie Rando, who had taken the day off. I was also offered some wine, which at first I had declined, until I heard that it had just been made and delivered by the Tony Terrezza home winery of LIC.
The Societa's other big events include an upcoming Christmas Party / Dinner Dance on December 12th. This event is being sponsored by the Women's group of the Societa', which has a new incoming president, Annette Rando. She follows Josephine Giannasco who has been and continues to be a dedicated member of the Societa', and who presided over the Societa's Women's Group for some forty years. They also host an annual Spring Dinner Dance in the March / April time frame, as well as friendly weekly card games [no money] nearly every Wednesday and Friday evening. And there's a get together nearly every Sunday too. In addition to a working kitchen they have a bocce ball set up in the basement as well as a foosball table, and an outside courtyard in the back of the club. The Societa' also holds fundraisers on an ad hoc basis.
After 106 years, the Societa' Sant' Amato di Nusco still seems to be going strong. The current president is Joseph D'Amato [no known relation to the saint] and the vice presidents are Tony Della Vecchia and Tony Natale. I also want thank long time member Raffaele Giannattasio who provided some of the information contained in this report.
Societa' Sant' Amato Di Nusco - Contact Info
If you're interested in attending some of the Societa's functions, their address is 47-39 Vernon Blvd in Long Island City LIC. The Societa's telephone number is 718.729.9686 - to obtain tickets to any of their functions [leave a message with your telephone number and they'll return the call]. Arrivederci.
Italian Community In Long Island City - Slide Show
The following is a slide show containing some of the photos we shot while visiting the Societa' Sant' Amato di Nusco in Long Island City in Queens. Or you can click here to go directly into the photo album about a century old Italian neighborhood in Long Island City LIC in Queens.
$element(ophoto,photo_slideshow,96,550,,5.00,fade)$
---
Long Island City Queens - Related Links
Click this link to go to the LIC - Long Island City Section / LIC - Long Island City Restaurants / LIC - Long Island City Shopping Center & Map.
Email This To A Friend: Scroll down and fill in the box / form below.
Site Search Tips. 1) For best results, when typing in more than one word, use quotation marks - eg "Astoria Park". 2) Also try either singular or plural words when searching for a specific item such as "gym" or "gyms".
$element(bwcore,insert_search,N)$
Click this link to search for something in our Queens Business Directory containing over 1,000 listings.
---