Real Estate In Flushing
Real Estate Development In Flushing Continues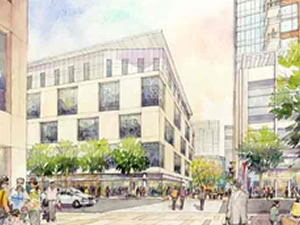 April 14, 2011 / Flushing Neighborhood / Real Estate Development In Flushing / Queens Buzz. This winter I attended the state of the borough address given by Queens Borough president Helen Marshall and another given by NYC deputy mayor of economic development, Robert K. Steel. This report captures some of their comments about Flushing Commons condominium and retail complex which is a large-scale real estate development projects in Queens. The graphic shown to your right is a depiction of the Flushing Commons when it is completed.
Following their speeches, we did some investigation and research to find out more about this and other Flushing real estate development projects. The Flushing Commons retail and condominium project begins in 2011 and is expected to be completed by 2013. Advocates of the project hail the addition of new facilities, while detractors question whether the city has made sufficient provision for infrastructure in an area that is one of the most traversed outside of Manhattan.
Click here to read more about real estate development in Flushing Queens.
---
Real Estate In Flushing
Real Estate Development In Flushing Continues
April 14, 2011 / Flushing Real Estate / Queens Real Estate / Queens Buzz. Continued / If needed use the search function to find the story introduction
Flushing Real Estate Market Still Vibrant
Flushing resembles Long Island City a few years ago, when it comes to real estate development projects. In the past decade, the Flushing real estate market has boomed, and in spite of the economic downturn, real estate prices in the Flushing market have remained relatively stable. Part of the explanation for this price stability may be the futuristic expectations associated with some of the large-scale real estate development projects that are about to begin such as the Flushing Commons and Willets Point developments. In the photo to your left in the background on the left stands the Queens Crossing mall.
The demographic mix may also be a factor in supporting the Flushing real estate market, as over half of the neighborhood is of Asian descent, many of whose families originally came from China or Korea. As you know, China and Korea are some of a handful of countries that currently have large financial surpluses - and it's possible that some of those surpluses are making its way into America via Flushing.
Brief History Of Flushing Real Estate Development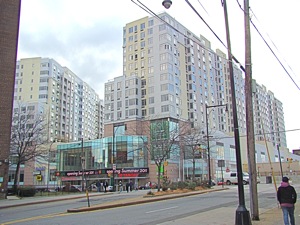 One of the first large buildings to be erected in Flushing was the Sheraton LaGuardia in 1992. The erection of this building was followed by a decade long lull before the Queens Crossing retail and office space building opened at 39th Avenue and Main Street in 2007 - 2008.
The erection of the Queens Crossing retail complex was followed less than two years later in 2009 - 2010 by the opening of the Skyview Center retail space and the Skyview Parc residential space which are located at Roosevelt and College Point Boulevard. Queens Crossing was developed by TDC [more information provided below] while the Skyview Center and Skyview Parc building(s) were developed by Muss Development LLC of Forest Hills. In the photo to your right are the Skyview Center and the Skyview Parc buildings.
Flushing Commons - Real Estate Project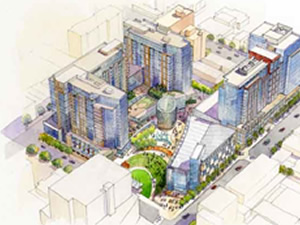 There are several new projects in the works. The largest is the Flushing Commons Development, which will be followed by an expansion to the Hyatt Place Hotel included in that project. The Flushing Commons Project is the largest of its kind in Flushing. The site of this development is the 5.5 acre lot adjacent to Queens Crossing and the Macedonia AME church. A graphic depiction of the Flushing Commons real estate project is shown to your right.
The Flushing Commons Apartment and Retail Space Development is expected to be comprised of up to 600 condominium units, up to 235,000 square feet of retail space, 185,000 square feet of office space, 1,600 subterranean parking spots, a 62,000 square foot YMCA and a 1.5 acre town square. As we understand it, the Flushing Commons project will get underway this year and is to be completed by 2014.
Flushing Temporarily Loses Municipal Parking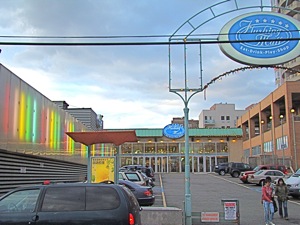 The new development includes the demolition of the Flushing Mall which is one block west of Queens Crossing on 39th Avenue. The lot of this building will provide some of the interim parking spaces while the Flushing Commons project is being constructed. The interim parking lot will replace 600 of the estimated 1,100 parking units that will be lost to the Flushing Commons construction site. The Flushing Mall is shown in the photo to your left.
Demolition of the Flushing Mall begins in late 2011 / early 2012 and parking will be available some time after that. Around the same time construction will begin on the Flushing Commons project, but the timing is dependent upon the developer's financing.
Flushing Commons Developers - F&T Group / TDC
As mentioned above, the Flushing Commons project is being developed by TDC which is the Flushing based developer that erected the Queens Crossing building. The adjunct project is being handled by TDC's parent company, F & T Group. F & T Group appears to be a privately-owned company that handles development projects primarily in Shanghai and New York.
Affordable Housing By The Macedonia CDC
There's another Flushing development project planned, which is separate from the two mentioned above, is referred to as the Macedonia Plaza project. This development is being developed by the Macedonia Community Development Corporation which is an extension of the Macedonia African Methodist Episcopal [AME] Church.
The Macedonia Plaza project focuses on providing 140 affordable housing units, along with modest apportionments for: community space [almost 6,000 square feet], retail space [over 7,000 square feet] and nearly 19,000 sqare feet of public space. The Macedonia AME Church is shown in the photo to your right.
Other Flushing Developments - RKO Keith's Theatre
The famous 1928 theater that sits at the top of Main Street on Northern Blvd in Flushing will finally get its makeover. Only the lobby will be preserved as in the 1980's one of the former owners begin gutting it before the city could stop him. The building was recently purchased for $20 million by Patrick Thompson a Manhattan developer. We're informed the site will become home to over 350 rental apartments, over 17,000 sqare feet of retail space and some space will be allocated to a center for seniors.
Flushing Harbor Waterfront Rezoning
There is a rezoning effort in the works by city government. The objective is to enhance the waterfront by rezoning the strip along Flushing Harbor where a number of construction / transportation related businesses operate. The Flushing Harbor waterfront on the Flushing side is shown in the photo to your right.
Flushing Commons Real Estate - Parking
Some of the issues raised in association with these developments include concern about the loss of the 500 plus municipal parking spots while the construction project is in process. The loss of these spaces is of great concern to the local business owners in the area who are concerned the associated loss in business could force some of them to close their doors.
Flushing Real Estate Development - Congestion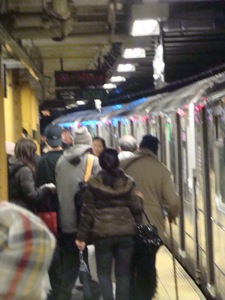 The longer term issues center around increasing pressure on what some believe is an already overburdened infrastructure in the area. The number 7 subway line is one of the busiest subway lines outside of Manhattan, and as anyone who's ridden the subway line during rush hour can tell you, it's already running at capacity.
To further complicate the issue, there are somewhere between ten and twenty bus lines that circle through the Flushing downtown center. These bus lines move thousands of people, perhaps tens of thousands, daily.
There are also concerns about automobile traffic, which we discuss in greater detail in association with the proposed Willets Point redevelopment project which is also in Flushing.
Suggestion To NYC - Fund DOT Study
One might suggest the city start the Queens DOT on a project similar to the one they're finishing in Jackson Heights. In Jackson Heights the DOT appears to have addressed some of the congestion issues in that neighborhood, although we won't be certain until the changes are implemented. The DOT could begin a study now with the intent to alleviate the pedestrian, automotive and public transit congestion that's likely to worsen as these new developments open three to four years from now - assuming they obtain timely financing and stay in step their project plans.
Airport Expansion – Queens Construction Projects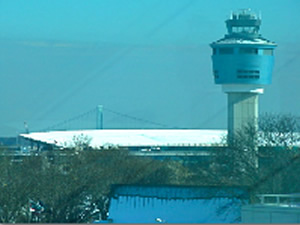 LaGuardia Airport opened its new control tower in January of 2011. It replaces the LaGuardia Airport control tower installed in anticipation of traffic for the 1964 World's Fair.
Throgs Neck Bridge – Queens Construction Projects
The Throgs Neck Bridge connects Queens and the Bronx and turned 50 this year [erected 1961]. Approximately 114,000 people cross the bridge every day. Many inbound drivers come through the Kew Gardens interchange which will undergo some renovation this coming year. Watch for summer traffic.
---
Queens Real Estate - Related Stories
Click here to view a story about Queens Real Estate in general with links to stories about Jackson Heights real estate, Sunnyside real estate & Woodside real estate, and Astoria real estate. And click here to go to the Queens Real Estate section of our site. Click here to view Queens Real Estate Classifieds.
---
Queens Realtors, Queens Insurance & Banking - Links
Click here to go to the home page of Halvatzis Realty - real estate in Astoria, MPC Properties - Realtors in Jackson Heights and Welcome Home Real Estate in Sunnyside.
Home Insurance / Mortgage Lenders in Queens. Click here to go to the home page of Allstate Home Insurance In Queens. Click here to go to the home page of Ponce Bank - mortgage lending in Queens.
---
Real Estate In Queens - Related Info
$element(adman,groupad,Promo Buttons)$
Click this link for promotions and discounts by merchants in Queens.
Click this link to go to the Long Island City LIC Neighborhood News / Astoria Neighborhood / Flushing Neighborhood / Jamaica Neighborhood / Jackson Heights Neighborhood / Sunnyside & Woodside Neighborhood
$element(adman,groupad,Catgry Realestate)$
Site Search Tips. 1) For best results, when typing in more than one word, use quotation marks - eg "Astoria Park". 2) Also try either singular or plural words when searching for a specific item such as "gym" or "gyms".
$element(bwcore,insert_search,N)$
Click this link to search for something in our Queens Business Directory.
---
$element(adman,groupads,Sectional Ad)$
---
Click the log in link below to create an ID and post an opinion.
Or send this story to a friend by filling in the appropriate box below.
---