People-Powered Green Symposium
Fourth Annual Going Green In Queens
April 12, 2011 / Flushing / Green & Natural / Queens Buzz. The fourth annual 'Going Green In Queens' environmental symposium was held on Saturday, March 26th, at the Al Oerter Center in Flushing Meadows Corona Park.
Hundreds of people, probably over a thousand, visited the green booths set up by a number of community organizations that are working to build a more sustainable / regenerative environment in Queens.
Booths included urban composters, community parks organizations, a solar panel provider, energy saving devices / alternative energy providers, an organic food group, sailing and bicycling groups .. and more.
Click here to view our report on Going Green In Queens 2011.
---
People-Powered Green Symposium
Fourth Annual Going Green In Queens
April 12, 2011 / Flushing / Green & Natural / Queens Buzz. Continued / If needed use search function to find story introduction.
Composting - Western Queens Compost Initiative
The composting booth was the first I encountered, as it was just inside the gymnasium door. I was greeted by two of the borough's leading composters, Leanne Spaulding and Stephanos Koullias, of the Western Queens Compost Initiative. The two composters are shown in the photo to your left as well as in another photo in the slide show below.
I was informed that the organization is new and was started with some of the proceeds won from the Con Ed power outage settlement of 2006. Build It Green is the sponsoring organization, as they provide office space, furniture and equipment.
In 2010 the Western Queens Compost Initiative [hereafter referred to as WQCI] started collecting organic waste from the CSA's [Community Supported Agriculture – these are
buying co-ops that purchase produce directly from local farmers] and farmers markets in Sunnyside and Long Island City to be composted in the borough. Generally the compost goes to community gardens and the parks.
The compost is collected in large Rubbermaid waste bins with lids to entrap the smell. This year they would like to expand their reach into the borough, going beyond the CSA's and farmers markets in the two neighborhoods they served last year.
They need volunteers to help collect the compost during the hours the CSA's and farmers markets are open. And I was told that there is a 24/7 compost bin somewhere in Sunnyside, but I wasn't given the exact location. In the photo to your right is one of the community gardens into which compost is delivered - thus providing them with pollution and chemical free nutrient rich soil.
JHBG - Transition Of The Garden School Yard To Parks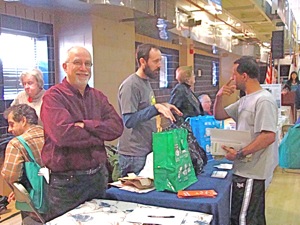 Our next stop was the Jackson Heights Beautification Group / Friends of Travers Park / Green Agenda for Jackson Heights table. Len Maniace, a well known environmentalist, was on hand to talk about how people can get involved in some of the green initiatives going on in Jackson Heights.
One initiative undertaken by the groups, in collaboration with other neighborhood organizations and government officials, was the effort to purchase the Garden School yard, which is adjacent to the school. We understand that the city has met the original asking price, but due to complications with the city's process for such purchases, the deal has not yet been closed. Nonetheless, the possibility of securing this space for the public remains promising.
Natural Food Co-operative - Queens Harvest Co-op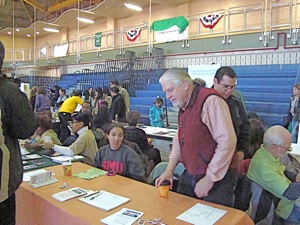 I stopped by the Queens Harvest Co-op booth to say hello to Frank Adams, one of the people involved in trying to bring an organic cooperative to the borough. Earlier in the month I had attended a screening of an unfinished film entitled American Meat. We recently posted a review of it which you can find in the Green section of this site or by using the search function and scrolling down to the articles.
Frank Adams of the Queens Harvest Food Cooperative is shown in the photo to your right as well as in another photo in the slide show below.
Ioby.Org - Going Green In Your Own Backyard
Helen Ho, a perennial environmentalist, who's involved in Green Drinks and numerous other green initiatives around the borough is now working at ioby.org which fosters environmentally responsible initiatives in local neighborhoods. Helen Ho of ioby.org is shown in the photo to your right and in the slide show below.
League Of Conservation Voters In Queens
The League of Conservation Voters had a booth at the event. They're working hard to educate voters about issues so that they can vote for more responsible management of our natural resources. Some of the issues mentioned in their brochure include moving toward solar energy because it creates jobs, reduces dependency on foreign oil and it's a sustainable resource.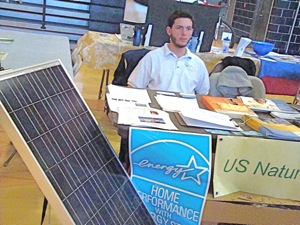 Brownfields restoration is another issue which concerns the process through which a hazardous site or potentially hazardous site in cleaned up for use for another purpose. Open space preservation concerns preserving natural habitats for animals, including access to clean drinking water and food. And supporting public transportation so that it becomes an increasingly viable option for more of the populace.
A solar energy company, U.S. Natural Energy is shown in the photo to your left.
New York State Energy Research & Development Authority
New York Energy Smart NYSERDA was also present. This government related non-profit works to incent people and businesses to move to renewable / sustainable energy sources or to take actions to reduce / conserve the energy they do use. They are currently offering significant incentives for the installation of solar energy systems this year.
United For Action - And Clean Drinking Water
United For Action was also there. They were hosting a presentation of the film Gasland. Gasland is a film about how reckless natural gas drilling done near water tables and wells sometimes poisons the water to dangerous levels. There's a moratorium on natural gas drilling near the NYC water wells that expires in July 2011. United For Action wants to extend the moratorium and force the natural gas drillers to comply with safe practices while drilling so that they don't contaminate the water supply of some 15 million people – including all or most of NYC.
The photo to your left was taken out of the film Gasland where it shows how natural gas enters the water supply due to reckless natural gas drilling.
Green Queens Civic & Recreational Groups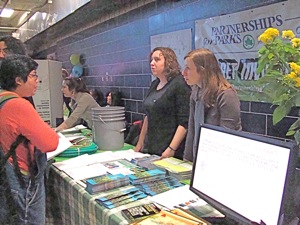 There were a number of civic groups present at the Green Queens event. Many were parks, environmental or recreational focused groups such as: a Coastal Preservation Group, Biking Trips For Kids, the Queens Zoo, Trees For New York [tree planting], TASCA [The American Small Craft Association - sailing], AAA on bike helmuts, the West Cunningham Park Civic Association and Growing Up Green and Healthy In Queens. In the photo to your right, the Partnership For Parks booth at the Green Queens 2011 event at the Al Oerter Center in Flushing.
And there were a number of for profit groups present that have begun to embrace the green / environmental movement. These companies include: U.S. Natural [solar energy], Green Mountain Energy [alternative energy provider through ConEd], ConEd was also there talking about various green energy providers, and Prudential and Liberty Mutual were there talking about insurance.
There was the showing of the Gasland film, workshops on composting and solar energy, and others too, some of which I missed.
NYC Environmental Protection Agency - Is There Lead In Your Drinking Water?
One final note. For many years now I've been monitoring the quality of our water supply through the taps of my own dwelling as well as those of family and friends. Supporting the notion that we all need to stay aware, I found a notice by the NYC Environmental Protection agency advising residents to monitor their water.
The reason to monitor your water is that it could contain lead [or other toxins] because of dated plumbing conduits. Consumption of lead is unhealthy for anyone, but particularly dangerous for children. The NYC Environmental Protection Agency advises you to run your faucet a bit prior to using the water, regularly clean your faucet screens and / or get a filter. Boiling water will not eliminate the lead in it.
They advise you to call 311 if you think there's lead in your drinking water. And I'm not sure of this, but I think they'll test it for free. In the photo above left you can see the light brown residual rust captured in a water filtering pitcher in an apartment in Queens. The speckles are carbon used in the filter.
All in all it was a very informative symposium. I left feeling a bit better about the possibilities for our future. These people are making a difference, and it is through their efforts and many others like them, that this planet will move toward a more sustainable / regenerative lifestyle. Stay tuned.
Slide Show Of Going Green In Queens
Click this link to go directly to the photo album containing slides of Going Green in Queens. Use the arrow on the slide show control panel to view photos at your own speed.

$element(ophoto,photo_slideshow,128,520,,5.00,fade)$
---
Flushing / Corona Related Info
$element(adman,groupad,Promo Buttons)$
Click here to see a related report about an LICBDC conference on Solar Energy / Solar Panels in Queens and click here to read about solar panels and windows and doors in Queens.
Click this link for promotions by advertisers in Queens.
Click this link to go to the Flushing Neighborhood.
$element(adman,groupad,Catgry Green)$
Site Search Tips. 1) For best results, when typing in more than one word, use quotation marks - eg "Astoria Park". 2) Also try either singular or plural words when searching for a specific item such as "gym" or "gyms".
$element(bwcore,insert_search,N)$
Click this link to search for something in our Queens Business Directory.
---
$element(adman,groupads,Sectional Ad)$
---
Click the log in link below to create an ID and post an opinion.
Or send this story to a friend by filling in the appropriate box below.
---