NYC Musical Saw Festival 2010
Astoria / August 7, 2010 / Queens Buzz / Continued. Most of the information contained in the following report was gathered and written by Michelle Nishry, and the photos for this story are the work of Pat Merino, both to whom we are thankful.
Twenty-six players graced the stage of the Hellenic Cultural Center in Astoria, home to NYC's 8th Annual Musical Saw Festival. Some played solo acapellas, while others were accompanied by piano, guitar, vocals and even by a four-string washbasin. Amerikletic is local ten piece band which includes the festival founder, Natalia 'Saw Lady' Paruz. Ameriklectic played a few Scott Munson jazz compositions which were a huge hit.
Three saw players, from the band Moscow Nights, traveled from Osaka, Japan to participate in the festival. Another group, including saw players Chelsea Winter, Sharif Vikili and Natalia Paruz played a ragtime jazz piece composed by Eyal Bat which was commissioned by the festival. Judy Dimino accompanied them on the piano.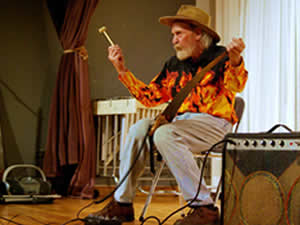 Saw musicians are not without a sense of humor. Paul Gherson provided alternative lyrics to Gershwin's Summertime which brought chuckles from the audience. Hip Hop poet Mason Granger recited a poem he'd written about the musical saw. And Doc George Hiller played Jimmy Hendrix style tunes on his amplified saw which he has creatively attached to guitar pedals to create new sounds.
One member of the audience, Jeffrey Dayton of Long Island, remarked, "To finally see what I have only read about is an experience I will never forget. I will cherish this memory for a lifetime." Segments from the program were broadcast by CBS and Reuters. The program received some funding from the Queens Council Of The Arts.
For more information click this link to obtain the contact information, including website url of Musical Saw Festival organization.
---
Astoria Related Info
$element(adman,groupad,Promo Buttons)$
$element(adman,groupad,NHoodAstoria)$
Click this link for promotions, discounts and coupons in Astoria and Queens.
Click this link to go to the Astoria Neighborhood.
$element(adman,groupad,Catgry Foodwine)$
Site Search Tips. 1) For best results, when typing in more than one word, use quotation marks - eg "Astoria Park". 2) Also try either singular or plural words when searching for a specific item such as "gym" or "gyms".
$element(bwcore,insert_search,N)$
Click this link to search for something in our Queens Business Directory containing over 1,000 listings.
Send this story to a friend by filling in the appropriate box below.
---
$element(adman,groupad,Sectional Ad)$